Anna Wintour Takes Off Her Sunglasses to Address the World For A Moment With the Met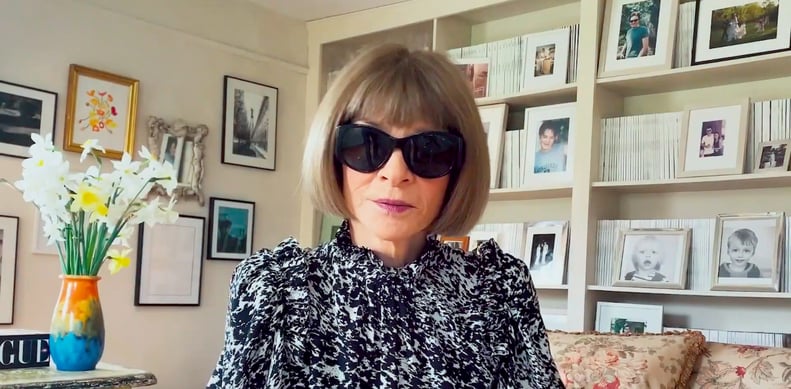 Roughly 12,500 people tuned into A Moment With the Met, Vogue's short-lived virtual YouTube event that celebrated the first Monday in May. After a history of the Costume Institute, Anna Wintour removed her signature dark sunglasses to address us. She talked about the "About Time" themed Met exhibit, set to open in October, A Common Thread (a video series launched with the CFDA as a platform where up-and-coming designers can talk about their struggles and shifting routines), and her well wishes for the world. "This is a time of grief and of hardship for millions, and the postponement of a party is nothing in comparison," she said. Anna went on to ask viewers to donate to the Metropolitan Museum of Art, if they're able.
It does feel rather odd to see Anna Wintour on the first evening in May wearing a simpler victorian-inspired dress with ruffles and a marble print, rather than a glamorous rose-covered gown; perhaps something in jacquard, to match her daughter Bee (who always joins her on the red carpet). The sliver lining? We got a glimpse into Anna's home office, which, as we now know, is lined with a floor-to-ceiling bookshelf filled with what appears to be every single issue of American Vogue (presumably since she took the reigns at the magazine in 1988). Anna coordinated with her surroundings beautifully, of course, allowing the pops of color in the room — a brushstroke painted vase, a chic vintage desk, and some colorful framed photos collaged on the wall — to stand out and spread light.
As she introduced her friend Florence Welch's performance from home and also acknowledged Met curator Andrew Bolton, to whom she gave major credit — "['About Time'] is the most poignant and most extraordinary exhibition that curator Andrew Bolton has ever created" — I realized that Anna was just doing the best she could to lighten the mood. She took off her glasses, decided on just the right backdrop, and let us into her home. For whatever it's worth, on this Monday in May, Anna Wintour seems more relatable than ever.
Watch Vogue's A Moment With the Met Video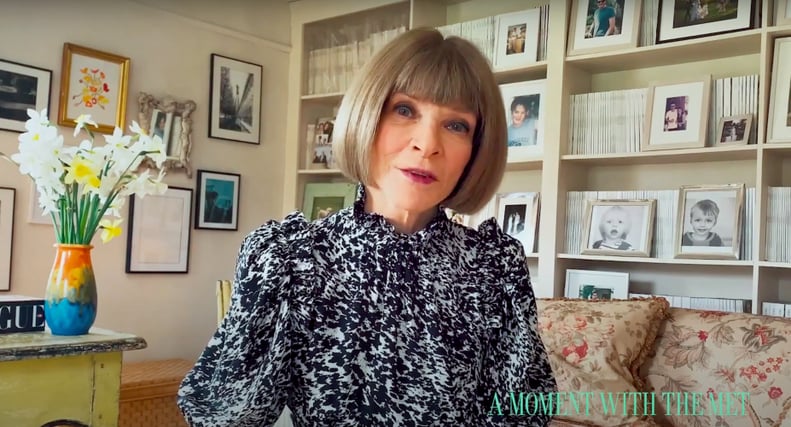 Anna Wintour Addressing Us From Her Home Office