Every editorial product is independently selected by our editors. If you buy something through our links, we may earn commission.
Some styles are so versatile you'll make a concentrated effort to ensure that there's always enough room for them in your wardrobe. For us, bodysuits fall pretty naturally into this category — and for good reason. While the style certainly isn't new to mainstream fashion, it's seen quite the revival over the last few years — with fashion girls, the comfort-obsessed, and even Kim Kardashian's shapewear label helping to breathe new life into the piece and proving just how essential having a great bodysuit truly is.
We love wearing a top that we never have to worry about tucking in or adjusting. And since bodysuits look incredible with basically everything — from maxi skirts to jeans and even as a base layer underneath an oversize blazer — we went ahead and curated a selection of the absolute best bodysuits for women to invest in this season. From thong bodysuits that can seamlessly slip under a pair of denim shorts to T-shirt bodysuits that pair beautifully with high-waisted jeans, and even a few lace bodysuits that are bound to add a sultry flair to your next date night, the styling opportunities are truly endless.
Our favorite selects come from brands like Skims, Express, Naked Wardrobe, Spanx, Free People, and more. Keep reading to shop this season's best bodysuit tops that seamlessly blend comfort with style.
— Additional reporting by Macy Williams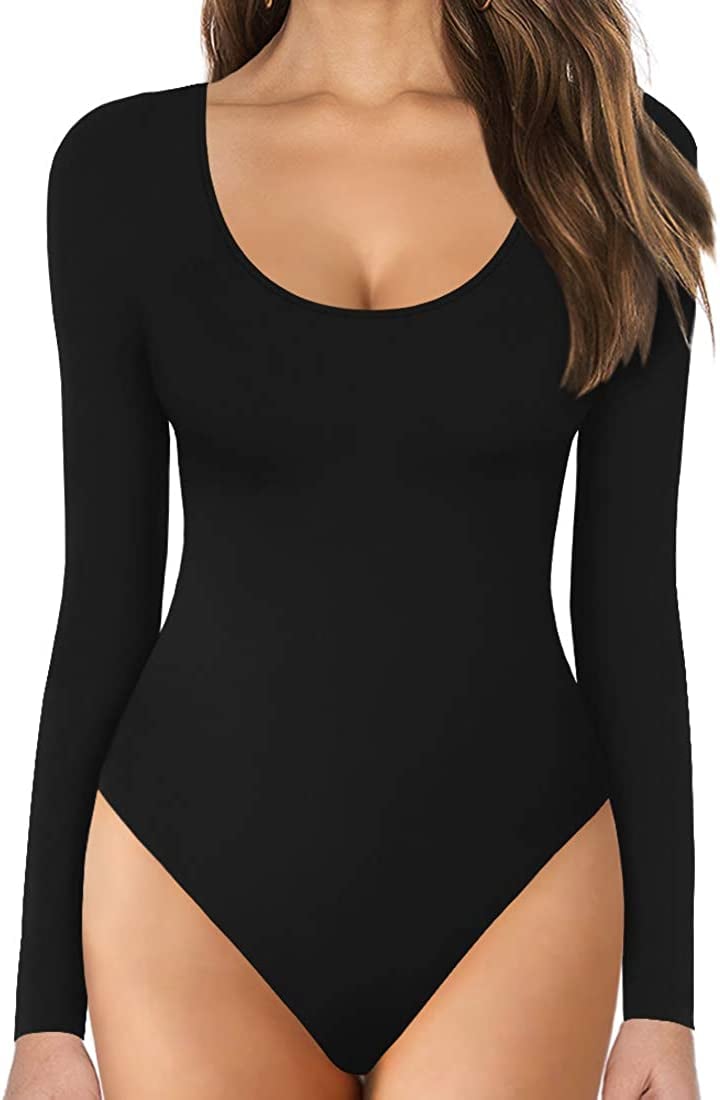 Best Amazon Bodysuit
Mangopop Scoop Neck Bodysuit ($27)
Amazon's bodysuits are regarded as some of the best styles the internet has to offer — by shoppers and POPSUGAR editors alike — and this scoop neck style is a particular favorite. Not only does the piece come in over 20 different colors, but it's crafted from a stretchy material that effortlessly hugs the body, and is so comfortable, it almost feels like a second skin. Read our Amazon bodysuits product review to learn more!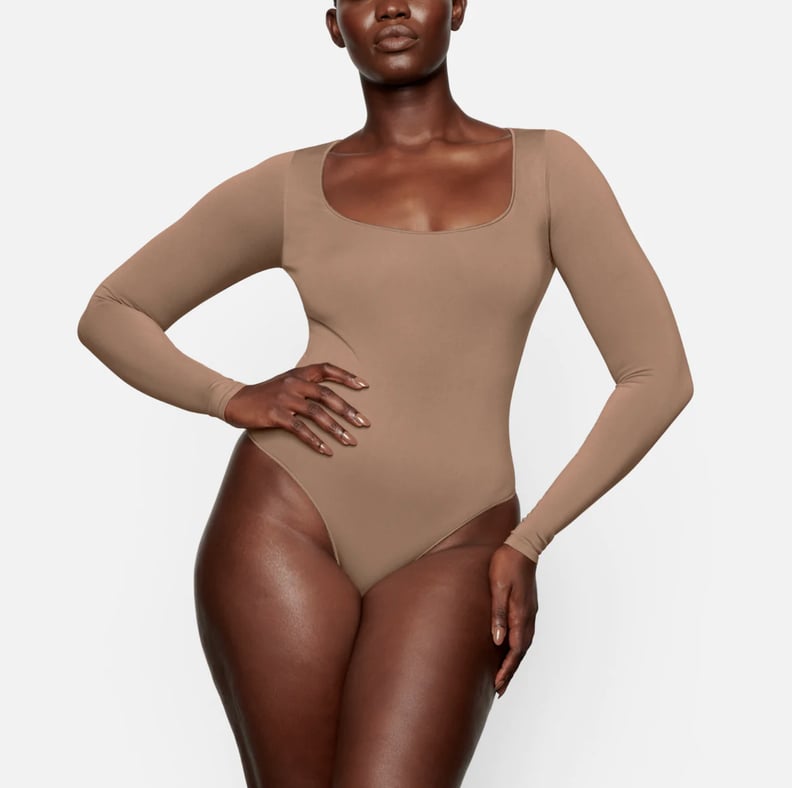 Most Comfortable Bodysuit
Skims Essential Long-Sleeve Scoop Bodysuit ($78)
You simply can't curate a list of the best bodysuits to invest in without including one of the famed styles from Skims — just like this cozy scoop-neck piece. The neutral-colored top will go beautifully with just about anything in your closet (you really can't beat that kind of versatility!). Plus, these styles even have the POPSUGAR editor seal of approval — as detailed in this Skims Fits Everybody collection product review.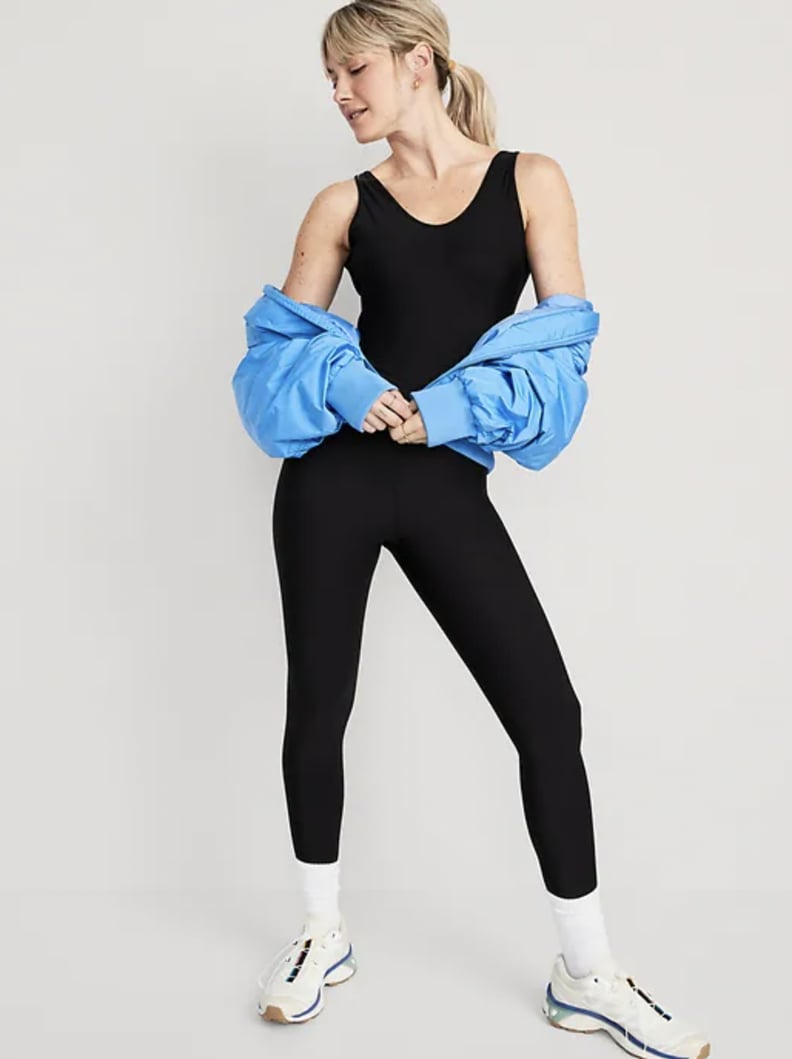 Best Full Body Bodysuit
Old Navy Sleeveless PowerSoft 7/8 Bodysuit ($55)
Old Navy's viral PowerSoft bodysuit is a piece you'll be reaching for again and again — especially if you're someone who wants to avoid putting together an outfit at all. The all-in-one bodysuit offers full-length coverage, so all you have to do is slip into it, layer a light jacket or T-shirt, and be on your merry way. POPSUGAR editors are notable fans of Old Navy's ultra-comfortable bodysuits — just read our Old Navy PowerChill Performance Bodysuit review to see why.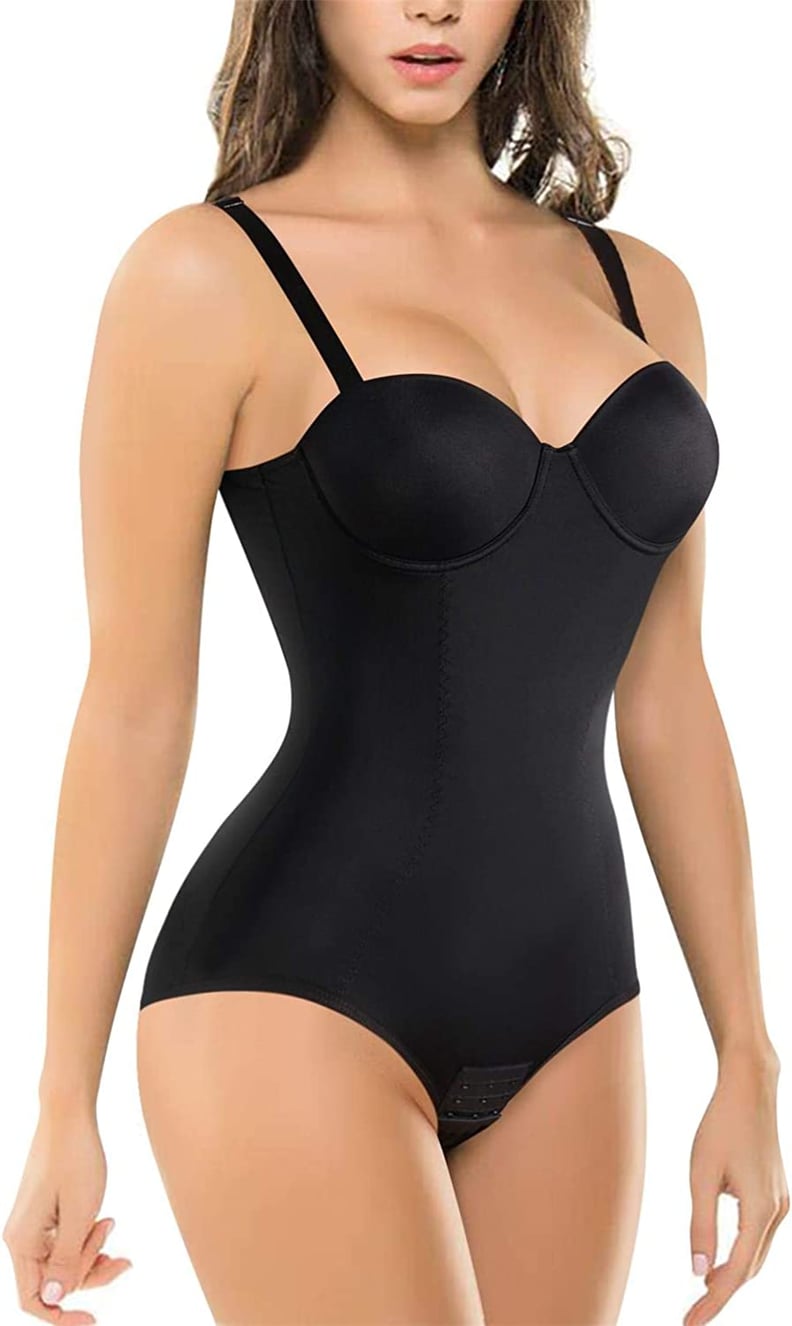 Best Shapewear Bodysuit
Brabic Bodysuit Shapewear ($29)
This shapewear piece is one of Amazon's bestselling bodysuits, with hundreds of reviewers praising the style for its tummy-control capabilities that help to smooth everything out and keep you feeling secure. The black bodysuit boasts such a sleek look, but users can also shop the top in a beige shade that goes great under dresses or any other light styles.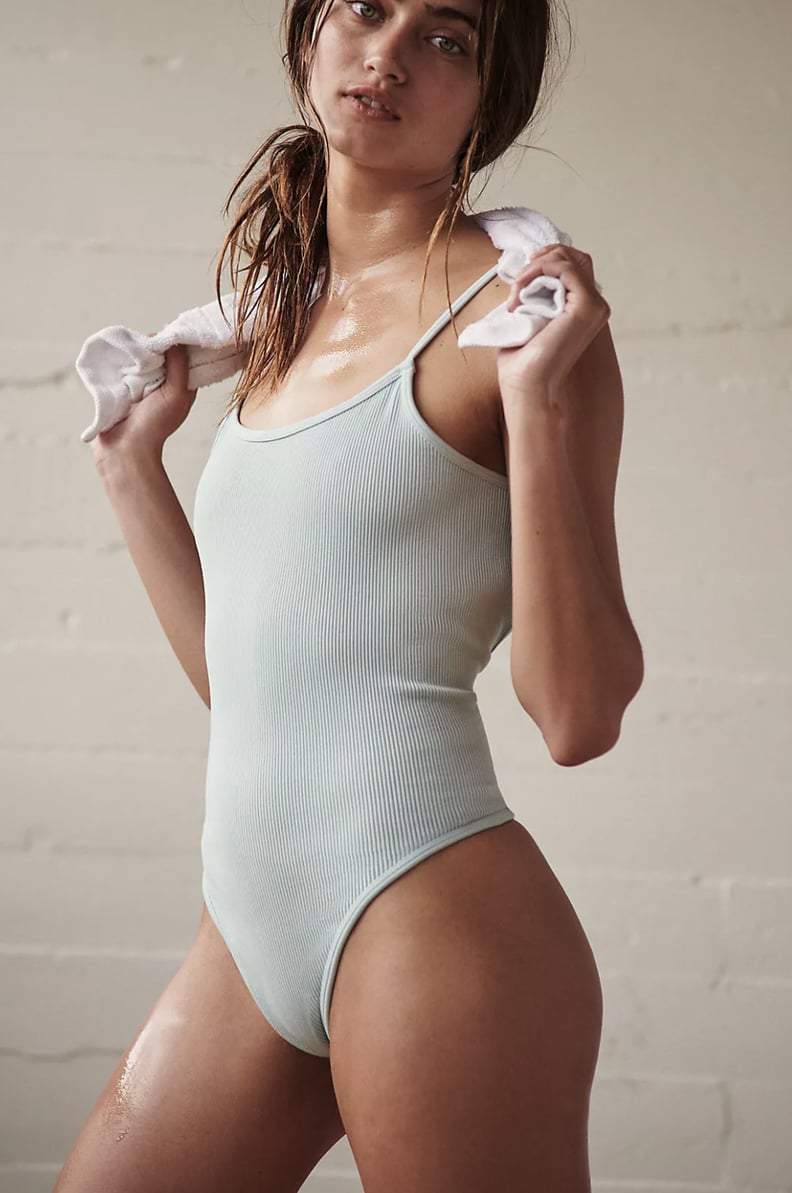 Best Athletic Bodysuit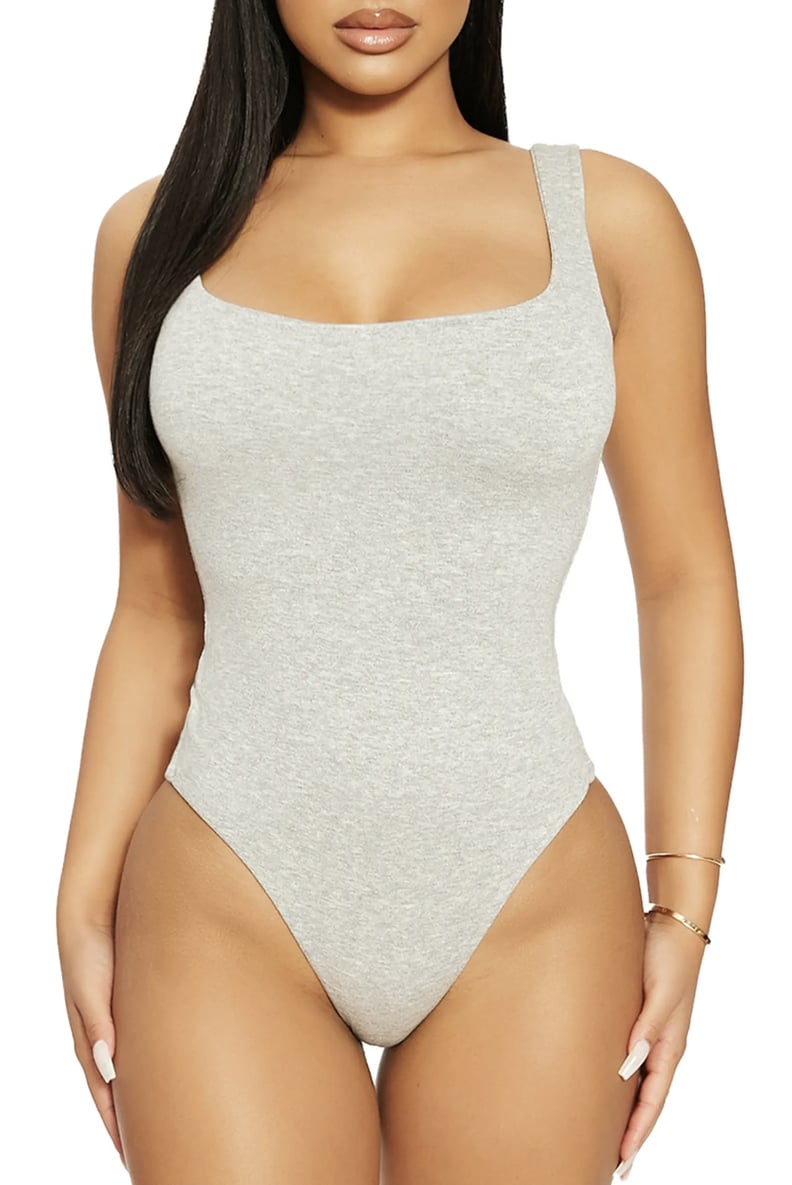 Best Tank Bodysuit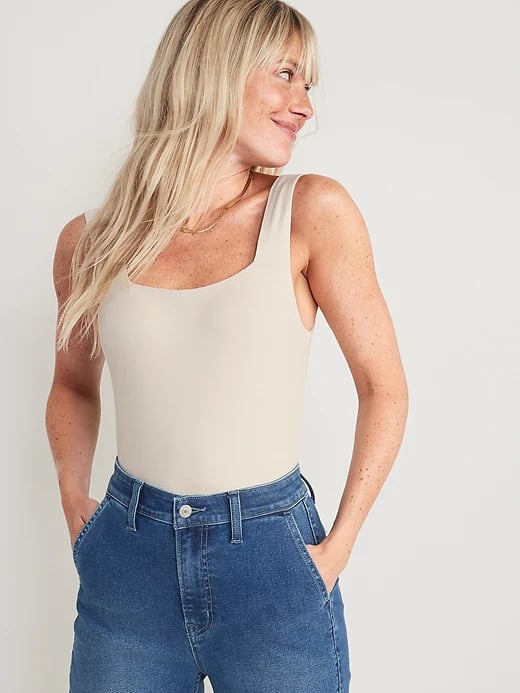 Best Sleeveless Bodysuit
Old Navy Fitted Sleeveless Square-Neck Bodysuit ($25)
Everything about this sleeveless bodysuit just oozes a cozy vibe. You can wear the fitted style with everything from jeans and sweats to pleated trousers and more. Plus, it's also available to shop in several colors, so you can stock up on a variety of pieces at once.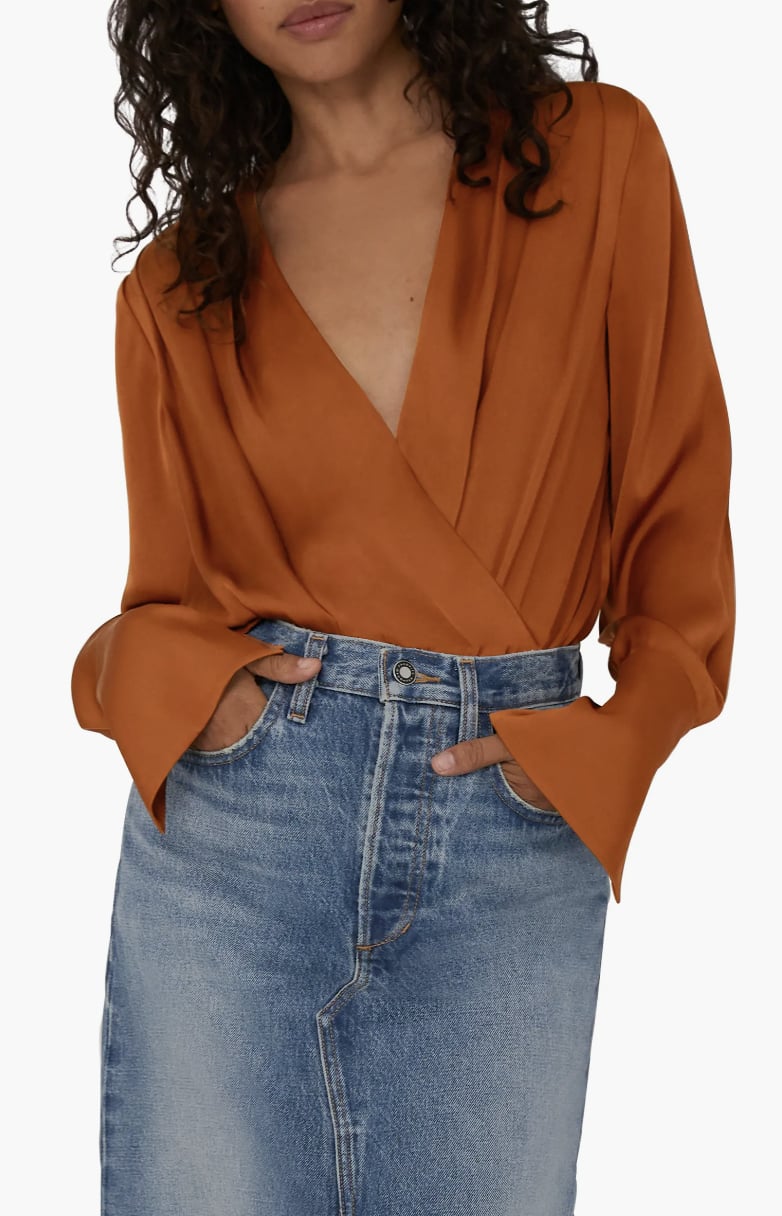 Best Bodysuit Blouse
Favorite Daughter Surplice Long Sleeve Satin Bodysuit ($198-$218)
Anticipating a busy season of family get togethers, work events, and formal wedding parties galore? We totally get it, and understand that you'll need an elevated, go-to top to wear for it all. We recommend this sophisticated and regal satin bodysuit from Favorite Daughter, which features a plunging neckline and fitted sleeves that complete the bodysuit top with such a fun and breezy flair.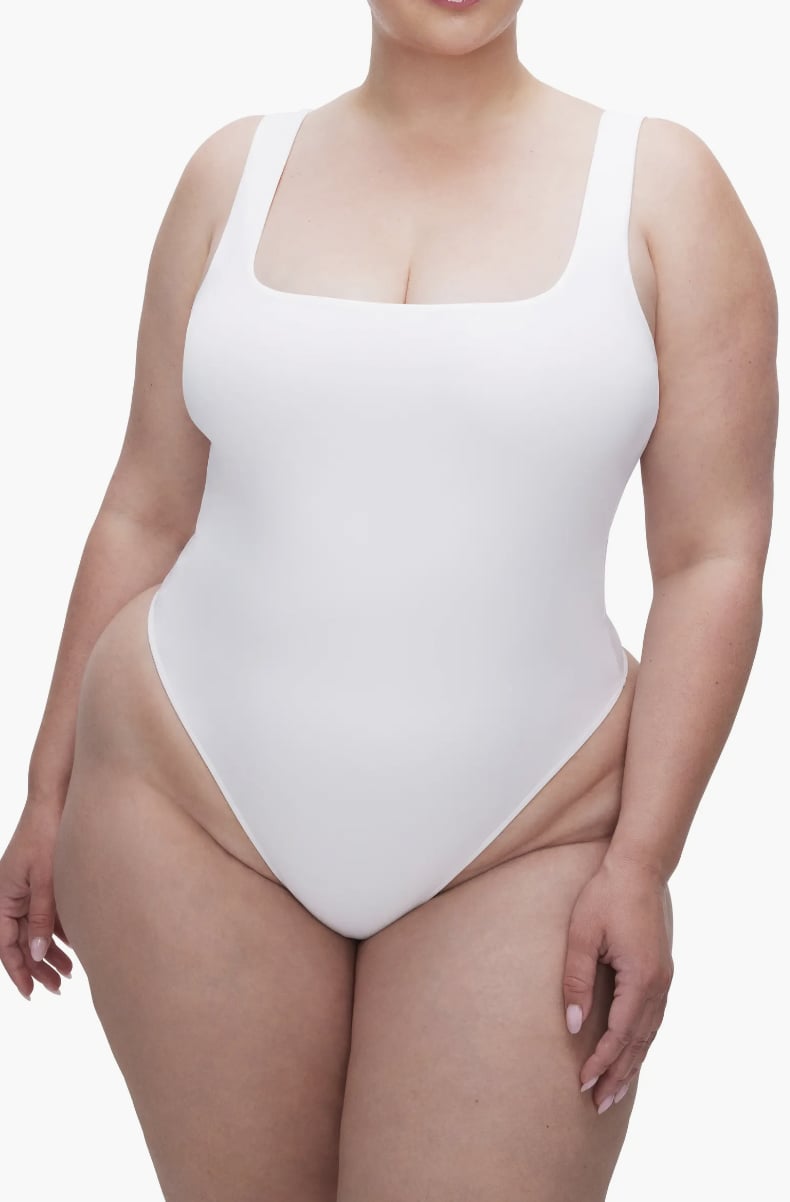 Best Plus-Size Bodysuit
Good American Modern Tank Bodysuit ($79)
If you want to turn heads and take the title for your office's "Most Fashionable Employee," you're definitely going to want to add this tank bodysuit to your wardrobe ASAP! The style's classic coloring and subtle fit is so divine and easy to style for the fall. Plus, we love the effortless sophistication provided by the piece's square-neck design.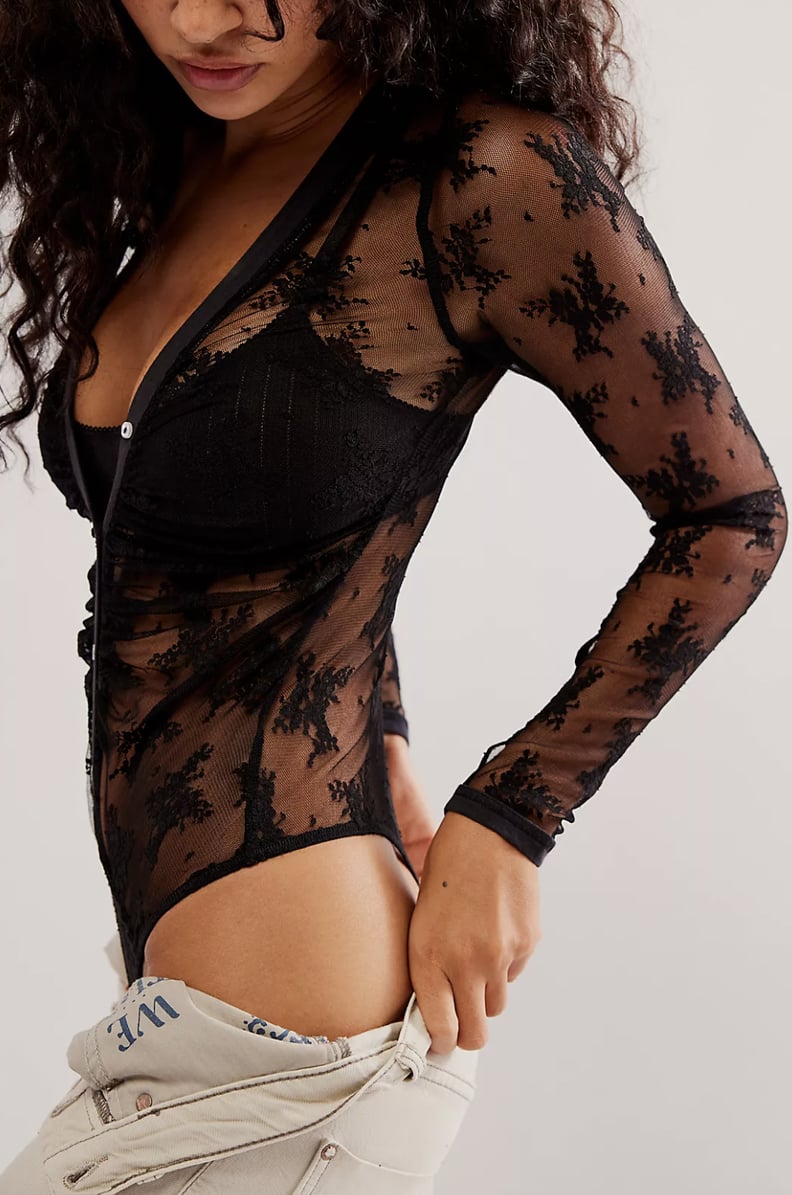 Best Lace Bodysuit
Free People Light Year Bodysuit ($58)
We love when a fashion piece seamlessly blends comfort with an elevated sexiness. So naturally, we were super-drawn to the vibe of this lacy bodysuit from Free People, which is wrapped in an intricate, floral design. Did we mention this sheer bodysuit also comes in several colors that are perfect for autumn and winter wear, too?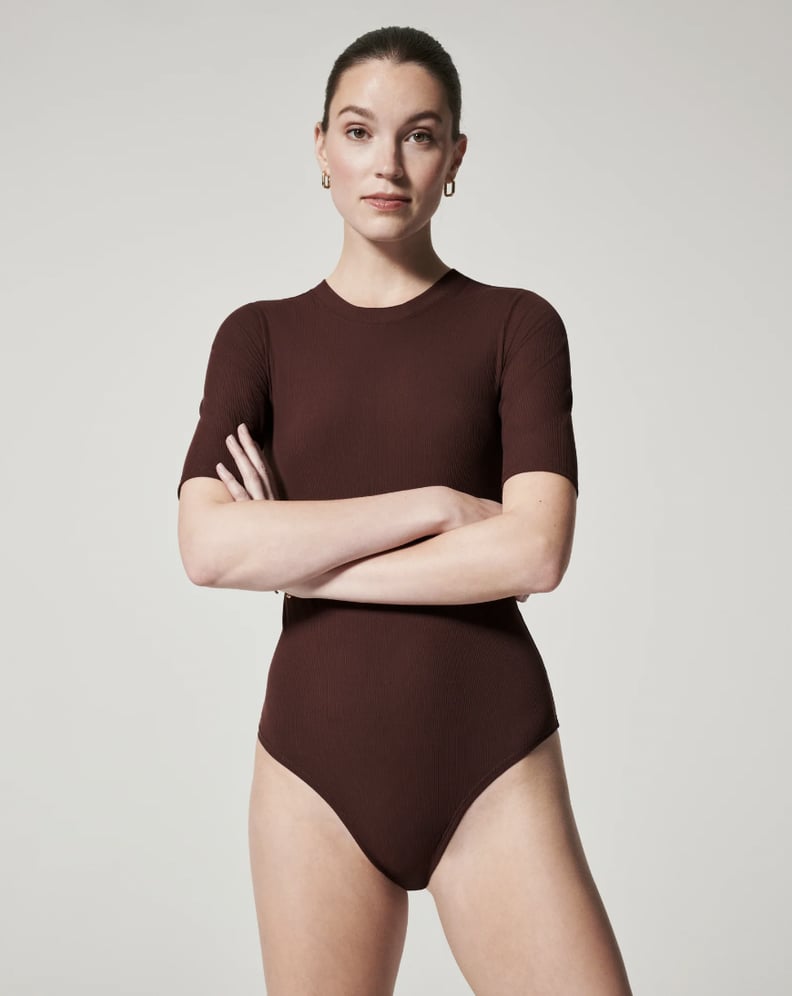 Best Bodysuit For Work
Spanx Suit Yourself Ribbed Crew Neck Bodysuit ($84)
Looking for an easy style that you can easily throw on and pair with anything in your closet — even when you're running out the door? Look no further than this ribbed bodysuit from Spanx. The piece comes in five colors, including an olive green, parchment white, navy, and red-hued brown.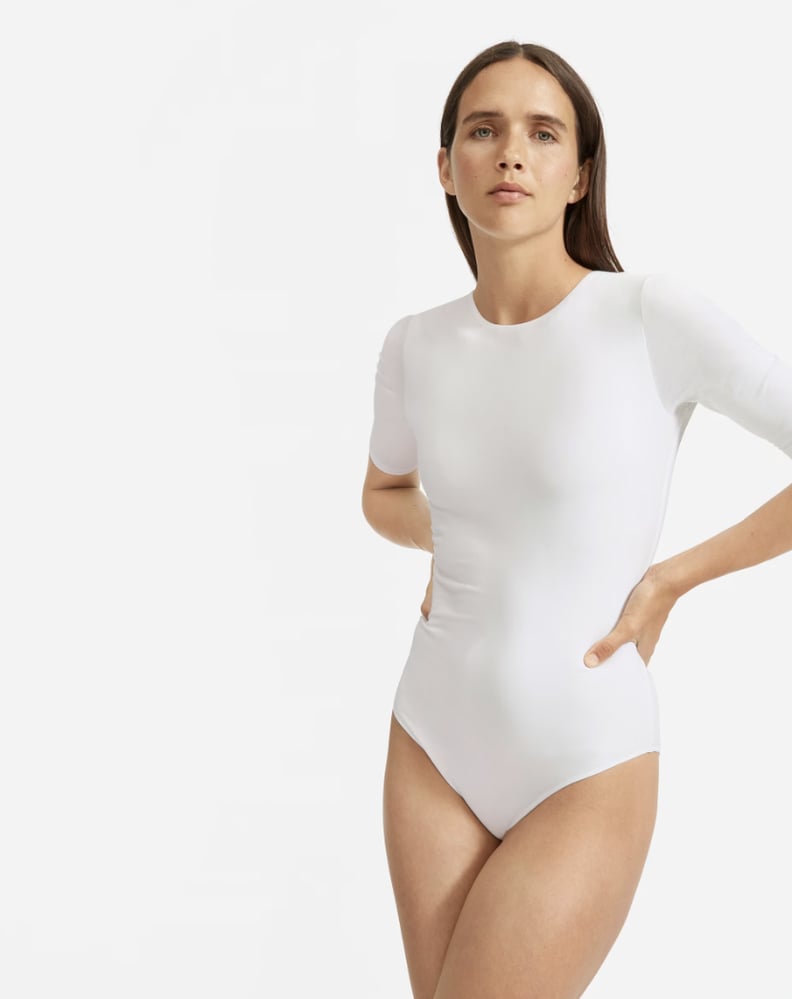 Best Short-Sleeve Bodysuit
Everlane The Short-Sleeve Crew Neck Bodysuit ($40)
With this crewneck bodysuit, you can finally de-clutter your closet for good, as you'll never need to buy another basic T-shirt again. This breezy bodysuit is such a wardrobe essential and its breathable, cotton composition makes it ideal for wear on those longer days outside of the house when you just want something comfy and easy. We'd recommend dressing it up with a flowy maxi skirt, chunky knit cardigan, and ankle boots for the coolest daytime look.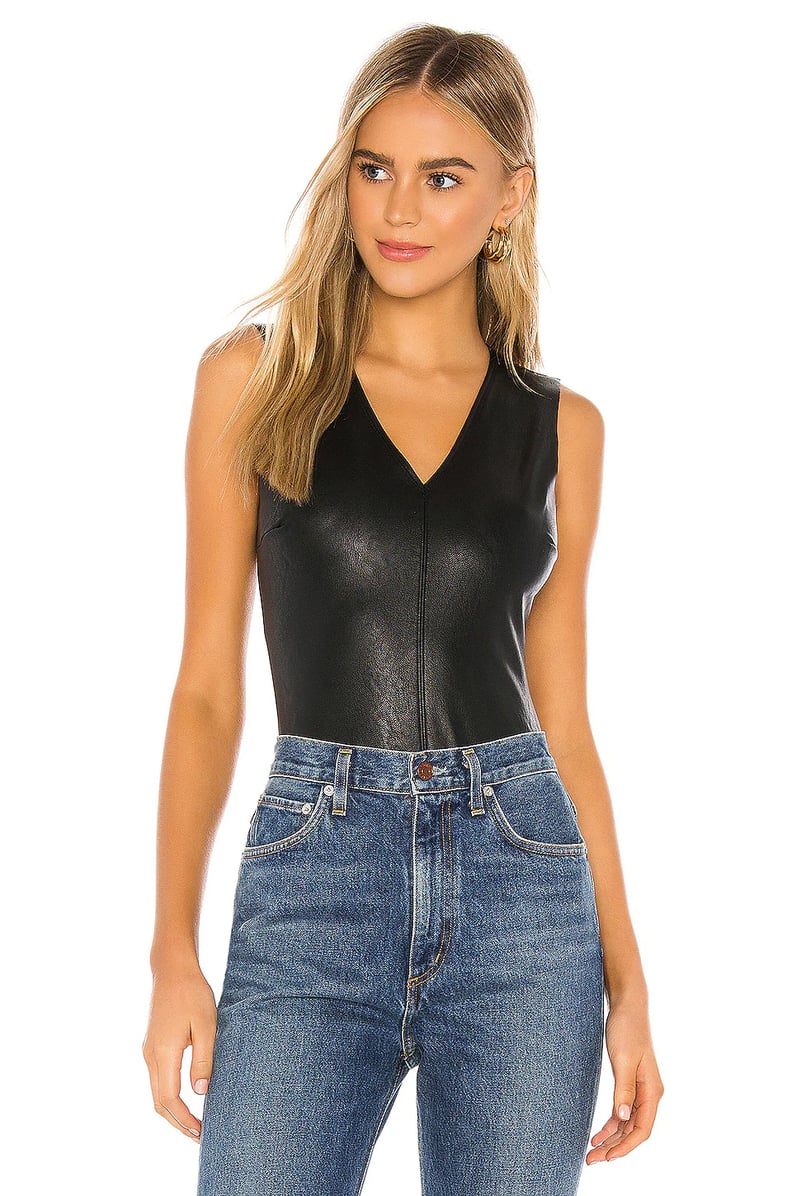 Best Faux-Leather Bodysuit
Commando Faux-Leather V-Neck Bodysuit ($118)
Upgrade your spring wardrobe with an edgier flair provided by this faux-leather bodysuit. The form-fitting bodysuit definitely boasts a tighter fit than some of the other pieces in this guide, but that just makes it all the more unique. We adore the style's semi-matte look, and would pair it with black faux-leather pants for the most daring nighttime ensemble.