As POPSUGAR editors, we independently select and write about stuff we love and think you'll like too. If you buy a product we have recommended, we may receive affiliate commission, which in turn supports our work.
There are some things in life that just give you an instant serotonin boost. Of course, there's the usual suspects: basking in sunshine, working out, eating healthy and nourishing foods. And then there's the less typical mood-boosting sources, like updating your closet for fall or browsing through the new-arrivals section from one of your favorite fashion retailers. While I can't say that there are any legitimate scientific benefits to the latter, as a shopping editor, I can confirm that it definitely brings me a lot of joy — so naturally, I do it as often as I can (for the sake of my health, of course).
Of all the great fashion labels out there, I'll admit: I find myself spending the most time on Zara's website — aimlessly scrolling through the new-arrivals section, saving my favorite pieces, and then inevitably shopping them out later. The internet-loved retailer always manages to stay ahead of trends by debuting new collections and fresh styles on the regular — and this season has proven to be no different.
With the welcoming of a new month comes the introduction of a whole new selection of fashion that's perfect for fall and even winter wear, too. From wool coats and knee-high boots to daring metallic styles and even an oversize blazer or two, here's everything we're coveting for November from Zara's new-arrivals section.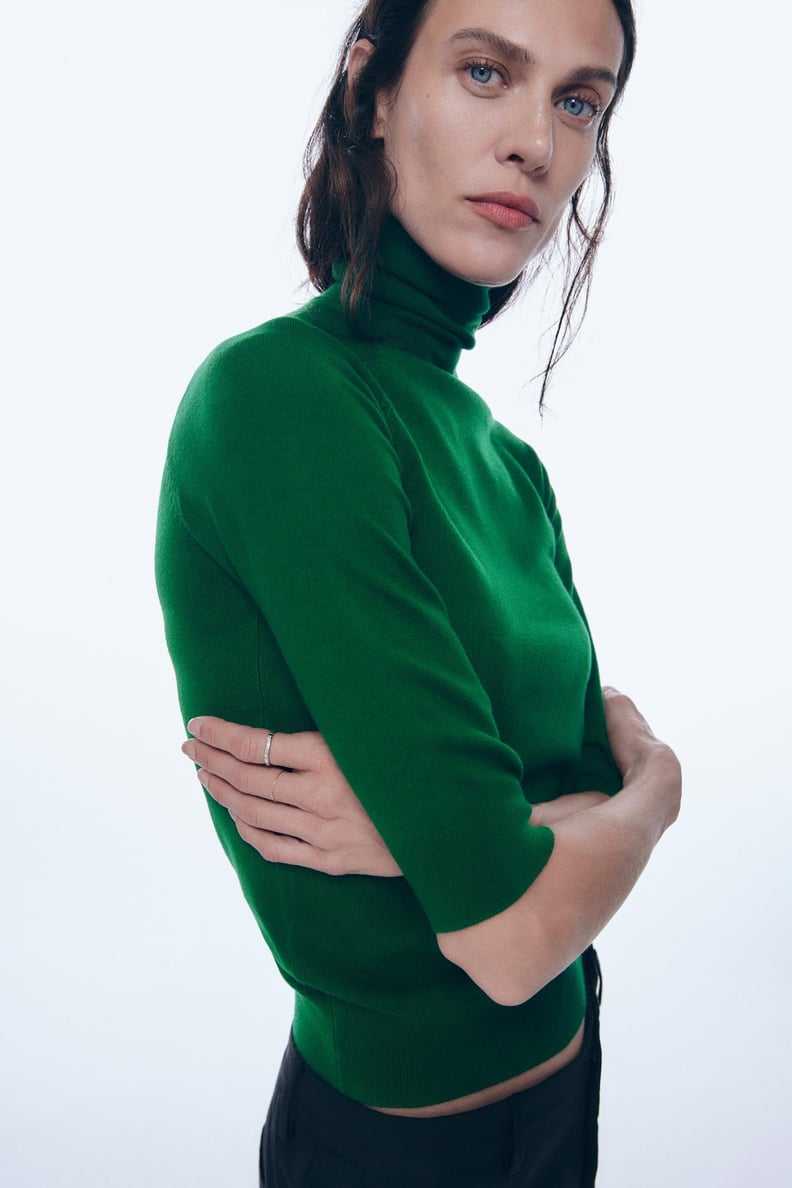 Sweater Weather: Zara High Collar Knit Sweater
We're ready to lean into green hues come fall — which is why we're obsessed with the divine coloring on this Zara High Collar Knit Sweater ($40). The light sweater is both warm and breathable, with a high-neckline for added coverage, plus above-the-elbow sleeves that make the top feel less constricting.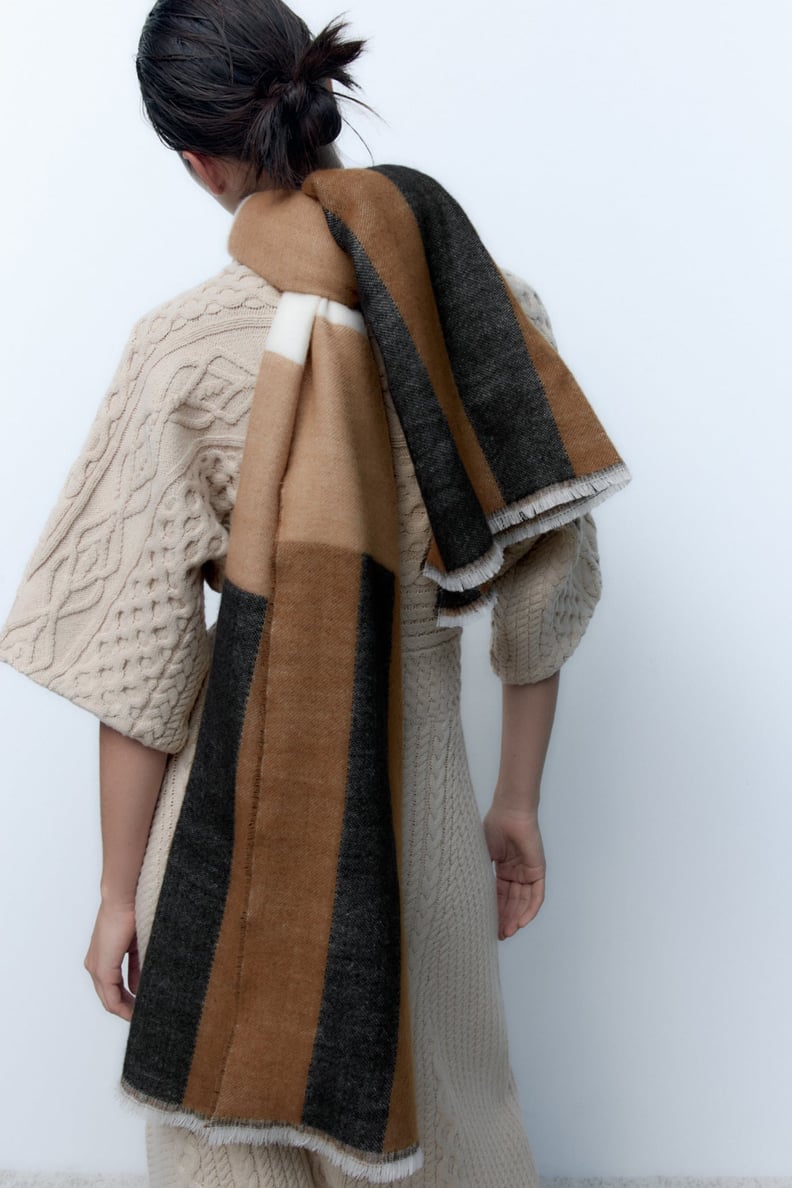 An Asymmetric Accessory: Zara Striped Scarf
As anyone who lives in a city with intense winters will tell you, scarves are the unsung hero of snowstorm fashion — especially if they're as thick and warm as this Zara Striped Scarf ($40). We love the geometric, multi-colored design that's wrapped around this accessory. Wear it with a chunky wool coat or even a lightweight cream sweater for a look that achieves peak seasonal balance.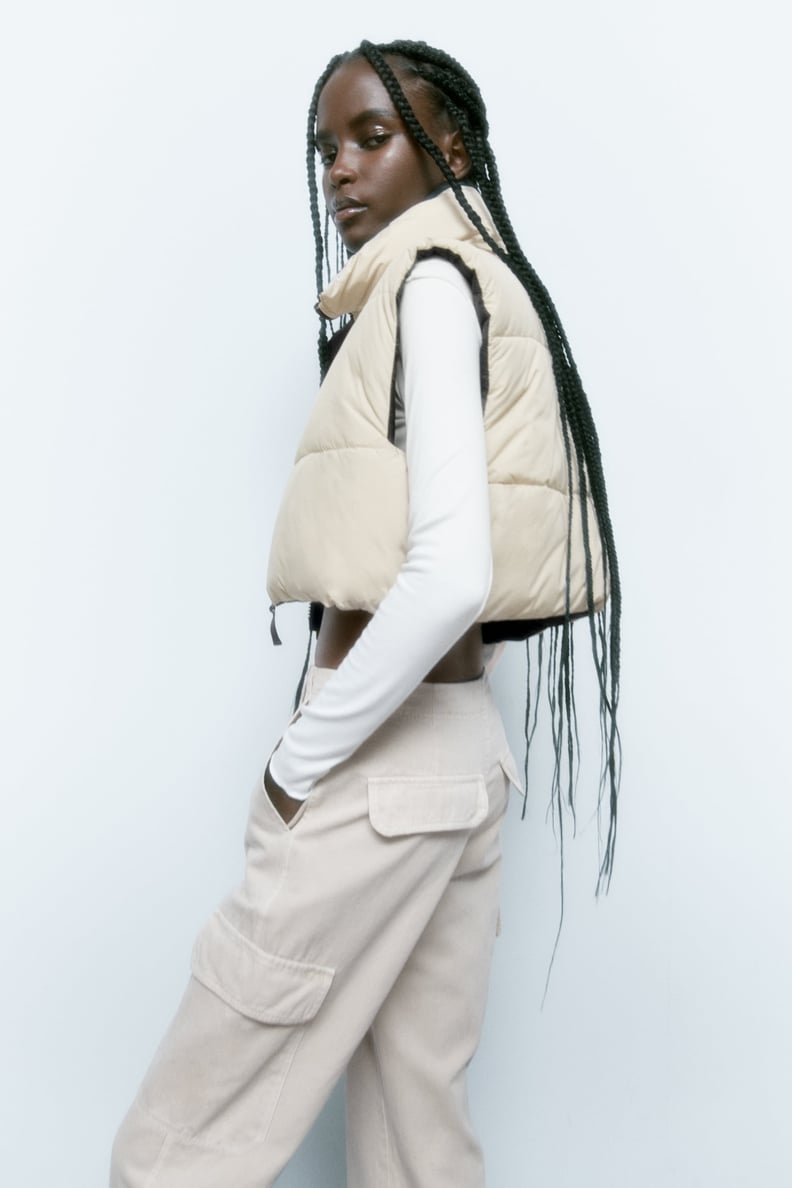 A Winter Staple: Zara Reversible Quilted Vest
If we're being honest, we just can't get enough of the puffer jacket this season. From long-sleeve, weather-proof styles to more breathable pieces like this Zara Reversible Quilted Vest ($50) — which is perfect for fall layering — the style brings such a fresh, sporty flair to our seasonal wardrobe.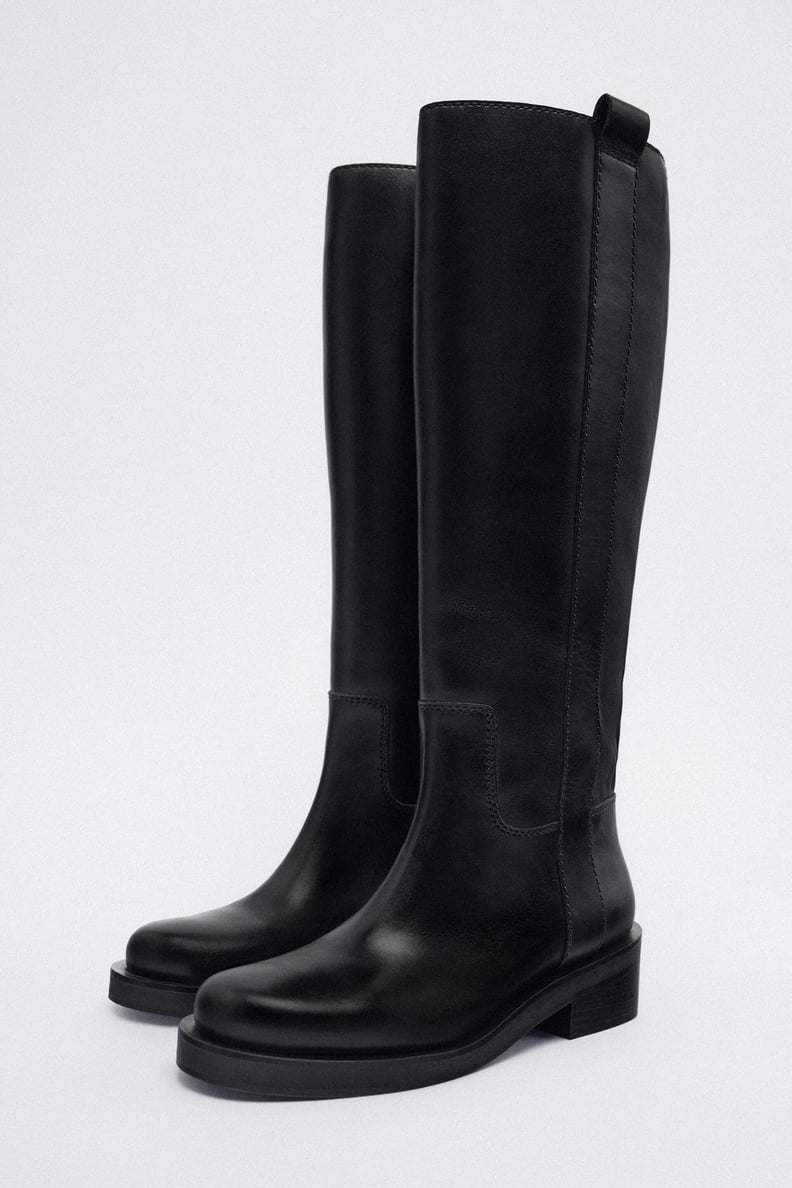 Bold Boots: Zara Flat Leather Knee High Boots
Rain or shine, these sleek Zara Flat Leather Knee High Boots ($189) are sure to be the shoe you reach for the most this winter — and honestly we don't blame you! Pair the knee-high boots with classic jeans and a long-sleeve T-shirt for a breezy daytime look. Or, come nighttime, dress them up with charcoal leggings and a mini printed skirt.
A Layered Look: Zara Gathered Short Dress
This Zara Gathered Short Dress ($50) isn't your average mini dress — as showcased by its unique layering, ruched side fabric, and overall effortless design. The style drapes so beautifully across the body. And we love the outfit versatility that's provided by the frock's muted, gray coloring.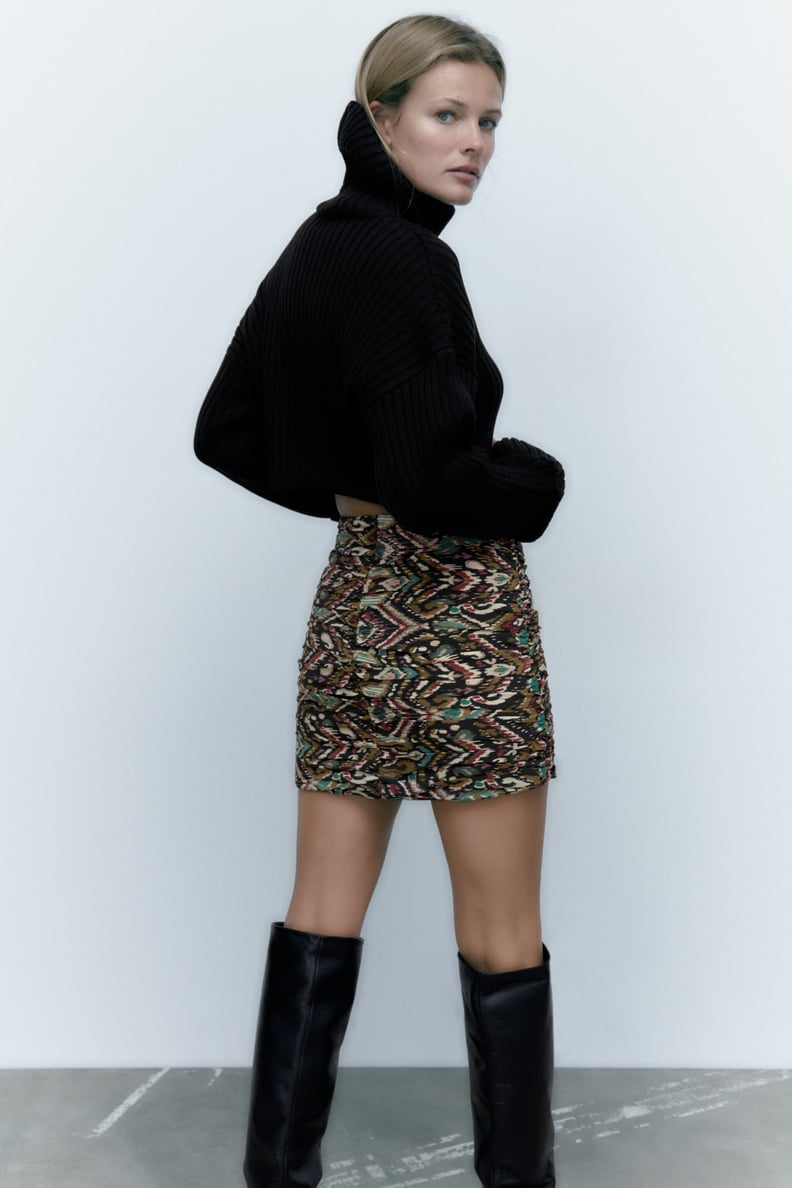 Pretty in Print: Zara Ruffled Printed Mini Skirt
Oh mini skirts, how we've missed you! Arguably one of fashion's most playful styles has made its long-awaited return this season, and also proved that there's no limit to how it can be styled, in the process. With this Zara Ruffled Printed Mini Skirt ($46), you can pair it with a relaxed turtleneck blouse and loafers. Or, you can even dress it up with an oversize knit and knee-high boots.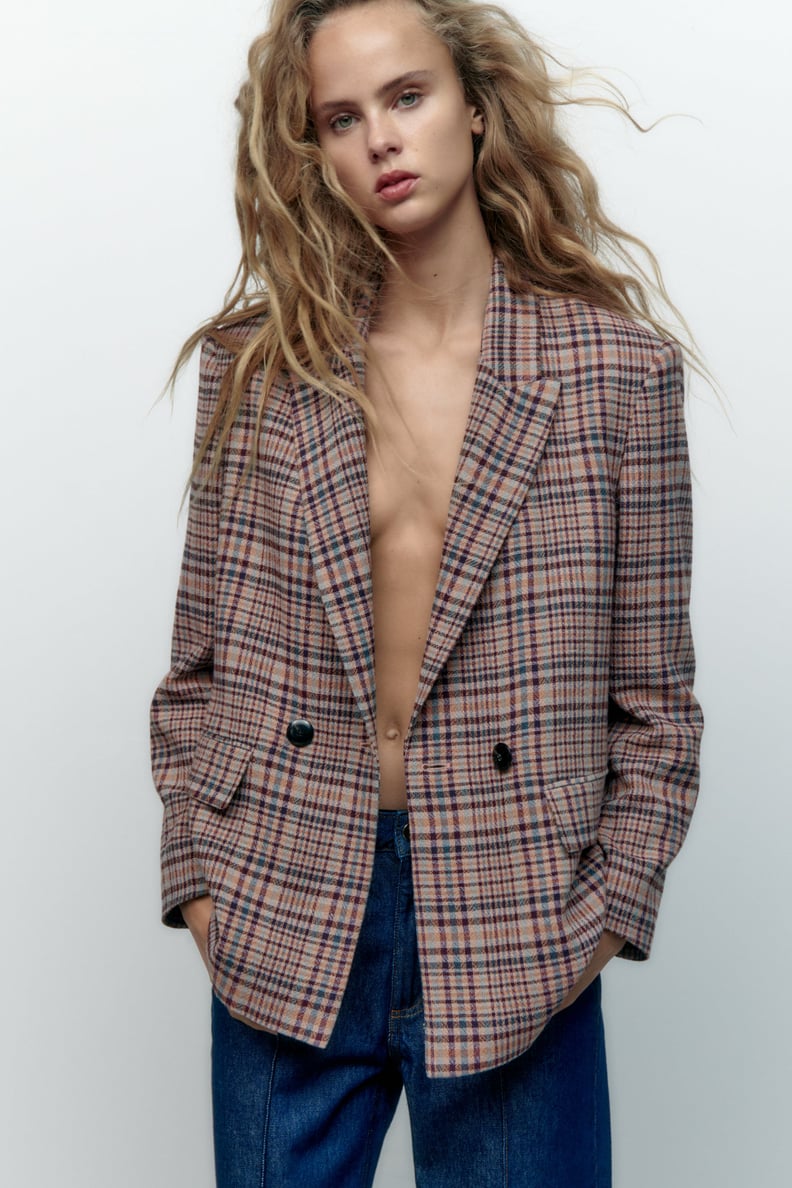 Serious Business: Zara Oversized Plaid Blazer
From the office and late-night work functions to weekend brunch dates, seasonal get togethers, and beyond, this Zara Oversized Plaid Blazer ($90) is the most perfect "go-anywhere" piece. We love the tailored look of the style. And deep side pockets complete the blazer jacket with an added practicality.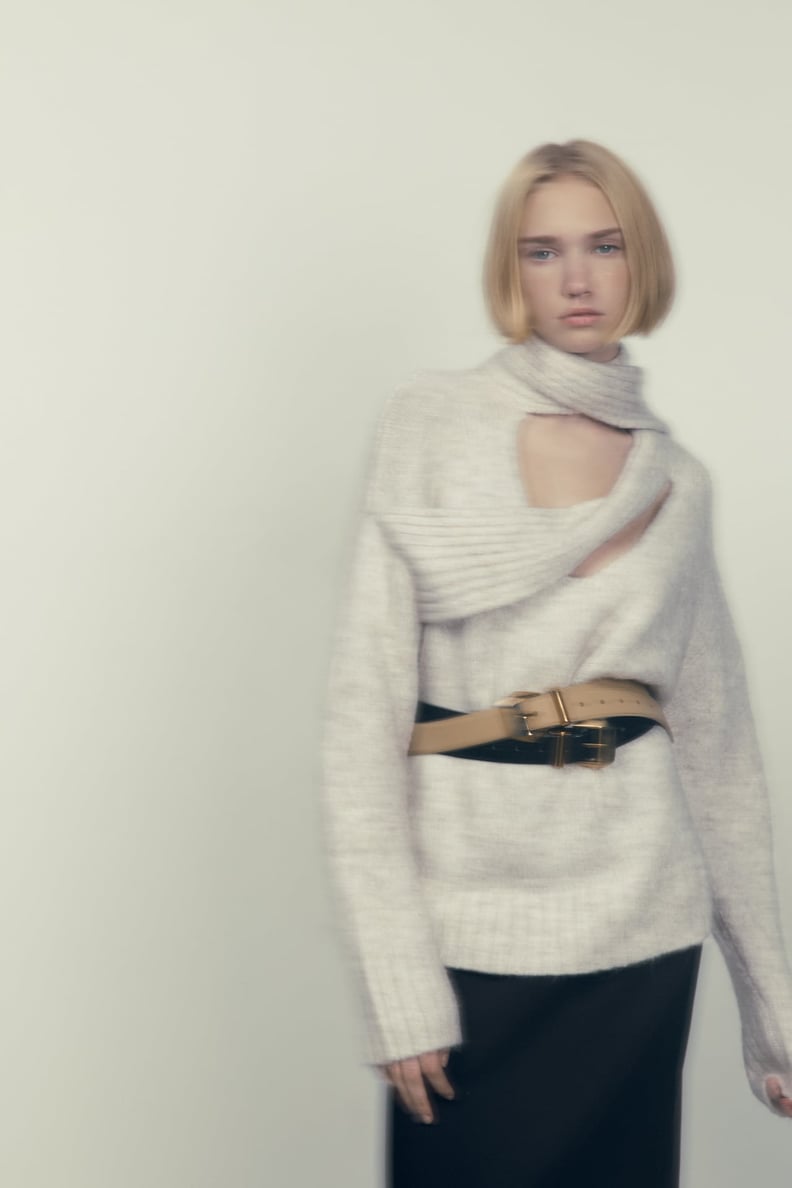 Buckle Up: Zara Belt With Geometric Buckle
Buckle up, because belts have come back in a major way this fall, and even bolder styles are predicted to trend well into winter, too. Long gone are the days of muted and minimalistic waist belts — this season, the bigger the accessory, the better! Tap into the fad with this Zara Belt With Geometric Buckle ($40) — available in two colors.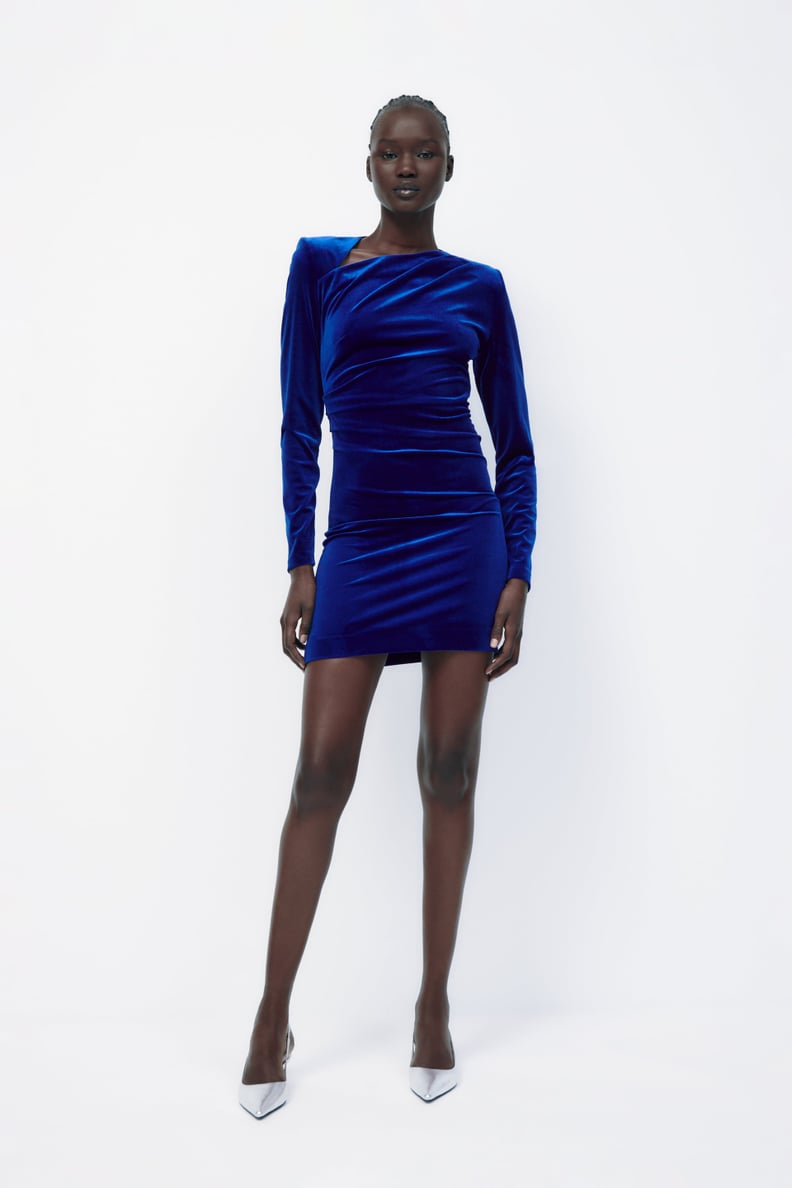 For Your Next Holiday Soirée: Zara Velvet Asymmetric Dress
Given that the season of family gatherings and holiday parties will be here before you know it, now feels like the perfect time to invest in a few statement styles to wear to any elevated occasion — regardless of the dress code. Embrace the playfulness of late nights in this midnight blue Zara Velvet Asymmetric Dress ($50).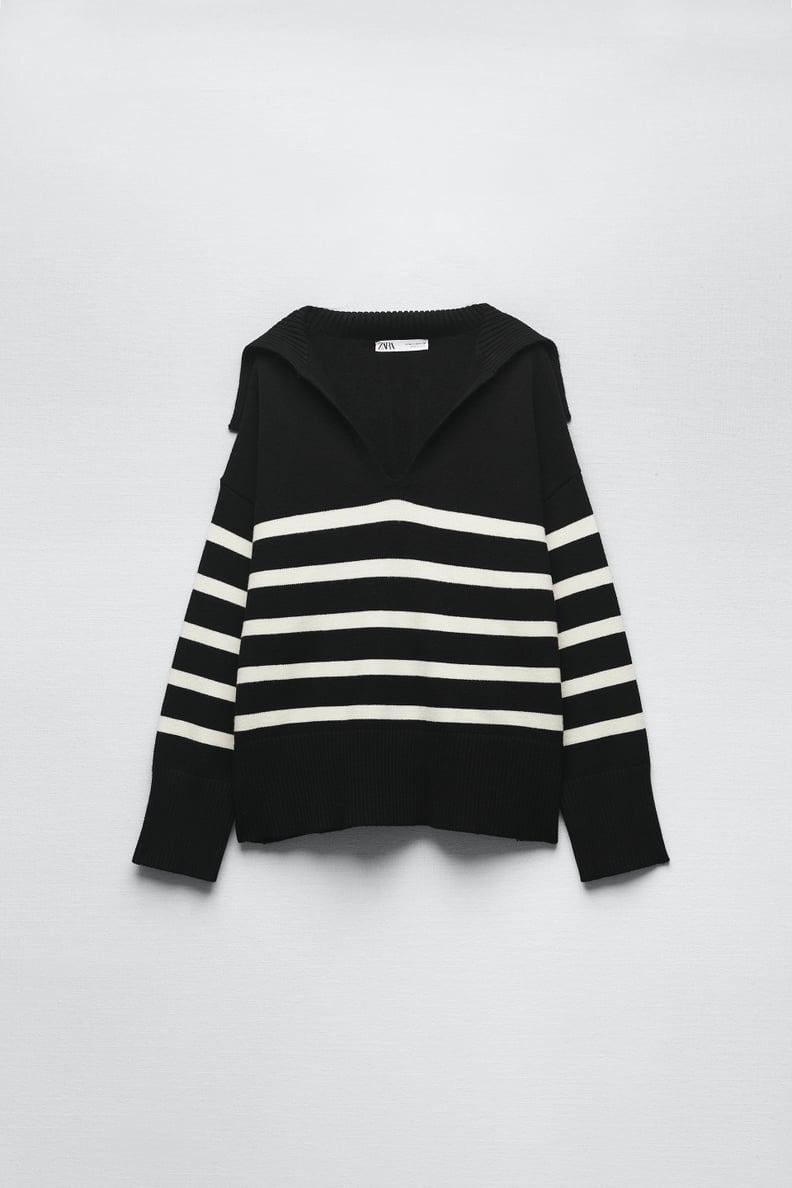 Subtle Stripes: Zara Striped Knit Sweater
Whether you're styling them with classic blue jeans, khaki trousers, or even a faux-leather mini skirt, striped sweaters can truly go with anything in your closet. We're particularly obsessed with this Zara Striped Knit Sweater ($50). The polo collar helps to complete the muted look with more of an elevated feel.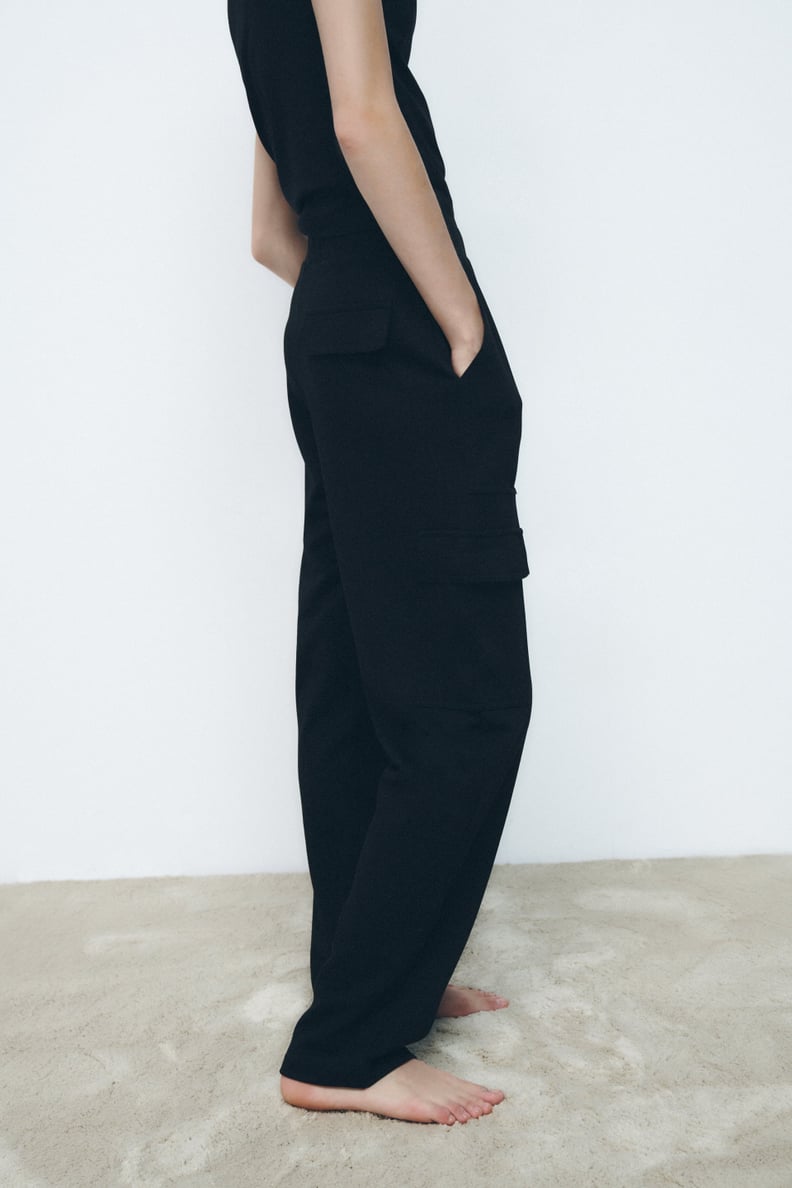 Cute in Cargo: Zara Cargo Pants
In the case of '90s fashion trends that just won't die and somehow always manage to trend in any season, cargo pants reign supreme. With this in mind, it's unlikely you'll find a pant more suited for wear, regardless of fashion's ever-rotating fads. Invest in a style you'll be able to wear forever with these Zara Cargo Pants ($36).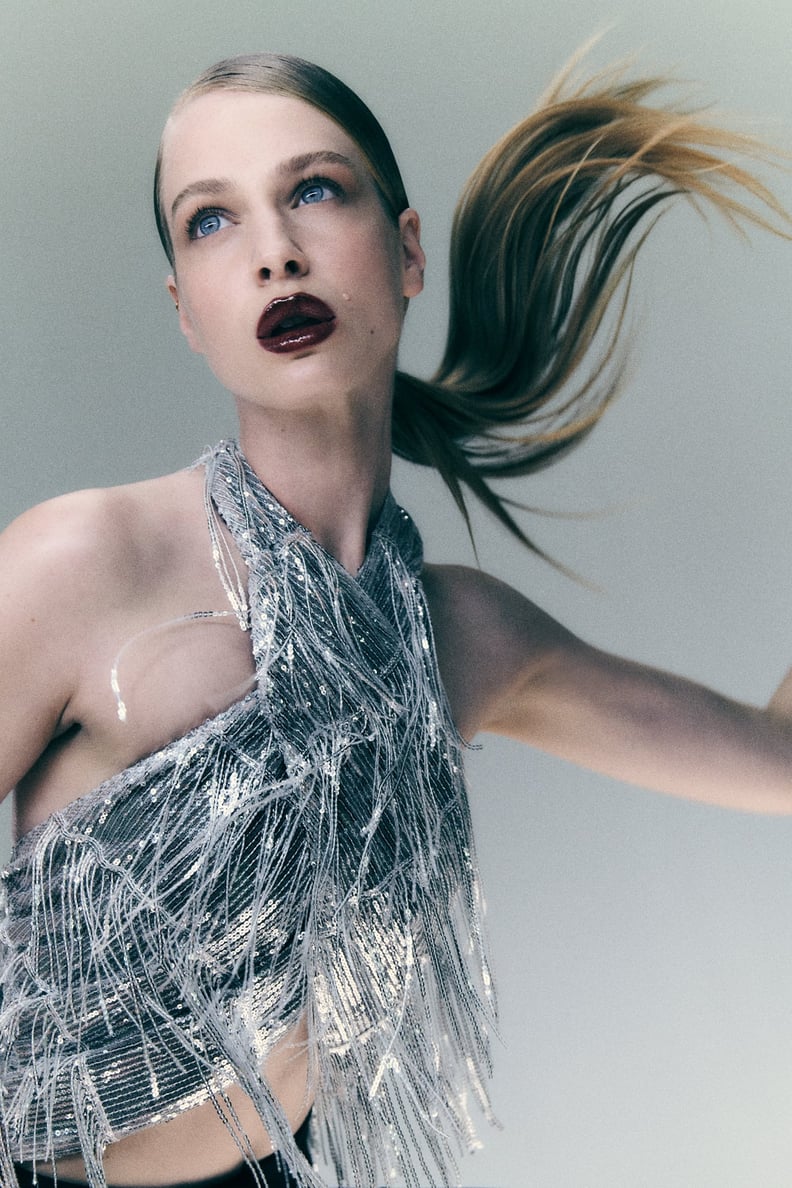 Major Metallics: Zara Sequin Wrap Halter Top
Metallic fashion has seemingly taken over TikTok as of late. And if you're looking for a fresh way to breathe new life into the trend, we recommend this Zara Sequin Wrap Halter Top ($50), in particular. The flounced style is sure to turn heads, and it also makes for a great top to wear for any New Year's Eve parties.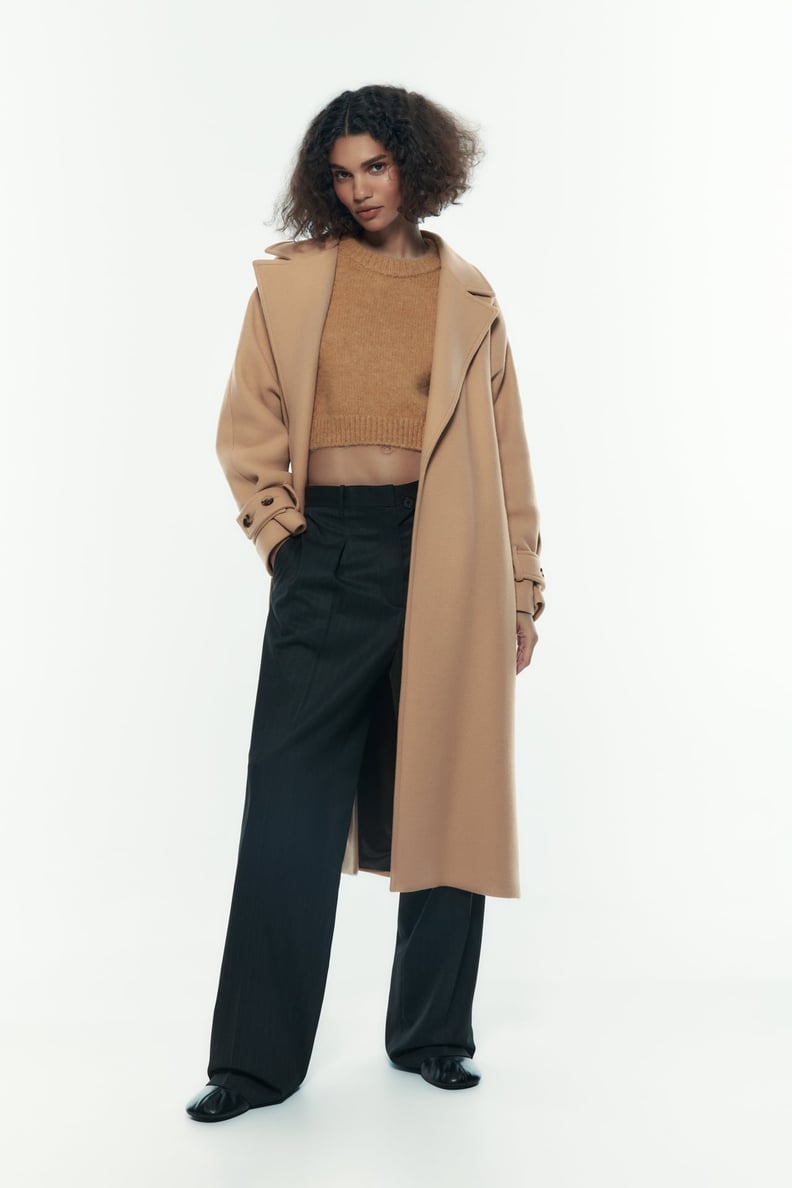 An Investment Style: Zara Belted Wool Blend Coat
This Zara Belted Wool Blend Coat ($229) is the type of style you'll want to live in all season long — and maybe even after that, too. The camel-colored belted coat features a waist belt design, which helps to create a more figure-flattering flair. Pair it with black slacks and a chunky knit for the most on-trend ensemble this season.