Brandon Blackwood on the Success of His Sustainable Luxury Handbags
As POPSUGAR editors, we independently select and write about stuff we love and think you'll like too. If you buy a product we have recommended, we may receive affiliate commission, which in turn supports our work.
Brandon Blackwood started his luxury handbag brand out of Brooklyn, NY in 2015. The designer, who's of Jamaican and Chinese descent, set out to to create a line that is inclusive, functional, affordable, luxurious, sustainable, and bursting with personality. Are there any more boxes you think he needs to check off? Speaking of bags with undeniable character, Brandon explains to me how all of his purses are named after really close friends, family, or townships in Jamaica. "Every bag named after a friend makes sense for that friend. That's how I keep them close to me. Every bag has a story and speaks to who I am and who I represent," he says.
Though he's often compared to Telfar Clemens, who has also created an accessible product line that is for everyone, Brandon can tell you exactly what defines his bag on the market: "On the base level, it's always going to be about functionality, while still remaining a classic. Even though we'll do a take on hot pink nylon, iridescent snake print, or something else trend-driven, our bag is still going to make sense. I don't make useless bags," he says.
"Every bag has a story and speaks to who I am and who I represent."
E-commerce is Brandon Blackwood's bread and butter — the designs that range from $70 for wallets and up to $400 for jumbo satchels retail at brandonblackwood.com, Saks, Bloomingdale's, and Black Owned Everything — and the label is selling out more rapidly every day. But Brandon is ambitious: "I was planning on doing a shoe line this summer, but we got so busy and the demand was so crazy that I didn't want to rush it. That will happen, if not this fall, then probably top of next year. I'm also going to do a little bit of outerwear, so that will be cool," he says, going on to tease a few projects I have to keep mum on for now.
"We're actually going to be on a call today with one of my dream collabs," I am not surprised to hear Brandon say toward the end of our conversation. When I ask him about dream celebrity clients (in addition to the likes of Normani, Saweetie, Rickey Thompson, Halle Berry, and Joan Collins, all of whom already star in his spring campaign) he says, "I mean, obviously Beyoncé. Why not? It's coming, fingers crossed." With Outer Banks star Madison Bailey's recent red carpet outing featuring Blackwood's eye-catching mini Cara duffle, I'd say the momentum is certainly building on this brand. A Beystagram could very well be in the making.
Ahead, read more about Brandon's expanding business, then check out his incredible spring campaign and pre-order the collection.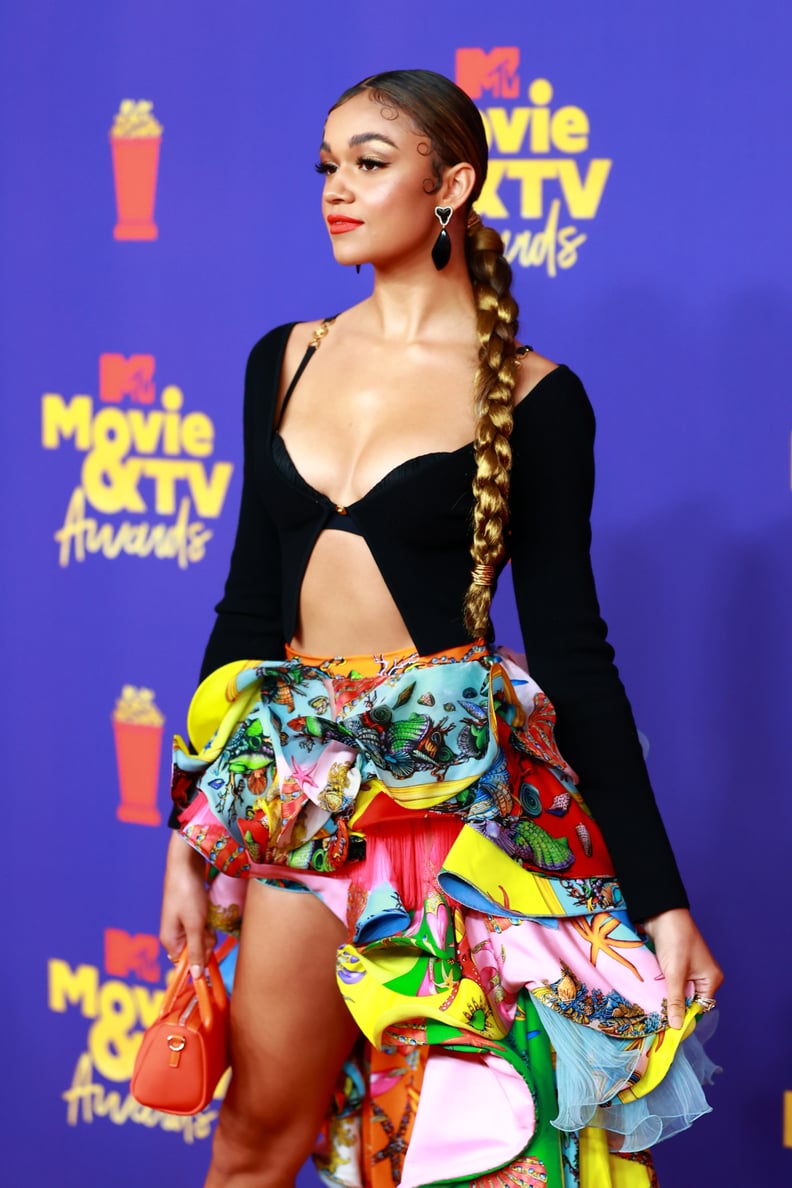 Brandon Blackwood on the Red Carpet
"I got a text from my PR Director Ramona out of nowhere during the MTV Movie and TV Awards [where Madison Bailey wore the Brandon Blackwood Cara bag] and I was like, 'No way!' It was a very proud moment for us because it was our second official time on the red carpet. Amandla Stenberg wore my backpack to the Met Gala years ago and she was sitting next to Lupita Nyong'o. Lupita Nyong'o's team reached out the next day. I sent her one and she was spotted all over with it. She's been super supportive."
Shop Madison's Brandon Blackwood Mini Cara Duffle Bag in Burnt Orange ($150)
The Brandon Blackwood Price Point
"A lot of people think that you start your brand, you have your idea, and that's it, but it's really the customer who molds your brand."
"I always wanted my bags to be attainable luxury. You can make a high-quality, beautiful statement piece, but it doesn't have to break the bank. I really stuck to that when I saw who my customer was. A lot of people think that you start your brand, you have your idea, and that's it, but it's really the customer who molds your brand. I saw a lot of millennials and Gen-Z kids wanting to feel luxe, but obviously the budget wasn't necessarily there all the time. I decided that instead of putting out a $2,000 bag, I'd put out a $250 bag that could go with so many different things from casual to more dressed up evening wear. It made sense — it's something you're still going to carry and be proud of."
Brandon Blackwood's Commitment to Sustainability
"We use a lot of vegan leathers, denims, and more natural fibers. We do a saddle leather that's vegetable dyed with organic materials. It's an offset to all the BS that's going on and it makes you more proud of your product. It's something our audience is really into as well. We're also really in tune to our supply and demand. We never over-saturate the market or make more than we think we can sell. We don't have sales or items that are going to end up going to waste in third or fourth party stores. Every bag we produce ends up with a home."
Brandon Blackwood's Space in the Accessories Market
"Because I'm self-taught and didn't go to school for fashion (I went to school for neuroscience, actually), I have always done some things in my own way. There is one brand I admire called KARA. She has been doing really fantastic work. We get compared to Telfar a lot, and I think that's because there are so few Black-owned accessory lines. But it's so awesome to see these designers and their growth — how they're taking the accessories market and turning it on its head. I'm always on the side cheering for them."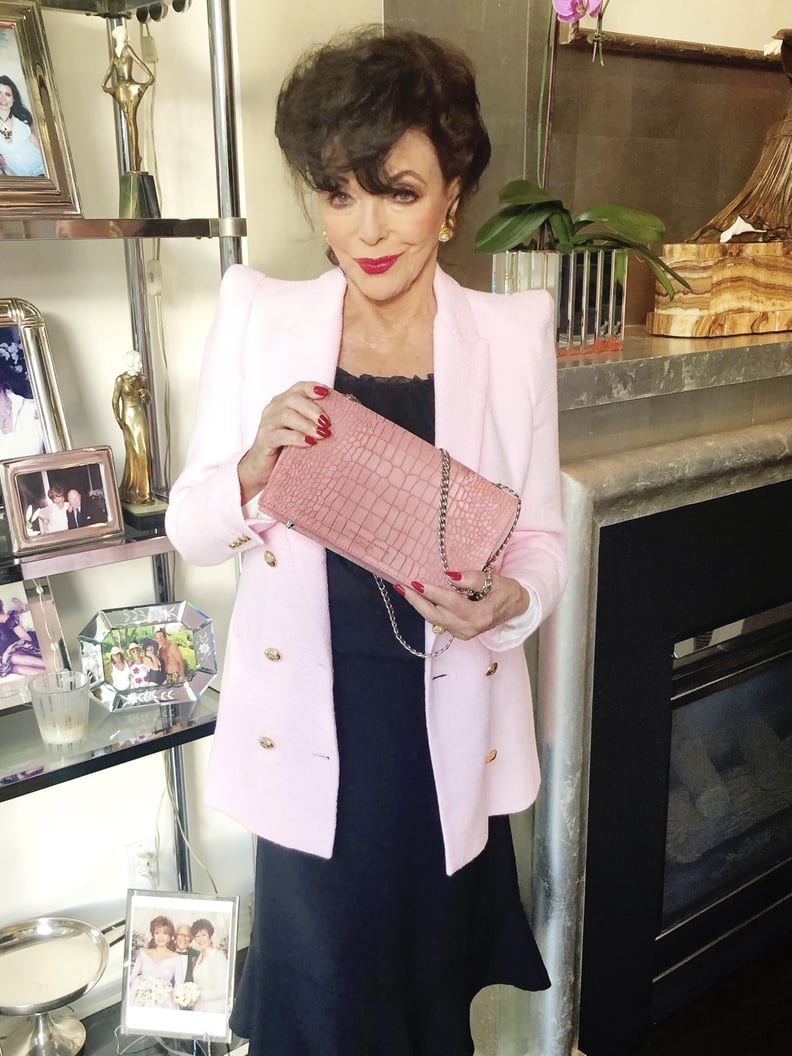 The Brandon Blackwood Spring 2021 Campaign
"For this campaign the goal was to find a bunch of people that were not only relevant in pop culture, but whose work I love and admire. As you can see, it's very Black and POC heavy because I feel that relates to the customer. I wanted it to be a very diverse campaign.

"Having such an iconic English woman [like Joan Collins] jump in and say yes to us, which we did not expect, was really exciting."
We reached out to the cast, giving them a full selection of the bags and asking them to choose the bag they genuinely loved and felt proud carrying. It was so cool to see everyone's different personalities and the bags they were choosing. Going into it, I thought 'so-and-so is definitely going to get this one,' but I was surprised! Everyone we reached out to said yes, which is not normal for a campaign — especially for a more up-and-coming brand. I loved everyone's photos, but the one that sticks out the most is Joan Collins [wearing the Sophia in Pink ($250)] because she doesn't necessarily do anything like this. Having such an iconic English woman jump in and say yes to us, which we did not expect, was really exciting."