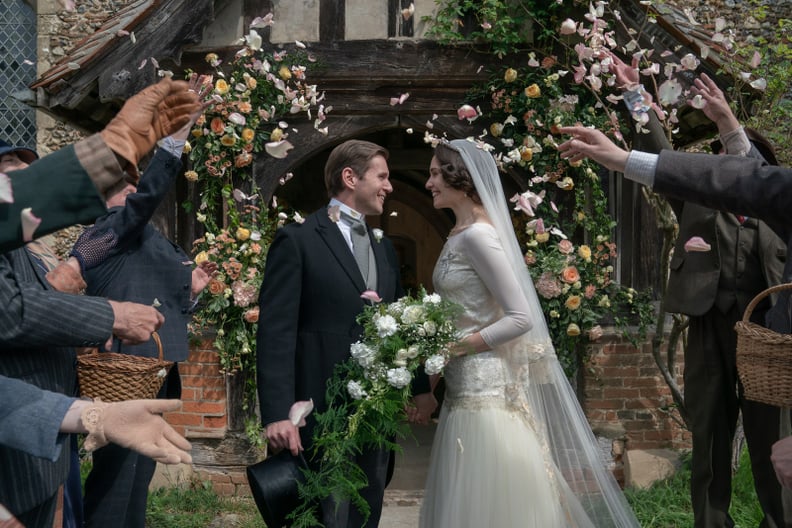 Ben Blackall | © 2022 Focus Features LLC
Ben Blackall | © 2022 Focus Features LLC
Back again on the big screen since its first cinematic installment in 2019, before the world turned upside down, the Crawleys of "Downton Abbey" and their in-house staff are yet again delivering elegance, intrigue, and fashion in their second film, "Downton Abbey: A New Era." The new movie picks up where the last ends, set at the end of the Roaring Twenties in 1928 before the world slides into a global economic depression.
Very much needed in a world currently grappling with despair and grief, the film feels decidedly more joyous and humorous than the last movie and much more than the series that brought the English estate's inhabitants into our homes and hearts. There is quite a bit of adventure to go around too, from a wedding to a vacation in the South of France to the entrance of Hollywood film stars making a movie within the movie.
An epic undertaking such as this during a global pandemic required the expertise of a costume designer who already knew the Crawleys and company quite well. So, costume designer Anna Robbins was back at the head of wardrobe after costuming the series's last two seasons and the first film.
"The cast and crew are like a family, and it was a wonderful experience working with them again," Robbins tells POPSUGAR of working on the second movie. "We were all excited and grateful to have that opportunity anyway, but for it to be during a pandemic made it special in a different way because we were able to see one another and work. The pandemic definitely made it harder because we had to operate in a very different way. There were a lot of impacts on the costume department, but we were able to overcome all those challenges."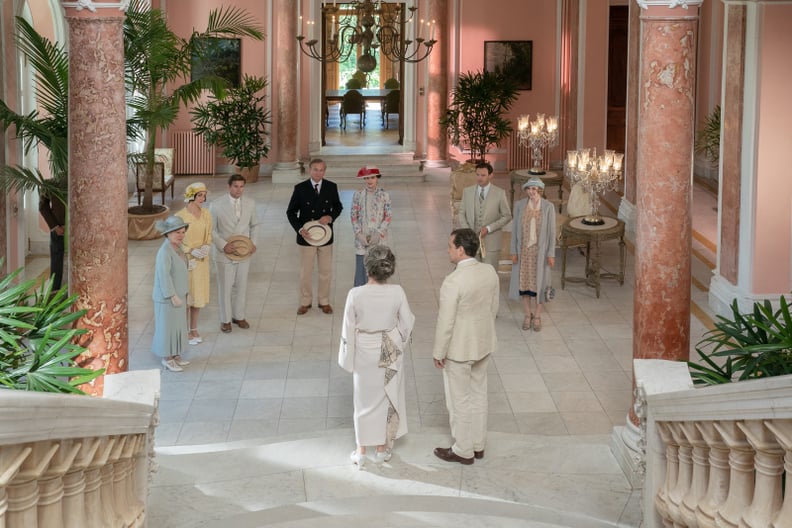 None of those challenges reads on screen from the start, when the audience gets to join in the joy of Lucy and Tom's wedding to kick off the movie. "It was amazing and a privilege to get the chance to design a bridal look within Downton," Robbins says. "It definitely comes with a certain pressure because you want to make it perfect and do the character justice with this very special gown. Knowing it was the opening scene for the film, we knew we wanted to have an impactful look for Lucy's dress, but also for the congregation we were seeing in the church that were both upstairs and downstairs. Everyone was in their finery, so we were able to look at color and really compose the scene so that all of the colors were harmonious." There were so many people on screen at the ceremony, so Robbins certainly had her work cut out for her.
For Lucy's stunning gown, Robbins was inspired by a photograph of a 1928 Chanel dress and another fashion illustration from the time. "What I was really drawn to was an asymmetric hem and frothy layers of tulle," Robbins says of the piece. "I wanted to give the sense that it was really fresh, contemporary, and cutting edge for the time. I wanted it to feel like Lucy could really gather up her skirt and have a good dance at the reception, so there was a kind of ease and relaxed vibe to it. From there, it was about creating drama with a low back, a beautiful boat neck with chiffon, and silver embroidery laid over the satin, so you've got lots of lovely plays on texture."
Lucy also wears some incredible jewelry that is authentic to the time period, including a diamond and pearl tiara and a beautiful Van Cleef & Arpels diamond brooch that she wears on her bodice. "It was a great costume to design and a lovely way of introducing Lucy in this new world that she's publicly part of," Robbins says. "We were really able to express her personality through her clothing in a way that we hadn't been able to do as much in her wardrobe as a lady's maid in the first film."
Though the movie only moves forward one year from the first film, there are notable changes as we all know style can change drastically in a year's time. And there were definitive shifts between the fashions of the '20s and the '30s that were already shining through in the looks of wealthy women like Lady Mary. "She has always been very cutting edge and ahead of the time when it comes to her style," Robbins says of Michelle Dockery's character, who works with movie director Jack Barber to turn his silent film staged on the estate into a talking film. "We were looking at some 1930s silhouettes with her, and that was really exciting."
Robbins also styled Lady Edith in trousers for the first time as she turns her South of France holiday into a work trip where she covers the new palatial home that is bequeathed to one of Downton's youngest. She played on the rise of pajama sets in real life at the time, which were popularized by fashion designers like Paul Poiret and Callot Soeurs in the region.
"Within Downton, that time frame, and in the upper classes, there was a huge amount of etiquette when it came to what you should wear and when," Robbins says. "Traveling is no exception to that, so you would travel in a traveling suit and you'd have your hat and your gloves in your bag. We started off in Yorkshire, so we had traveling suits done in an English way. The weight of the suiting on the gents was tweed, and the hats were felt."
Then, when the Crawleys and crew arrive at the villa, you see them transition to their South of France wardrobe — a really exciting and surprising turn as we've yet to see the family this relaxed and sun-kissed. This shows through with lighter fabrics and a softer color palette, with the women in pinks and yellows and the men in cream-colored linen. "We introduced Robert in separates, which is a really lovely look that I had been waiting to do," Robbins says of the Downton patriarch. "He was in a Grenadier Guards blazer with separate trousers, including a gray trouser to leave and then pale, fawn-colored trousers when he arrived at the villa. Little things like that show they would've had an outfit for every occasion and situation. He still arrives as this quintessentially English gentleman meeting this quintessentially French gentleman."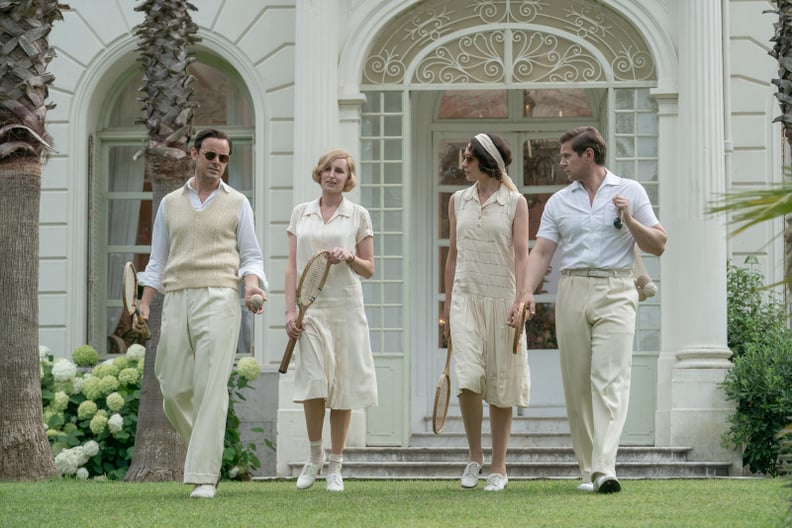 And in case you were wondering, there were real similarities in dressing between the aristocratic classes in different countries at the time, especially between London and Paris. "The rules in the South of France are much more relaxed, as this is a place where people are starting to vacation in the height of summer at the time and the pajama set brigade are women who are wearing trousers," Robbins says. "Menswear is getting more relaxed with the double-breasted suit jacket coming in to dispense the waistcoat, which would've made them a lot cooler. The Crawleys showing up with a small portion of their staff is a much more stripped-back and relaxed environment at the villa, which is a nice contrast to Downton."
But the Crawleys and their beloved staff aren't the only characters making waves this time around, as two Hollywood movie stars are thrown into the mix: Myrna Dalgleish and Guy Dexter. "It was a great opportunity to design for these really interesting new characters who came from completely different backgrounds and have an exciting potential to push the boundaries of the storylines and with how they dress," Robbins says of the duo who turn Downton Abbey into a Hollywood movie set. "I had a really great codesigner on this film named Maja Meschede, and we worked quite closely on Myrna's looks. Maja came up with this beautiful costume for her arrival which sums up who the character is and what we wanted to do with her. She's dressed in very icy colors, though she warms up a little bit throughout the film." Myrna is full-on Tinseltown glamour, with cuffs, exaggerated necklines, and a definitive "more is more" energy. Meschede and Robbins looked at the Hollywood stars of the time, including Clara Bow, Louise Brooks, and Marlene Dietrich, to create her jaw-dropping ensembles.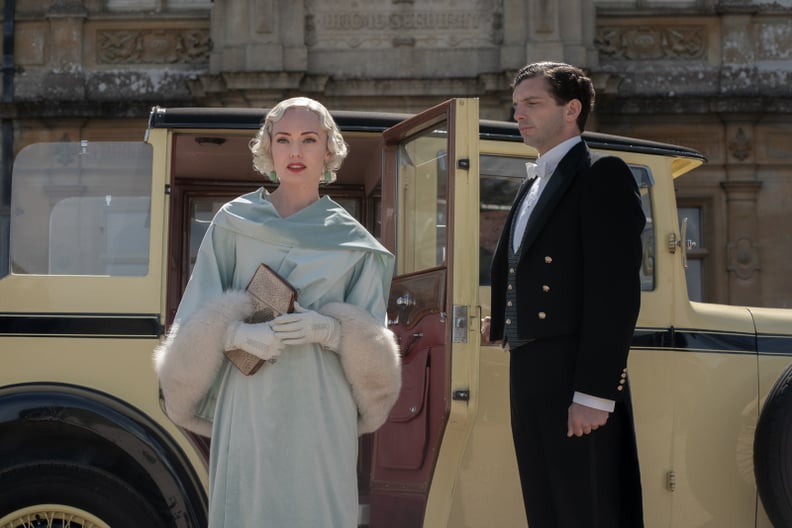 The movie also takes a somber turn, with Downton matriarch Violet Crawley, Dowager Countess of Grantham, passing away. The moment plays out over a couple scenes, with the family congregating in her bedroom for her final breaths and goodbyes and then her funeral, which is a moving and regal affair. "I had to design the looks knowing they would work together in a lot of different configurations and across a lot of different scenes, ending up in this very intimate space," Robbins says about the first scene with the family. "The palette had to feel harmonious with nothing jumping out within it."
For the funeral, almost everyone is in black, but some of the staff are in muted colors of gray and brown as they may not have had a black outfit for the occasion. "It was about knowing what these characters would've had, so some of them would've worn their Sunday best," she says. "Some of the characters were wearing the same look to the wedding at the beginning as they were to the funeral at the end. We wanted to represent their characters through costume, but we wanted different textures, fabrics, detailing, and accessories, so we could add interest."
Overall, this second "Downton Abbey" movie feels more open-hearted and joyous than any previous chapter of the saga. "We need the fun, laughter, and uplifting moments now more than ever," Robbins says. And this movie delivers all of the aforementioned in spades.