10 Easy Ways to Pull Off the TikTok-Approved E-Girl Aesthetic
As POPSUGAR editors, we independently select and write about stuff we love and think you'll like too. If you buy a product we have recommended, we may receive affiliate commission, which in turn supports our work.
Drawing from anime and video-gaming cultures, e-girls typically experiment with dyed hair, exaggerated makeup (think vibrant, heavy eyeshadow), and playful accessories infused with a kidcore sensibility like busy prints and a mixture of textures. Members of the subculture spend a lot of time on social media, particularly TikTok and Tumblr. Just one search of the hashtag will reveal countless self-proclaimed e-girls drawing tiny hearts on their faces. As a Vox article explains, "They're not amassing followers by going on vacations to St. Barts or Santorini every other week. More likely, they're in their bedrooms, alone. Which is why you'll almost never see an e-girl in real life." To be an e-girl is to exist on a screen, the article continued, explaining that many e-girls are also frequent thrifters.
Other popular destinations for e-girl looks include Urban Outfitters and Dolls Kill. The aesthetic embraces an edgy appearance and a strong sense of individuality. E-girl fashion essentials include crop tops, striped long-sleeved T-shirts, pleated skirts, chocker necklaces, and baggy trousers. One TikTok user, Alejandra Olivera, showcased her e-girl aesthetic in a recent video, where she wore a black bra top, a high-waisted pleated miniskirt in pink and black plaid, and black stockings with sporty white stripes. Read on for a guide to the popular fashion trend.
What Is the Meaning of an E-Girl?
Short for "electronic girl," an e-girl is part of a fashion and lifestyle subculture that is defined by spending time online. Often compared to the emo or punk aesthetics, it typically involves winged eyeliner, heavy eye makeup, and a playful (or even juvenile) sense of style.
How Can I Achieve an E-Girl Aesthetic?
Your favorite anime characters or video avatars will provide plenty of style inspiration, but you don't have to be a gamer to experiment with this aesthetic. Mesh tops, choker necklaces, hair clips, and layers of silver jewelry are among the pieces and accessories you'll need to get started. From a cool graphic T-shirt to a punk-inspired pleated skirt, keep scrolling for a list of e-girl-approved fashion items to add to your wardrobe right now.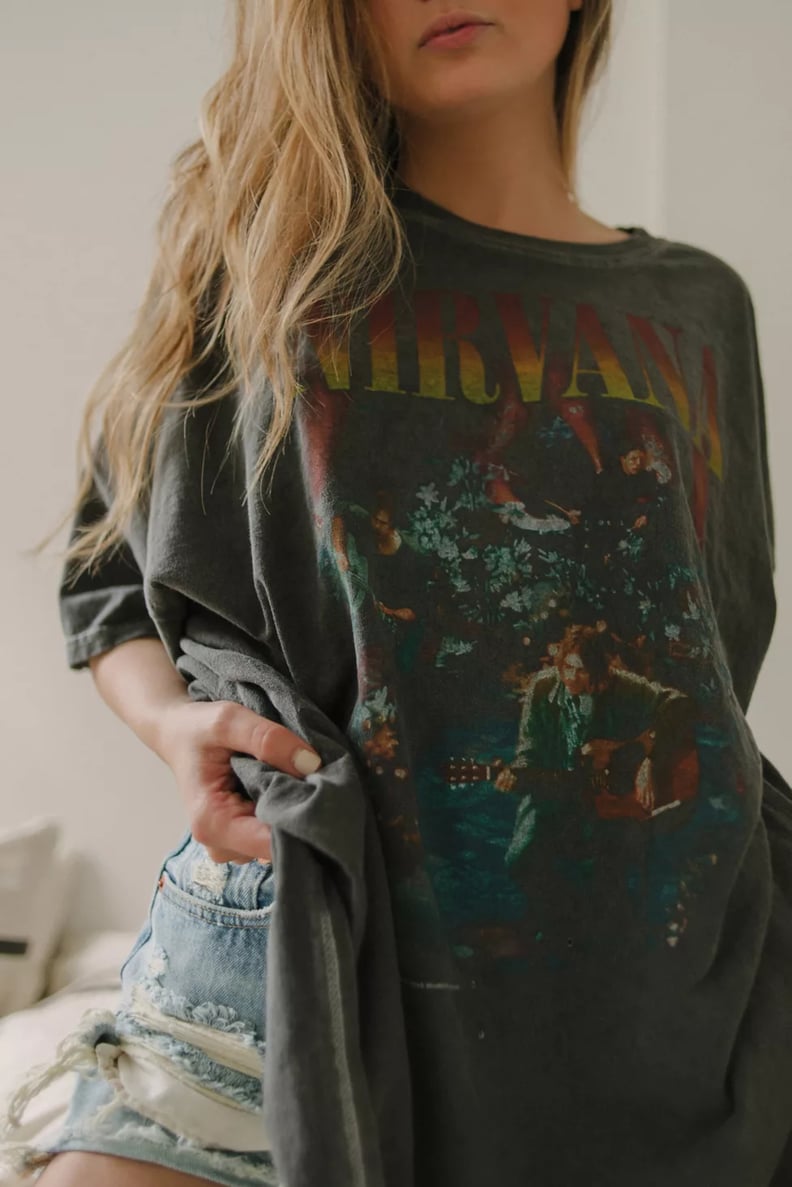 E-Girl Outfit Ideas: Urban Outfitters Nirvana Unplugged T-Shirt Dress
Achieving the e-girl look often revolves around the right graphic T-shirt. This Urban Outfitters Nirvana Unplugged T-Shirt Dress ($39) is a good starting point. Wear it as a T-shirt or dress, whichever you prefer. Pair it with ripped jeans, and throw in a few chain necklaces for the full e-girl treatment.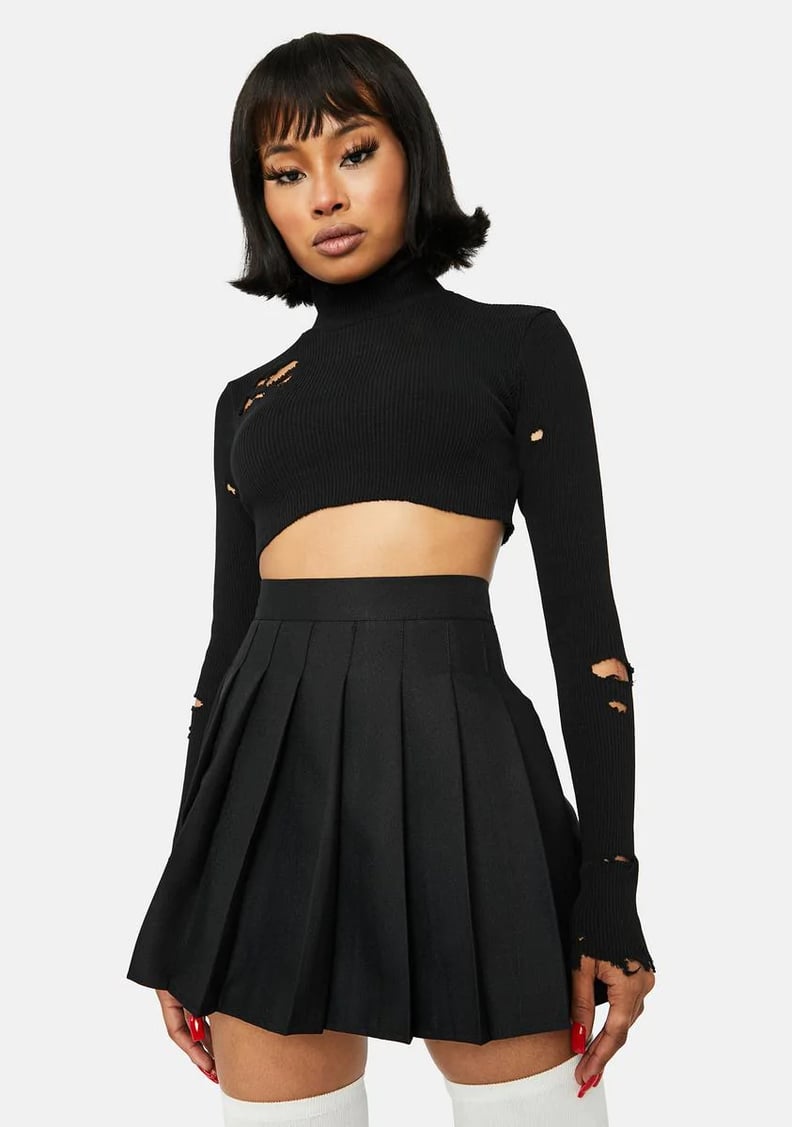 E-Girl Outfit Ideas: Onyx Just Like Candy Pleated Skirt
Nothing screams "e-girl" like a dark pleated skirt paired with a crop top and choker necklace. If you want to try the trend, this Onyx Just Like Candy Pleated Skirt ($30) offers endless styling possibilities. Finish with classic Dr. Martens boots or chunky platform sandals.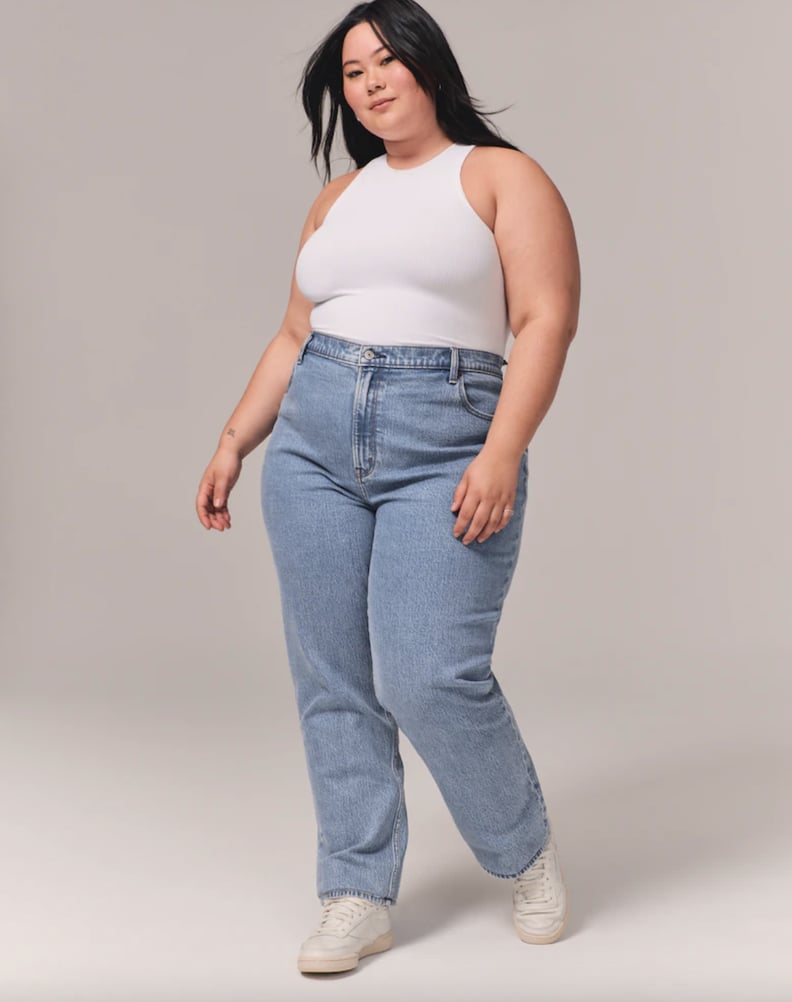 E-Girl Outfit Ideas: Abercrombie Curve Love 90s Ultra High Rise Straight Jeans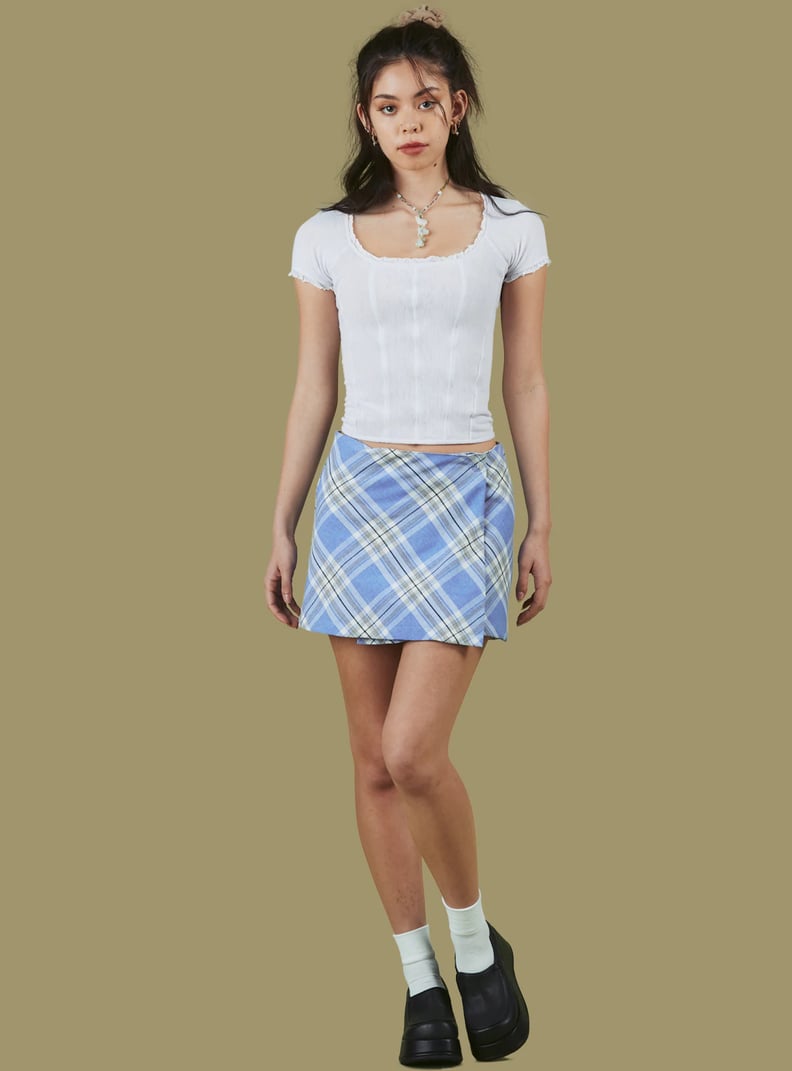 E-Girl Outfit Ideas: Unif Witz Skirt
Unif is a family-owned-and-operated clothing site based out of LA that stocks plenty of e-girl pieces, some of which you might expect to find on the likes of Olivia Rodrigo. Aside from popular items like platform brogues and babydoll dresses, you'll find classic "Clueless" staples like this Witz Skirt ($78).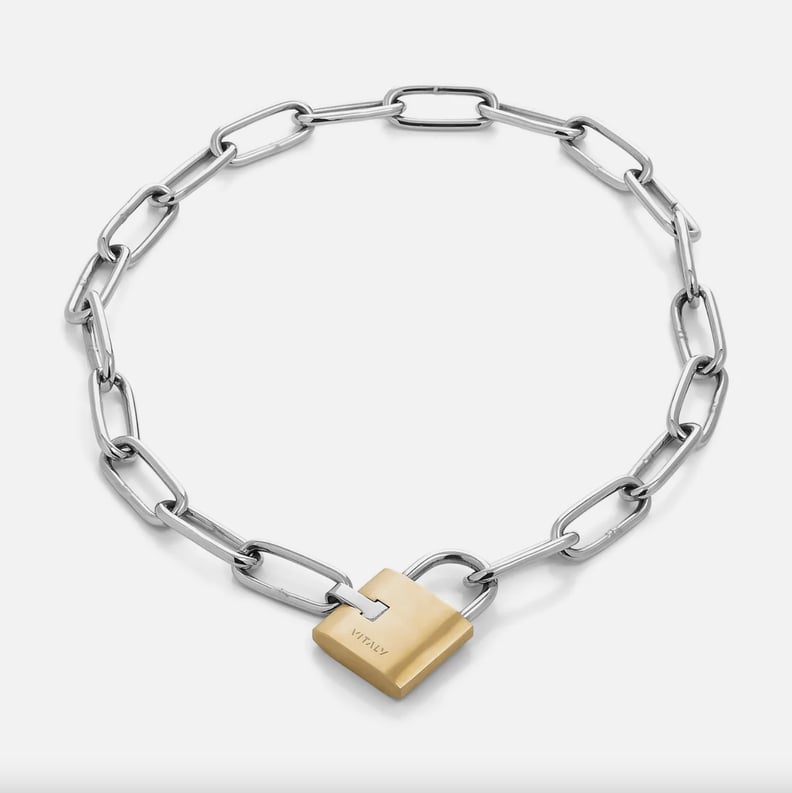 E-Girl Outfit Ideas: Vitaly Trespass Necklace
Unexpected, statement-making chokers are hallmarks of the e-girl aesthetic. This Vitaly Trespass Necklace ($88, originally $110) makes for a theme-appropriate finish. Style it over a bra top and pleated skirt for a bold look that will garner compliments at every turn.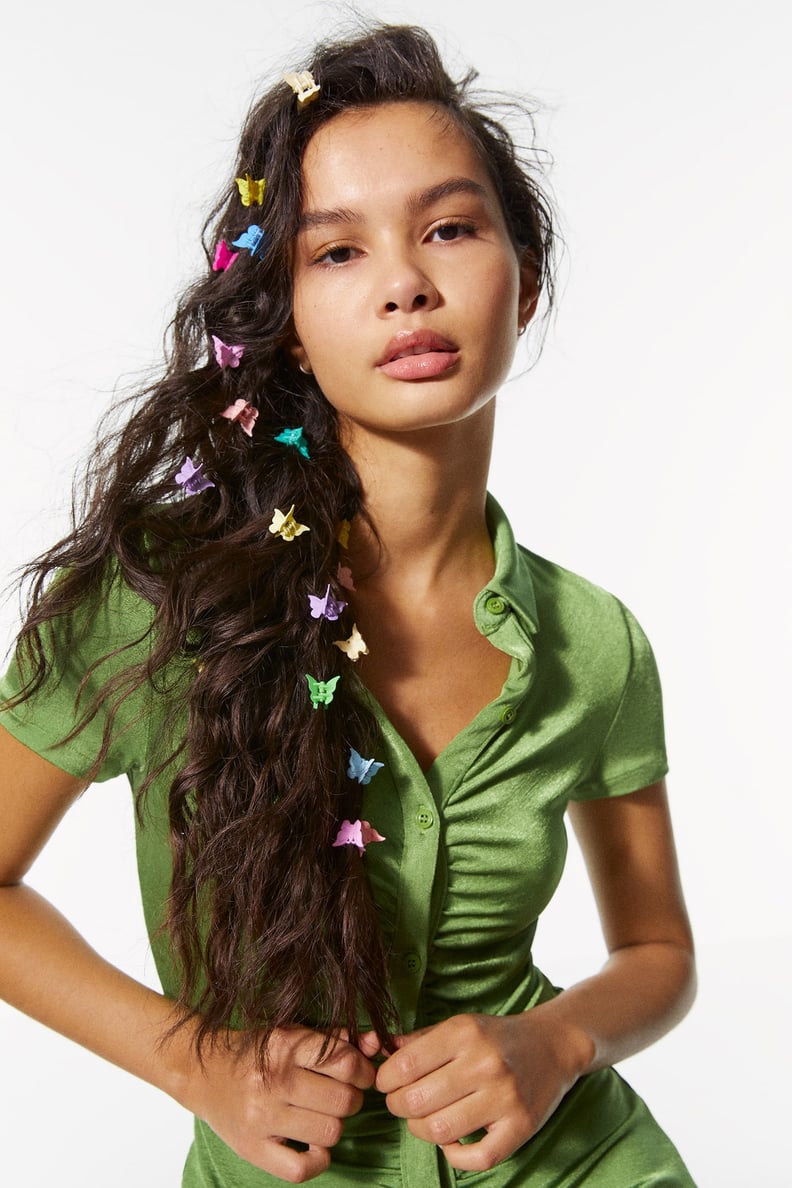 E-Girl Outfit Ideas: Pull&Bear Pack of Butterfly Hair Clips
Pull&Bear, aka Zara's little-sister brand, is reminiscent of Urban Outfitters and its more youth-driven merchandising. Here, you'll spot everything from tie-dye graphic tees to baggy denim, which would all be featured in an e-girl's mood board. Accessories like this 12 Pack of Butterfly Hair Clips ($11) will complete your e-girl outfit.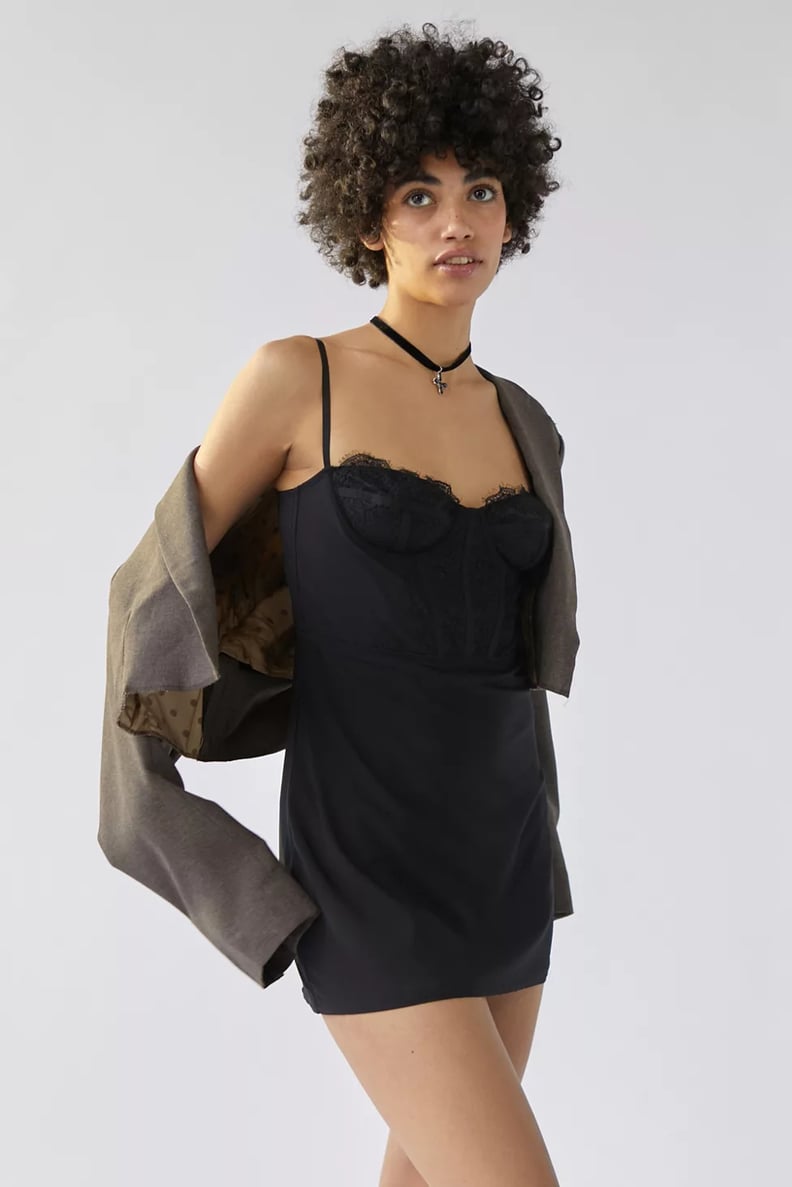 E-Girl Outfit Ideas: Urban Outfitters Modern Love Bustier Mini Dress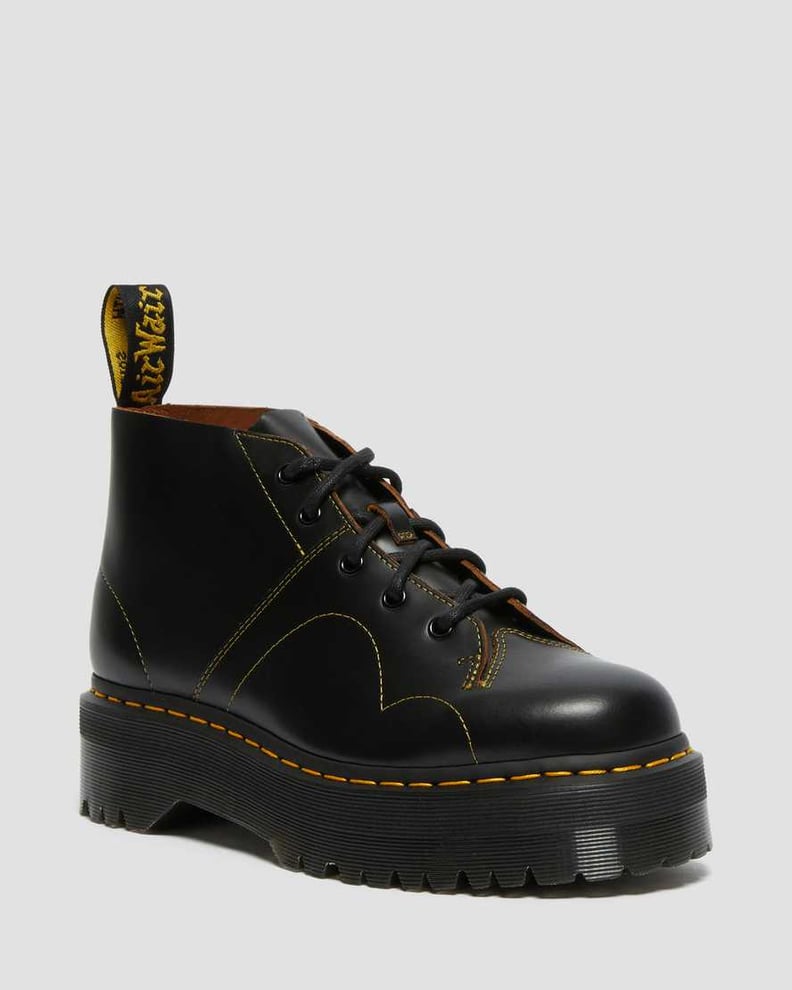 E-Girl Outfit Ideas: Dr. Martens Black Church Platform Boots
You'll likely find a pair of shoes like these Dr. Martens Black Church Platform Boots ($190) in an e-girl's closet. Opt for the signature yellow topstitching for that unmistakable visual contrast.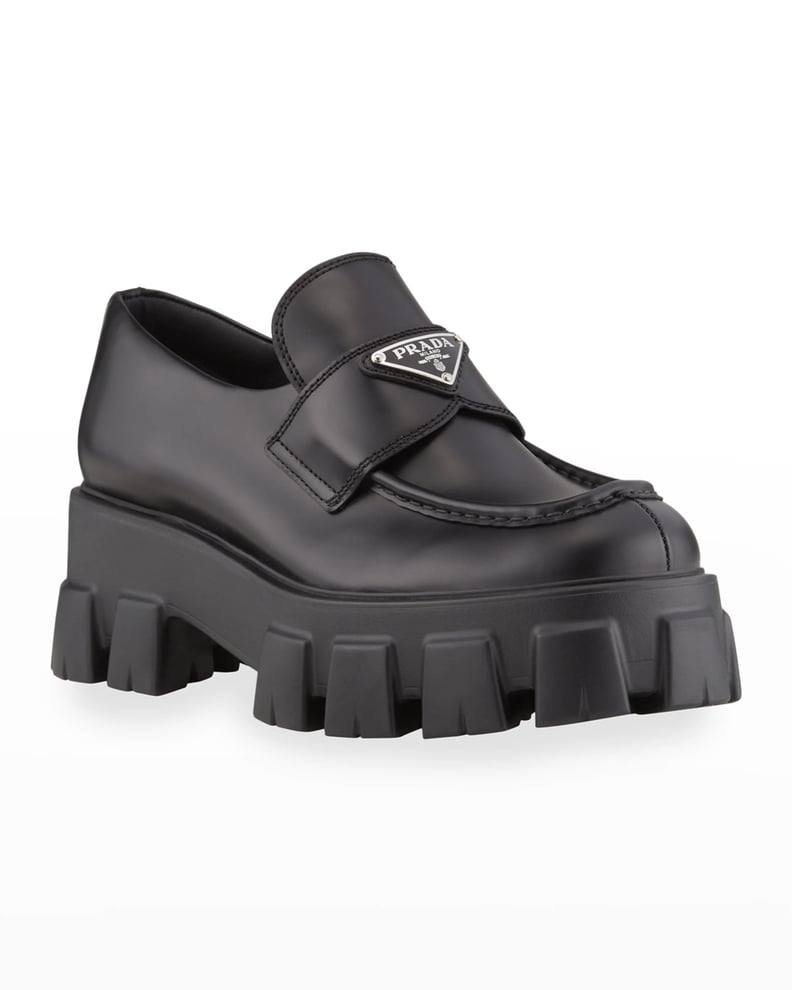 E-Girl Outfit Ideas: Prada Monolith Leather Logo Platform Loafers
Turn to these chunky Prada Monolith Leather Logo Platform Loafers ($1,170) for a high-fashion shoe of the moment that grounds your e-girl look, whether you're sporting a plaid mini or '90s-inspired denim. These are becoming an instant classic, so they're worth the investment.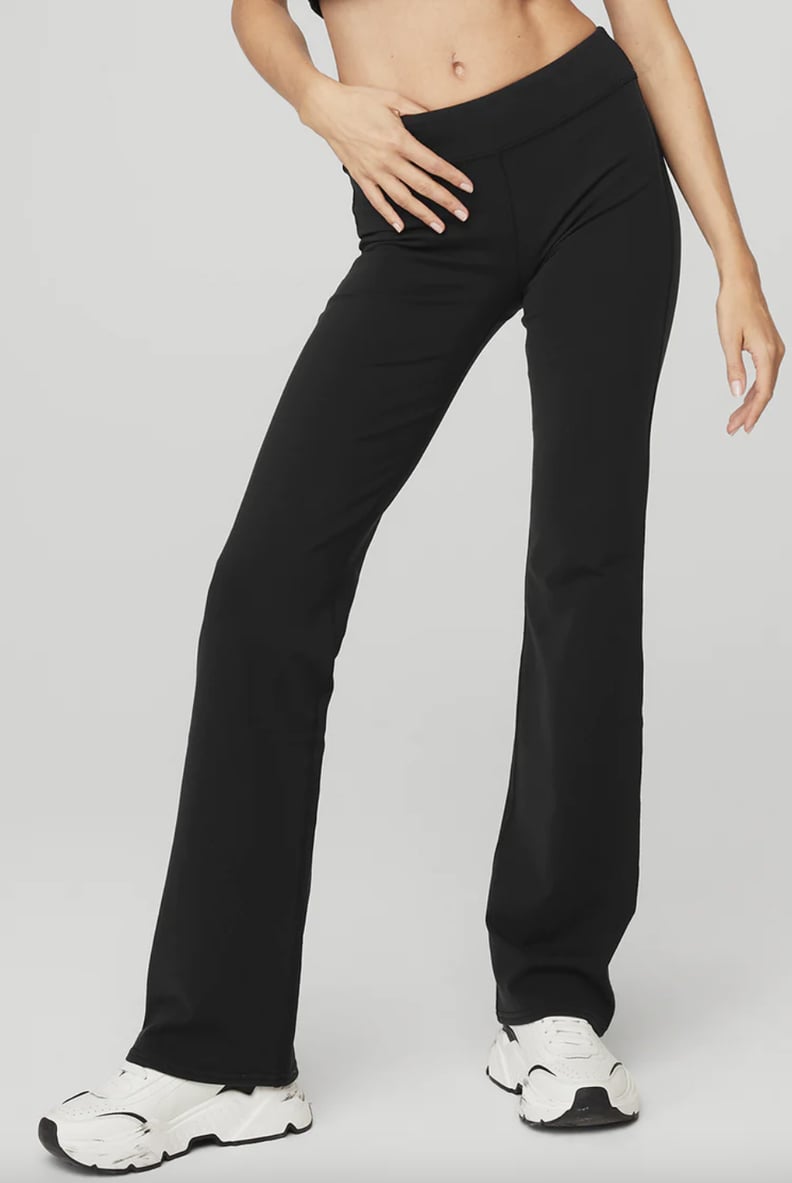 E-Girl Outfit Ideas: Alo Yoga Airbrush Bootcut Leggings
These Alo Yoga Airbrush Bootcut Leggings ($98) are the ultimate e-girl bottoms. The exposed zipper is a fun detail, and the material and slightly flared hem make them comfortable for all-day wear. Style with a black crop top and lace-up boots.