Activist Emily Barker Talks Fashion Runways: "There Should Be More Than 1 Disabled Person in Each Show"
Emily Barker is one of the many activists- and artists-turned-models you've probably come across on your explore page thanks to their impact. Barker, who goes by celestial investments on Instagram, has been named one of the leading culture-defining creators by the social media platform in a new campaign. The visibility Barker has created for the underrepresented disabled community, particularly in fashion, does not go unnoticed — they've racked up nearly 35k followers and were featured in two New York Fashion Week shows: Collina Strada (above) and Maisie Wilen (below).
Barker's own style is sporty and so '90s, with a grunge influence and Y2K jewelry trends mixed in. If that's your look, their feed is chock-full of outfit inspo. Plus, you'll be blown away by how seamlessly they coordinate thrifted finds with high-fashion pieces or accessories from lesser-known, up-and-coming brands they're excited about. "There are a lot of brands I like to wear that are not particularly inclusive, but the radically inclusive ones are Collina Strada, 3234u, and Maisie Wilen," Barker said when we spoke about wardrobe sourcing for their game-changing aesthetic that does feel on-trend right now, but also so undeniably their own.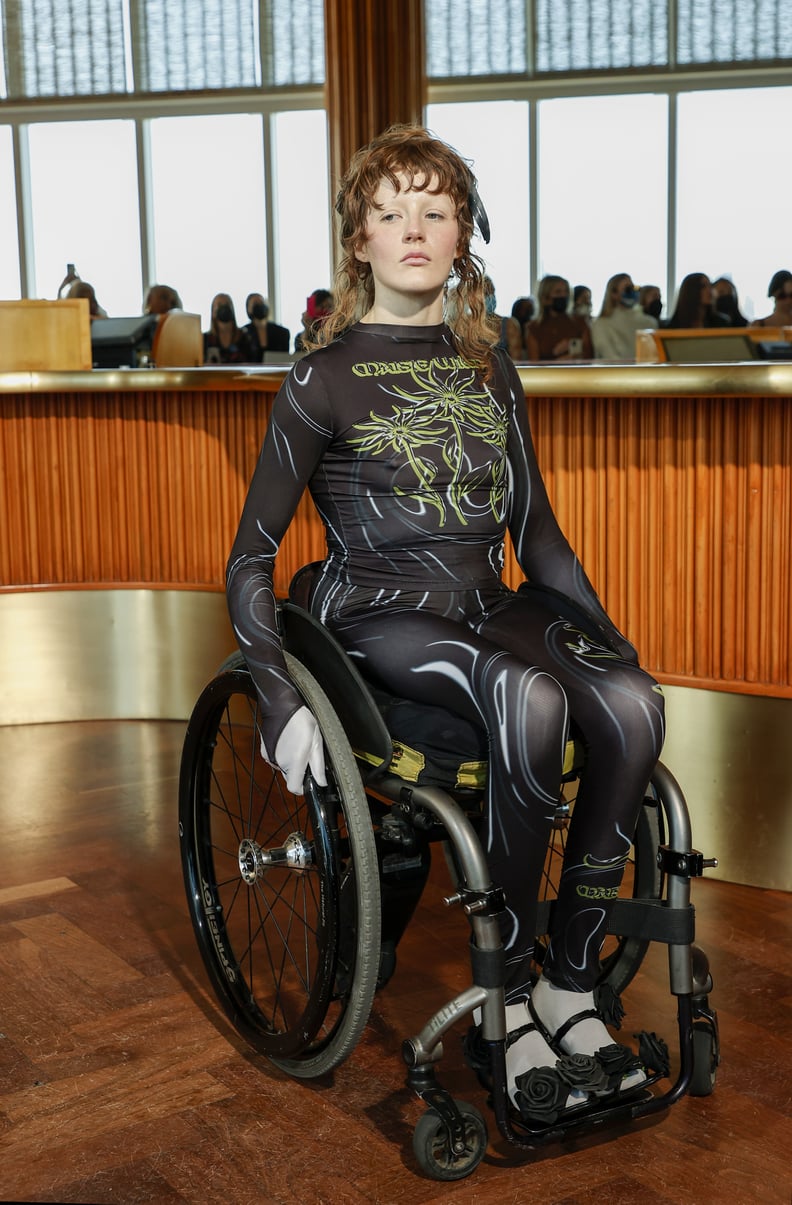 Barker hopes to work with Gucci soon, whether it's rolling for the runway show or posing for a campaign. In the meantime, they're also focused on spreading awareness by starting conversations about ableism that our society can benefit from.
"Designers should include disabled people as a norm, not just a one-time thing, and they should make all of their stores, shoots, and runways accessible."
"Until the built-in environment is constructed with people with bodies like mine in mind, we will never be able to have equality or participate in fashion the way able bodied people are. We need disabled designers and accessible sewing machines. We need clothes made with the brutality of using a chair and having paralysis in mind. But most importantly, we need the same human rights as everyone else," Barker said, continuing, "[Disabled people] are the largest minority. There should be more than one disabled person in each show. Designers should include disabled people as a norm, not just a one time thing, and they should make all of their stores, shoots, and runways accessible. Collina Strada and 3234u are doing it right." Through Barker's own wardrobe, it's clear these are two labels they love, but they've also curated a handful of their favorite outfits posted to date, along with detailed descriptions of each, for your inspiration and mood board. Check them all out ahead.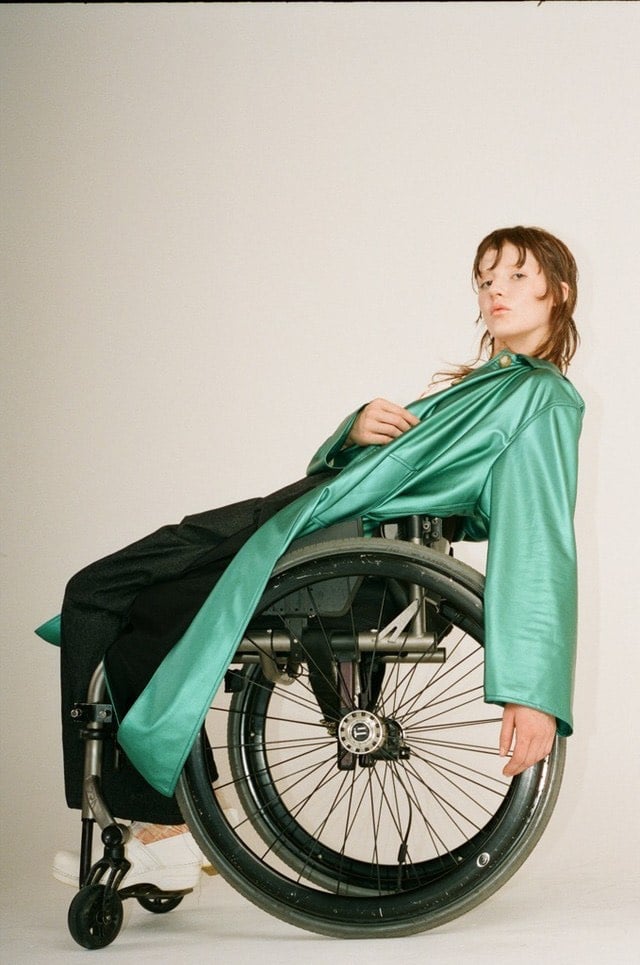 "Here I'm wearing my incredible friend Jillian Maddocks's brand 3234u. She's a mother, also disabled, and an all-around badass."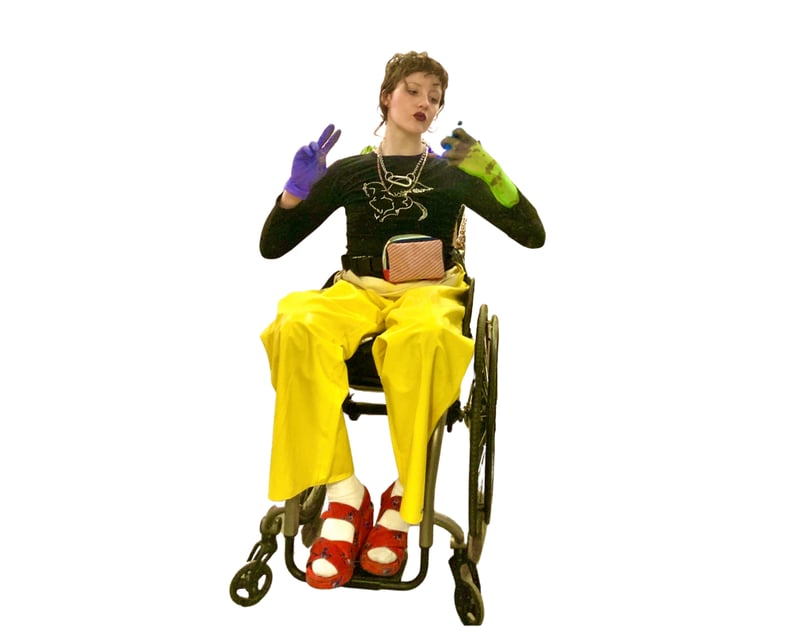 "The yellow pants are my uncle's old fishing pants, the top is thrifted, the shoes are Kenzo, and the gloves are 6t9.99."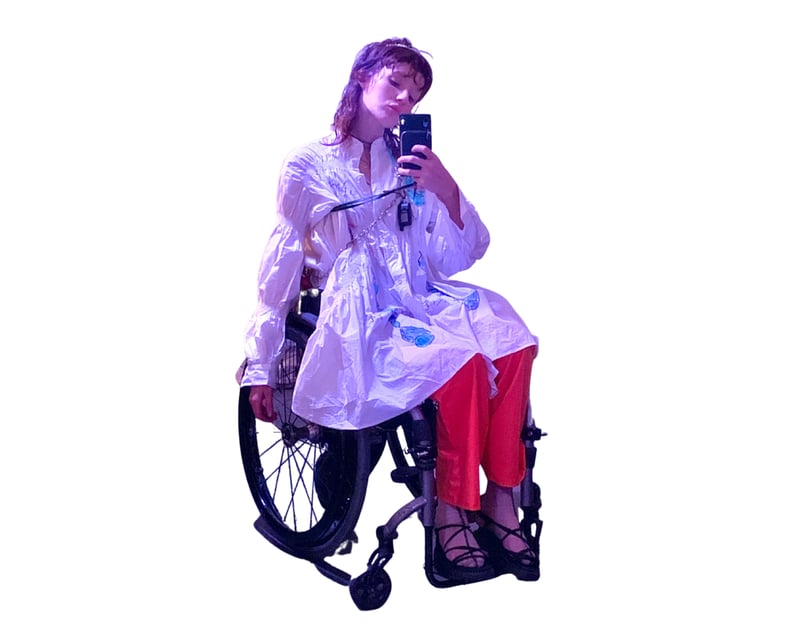 "Here I'm wearing a shirt I drew on for a performance where I lifted myself up with my wheelchair truck lift and sang System of a Down's "Toxicity". The pants are thrifted pleather with Eckhaus Latta socks."