Gabrielle Union's Daughter Wears Her Prada Earrings
Gabrielle Union's 2-Year-Old Daughter Went Fishing in Her Jewelry Box For Some Prada
As POPSUGAR editors, we independently select and write about stuff we love and think you'll like too. If you buy a product we have recommended, we may receive affiliate commission, which in turn supports our work.
Gabrielle Union has clearly passed down the style gene to her daughter, Kaavia, but if you follow the mother-daughter duo's great adventures on Instagram, you already knew that. Their latest foray into fashion comes with a pair of clip-on Prada earrings that retail for $595. "It's official. She's borrowing my things. Mama & @kaaviajames ❤️❤️," Gabrielle captioned her adorable side-by-side.
In this episode of "one pair of earrings, two ways," Gabrielle pinned hers into her braided bun, styled with product from her Flawless hair-care line that she launched with Larry Sims. Gabrielle played up the designer logo by finishing her moment with a Prada jersey turtleneck top with the same signature hardware stitched onto the neckline. And while that matchy-matchy style move is quite literal, we may even prefer Kaavia's subtler nod to the triangular Prada insignia with her geometric black-and-white button-down top.
Not that we're comparing the two looks; relax! Both mom and daughter definitely did these Prada baubles justice, and that's plain to see. Let's just take this as a reminder to share our beloved treasures with our own family members and the ones we love when they ask — and even when they don't. (Sorry, Gabrielle; with your wardrobe, it's safe to say both instances are possible when it comes to Kaavia!)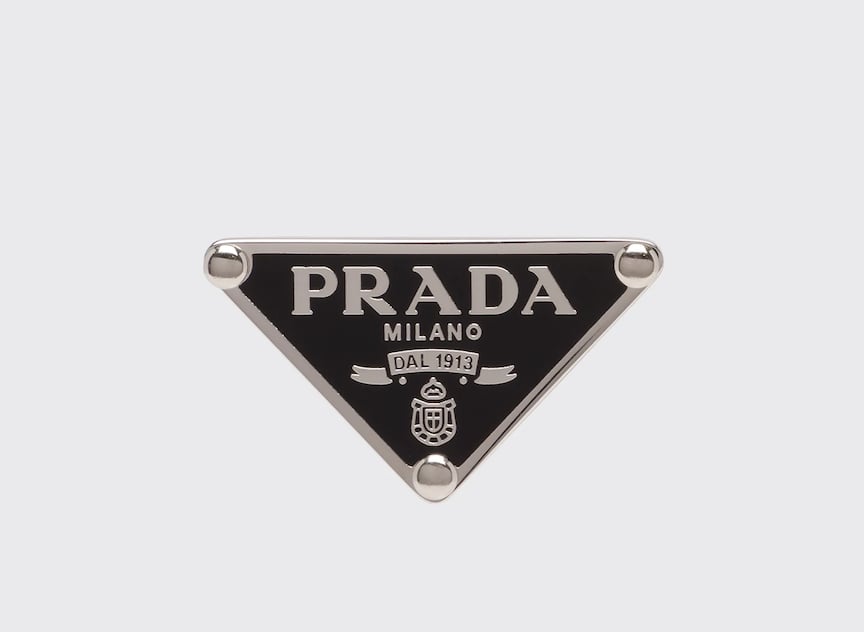 Prada Enamel Triangle Logo Clip Earring ($595)
Image Source: Bergdorf Goodman