Gigi Hadid Brings a Whole New Meaning to Mom Jeans, and Calvin Klein Would Be Proud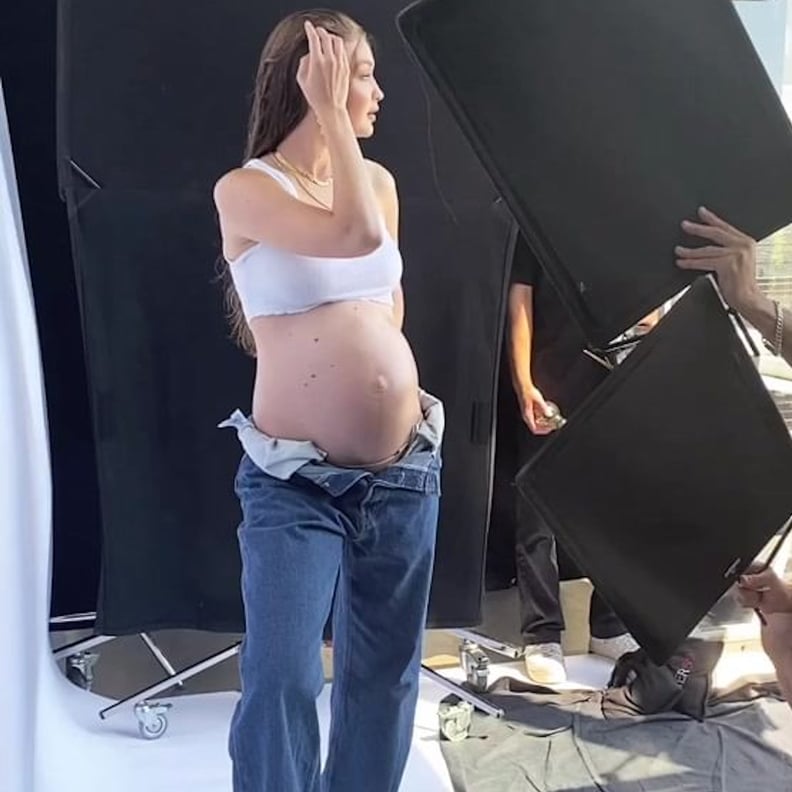 Gigi Hadid is celebrating the last month of her pregnancy by sharing a maternity photo series taken by photographers Luigi and Iango, and styled by Gabriella Karefa-Johnson, who's the fashion director at Garage Magazine. The shoot took place at the end of July and featured some stunning sheer gowns that Gigi wore effortlessly, coming across as a straight-up goddess, plain and simple. But we recently found out that she also had a moment in a super-casual look, consisting of baggy jeans, rolled over to put the spotlight on her growing belly, and a white ribbed tank, ripped across the mid-section.
Gigi styled the look with wet hair and some layered gold necklaces. We can imagine her slipping into a simple outfit combo like this one after stepping out of the shower for a casual FaceTime with her sister Bella. (Sorry, this is us just trying to imagine what Gigi does on any given afternoon.) The resulting aesthetic is slick and clean, like many a Calvin Klein denim campaign we've seen in the past. In fact, if on the off chance Gigi was wearing Calvin Klein denim here, we highly suggest the brand just plaster these images up on a billboard. Scroll down for a few more glimpses of the incredible looks — they don't call her one of the world's top supermodels for nothin'! — and watch the behind-the-scenes video snippets Gigi shared too.
Gigi Hadid's Pregnancy Photo Shoot
Watch the BTS Video Gigi Shared on Instagram