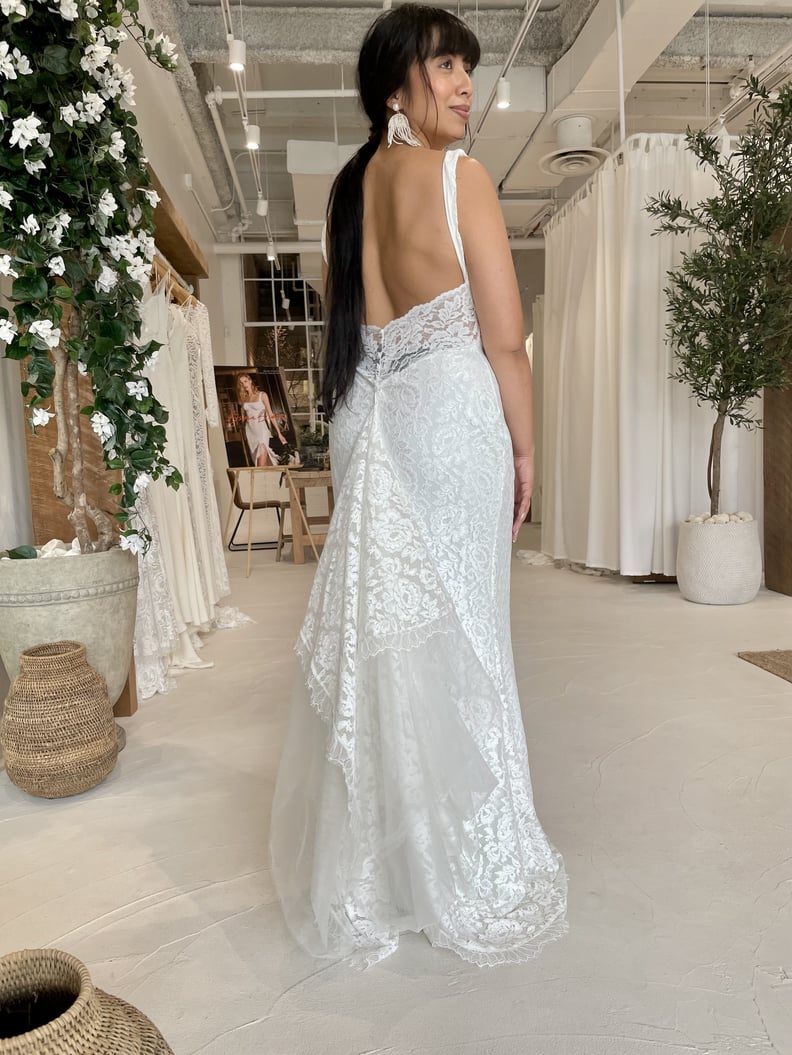 POPSUGAR Photography | Mekita Rivas
POPSUGAR Photography | Mekita Rivas
Not even five minutes into my visit at the new Grace Loves Lace boutique in Washington DC, I was already fantasizing about ways I could repurpose a wedding gown that don't involve actually getting married.
I walked down the aisle nearly three years ago, so my bridal-attire needs are squarely behind me. Even so, it's hard to resist the romantic allure of a champagne-colored, brightly lit room filled with racks of silky white gowns. Set in the District's trendy Union Market neighborhood, this shop is among the brand's most recently opened brick-and-mortars, and the ambience alone is enough to get your heart fluttering.
Along one wall, exposed brick creates a charming, homey atmosphere. Meanwhile, the gold, oversize, floor-length mirror in the boutique's main room provides the perfect place to snap a few photos for Instagram — with huge windows that look out onto the street, the space is flooded with gorgeous natural light all day long.
At first, I didn't think I'd fall in love with anything I tried on. I was here on assignment, after all, and as a Very Professional Fashion Editor, I had a job to do. But as I started sifting through dresses to try on, that familiar high began to set in. I remember it well — when I was dress shopping for my own wedding a couple years ago, every bridal appointment left me feeling completely blissed out. There's just something about being surrounded by beautiful gowns that conveys a sense of calmness and ease, and that's precisely how I felt during my Grace Loves Lace wedding-dress shopping experience.
With the popular Australian bridal brand expanding its footprint across the globe, it's becoming a more recognizable fixture on Instagram feeds and Pinterest boards alike. Whether you're seeking a lacy backless number for an elegant elopement or a two-piece, boho-inspired set for a beachside ceremony, Grace Loves Lace is a trendy wedding-dress label that will almost certainly have a style that matches your bridal vision. Keep reading for more on what to expect when you schedule an in-store appointment.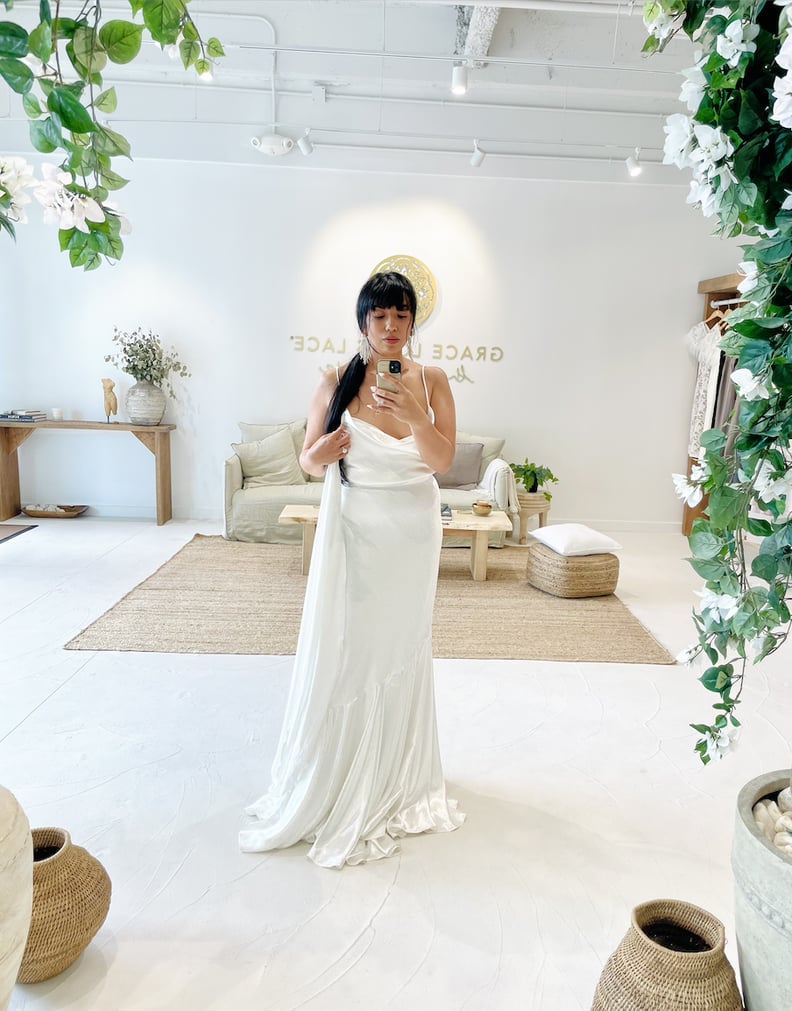 Grace Loves Lace: What Happens During the Bridal Appointment?
When I walked into the showroom, I was greeted by Tiffani, the welcoming, attentive showroom manager. After introductions, we sorted through the racks together, picking out styles that stood out to us. I appreciated that she selected a few designs I wouldn't have normally chosen for myself (like a two-piece set) because it takes a lot for me to step out of my sartorial comfort zone.
Once we had the gowns in place, it was time to try them on. Tiffani brought me a slip dress that I could wear in between wardrobe changes. I joked that the slip dress itself was actually so chic, I didn't need to wear anything else. Still, I ended up trying on four dresses total, all of which had their own distinct vibe.
The Aura gown was my favorite because of its slip-dress-like shape, elegant cowl neckline, and pretty bow detailing in the back. As the sunshine poured in through those sky-high windows, it was impossible to not fall for this beauty. "Is three years too soon to consider a vow-renewal ceremony?" I asked Tiffani, only half joking.
She pointed out the accessories table, which was decked out in sparkly jewels and chic stilettos. From here, she helped me pick pieces that would complement my look without taking attention away from the dress. I especially loved these pearl-embellished anklets, which I absolutely need to snag for my personal jewelry collection.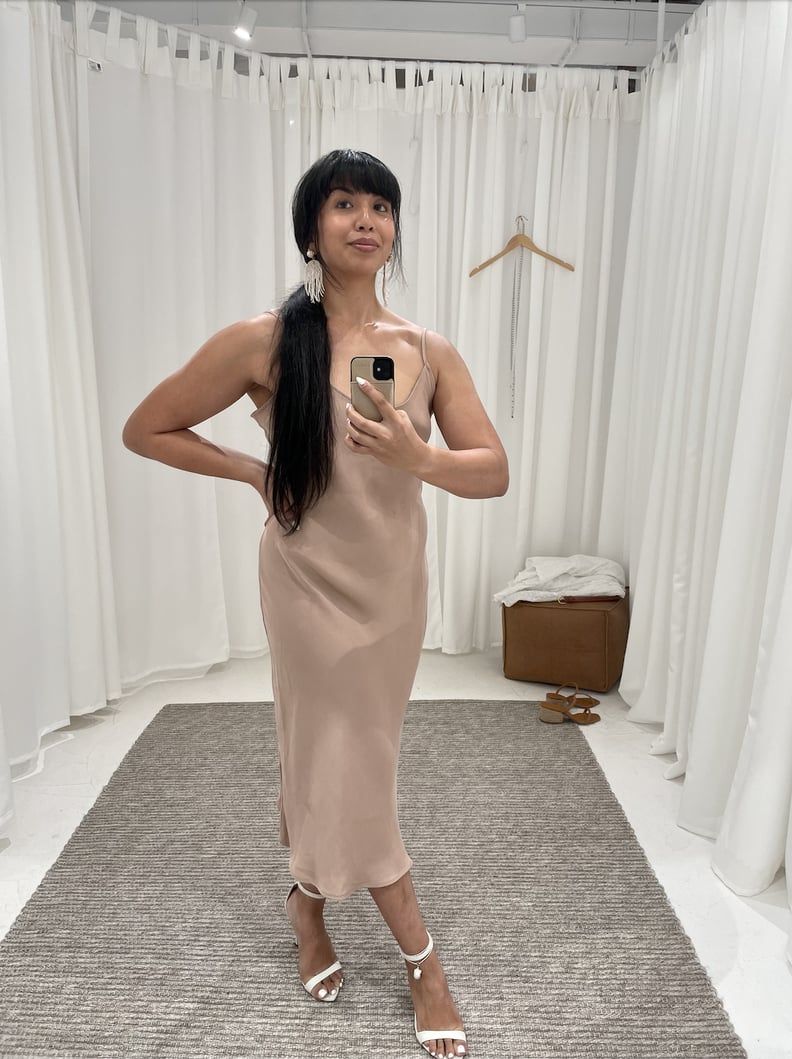 Grace Loves Lace Location
Grace Loves Lace currently has 18 showrooms in the US, four in Australia, one in London, and one in Toronto. The DC showroom is located at 1266 5th St. Northeast, where it's bookended by other shops and boutiques in the Union Market neighborhood.
Grace Loves Lace: Do You Need an Appointment?
If you want to try on wedding dresses, an appointment is required to ensure that someone is available to assist you. However, you can always stop by to do a little window shopping ahead of time.
Grace Loves Lace: How Much Is an Appointment?
Appointments are free of charge.
Grace Loves Lace: How Long Is the Appointment?
Typically, appointments last for one hour. On average, this is usually enough time to try up to five different dresses and accessories to match. Be sure to arrive early if you want to really make the most out of the time you've been allotted.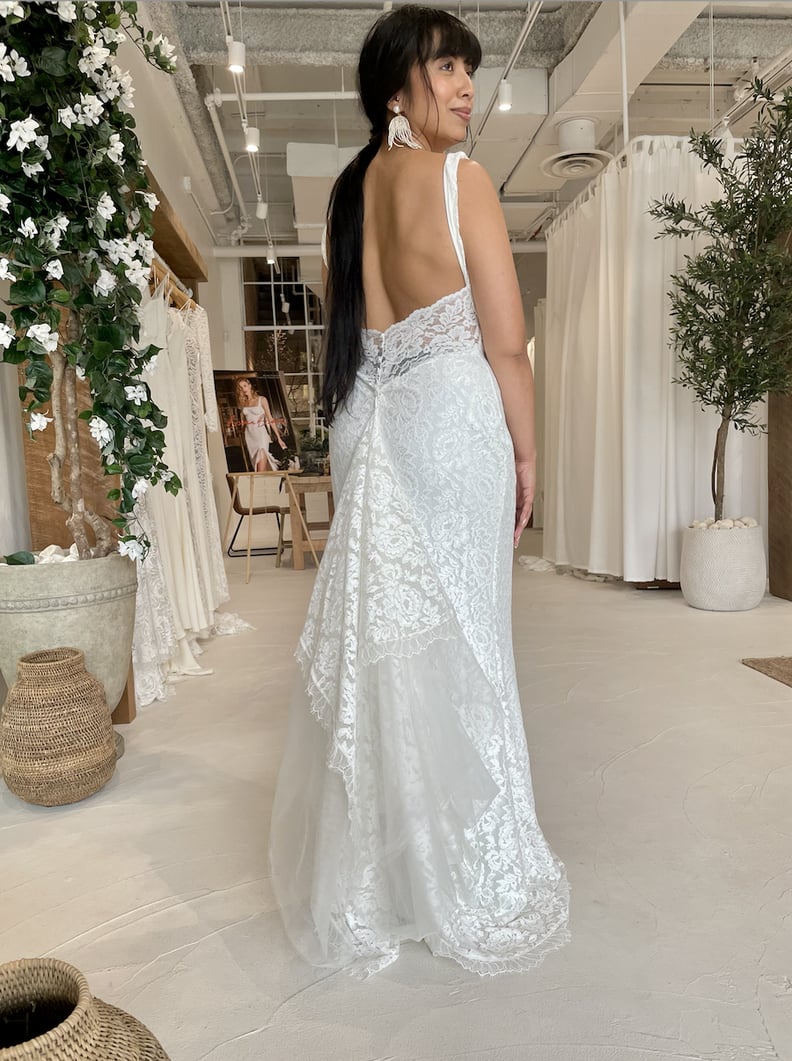 Grace Loves Lace: How Are You Matched With a Bridal Stylist?
You're matched with whichever stylist is available during that specific time slot. They can expertly guide you through the process, though it's important to arrive with a few specific styles in mind as a starting point. This way, you can optimize the time you have together and begin trying on dresses immediately.
Grace Loves Lace: Are the Wedding Dresses Expensive?
New gowns from the brand are somewhere in the $1,800 to $3,600 range. Dresses are made to order, and average production time is six months. Once you've landed on a style that catches your eye, don't wait — on your big day, you don't want to be left wondering whether your dress will be shipped and delivered in time. Alternatively, you can check out the brand's online sample sale or shop for secondhand gowns on resale sites like Poshmark.