Harper Beckham Borrowed This Versace Robe From Mom Victoria's Closet
Victoria Beckham's daughter, Harper, is following in her mom's stylish footsteps. The youngest Beckham regularly sits front row at her mom's fashion shows, so it's no surprise she's a fan of designer pieces.
Harper recently displayed her sartorial prowess in a photo her mother posted to Instagram. Standing in front of a mirror in what looks like a marble-floored bathroom, Harper pulls back her hair and shows off a gold and black printed silk Versace robe. It originally belonged to her mother, who also shared her own selfie in the piece, wearing a pale-blue face mask.
The robe features Versace's iconic gold, white, and black swirling print in a luxurious silk fabric. Harper wears hers with a pink manicure and flowing wavy hair, while Victoria opted for a metallic gold manicure, gold necklaces, a towel wrapped around her head, and the aforementioned face mask.
"I don't know where she gets it from!" Victoria's caption reads. It isn't the first time the Beckham girls wore matching outfits. In August 2020, the former Spice Girl posted a photo on Instagram with the twosome stepping out in matching slip dresses, which boasted short hemlines and high necklines; Victoria wore a black version and Harper opted for the white iteration. But Harper is a budding fashion icon all on her own. One of her most memorable moments was at the Victoria Beckham spring 2021 fashion show, when she wore a long-sleeve floral purple dress and a matching face mask with a monogram stitched onto the bottom.
Ahead, see the different ways Victoria and Harper Beckham styled their shared Versace robe and shop a similar piece from the fashion house.
Victoria and Harper Beckham's Versace Robe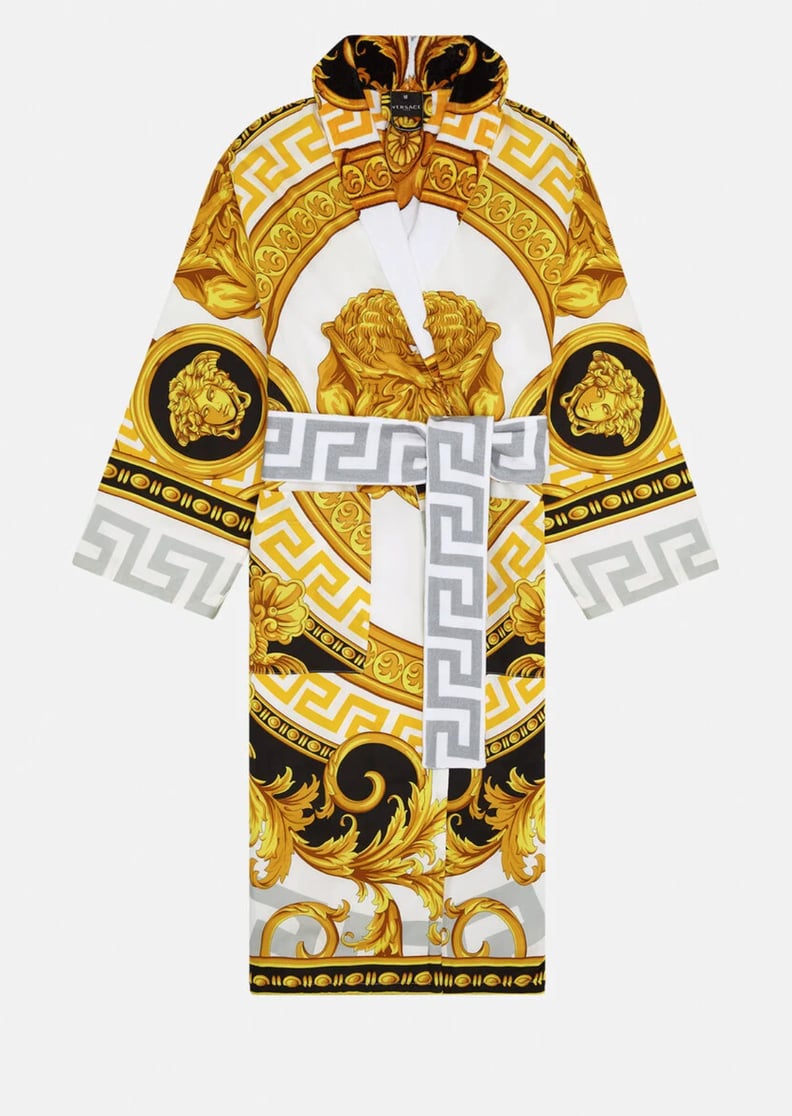 Versace La Coupe des Dieux Print Bathrobe