The 37 Commandments of Dressing Like a New Yorker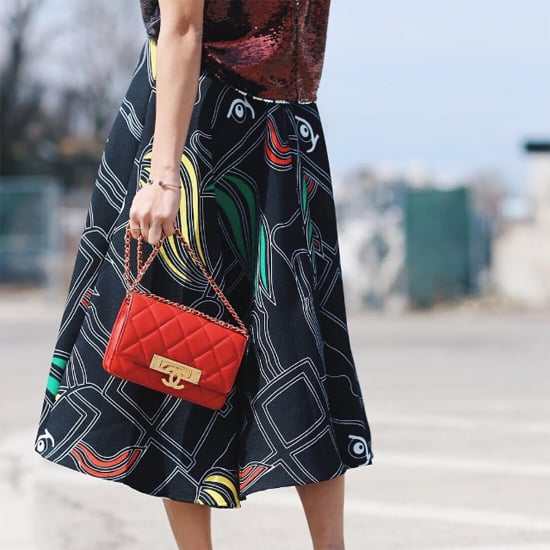 You'd be hard-pressed to find a New Yorker who only wears black. As far as we're concerned, that's an ill-founded fashion rule made to be broken. But there is something the most stylish ladies of NYC have in common — when they get dressed in the morning, their looks are refined and polished.
When New Yorkers step out of their apartments, they do it with confidence, traveling from point A to point B without missing a step — even when they're wearing heels. The best part? Their outfits are incredibly easy to re-create. Even if you don't live in the Big Apple, you can totally dress like you do when you follow the 37 style rules ahead.
01
Accessorize With the Right Statement Pieces
A simple denim dress is just begging for a poppy clutch.
02
Pair a Sexy Skirt With a Casual Sweatshirt
Duh, what else would it go with?
03
Blend In With the Environment While Also Standing Out
04
Keep at Least 1 Amazing Off-the-Shoulder Shirt in Rotation
And polish it off with platforms.
05
Dare to Cover Your Coordinated Set With a Contrast Print
06
Complete All Baggy Trousers With a Pair of Heels
07
Make Sure Your Outfit Coordinates With the Street Art
08
Elevate Your Functional Jumpsuit With Platform Sneakers
09
Master a Confident Strut in Statement Leather
10
Leave an Impression From All Angles
A rainbow bag is just the right touch.
11
When in Doubt, Add Some Color
Especially if you're paying homage to the Big Apple.
12
Let Yourself Go All Rocker-Grunge
It's what vintage tees were made for.
13
Do Something Crazy, Like Mixing Prints With 2 Different Tops
14
Know That a Monochrome Look Isn't Complete Without Dark Shades
15
Remember That Gray Doesn't Have to Look Drab
16
Try Something New With Your Overalls
Really, what do you have to lose?
17
Try the Oversize Look On For Size
18
Contrast Oversize Pieces With Pointed-Toe Shoes
19
Learn That a Matchy-Matchy Style Moment Is A-OK
20
Let a Pair of Rugged Sneakers Be the Foundation to a Glamorous Look
21
Complete a Just-Rolled-Out-of-Bed T-Shirt With Designer Heels
22
Find Your Power Suit — and Rock It
23
Play With Proportions
It can all come together looking totally breezy.
24
Balance Your Structured Jacket on Your Shoulders
25
Remember That Denim Is Your Best Friend
Denim . . . and block heels.
26
Carry a Crossbody Bag With a Statement Strap
27
Keep Your Loungewear on When You Leave the House
It pairs flawlessly with over-the-knee boots.
29
Learn to Let Loose and Run Free in a Slip Dress
30
Pull a Carrie Bradshaw and Show Off That Playful Dress
31
Make Mixing Blue and Black Look Easy
32
Get Your Hands On a Throw-On-and-Go Backpack
34
Accessorize With Sparkly Jewels — and Coffee
35
Work Your Leather Mini With Trainer Sneakers
36
Make a Memorable Statement When You Go
37
Never Underestimate the Power of a Parka
38