Staying in Touch With My Personal Style After 150 Days of Sweatpants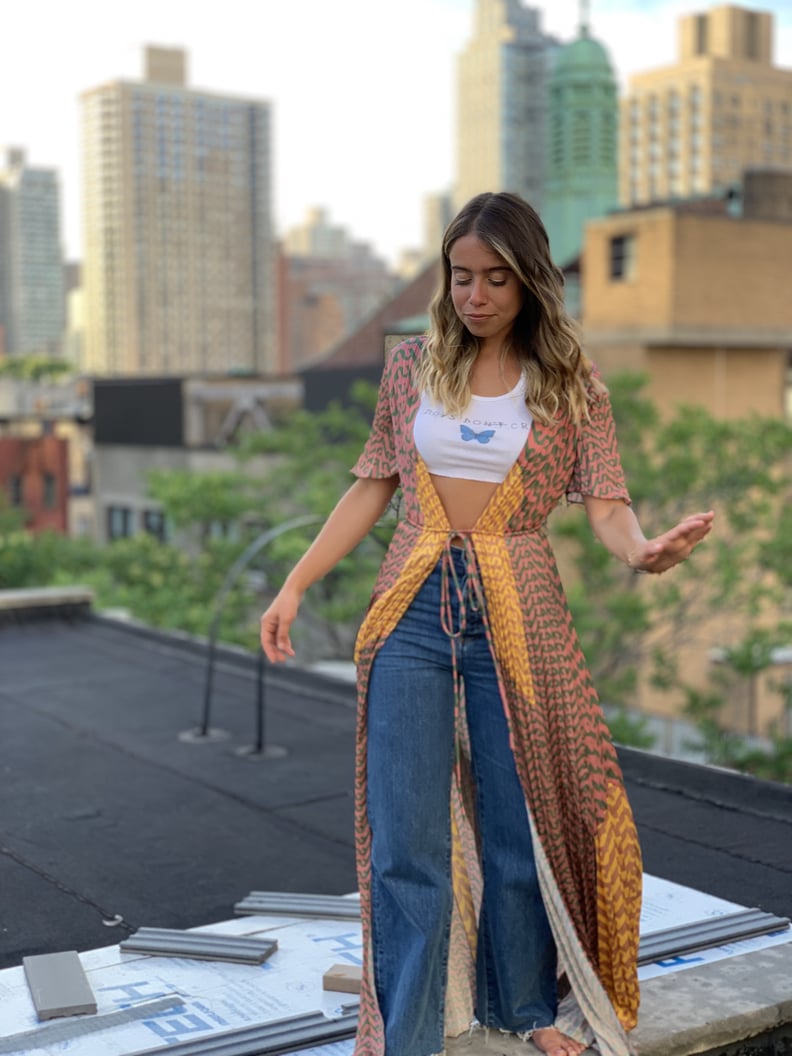 POPSUGAR Photography | Sarah Wasilak
POPSUGAR Photography | Sarah Wasilak
The shoes sitting pretty at the top of my closet have started collecting dust. So really, I guess they're not sitting so pretty anymore. One by one, I have actually heard them shimmy loose from the spots I positioned them in on the shoe rack five months ago, falling with a thud to the floor. But I don't do anything about it — I'm kind of enjoying being lazy right now, and I don't have any use for my neon kitten heels or white leather boots.
But that also sounds pretty sad, especially since styling outfits is so much a part of who I am. Even if I've experienced momentary bursts of fashion enthusiasm throughout lockdown, they were short-lived. I styled a beach outfit to go sit on the sand and meditate for awhile, social distancing from everyone around me. I styled outfits for work photo shoots, even putting on a little bit of makeup, just to take it all off after I snapped some selfies and hung my clothes back up on the rack. Sometimes I put on accessories for Zoom calls, but knowing that I'm generally more comfortable typing without bracelets and rings on, I usually just end up taking them off too.
"My personal style has always evolved, and regardless of what route the trend cycle takes, I want my own outfits to keep representing who I am."
Here I am, feeling almost guilty because I haven't been using much of my wardrobe at all. I've been living out of three drawers: the sweats drawer, the workout clothes drawer, and the swimsuit-slash-cover-up drawer. Yes, this is partly my fault, because I could have spent more time in house dresses and ribbed matching sets, but I'm sure that I'm not alone in thinking that working in pajamas is pretty relaxing. Now I have to ask myself if I even remember how to get dressed. But more importantly, I wonder if I've held onto my personal style through all of this. Has my style changed, and how do I know that it has?
I look back at this old photo of myself and remember creating the outfit so vividly. I just knew that, for me, this silk Self-Portrait robe called for a '70s moment with wide-leg jeans, and that I'd take a walk on the wild side in a ribbed, cropped tank that reminds me of the early 2000s. Not everyone would style these pieces that way, but at the time I was so sure that it was the right look for me. I guess that's the feeling I realize is now missing from my life: the feeling of being sure.
Right now, it's impossible to know when our lives will go back to normal and what the new normal will even look like. Like most people, that uncertainty is rooted in when we'll see friends and family, hug, and resume the daily activities we love and maybe took for granted. For me, it's also rooted in what I do and in what the fashion industry will look like. It's impossible to predict how the street style trend cycle will spin — will it pick back up where it left off? And will people take notice or even care to participate? Will they continue to dress for themselves, either sticking to the more relaxed athleisure they've become accustomed to, or go all out with bold, new fashion perspectives and looks we've never seen before?
Thinking about how I'm going to dress once I step back into the hustle and bustle of "real life" seems pretty insignificant in the whole scheme of things, I know this. But I also know that cherishing all the little parts of you that make you you is an important way to stay grounded and continue your journey of self-love, especially when the future feels like a mystery.
For awhile now, I've been reminiscing about the past — at least when the topic of "getting dressed" comes into play — but if I don't get to know who I am or what I like, I'll need to play catch up later. My personal style has always evolved, and regardless of what route the trend cycle takes, I want my own outfits to keep representing who I am. I think I'll start by visiting the shoes at the bottom of my closet, since they do seem to be calling my name.