As POPSUGAR editors, we independently select and write about stuff we love and think you'll like too. If you buy a product we have recommended, we may receive affiliate commission, which in turn supports our work.
The corset trend and Regencycore continue to flourish over a year after "Bridgerton"'s first season, and period-drama stars are opening up about the real, painful experience of wearing corsets inspired by historical eras. "Bridgerton"'s newest leading lady Simone Ashley shared that she tore her shoulder at one point due to the tightness; she also discovered that corsets completely change your body. "I had a smaller waist very momentarily," she told Glamour UK. "Then the minute you stop wearing it, you're just back to how your body is. "The Gilded Age" star Louisa Jacobson revealed that she couldn't sleep on her side because her ribs were so sore from wearing corsets. "Every day when I took it off, I was so grateful," she said on "Reign With Josh Smith." "I will never take for granted being a female-identifying person in 2022 who does have the freedom to put on a pair of pants that are kind of loose and call it a day."
Despite these cautionary tales, when "Bridgerton" dropped its second season and corsets remained a topic of conversation, I was intrigued enough to partake in a little experiment. While I've dabbled in casual corsetry here and there — think a simple lace bustier top or a mesh tube top — I wanted to find out just how comfortable and wearable structured corsets can really be. In the name of investigative journalism, I tested and styled various iterations, including a steel-boned authentic corset and trendier options.
All the corsets in "Bridgerton" are custom made by legendary corset maker Mark Erskine-Pullin, who goes by Mr. Pearl. The couturier is also a Mugler collaborator, most famously creating Kim Kardashian's controversial 2019 Met Gala look. While getting my hands on a Mr. Pearl creation was out of the question, I wanted to get as close to the real thing as possible.
After some research and a consultation with a sizing expert, I secured a satin curve overbust top from Orchard Corset, a corset retailer based in New York City patronized by the likes of Madonna and Tess Holliday.
Trying on the Corsets
Following some maneuvering with the lace back and a lot of sweating, I finally got into the overbust corset and immediately understood what those actors meant. As expected, the top dramatically shaped my waist, giving me an instant enhanced-hourglass shape as well as ample cleavage I hadn't seen before. As "Bridgerton" season one costume designer Ellen Mirojnick would say, it was a "blossoming" of the bosoms.
Once I was done admiring my silhouette, I learned that once you're secured in, it's practically impossible to bend your hips, which meant I needed to put on pants beforehand. I certainly couldn't sit while wearing the corset, despite my best efforts.
The more fashion-forward iterations from brands like Staud, Tiger Mist, and Cider were much easier to put on, although they were still constricting. The styles came with restrictive detailing — like structured boning throughout, hook and eye closures down the front, and tight lace ties — which also created the effect of accentuated waist and cleavage.
While none of the corsets were particularly comfortable, they weren't painful, either. In fact, Orchard Corset notes that wearers experience improved posture and back support, as well as pain relief. While I didn't wear any of the corsets long enough to see those results, I imagine the structure of the tops helps better position your posture.
Styling the Corsets
The styling was also painless. All the corsets, including the steel-boned one, were surprisingly versatile statement pieces that pulled an outfit together with ease and matched existing pieces in my wardrobe. I opted to dress down my corsets, since I unfortunately didn't have any glamorous balls or galas to attend, and they made for fun going-out pieces and paired perfectly with many of my go-to pants, like a pair of straight-leg leather pants and my favorite baggy joggers.
The Verdict
"Bridgerton"-inspired corsets aren't as intimidating as they seem. They're easy to style and certainly wearable — though perhaps for only a short night out. As chic as I looked and felt in corsets, I was, like "The Gilded Age"'s Jacobson, grateful to take them off at the end of the day. Keep scrolling to see how I styled "Bridgerton"-inspired corsets and shop the exact pieces I wore.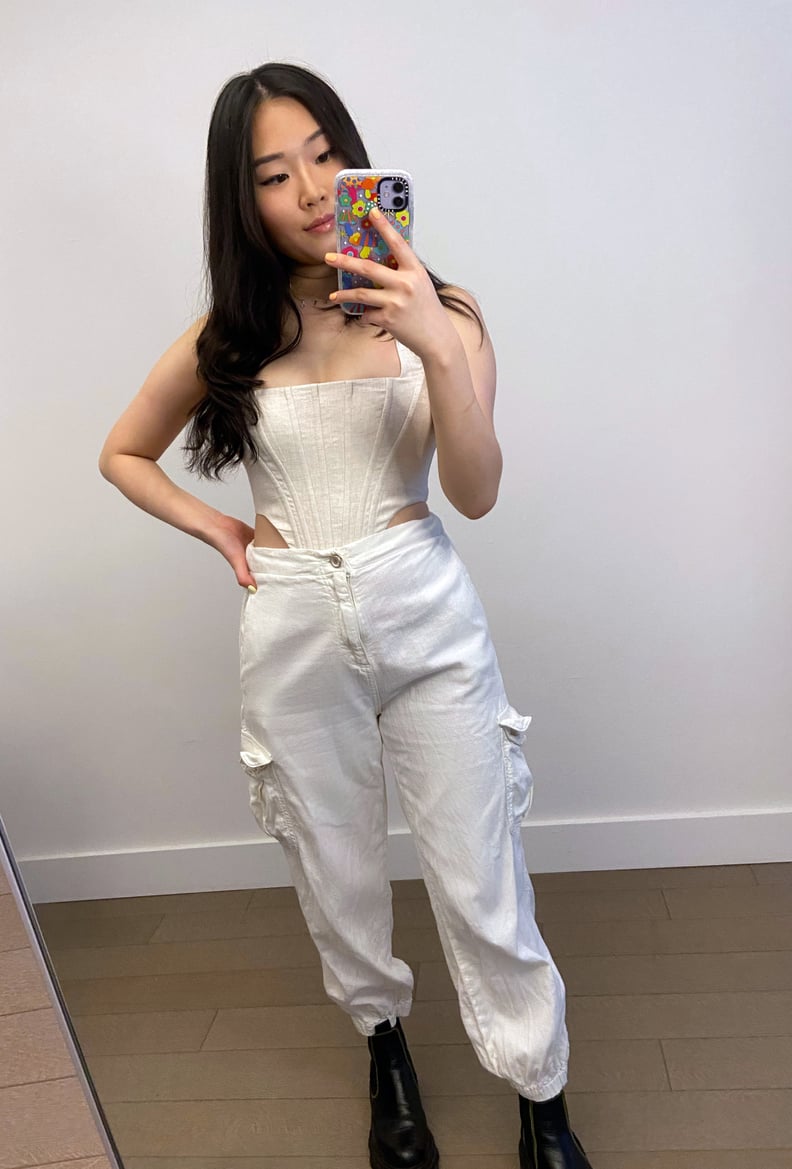 With Joggers For a Monochrome Look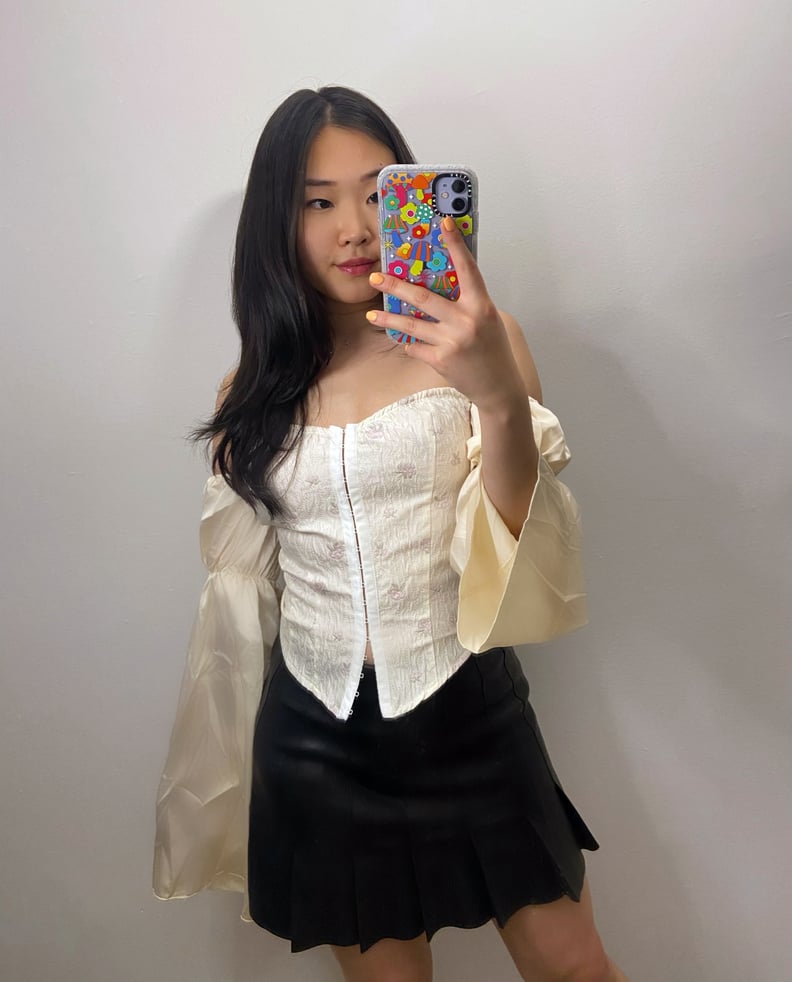 Over a Pleated Leather Miniskirt