12 Ways to Wear the '90s-Inspired Sweater-Vest Trend
As POPSUGAR editors, we independently select and write about stuff we love and think you'll like too. If you buy a product we have recommended, we may receive affiliate commission, which in turn supports our work.
Sweater vests have re-emerged as a standby for fashionistas everywhere. The origins of the sweater vest date back to the 1880s, but they've experienced popularity surges over the decades. The 1990s was an era when they were especially ubiquitous, spotted on the likes of Alicia Silverstone in "Clueless" and Princess Diana in her day-to-day life. For the 2020s, rather than a simple design in a neutral colorway (such as black with buttons down the front), an array of cute, cropped versions have become the favorite. Additionally, oversize iterations pair well with baggy jeans, Doc Martens, rimless sunglasses, and bucket hats, altogether making for an aesthetic Billie Eilish would approve of.
In their most functional sense, these knits are ideal for layering in the winter or snuggling up in at home. Another styling option? Throw a sweater vest over comfortable athleisure wear, like baggy sweats and crisp white sneakers. If you favor preppy influences, opt for a classic design, coordinated with a classic white button-down. If you're into kidcore, search for bright, cheery colors; kitschy prints and patterns; and visually intriguing finishes, like fuzzy cotton or an open weave. Once you have your base down — with the sweater vest du jour acting as a foundation — build up your outfit from there. Ahead, find 12 sweater vest outfit ideas for this season. Then, shop our favorite sweater vest styles from the likes of Urban Outfitters, Ganni, Reformation, Acne Studios, Rag & Bone, Lisa Says Gah, The Frankie Shop, and more.
— Additional reporting by Nikita Charuza
How to Style a Sweater Vest: With Denim and Platforms
Style a printed sweater vest with asymmetrical denim and cap off your look with a shoulder bag and Dr. Martens.
How to Style a Sweater Vest: Colorblock
Wear a colorblock sweater vest under a loose, live-in cardigan. Complete the retro-inspired outfit with tall boots, whether you're pulling them over tights, denim, or bare legs.
How to Style a Sweater Vest: Mixed Prints
Mix and match two opposing patterns with a similar color scheme by styling a thin sweater vest over a fitted turtleneck. Finish the outfit with corduroys for a warm, cozy look.
How to Style a Sweater Vest: Over a Button-Down
For a preppy look, layer your sleeveless knit over a white button-down shirt, fashioned so the collar peeks out. On a cooler day, add a colorful cardigan on top for a pop of brightness.
How to Style a Sweater Vest: With a Pussy-Bow
Use a cropped sweater vest to play up the frilly collar on your pussy-bow blouse. Contrast the Victorian-inspired look with shorts and tough, rugged boots.
How to Style a Sweater Vest: '90s Style
Wear an oversize striped sweater vest with baggy jeans, rimless sunglasses, and a shoulder bag to achieve the ultimate '90s aesthetic.
How to Style a Sweater Vest: Contrasting Colors
Wear your cropped sweater vest over a long-sleeved shirt in a contrasting color or print that breaks up an otherwise monochrome outfit from head-to-toe. These vibrant elements make for an interesting, eye-catching 'fit.
How to Style a Sweater Vest: With a Casual Tee
Style a cable knit sweater vest over a white T-shirt with a chainlink choker. For additional accessories, consider a pair of black sunglasses and a coordinating black purse.
How to Style a Sweater Vest: With Neutrals
A sweater vest creates dimension to an entirely neutral outfit by bringing in an alternative fabric, and providing a slightly different shade. A simple gold bracelet tops off the classic ensemble.
How to Style a Sweater Vest: With Statement Leather
Throwing on a sweater vest over colorful statement leather or a croc-effect piece is completely unexpected, and also softens your look a bit for daytime vibes. Black leather boots offer a punk-inspired feel.
How to Style a Sweater Vest: Classic Patterns
Combine two classic patterns, such as stripes and argyle, and make sure your sweater vest has the most intriguing texture, like a fuzzy finish. This combination works well with your go-to denim.
How to Style a Sweater Vest: With Bare Arms
Go bare underneath and forgo a long-sleeved shirt to play up your sweater vest. To achieve peak '90s vibes, finish the ensemble with a bucket hat and corduroy pants.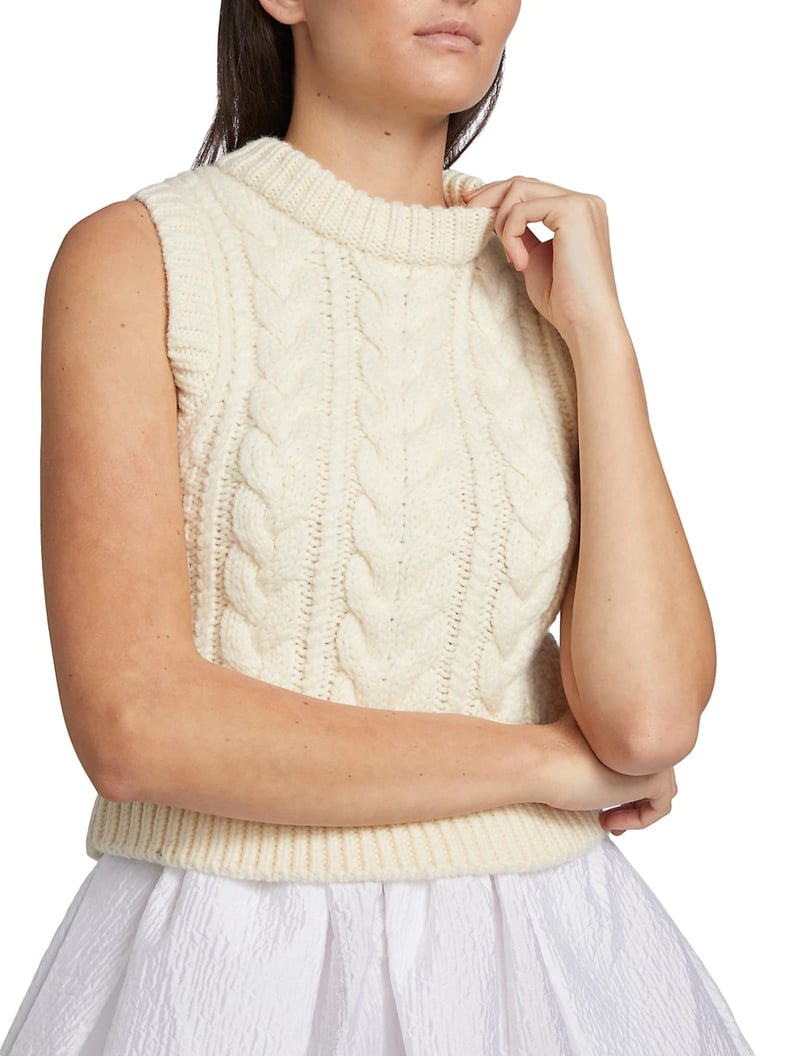 Sweater Vest Outfit: Cecilie Bahnsen White Sweater Vest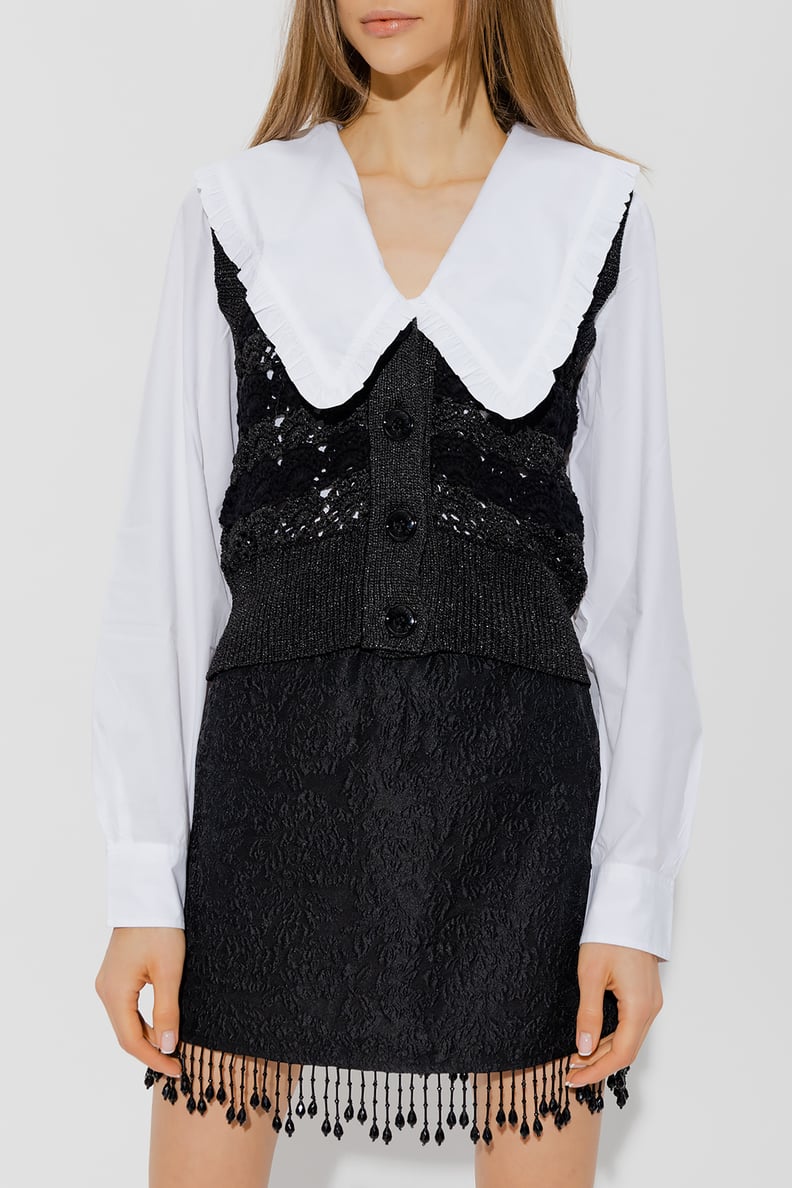 Sweater Vest Outfit: Ganni Black Sweater Vest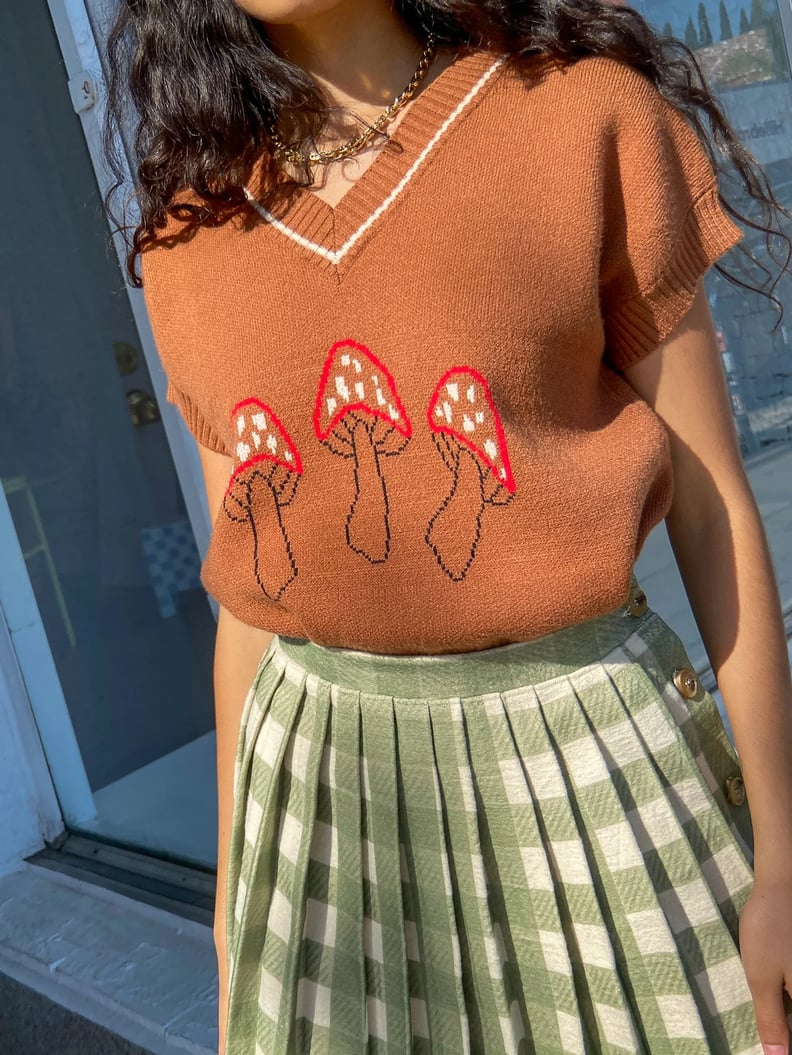 Sweater Vest Outfit: Lisa Says Gah Fangio Vest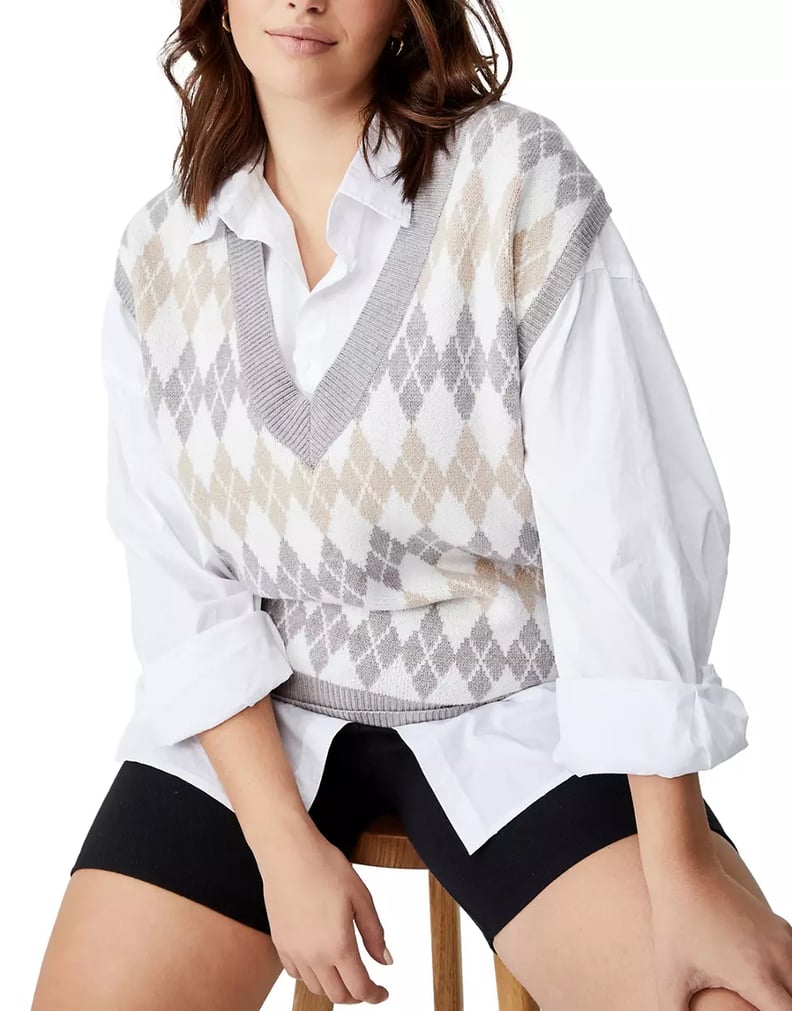 Sweater Vest Outfit: Cotton:On Curve Cable Tunic Vest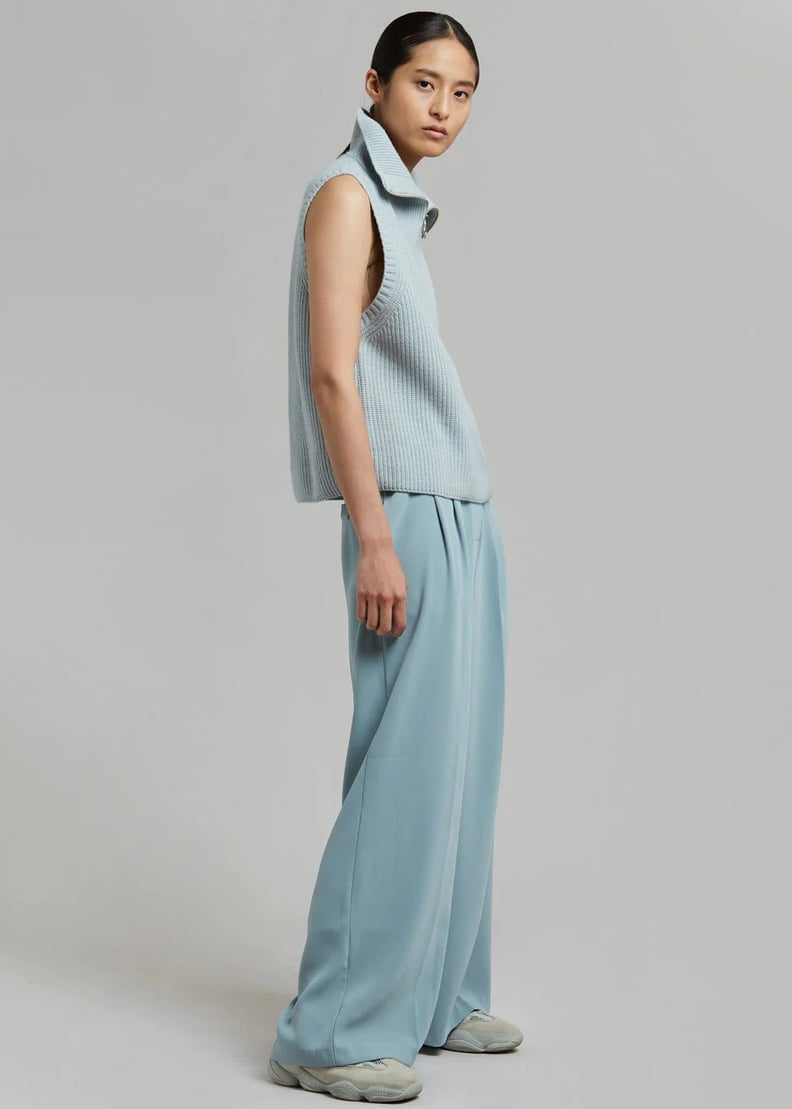 Sweater Vest Outfit: The Frankie Shop Malou Zip Vest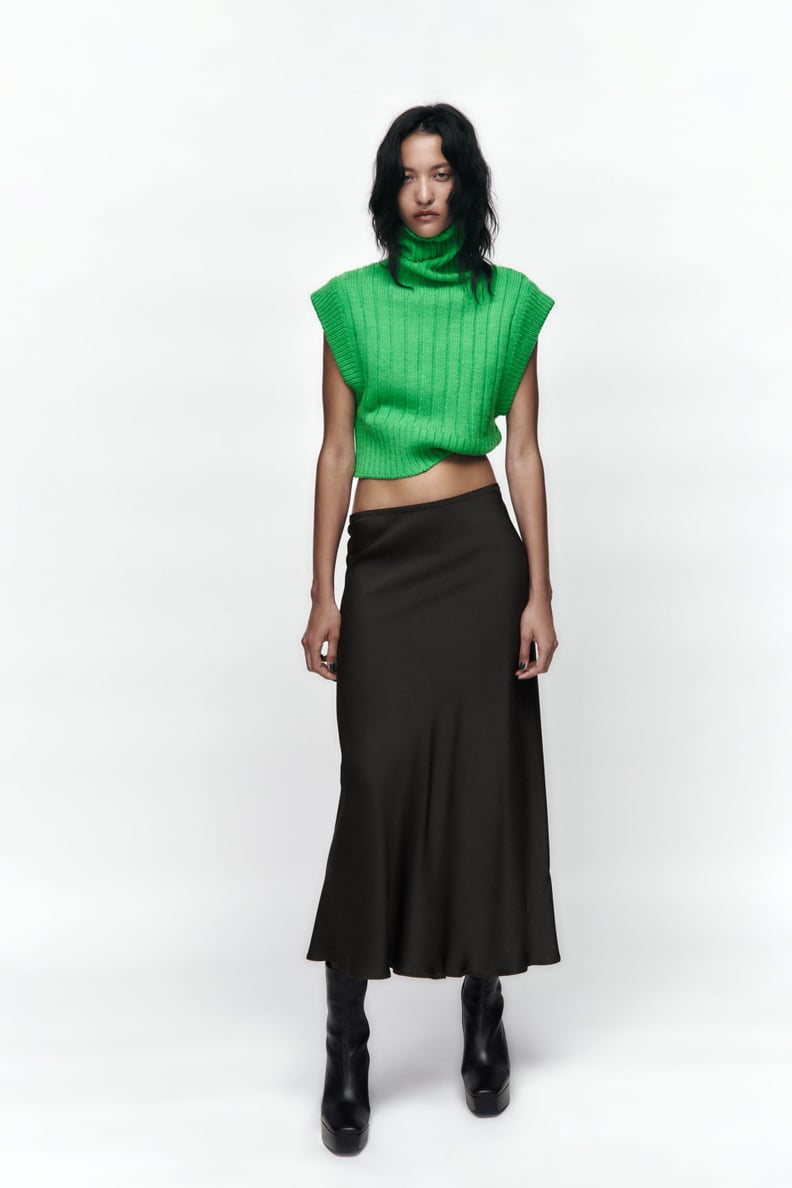 Sweater Vest Outfit: Zara Ribbed Knit Vest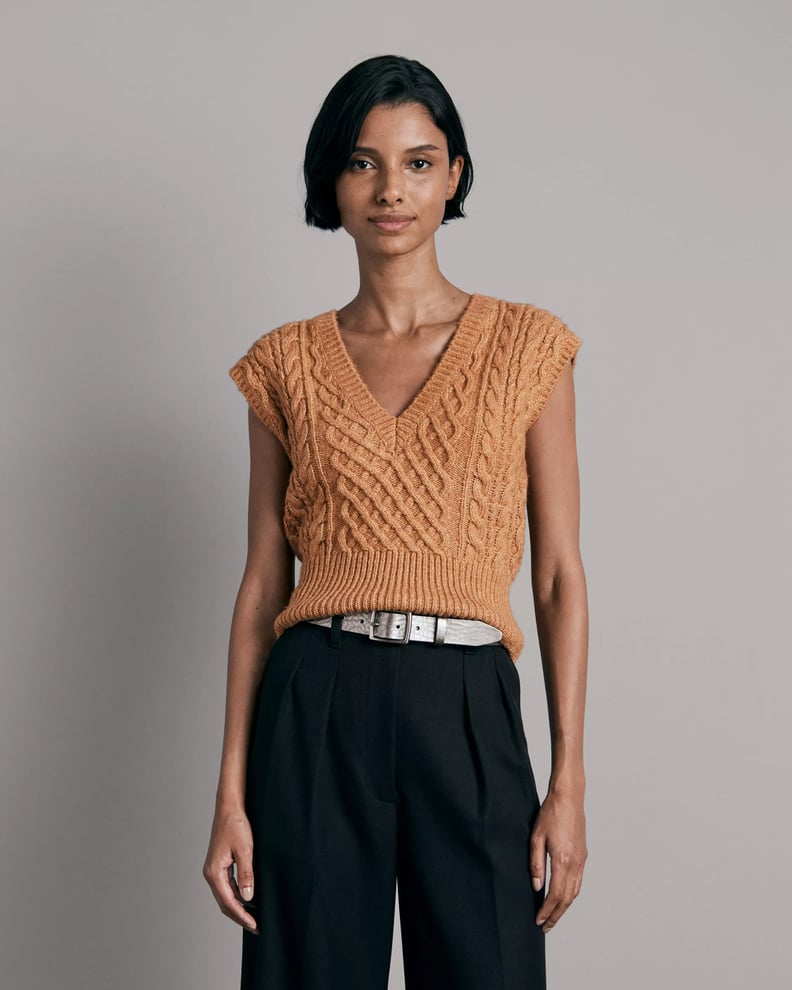 Sweater Vest Outfit: Rag & Bone Elizabeth Wool Cable Vest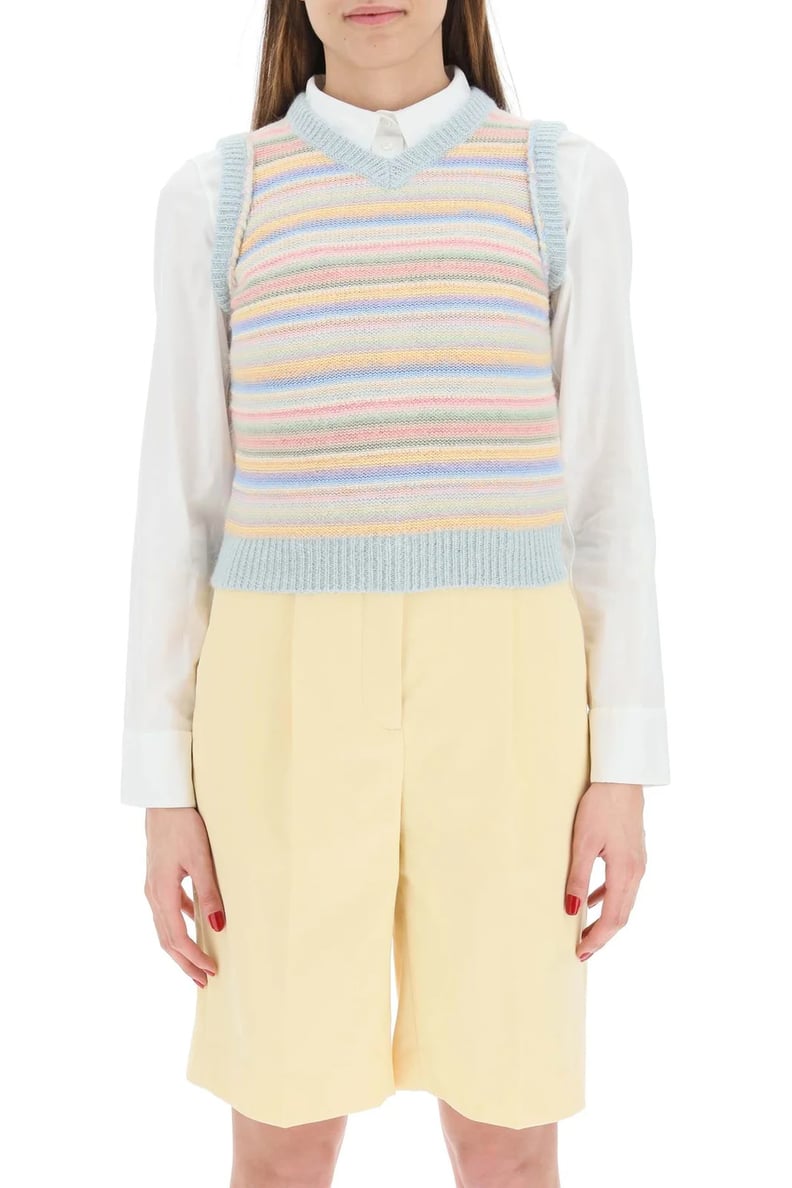 Sweater Vest Outfit: Acne Studios Striped Sweater Vest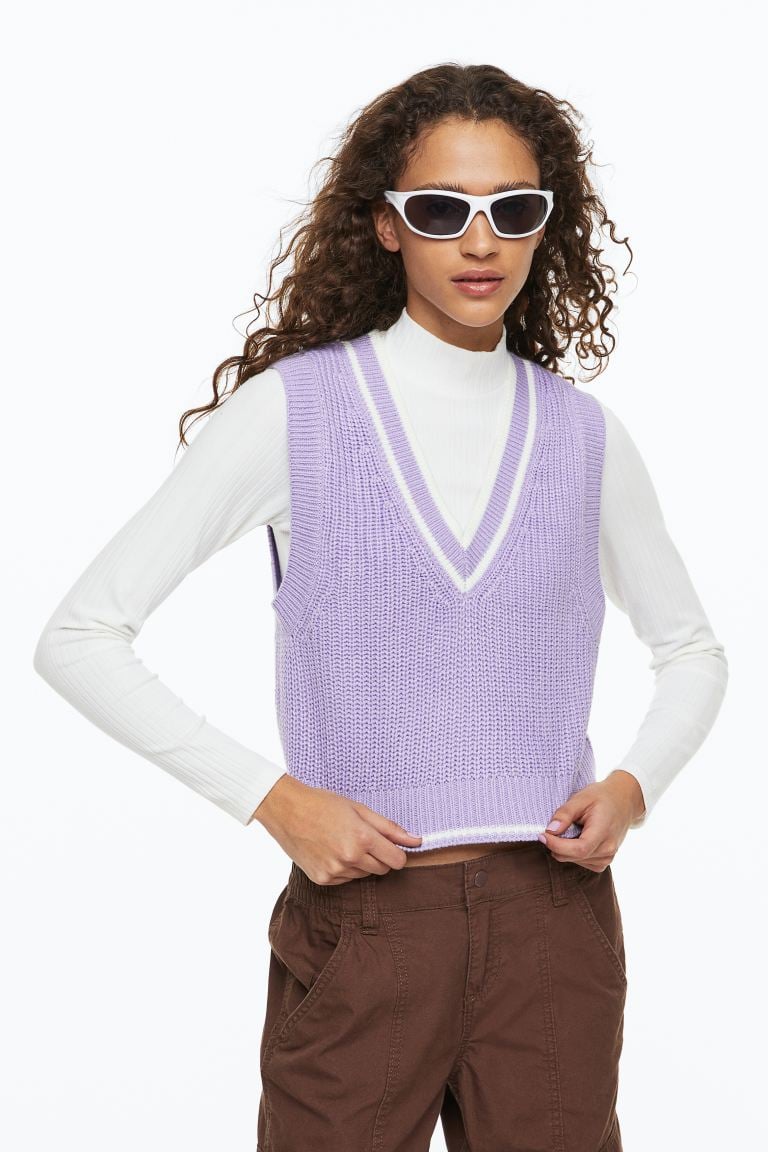 Sweater Vest Outfit: H&M Rib-Knit Sweater Vest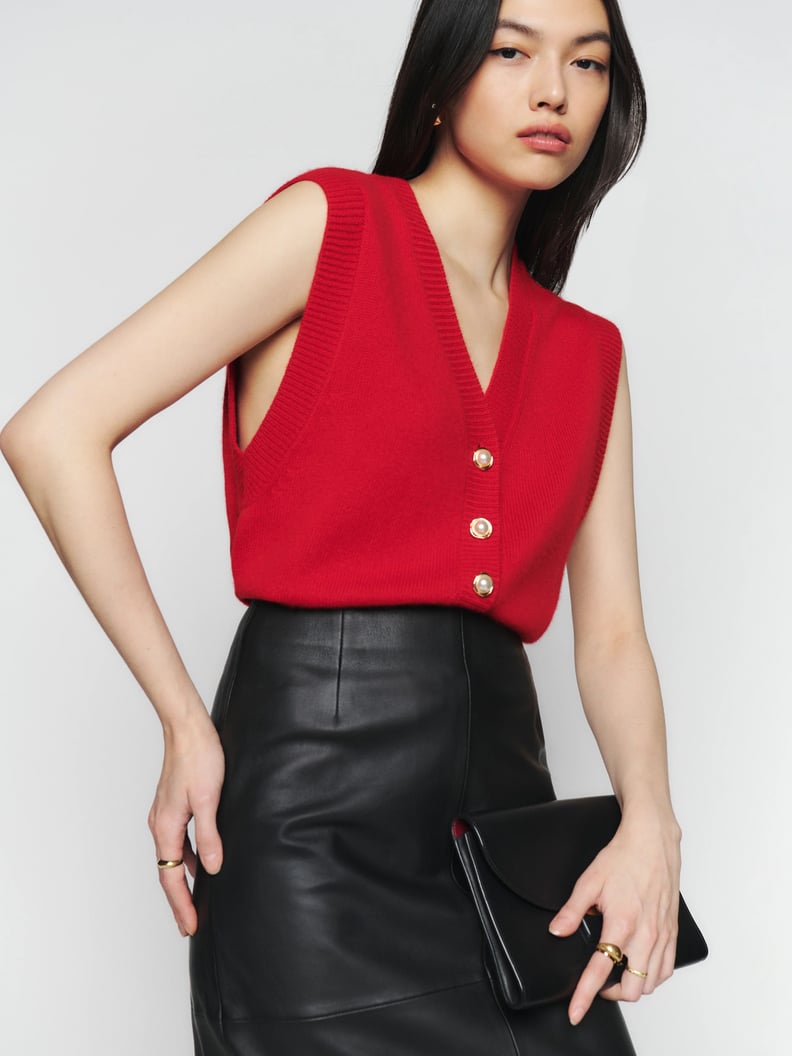 Sweater Vest Outfit: Reformation Jacqui Cashmere Sweater Vest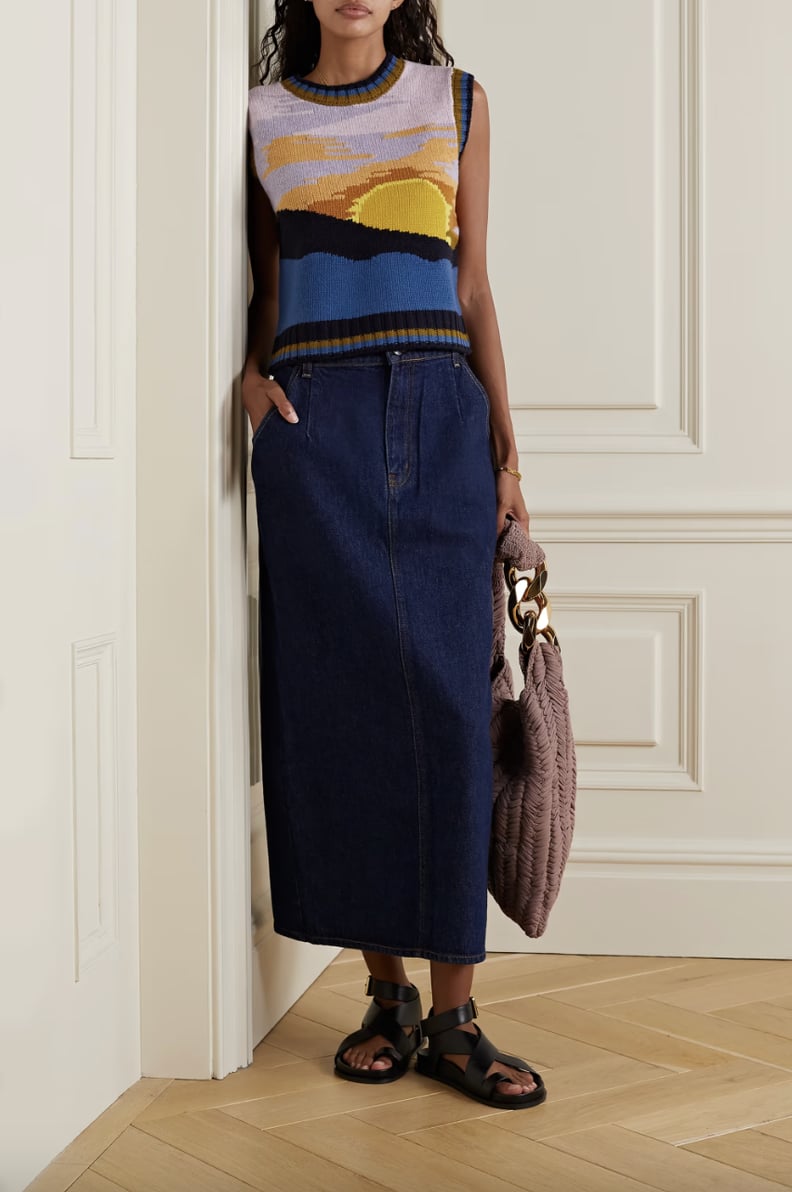 Sweater Vest Outfit: Sea Sunset Intarsia Vest