For one of the most important events of her campaign, Kamala Harris reached for her trusty pearls to face off in the first and only vice presidential debate on Oct. 7. While she kept things simple with her black pantsuit, the senator wore a strand of sparkly pearls with turquoise details and matching earrings, proving once again that she keeps it real when it comes to her looks.
We all know politicians are scrutinized for the messages they convey through their clothing, but Kamala's look isn't complicated. She wears Converse sneakers when she wants to because they're functional and comfortable, and they allow her to move quickly and get sh*t done when she's on the campaign trail. She paints a bold backdrop behind the messages she delivers in her power colors and sensible pearls, too, just because she likes them. Of course, the necklace is timeless, and a sophisticated choice at that, when the majority of Kamala's wardrobe falls into the workwear category.
But Kamala doesn't just stick to one strand of pearls. She has curated an impressive collection over the years — starting with the elegant choker she wore for her Howard University graduation photo in 1986. Kamala has shared this image across her social platforms, causing many people to make the connection to her personal style, and also the sorority she joined, Alpha Kappa Alpha, which is the first Black Greek-letter sorority that refers to its members as the "Twenty Pearls." By making the pearl necklace a seamless part of her uniform, and swapping out her favorite iterations depending on her outfit, she's not just participating in fashion or acknowledging trends, she's both defining her authentic taste and staying true to who she is and the history that's ingrained in her.
Kamala clearly treasures her pearls. Most importantly, she wears them in a way that's relatable — throwing them on when they look good and flow with the rest of her ensemble, and not necessarily when they stand out to make an intentional statement. Maybe that's why we keep our eyes peeled for them whenever she steps out to make a speech or greet a crowd — Kamala's pearls are also a beautiful sign of comfort.
Kamala wore a simple pearl choker for her 1986 Howard University graduation photo.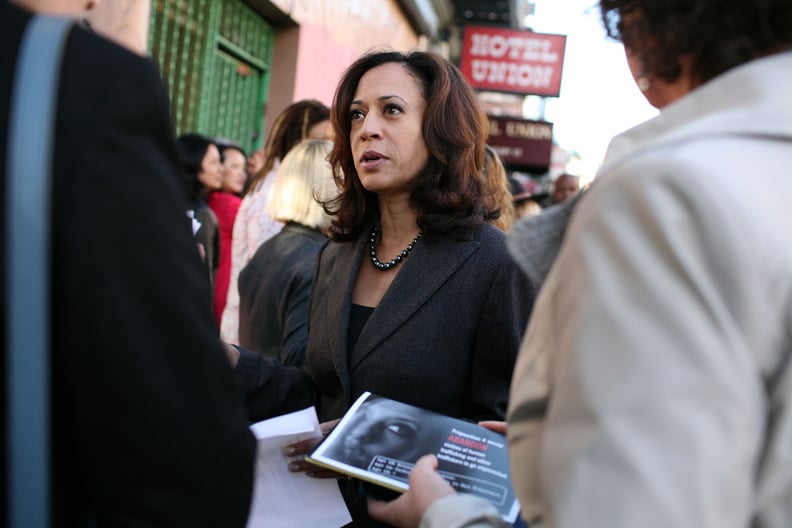 In October 2008, Kamala accessorized a charcoal suit with shimmering black pearls for a press conference in California, where she's from.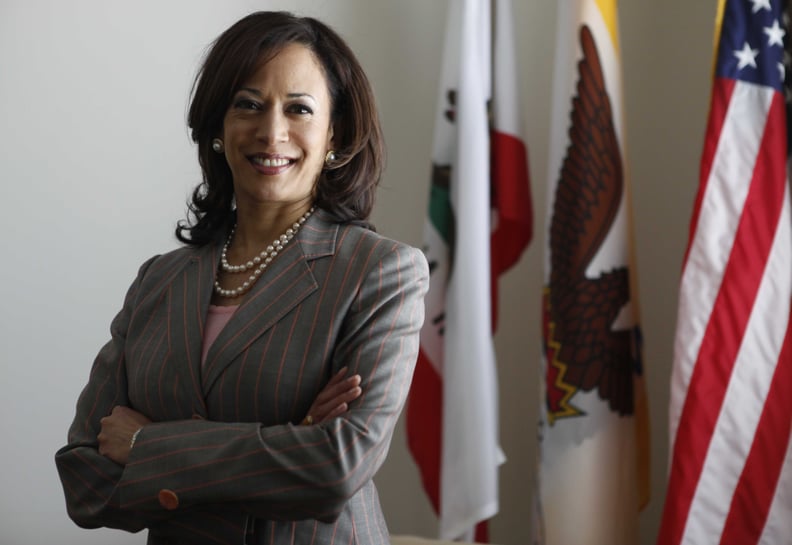 Kamala stood for a portrait as District Attorney for San Francisco in April 2009, coordinating gold-rimmed pearl stud earrings with a double strand of pearls and a fresh pink pinstripe blazer.
In July 2012, Kamala performed her duty as California attorney general in an ivory cable knit top and a sophisticated black blazer, along with her double strand of pearls.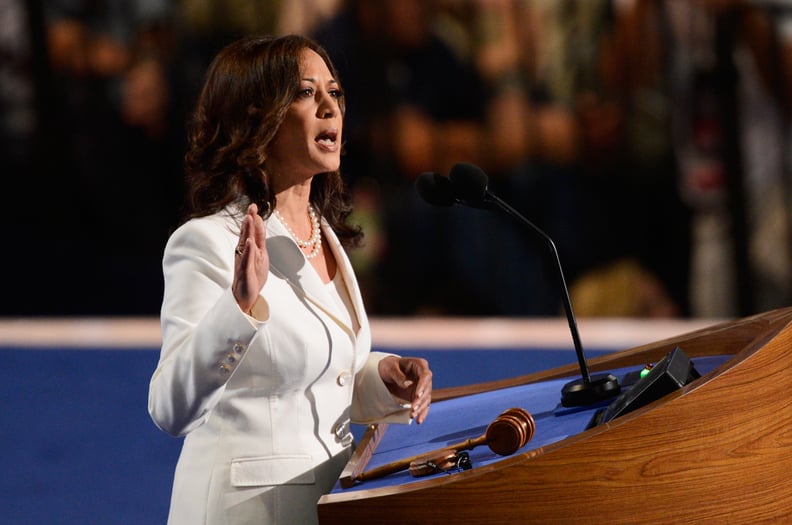 Kamala wore white at the DNC in 2012, which officially nominated Barack Obama as the presidential candidate for the second time. She needed little more than her trusty pearls to complete this ivory pantsuit that came with marble buttons.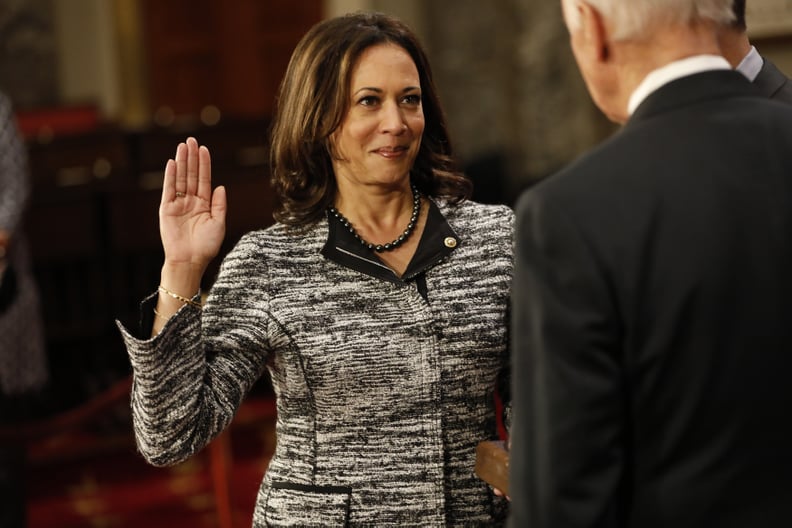 Taking a turn back to her darker set of pearls, Kamala played up the black accents of her tweed blazer, pressing her collar just enough to put her jewelry on display in Washington DC in 2017.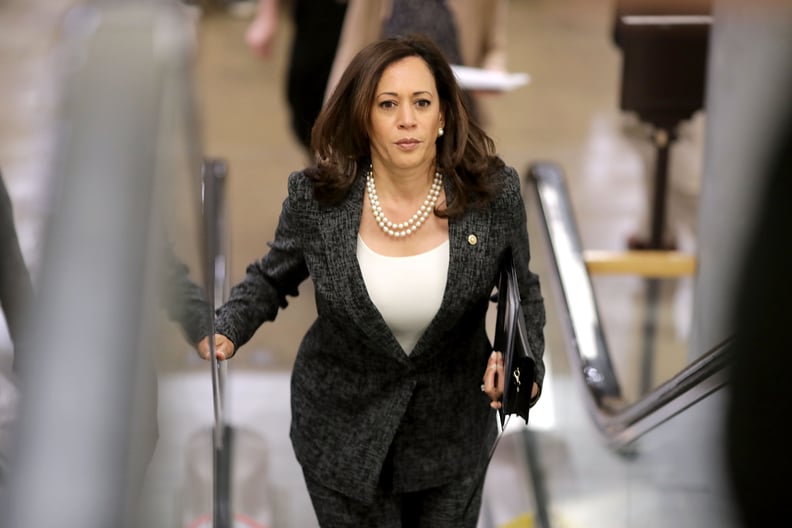 Kamala meant business as senator at the US Capitol in May 2017, coordinating her pearls with a sleek, fitted top underneath her cross-stitch salt-and-pepper pantsuit.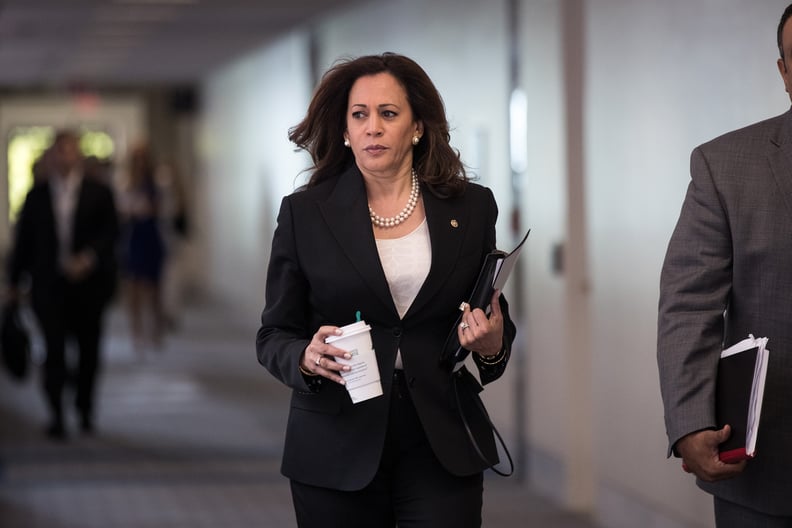 Senator Kamala Harris arrived for a meeting in Washington DC in June 2017 in a satin embroidered top, pearls, and a black pantsuit, and also armed with her coffee cup.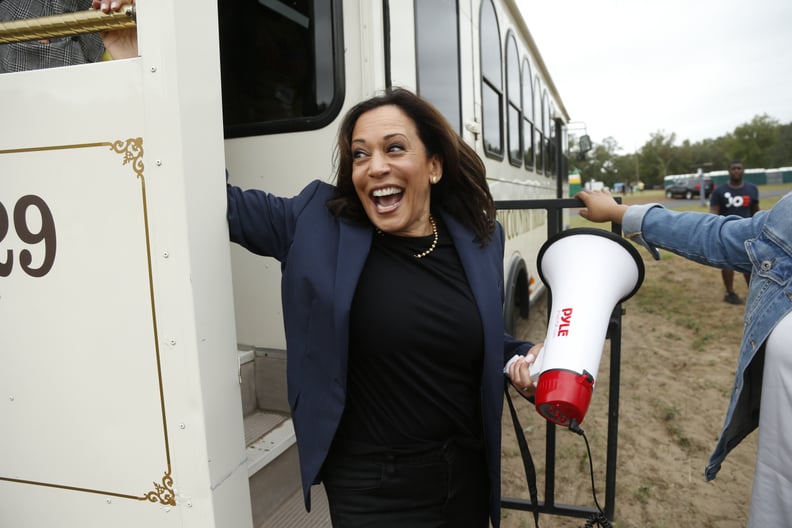 Kamala showed off a modern gold strand of pearls at the Blue Jamboree in North Charleston, SC, in October 2019, which were finished more casually with dark denim and a navy blazer.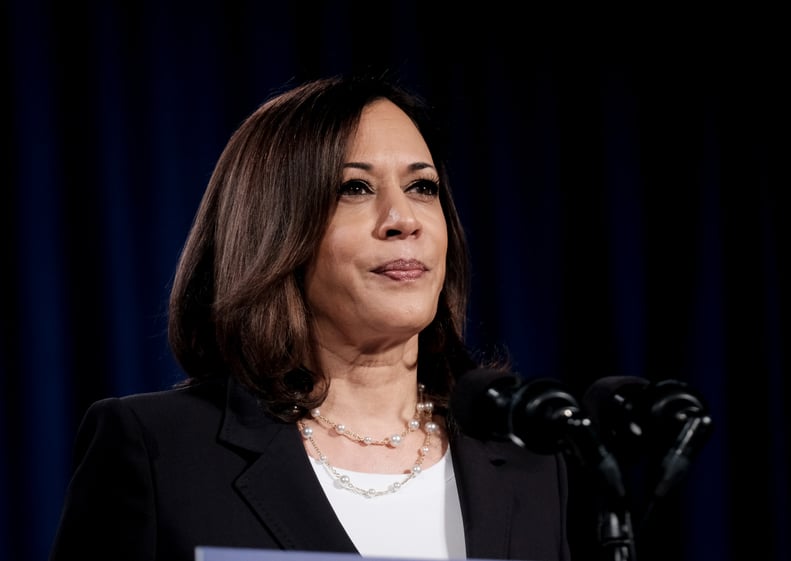 Kamala double-looped this Irene Neuwirth chainlink pearl necklace for a campaign event as Democratic vice presidential nominee in August 2020.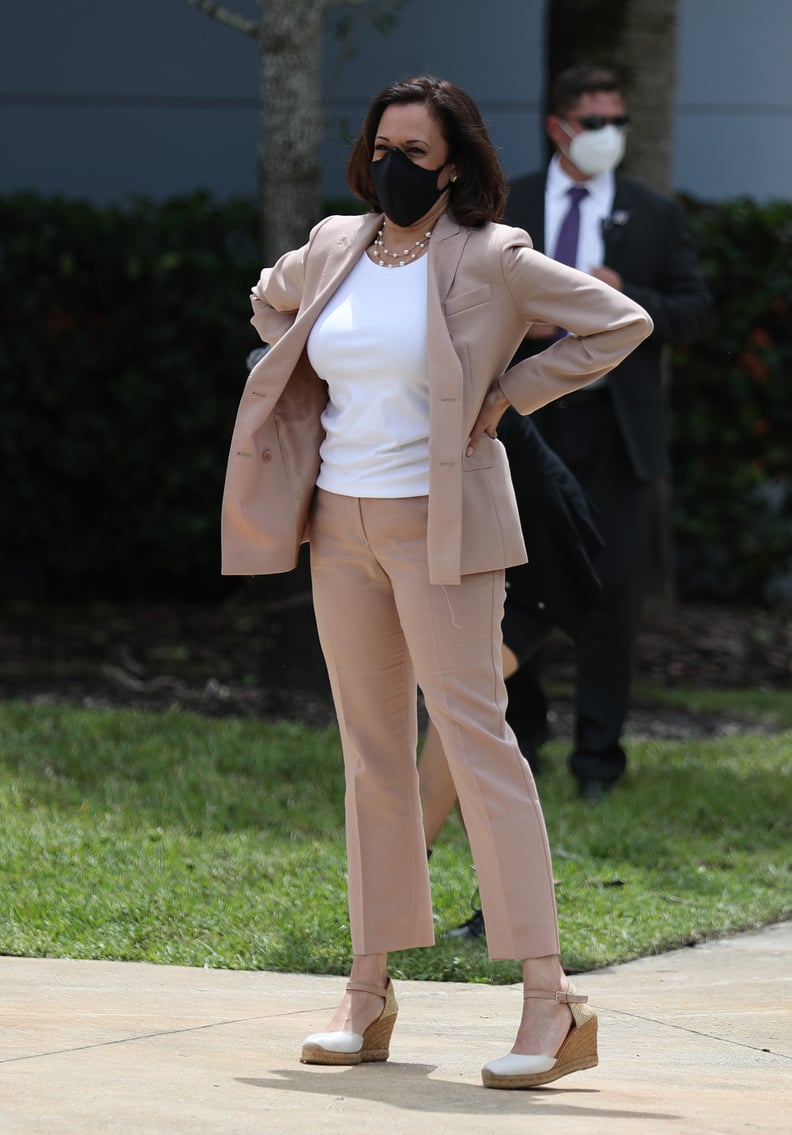 Kamala's September 2020 Miami campaign stop called for a fitted camel suit, the blazer worn undone, chainlink Irene Neuwirth pearls, espadrille wedges, and a protective face mask.
During the vice presidential debate on Oct. 7, Kamala wore a strand of shiny pearls with turquoise detailing to go with her smart black pantsuit. She also accessorized with a pair of matching pearl earrings.