Keke Palmer On How 2000s Fashion Influenced Her New Music Video
Keke Palmer has a full schedule these days. The 28-year-old actress has three new films, recently joined the cast of "Legendary" on HBO Max, and just last year hosted the official Met Gala telecast.
Between all that, she's finding time to take a walk down memory lane with a nostalgia-infused rerecording of her song "Bottoms Up," which was originally released in 2007. The song now has a 2022 spin but still has connections to the early aughts: the director of the video, Lawrence Murray, was one of Palmer's street-team members who she met when she was 12.
"I have a lot of new music coming [with a] project entitled 'Big Boss,'" Palmer tells POPSUGAR. "I thought it'd be a boss move to resurface a fan favorite [and] rerecord it, so that I own it."
The inspiration for the updated music video is "beauty, expression, and femininity," she says. The latter half of the video is actually an homage to the train that Palmer used in the "Keep It Movin'" video back in 2009.
Overall, she wants fans to walk away with a strong sense of how the past can be modernized. Indeed, in an era when the Y2K resurgence is nearly impossible to escape, it's the perfect time to feed into our collective nostalgia.
"Music is timeless," Palmer says. "Creativity is ever evolving, and some of the most fun comes in taking something old and making it new again."
The same can be said of Palmer's approach to fashion. While she's quite literally grown up in the industry over the last 20 years, she asserts that her style has remained relatively the same. Her main priorities are self-expression and comfort, no matter the era and the reigning trends of the day.
"[My style] is still quite whimsical and practical," she says. "I don't think I have changed too much. I'm still just expressing me and what I feel in every moment."
When she needs a put-together outfit in a few minutes or less — a frequent occurrence, given Palmer's packed schedule — the standby she always reaches for is reliably low-key yet sneakily stylish.
"Creativity is ever evolving, and some of the most fun comes in taking something old and making it new again."
"A white tank top and jeans with some cool kind of sneak, sometimes with the addition of a blazer," she says. "I always love a blazer. Makes me feel casual yet serious, which is my mood most times."
Of the many red carpets Palmer has walked, hosted, and attended, it's not surprising she struggles to narrow down an all-time-favorite red carpet moment. Yet there is one ensemble that forever stands out in her mind, in part because it was reminiscent of a show that holds a special place in '90s kids' hearts.
"I always loved this outfit I wore to the 2014 BET Awards," she says. "I was kind of like a Power Ranger." (That year, she wore an Alon Livné dress and Saint Laurent heels.)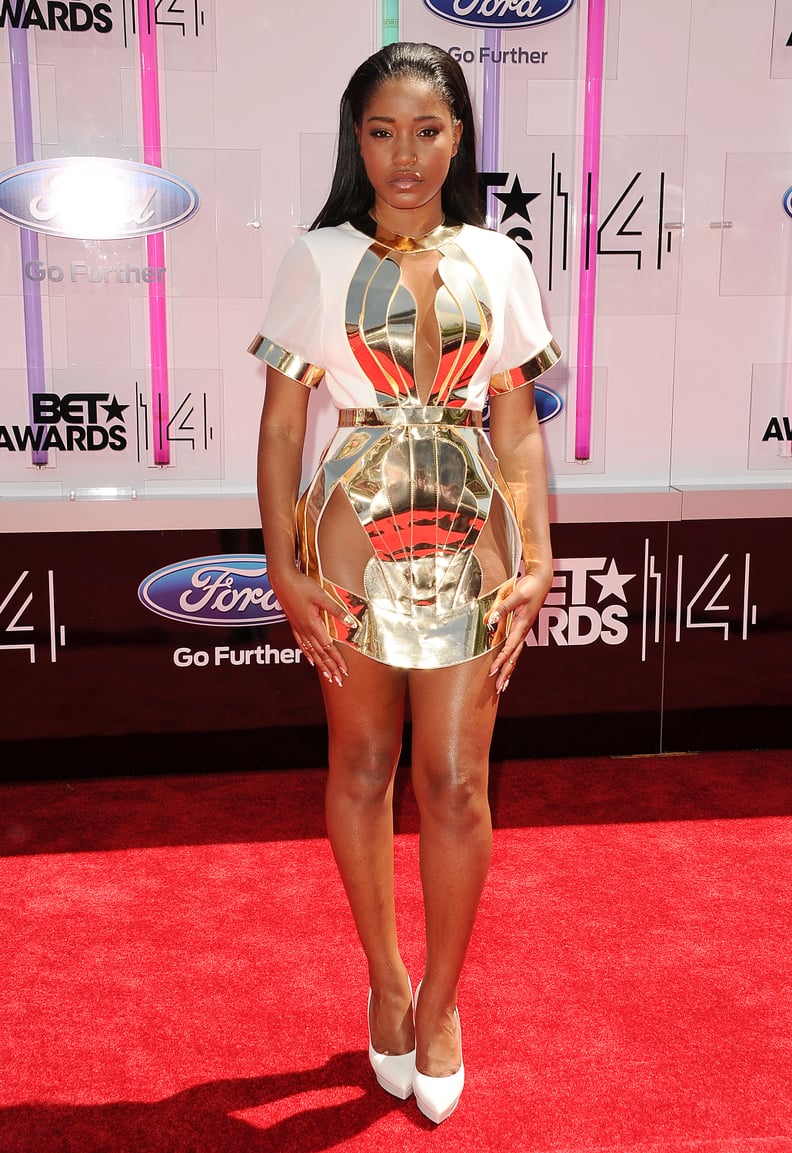 Image Source: Getty / Jason LaVeris
Looking ahead to the rest of 2022, Palmer is gearing up for one of her biggest projects to date: a music movie. "It's a narrative that follows my new album, almost like a musical," she shares. "I wrote it and directed it. I'm really excited to release it — I just want to make sure it's perfect!"