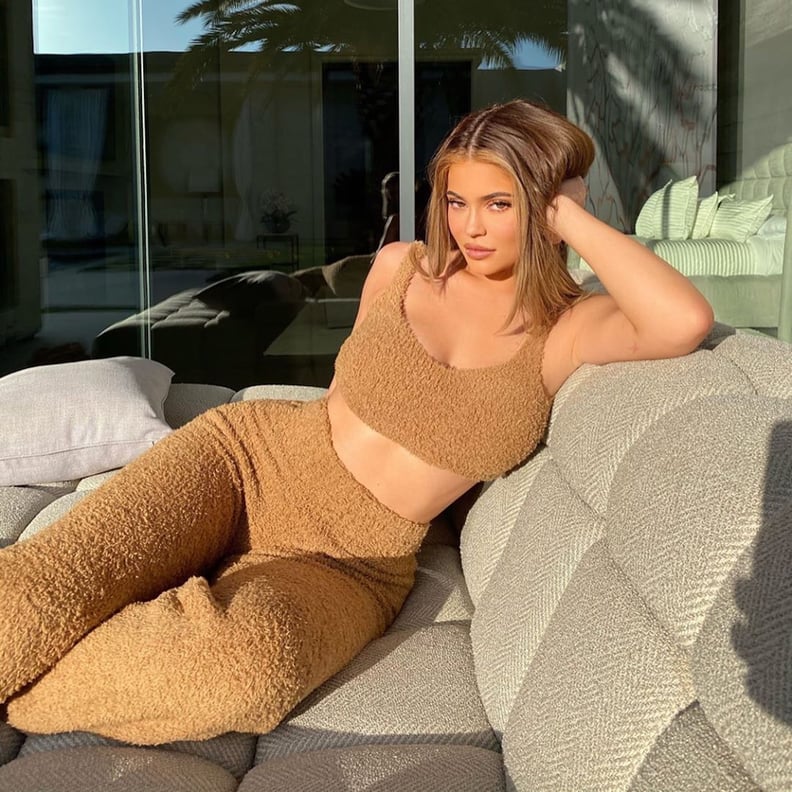 Kylie Jenner posted an Instagram of herself modeling Kim Kardashian's new Skims Cozy Collection, which is currently, like, our favorite outfit ever. But man, the curious case of the Kardashian-Jenners and their sisterly bond. It seems like Kylie totally got away with revealing this new teddy-bear brown colorway to the world. "Oops not supposed to be showing you guys the new cozy skims," she wrote.
But Kim seemed to be excited that Kylie broke the news to the world — yes, new shades are coming! — "KYLIE!!!!!!!!!!!!!!!!!!!! You look bomb!" she commented. So, was this planned? Kim could've teased the new sets herself, but she obviously sent this co-ord to Kylie to try out instead — and it's not the only new look Kylie revealed. If you took the time to scroll through Kylie's Instagram Story, you'd have spotted her in a gray fuzzy crop top, too. So, yes, Kylie is definitely spilling the beans with or without Kim's permission.
Kendall Jenner also submitted her Vogue postcard from home in the all-white version of the Cozy Collection outfit, proving that Skims are simply becoming the family's new uniform across the board. If you're a fan of the line like we are, we recommend keeping your eyes peeled for another Kylie outfit change, because that's what she's here for. We'll do our best to let you know when Kim adds the new designs to her site, because that's what we're here for.
It Appears Kim's New Skims Will Come in Caramel . . .