The Reason More People Are Wearing Lab-Grown Diamonds Like Meghan Markle's
As POPSUGAR editors, we independently select and write about stuff we love and think you'll like too. If you buy a product we have recommended, we may receive affiliate commission, which in turn supports our work.
Billy Porter famously sporting a collar necklace made of 500 cultured (or lab-grown) diamonds at the 2020 Oscars. Meghan Markle wearing sustainably made pieces by jewelry brand Kimaï on the regular (she wore the above crawler design for her first public appearance for her patronage Smart Works in 2019). These are just some of the stars incorporating more lab-grown diamonds into their wardrobes. But what exactly is a lab-grown diamond? How much does it cost? And is it even real?
To field these questions, we turned to the experts: Kimaï cofounders Jessica Warch and Sidney Neuhaus; Labyrinth Diamonds founder Seetal Jogia; Vrai representative Ye-Hui Goldenson; and Lark & Berry founder Laura Chavez. They broke down the basics, providing insight about when these pieces are first "grown," how the process differs from traditionally mined diamonds, and how they are assessed and graded once they're complete. (FYI, just like a non-lab-grown diamond, the four Cs still come into play: cut, color, clarity, and carat.) Considering a lab-grown diamond engagement ring? This guide will spotlight retail destinations to shop popular styles. You'll also learn more about why going the lab-grown route could help reduce your carbon footprint — opening up a mine causes pollution, so replicating nature's process in a lab can help curb additional harm to the environment.
Ahead, find the answers to everything you've ever wondered about lab-grown diamonds, then shop some of our top picks, including rings, earrings, and necklaces.
— Additional reporting by Sarah Wasilak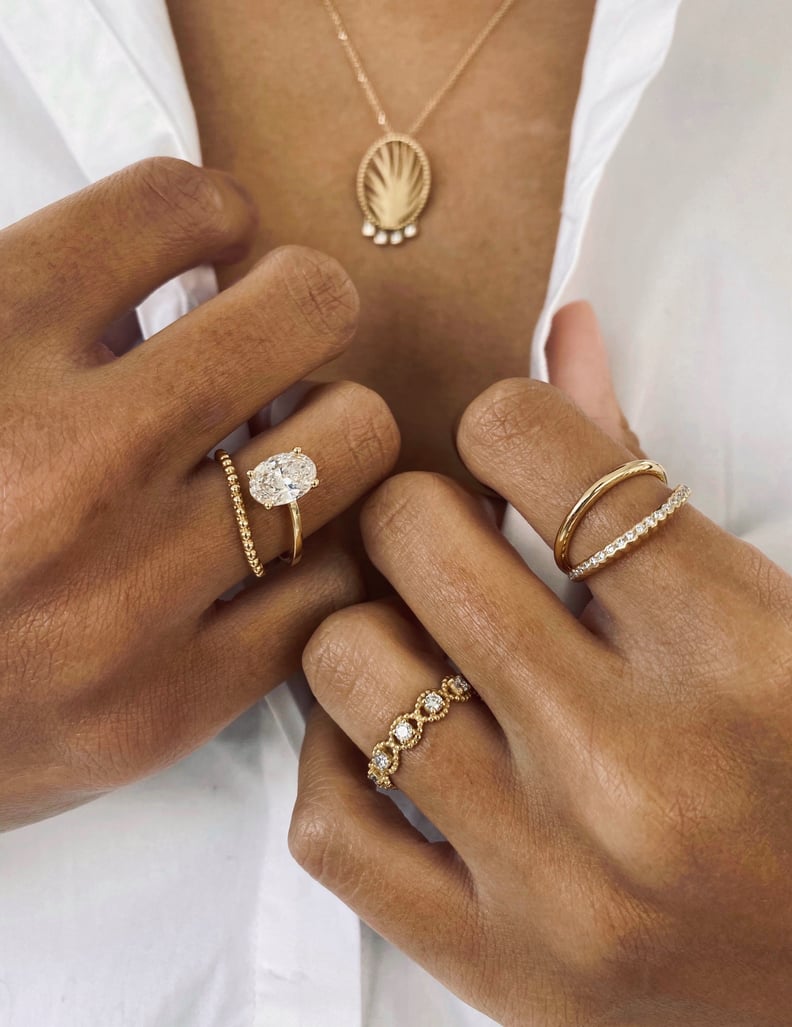 What Is a Lab-Grown Diamond?
Lab-grown diamonds are man-made diamonds created in a lab. Unlike traditional mined diamonds, lab-grown diamonds don't require large holes to be cut and drilled into the ground. Instead, they use carbon from fossil fuels to mimic the natural diamond-growing process. Because of this, they are chemically and aesthetically similar to mined diamonds.
Although lab-grown diamonds are becoming more popular, they were first "grown" in the 1950s through a high-pressure, high-temperature process similar to mining. "A carbon seed was placed within a sealed chamber with carbon-rich gas, then heated to around 800 degrees Celsius until the gases started to 'stick' to the seed, which grew a diamond carbon atom by atom," Warch explains to POPSUGAR.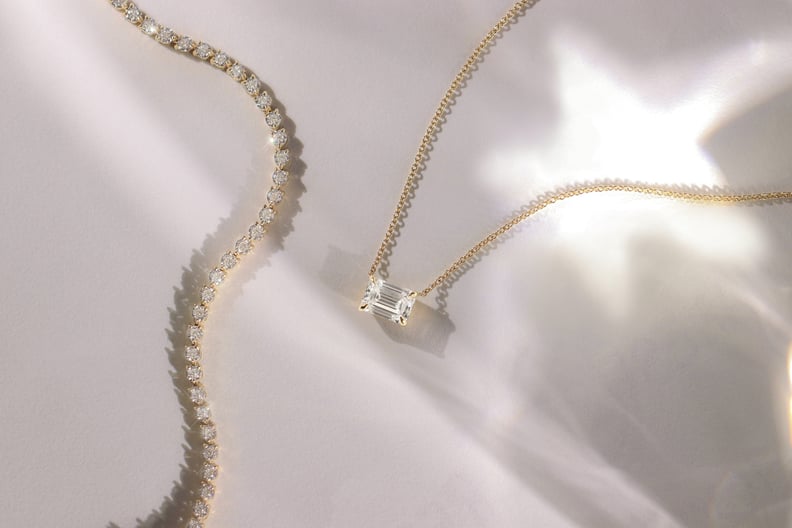 Are Lab-Grown Diamonds Real?
The short answer is yes. Lab-grown diamonds are assessed by either The Gemological Institute of America (GIA) or The International Gemological Institute (IGI), two of the oldest companies in the diamond business. These organizations grade on the four Cs to ensure every diamond is 100 percent authentic.
Warch recommends getting a certification of authenticity when buying any diamond, be it mined or lab grown. "All of our diamonds above 1/2 carat receive a Diamond Authentication Certificate from the IGI or GIA, which provides a third-party, unbiased reassurance of what you are buying," she says.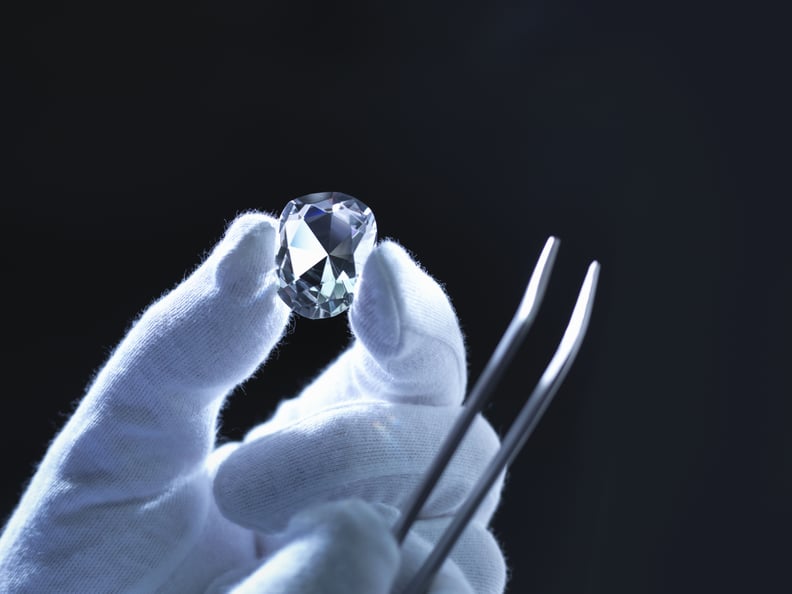 How Are Diamonds Made in a Lab?
Diamonds dug up in the ground are formed naturally through a combination of heat, pressure, and time. Lab-grown versions, however, re-create this process in as little as four weeks. Two main processes exist: high pressure, high temperature (HPHT) and chemical vapor deposition (CVD). HPHT diamonds are created in a closed chamber using high levels of heat and pressure, while CVD diamonds are placed in a sealed vacuum at a temperature of 800 degrees Celsius.
"The longer the time in the vacuum, the larger the rough will grow," Jogia explains.
CVD diamonds are type IIa, meaning they contain little to no nitrogen. Once the diamonds are formed, they are uncut and unpolished just like mined diamonds. "The process of readying them for jewelry is the same as what a mined diamond must undergo at that point," Chavez says.
Translation: the diamond will then get assessed for the four Cs: cut, color, clarity, and carat. The length of time for cutting and polishing depends on the use of material. "The cutter will decide if it's best to cut one stone or many stones from one piece of rough diamond material," Jogia says.
Then, the type of cut — round brilliant, radiant, cushion, emerald, or oval — will be determined. And finally, each stone will be graded by an international lab.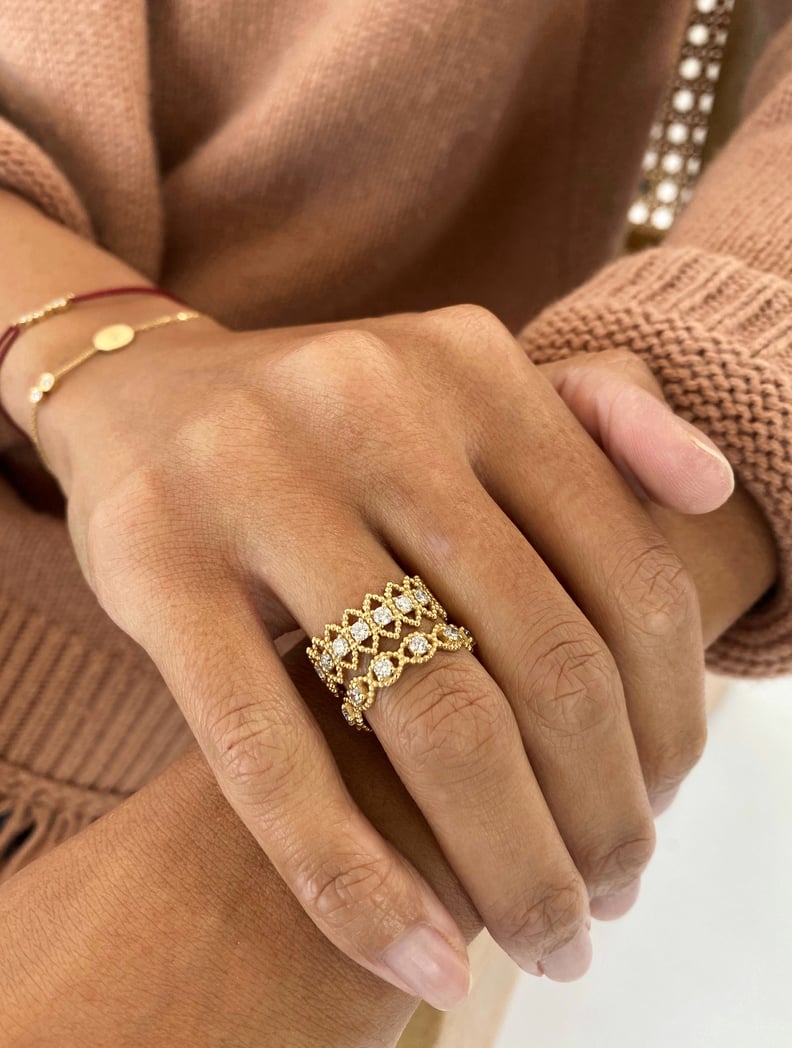 How Much Does a Lab-Grown Diamond Cost?
Because their supply chain tends to be shorter, lab-grown diamonds can cost anywhere from 40 to 60 percent less than mined diamonds. Pricing is determined by the shape and, of course, the four Cs. According to the International Gemological Institute, diamonds with a sharper, more distinct color grade will be more expensive. Graded on a five-level scale of excellent (light beautifully reflects) to poor (no sparkle), a diamond's shape, depth, and symmetry are key, too. Imperfections in clarity can potentially alter the cost. The weight of the diamond is another factor: the heavier the stone, the higher the price. The popular round-brilliant shape tends to be the priciest.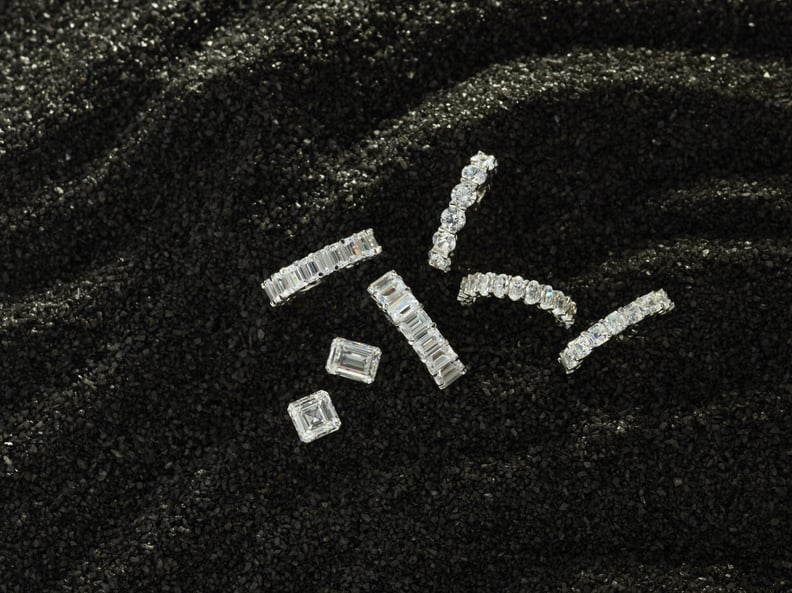 Are Lab-Grown Diamonds More Ethical Than Mined Diamonds?
For every single diamond carat, an estimated 250 tons of earth has to shift. For context, 142 million carats were mined in 2019 alone, creating holes so big, they can be seen from space. Not to mention, mining causes a lot of pollution. "An alarming amount of pollution and irreversible damage is done during and after a mine is opened," Jogia says, citing unsafe working conditions, soil erosion, and degradation.
With mined diamonds, it's difficult to know exactly where your diamond came from or to ensure no harm occurred in the process of creating it. Some jewelry brands have launched end-to-end traceability platforms, but lab-grown diamonds generally have fewer channels to go through on its journey from the lab to jeweler to customer.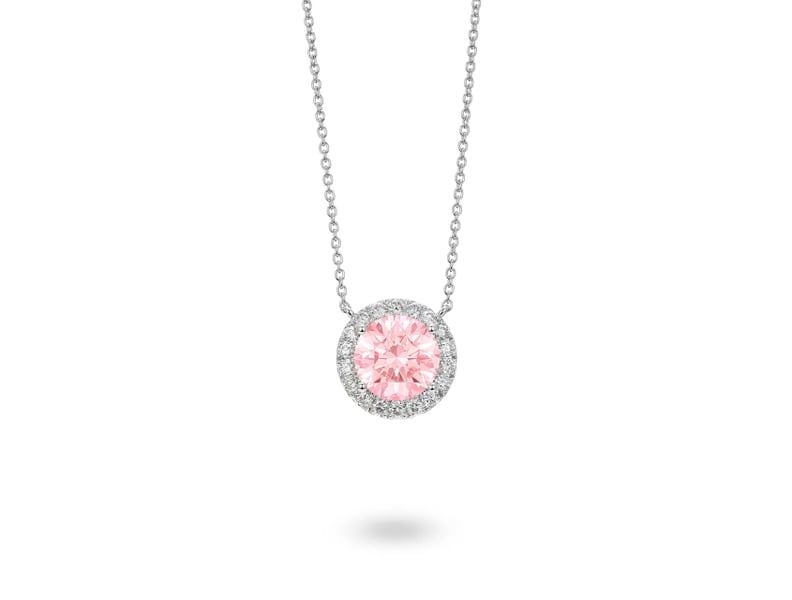 Lab-Grown Diamond Necklaces