While New York City's recent heat wave has prompted most to stay put with their air conditioning on full blast, it looks like Lady Gaga had other ideas in mind. Since touching down in NYC on June 29, the singer has been serving glamorous look after look. She's been spotted walking out of the Plaza Hotel in four(!) different fancy frocks over the past three days, and while she's always incredibly stylish, we can't help but wonder if she's dressed for a certain occasion.
From the puffed sleeves and polka dots to the lace detailing and cat-eye glasses, her looks exude old Hollywood glamour. And these chic updos? Gaga looks regal as ever. On June 29, the star stepped out of her hotel wearing a sheer black bustier gown from Alexander McQueen with a flowing cape, and later that day, switched into a fun pink Alessandra Rich polka-dotted dress with ruching and ruffles. The next day, Gaga chose a black-and-white floral dress from Giuseppe di Morabito with puffed sleeves and a sexy leg slit. And on Thursday, she wore another polka-dotted gown — this time a strapless number in white by Giambattista Valli, with a white Fendi coat draped over her shoulders.
We know Gaga's in town for an MTV Unplugged performance with Tony Bennett at an undisclosed NYC location on Friday, so it's possible she's experimenting with looks before the special. In one photo from Wednesday, Gaga appears to be holding a thick stack of papers, which upon closer examination, looks like sheet music for Cole Porter's "I Concentrate on You." Perhaps she's getting into character for her performance? On second thought, she could potentially be promoting her upcoming House of Gucci movie. There is a touch of Italian inspiration in these outfits.
But hey, it's 100 percent possible this is just Gaga being Gaga. If anyone is rocking red-carpet-worthy looks for absolutely no reason, it's our girl. Regardless, I'm grateful for the entertainment as I cool off indoors.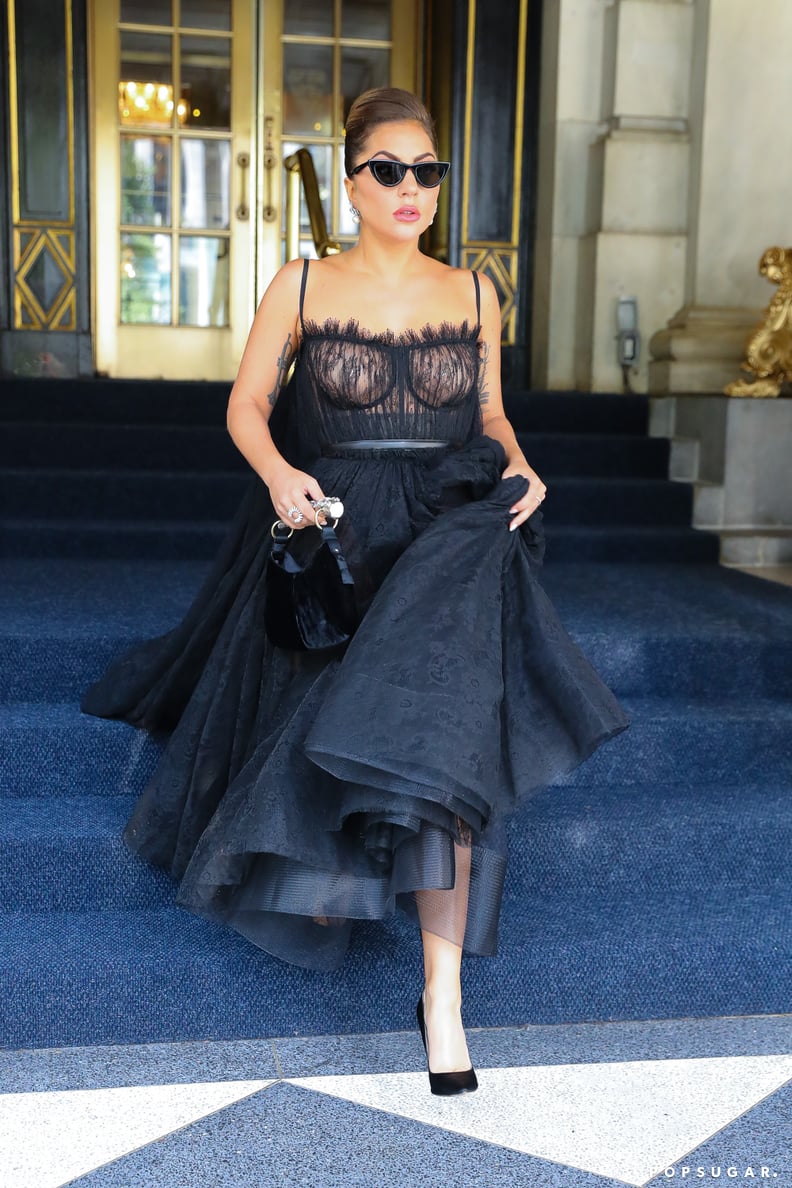 Lady Gaga Wearing an Alexander McQueen Dress in NYC
She paired the lace gown, from McQueen's spring/summer 2021 collection, with Jimmy Choo pumps, a Tom Ford for Yves Saint Laurent purse, and Gentle Monster cat-eye sunglasses.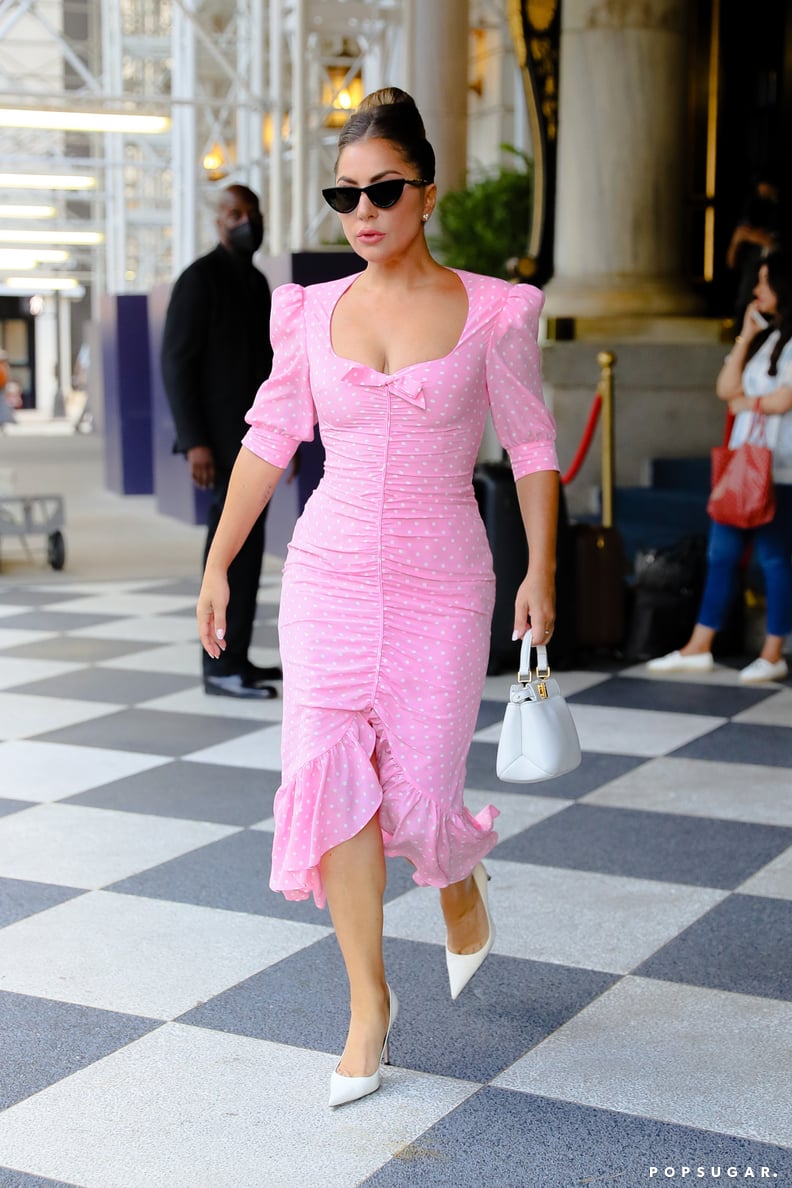 Lady Gaga Wearing an Alessandra Rich Dress in NYC
With a Fendi purse, heart-shaped Vivienne Westwood earrings, and white pumps.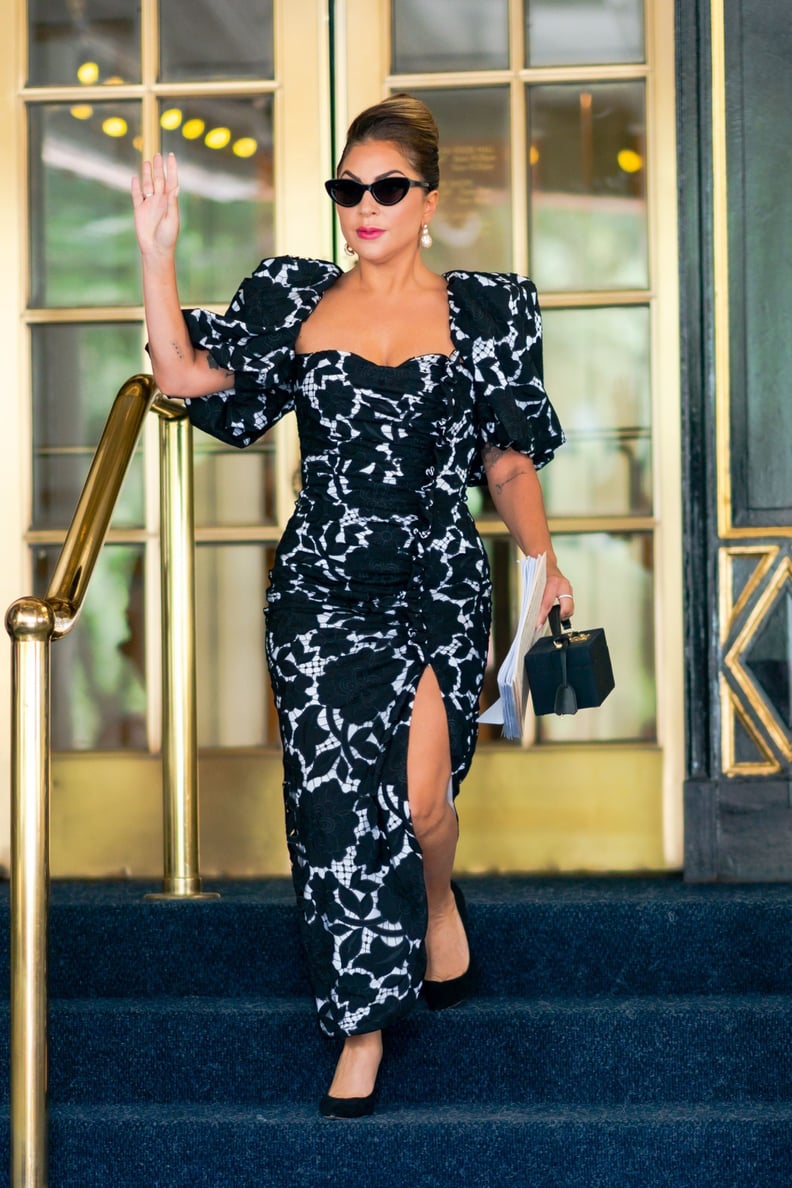 Lady Gaga Wearing a Giuseppe Di Morabito Dress in NYC
She wore the gorgeous embroidered dress with black pumps and a Mark Cross purse.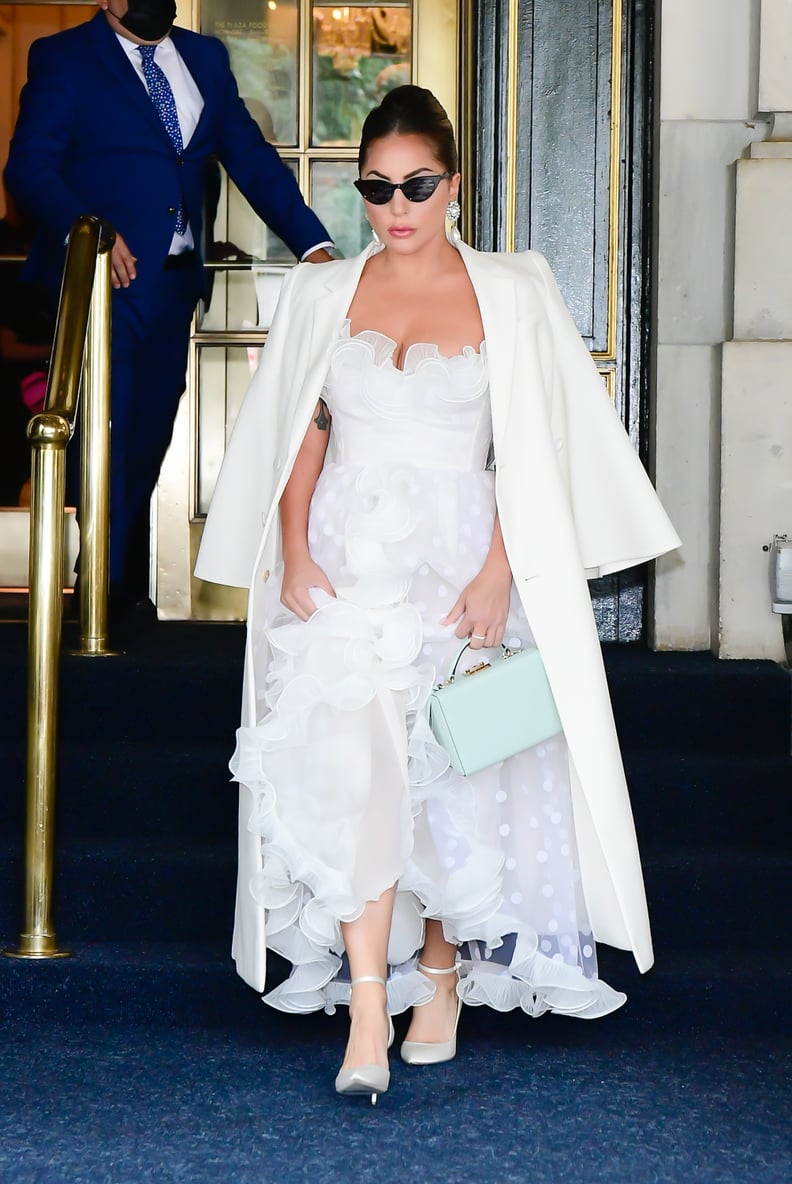 Lady Gaga Wearing a Giambattista Valli Dress and Fendi Coat in NYC
The singer opted for another Mark Cross bag and Jimmy Choo pumps to complement the romantic look.