It's impossible to talk about Bollywood screen style without talking about designer Manish Malhotra. After all, he's in charge of most of the iconic outfits we all still dream about today. I spoke with the designer to learn more about how he paved his way into films, designing, and, of course, some of his most talked-about creations seen on the silver screen.
While the designer has always been interested in movies, he realized what he wanted to do in life while he was modeling during his college years. "I got my first break in 1989 when Juhi Chawla was starring in the David Dhawan film Swarg where I created two costumes for Juhi for one song sequence. But the movie Rangeela was my turning point," Manish told me. "That was in 1995. The director, Ram Gopal Verma, was clear with his brief, and actress Urmila Matondkar was also all set to prove herself [in Bollywood]. There was a powerful creative energy, and we created something completely new by including crop tops, dungarees, T-shirts, and jeans into the mix. It was a completely new, fresh palette that caught the eyes of all millennials and ended up going viral. I won my first Filmfare Award as a costume designer for the movie. Interestingly, it was the first time the category was even added to the award show, so I became the first recipient of it."
"For me, [bringing celebrities onto the runway] was a very organic process because I came from movies, and I had relationships with these actors — they were my friends."
From the game-changing outfits in Rangeela to the start of athleisure on the big screen in Dil To Pagal Hai and Kuch Kuch Hota Hai, Manish is pretty much a chameleon when it comes to designing eye-catching costumes for the big screen. Trust me when I say he was instrumental in bringing many trends to the forefront. I vividly remember my sister and I went out and bought Tommy Hilfiger and Speedo athleisure looks right after we watched Kuch Kuch Hota Hai. He's also had a ton of success with his bridal couture looks shown during Fashion Week in India, where you'll probably notice more than a few familiar A-lister faces on the runway. (My husband actually wore a design from his collection for our wedding!) "For me, [bringing celebrities onto the runway] was a very organic process because I came from movies, and I had relationships with these actors — they were my friends. So calling them to my fashion show wasn't any strategic move back then and even now," Manish revealed.
Ahead, we relived some of his most iconic creations and his path to success and discussed what his favorite look has been so far in his career. For the first time, the designer even revealed how he turned down a huge opportunity to focus on his fashion label. (More on that later!) Keep scrolling to read more of our interview.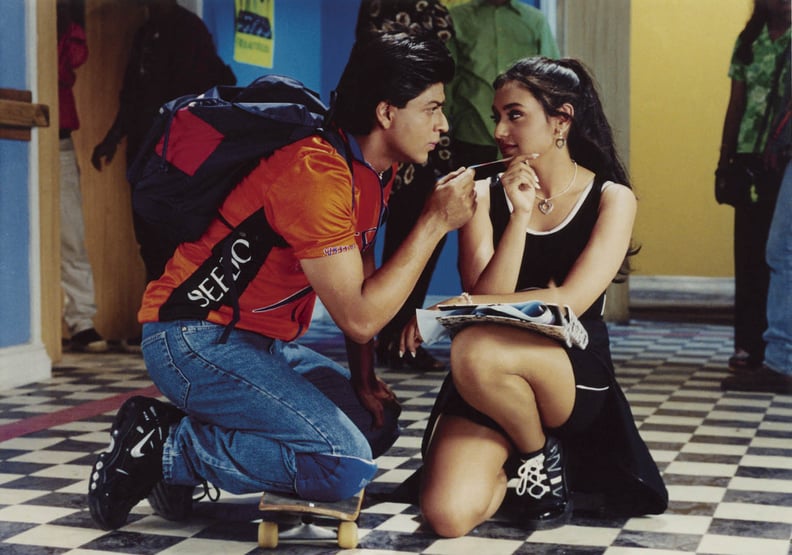 The Introduction of Athleisure in Bollywood
"Every time I hear that athleisure is a new trend, I roll my eyes in surprise. From trackpants to crop tops, singlets and bralettes, we did it all, and the response was deeply encouraging."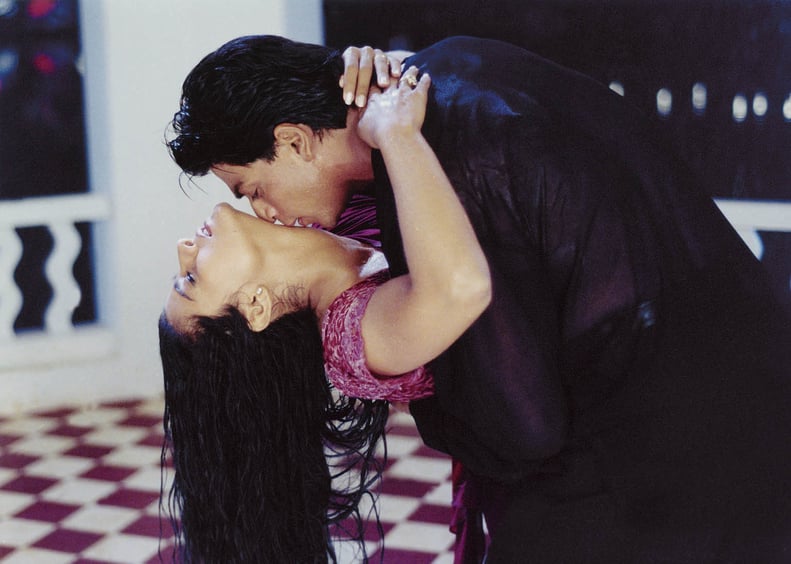 Manish's Favorite Costume From Over the Years
"I really can't pick just one of my outfits. I love all my creations. All of my costumes require their own time, dedication, and a number of man-hours. Each has its own story, be it the 'Desi Girl' saree, which looked simple but has a whole story to it, or Priyanka Chopra's swimsuit in Dostana. Every outfit was a result of a lot of brainstorming, various iterations, and on-set adaptations, which is why every outfit is very special to me."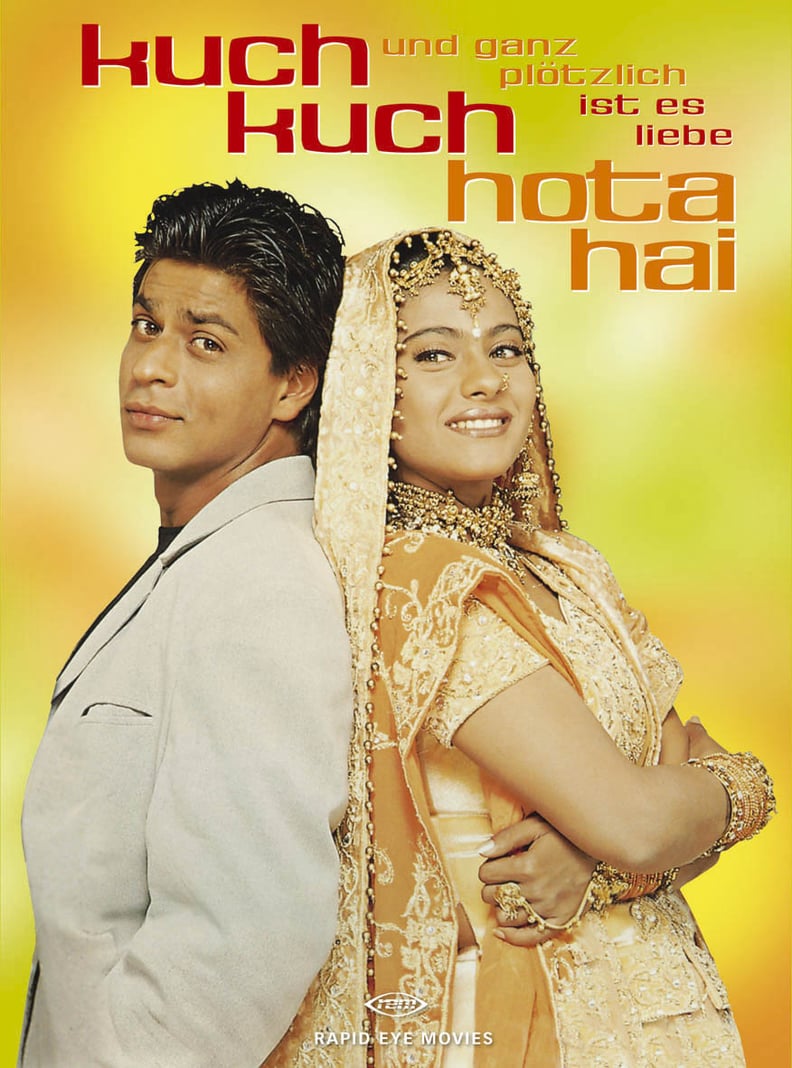 Creating Kajol's Iconic Wedding Outfit in Kuch Kuch Hota Hai
"For Kuch Kuch Hota Hai, Kajol and Karan [Johar] were visiting me to discuss the costumes, so I already went shopping and brought this amazing peach-color fabric. Back in those days, peach used to be my favorite color, and the material I chose was a tone-on-tone embossed fabric. I sketched out something before they came. I knew that Kajol had already worn a golden lehenga in DDLJ, so I wanted to do something different — maybe a saree with a head drape on it. Kajol and Karan both liked the color, and I got so excited that I immediately started draping it. This was the first time peach was used on screen as a wedding color, and I remember it really became the It color for all the weddings after the movie was released."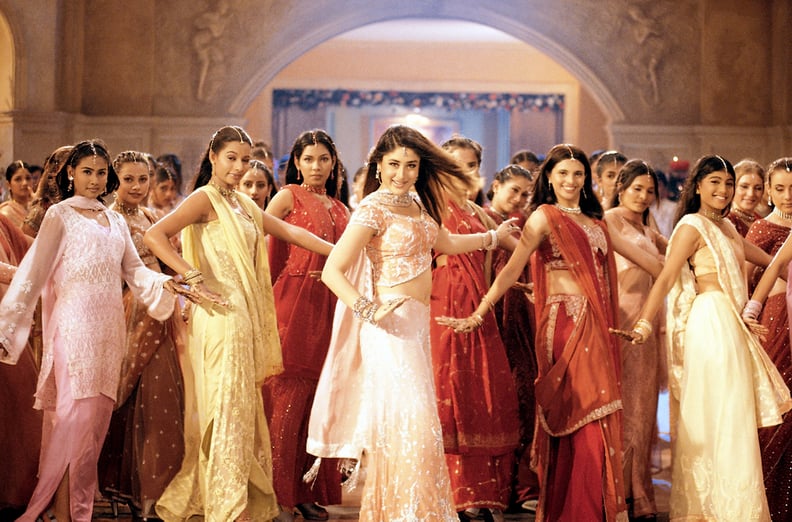 Creating Kareena Kapoor's Memorable Outfit in Kabhi Khushi Kabhie Gham
"Who wouldn't remember Kareena [Kapoor]'s asymmetrical top with shararas in Kabhi Khushi Kabhie Gham? They're still in fashion today! It's a contemporary outfit and will always be. We paired it with a small teeka and loose hair to complete the look in our own way. Her outfit was born out of tradition but aged in modernity. At that time, NRI (non-resident Indian) culture used to really astound me. The millennials were really torn between their environment and family values, which were completely different from the world they were living in. I wanted to show this paradox. Her look was modern/western, but the essence was Indian, and the result was that it resonated so well with girls across the country and worldwide."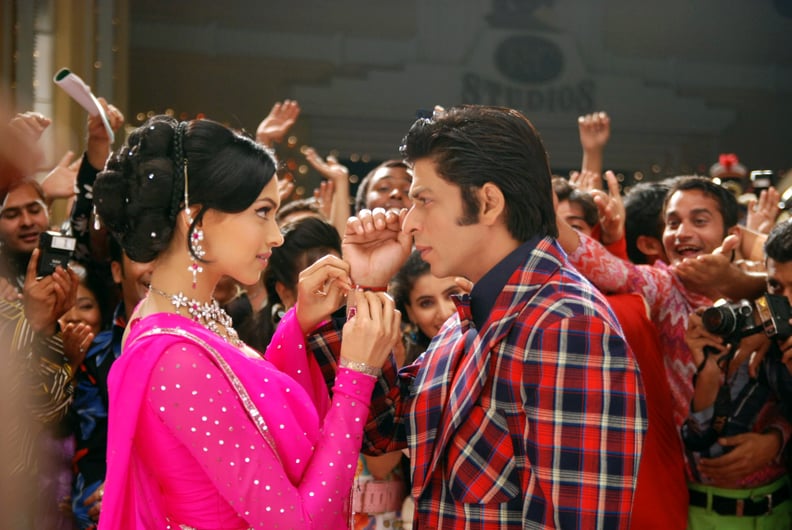 The Inspiration Behind Om Shanti Om
"I actually never studied fashion; I just observed things and watched movies. It was always on-job training for me, and now we are seeing a gradual shift from traditional research methodology to practical live training. I really loved the '70s era because it was overdramatic, psychedelic, and full of colors. The brief was simple; we wanted some looks that were authentic and some that were a contemporary adaptation of the '70s. I guess my overindulgence in Indian films and close inspection of the movies made it easier to create."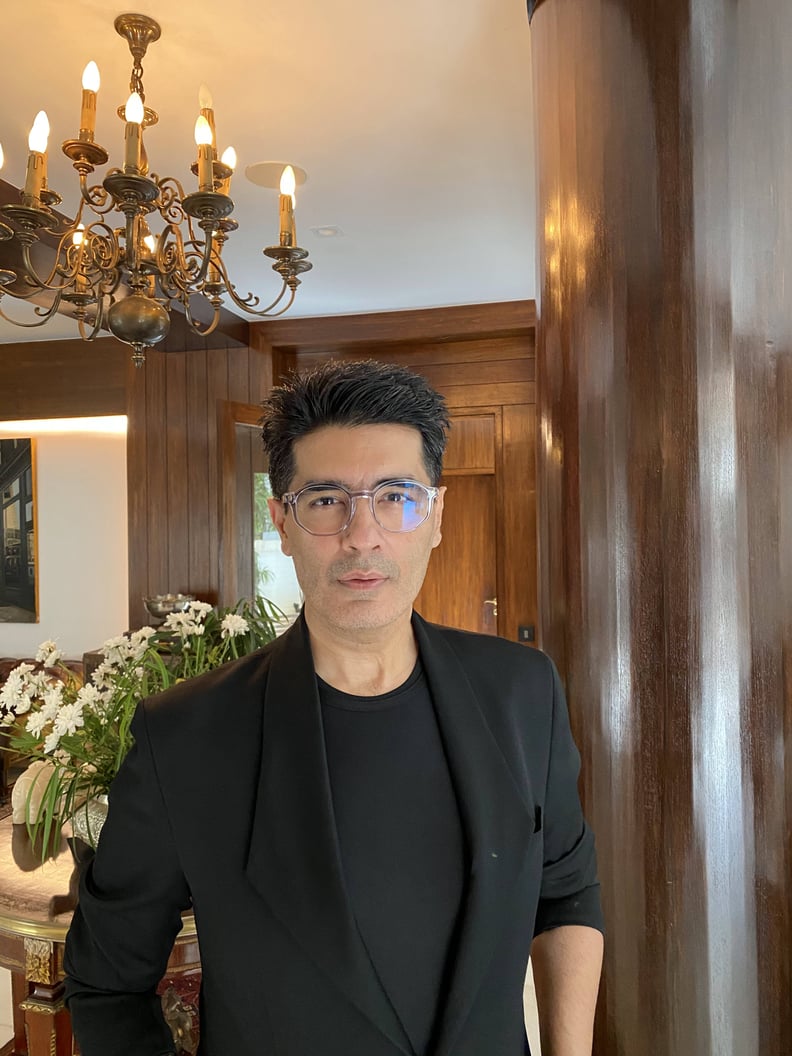 Manish's Advice to Young Aspiring Designers
"It's about honesty, sincerity, and the willingness to give that 24 hours of commitment. I was offered a film to direct at the brink of starting my label, but I must say this (and this is the first time I'm mentioning it) that I sacrificed that [opportunity] for my label. When you start something, you're also experimenting, but eventually, you find your genre and true calling. For me, that was the bridal couture. Also, it's about consistent learning, evolving, keeping abreast with times, and keeping pace with it. To all aspiring designers, it's about heart and hard work. Then, the economics follows."
Including Celebrities in His Fashion Shows
"At times, I felt very alone, because initially there was no support for my idea of having a showstopper in a fashion show. Now, celebrities donning designer attire is a norm. But I started it. I was bashed for it then, but today, I get to have the last laugh when everyone — literally everyone! — runs behind celebrities with their outfits."