After Meghan Markle Shopped This Maternity Dress on Her Own, Sales Increased by 500%
Let's get one thing straight — because of royal protocol, Meghan Markle wasn't gifted any of the clothing she wore during pregnancy number one. When she was carrying baby Archie, the Duchess of Sussex and her team shopped for her wardrobe organically, which made Meghan's sightings in HATCH even more exciting and meaningful for Founder and CEO Ariane Goldman. The first spotting happened in January 2019, when Meghan styled the Eliza dress, which retails for $228, with cow-print Gianvito Rossi pumps for a visit to Smart Works. One month later, for her baby shower in New York City, Meghan selected HATCH's Nearly Skinny Maternity Jean ($248) to go under her 1965 Courrèges Haute Couture cloak from William Vintage.
But the Eliza dress was particularly special because Meghan wore it for her first public appearance after announcing her pregnancy, and the classic number sold out eight times afterwards. We have more incredible stats where that came from! Ahead, we spoke to HATCH about the aftermath of the Meghan Markle effect on the maternity brand and found out exactly how the design team discovered Meghan had indeed shopped their clothing line just because she loved it. While Meghan shared happy news about baby number two wearing a Carolina Herrera maxi, HATCH gives us every reason to pay close attention to what label she champions next as she proudly shows off her growing bump. It's safe to say success is in the cards for whatever designer that may be.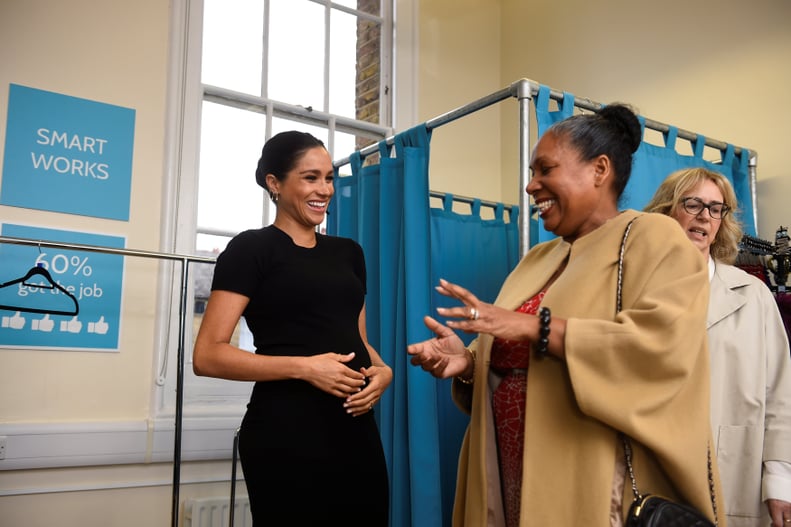 POPSUGAR: Can you provide specific data about the traffic to your site after Meghan was spotted wearing her HATCH dress in January 2019?
HATCH: Meghan stepped out on Jan. 10, 2019, which was a Thursday. That weekend, we saw over 300 percent increase in daily traffic. That month we saw a 500 percent increase in sales of the Eliza dress, and since then, we have sold out completely of the item eight times.
"[Meghan] embodies a vision of stylish, comfortable, and confident maternity dressing that reflects her personal style."
PS: How is the brand notified as soon as Meghan steps out in HATCH?
HATCH: That morning, Ariane woke up to a flurry of excited texts, emails, and calls from friends in London celebrating the news. At first, she thought it must be a mistake, but upon seeing the photos of Meghan wearing the formfitting Eliza Dress, she was blown away that she chose HATCH to proudly show off her bump for her first public appearance.
PS: What is it about Meghan's maternity style that's so relatable?
HATCH: Meghan's maternity style is appealing to the everyday woman because she dresses like the everyday woman. She's both aspirational yet totally down to earth. She embodies a vision of stylish, comfortable, and confident maternity dressing that reflects her personal style, which is exactly what HATCH is about. She isn't afraid to flaunt her growing bump and celebrate this incredible time, yet she still looks so chic and effortless.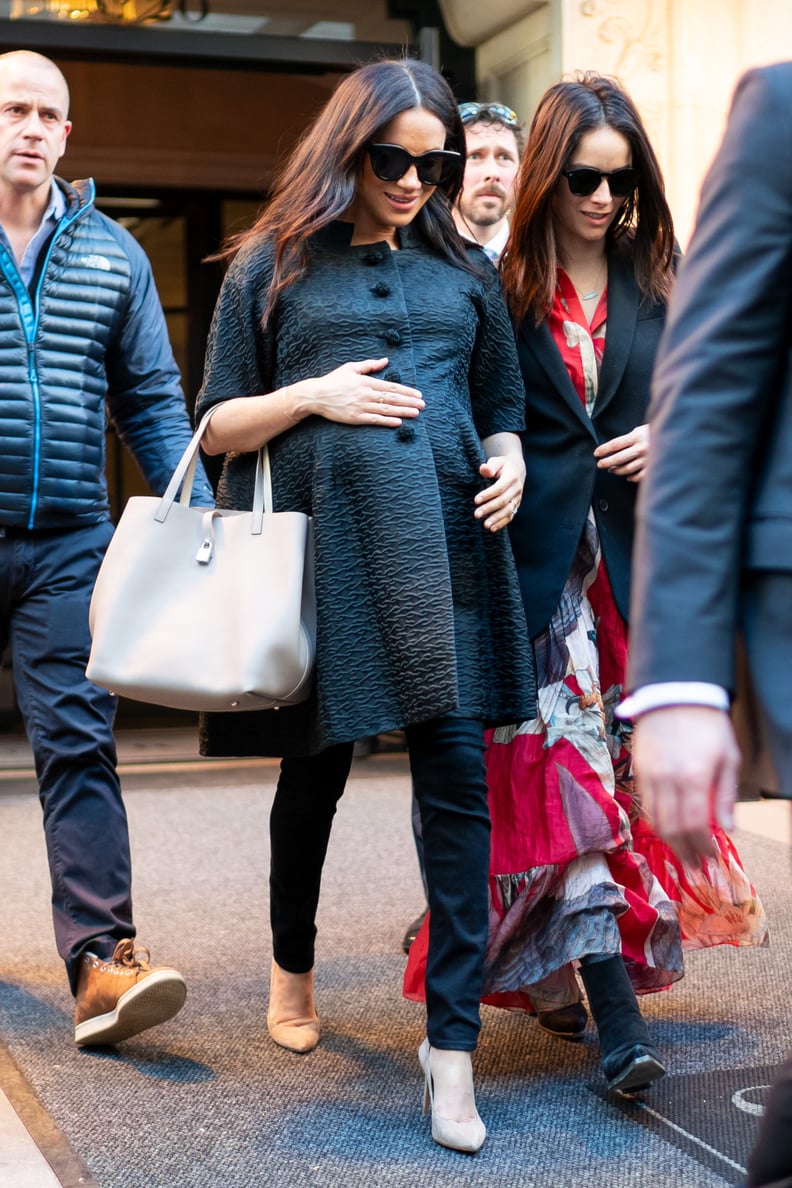 PS: How do you feel Meghan's maternity style is emphasized and highlighted by her HATCH pieces?
HATCH: HATCH creates timeless, stylish wardrobe essentials for women on every moment of their pregnancy and postpartum journey. Our goal is for women to feel amazing, comfortable, and the most like themselves during this intense time of transition. We hope to highlight Meghan's pregnancy style by continuing to offer her and ALL women the pieces they need for the most exciting adventure of their lives.
PS: How has Meghan influenced HATCH designs and brand direction?
HATCH: First of all, it's been inspiring to see so many women fall in love with the Eliza dress and make it their own now that Meghan brought it to light. Meghan would also look amazing in our Classic Buttondown (a bestseller, which we also reimagined with her friend Misha Nonoo last year).