I'm a Minimalist, and Here Are 35 Outfits I Saved on Instagram For Inspiration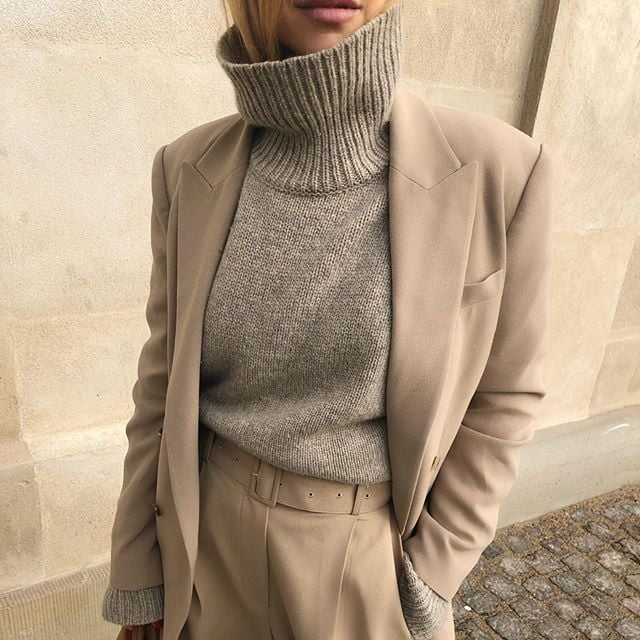 Though I've experimented with many Instagrammable trends in my day, I'm recently evolved into quite the minimalist. I'm more into tailoring than ever before. Sweet colors and prints, while fun, have started to feel "off-brand" every time I attempt them. Impeccably cut coats, slip skirts, poplin shirts, and leather separates have moved up in my rotation of go-to items, while my assortment of whimsical dresses and tops are seeing less wear. Beautifully woven knits and layering turtlenecks are something I wear at least three times a week. As for my preferred accessories? The sleeker the better, from crossbody bags (which I'm recently into again) to knee-high boots and sculptural jewelry, all in a mostly neutral palette of black, brown, gray, and ivory.
With a newfound sense of pared-back style, I'm finding myself saving tons of outfits on Instagram that fit the aesthetic. Fashion influencers from Pernille Teisbaek to industry insiders like TyLynn Nguyen and even model-celebs such as Rosie Huntington-Whiteley are among my favorites; their feeds are filled with fresh ideas for styling classic pieces in a modern way, textures that pair well together and make an otherwise simple outfit feel anything but, and casually polished looks for off duty whether it's sweatpants tucked into boots instead of sneakers, or a leisure suit upgraded with a sharp coat and handbag. Every so often, I even find myself inspired to dabble with color; jewel tones like burgundy, soft shades of blue and yellow, even punchy pops of red are among my favorites to pair with head-to-toe ivory, gray, and tan.
Whether you're a longtime minimalist or have recently found yourself identifying as such like me, ahead, read on for 30 outfit ideas via my "styling inspiration" saved folder on Instagram.
The Minimalist Outfit: A Turtleneck, Pants, and Lace-Up Heels
The Minimalist Outfit: A Turtleneck, Blazer, White Jeans, and Animal-Print Boots
The Minimalist Outfit: A Structured Sweater, Black Jeans, and Snake-Print Bag
The Minimalist Outfit: A Blazer, Pastel Pants, Puffer Coat, and Boots
The Minimalist Outfit: A Tee, Blazer, Leather Pants, and Colorful Bag
The Minimalist Outfit: A Cardigan, Jeans, and Lug-Sole Boots
The Minimalist Outfit: A Fuzzy Sweater, Leather Pants, Square-Toe Boots, and a Clutch
The Minimalist Outfit: Brown Shirt, Black Pants, and Black Boots
The Minimalist Outfit: A Turtleneck, Puffer Jacket, Belt, Pants, Lug-Sole Boots, and a Bag
The Minimalist Outfit: A Sweatshirt, T-Shirt, Slit Pants, and Crossbody Bag
The Minimalist Outfit: A T-Shirt, Blazer, Jeans, Bag, and Knee-High Boots
The Minimalist Outfit: A Slip Dress, Blazer, Clutch, and Animal-Print Boots
The Minimalist Outfit: A Turtleneck, Blazer, Tailored Coat, Jean, and Combat Boots
The Minimalist Outfit: A Turtleneck, Suit, Modern Heels, and Gold Earrings
The Minimalist Outfit: A T-Shirt, Trousers, and Knee-High Boots
The Minimalist Outfit: A Bold-Shoulder Blouse, Leather Pants, Belt, and Tall Boots
The Minimalist Outfit: A Sweater, Sweatpants, and Knee-High Boots
The Minimalist Outfit: A Turtleneck, Blazer, Trousers, and a Bag
The Minimalist Outfit: A Turtleneck, Blazer, Pleated Skirt, and Boots
The Minimalist Outfit: A Sweater, Leather Pants, and Kitten Heels
The Minimalist Outfit: A Long Coat, Scarf, Top-Handle Bag, and Flats
The Minimalist Outfit: A Sweater, Trousers, and White Boots
The Minimalist Outfit: A T-Shirt, Duster Coat, Jeans, Crossbody Bag, and Combat Boots
The Minimalist Outfit: A Chunky Cardigan, Slip Dress, Heels, and a Bag
The Minimalist Outfit: Two Oversize Blazers, Pants, Animal-Print Boots, and a Clutch
The Minimalist Outfit: A Sweater, White Jeans, and Knee-High Boots
The Minimalist Outfit: A Turtleneck, Pants, and White Heels
The Minimalist Outfit: A Bright Turtleneck, Leather Pants, and Square-Toe Heels
The Minimalist Outfit: A Turtleneck, Leather Shirt, Pants, and Boots
The Minimalist Outfit: A Turtleneck, Fuzzy Jacket, Pants, and Earrings
The Minimalist Outfit: A Turtleneck, Shirt Jacket, Leather Pants, and Boots
The Minimalist Outfit: A Turtleneck, Slip Skirt, and Tall Boots
The Minimalist Outfit: A Sweater, Joggers, a Crossbody Bag, and Combat Boots
The Minimalist Outfit: A Turtleneck, Coat, White Jeans, and Snake-Print Boots
The Minimalist Outfit: A Sweater, Sweatpants, Knee-High Boots, and Layered Necklaces