As POPSUGAR editors, we independently select and write about stuff we love and think you'll like too. If you buy a product we have recommended, we may receive affiliate commission, which in turn supports our work.
Midi dresses are one of our favorite wardrobe essentials in any season. Unlike other fashion styles, a good midi dress oozes effortless elegance — giving you a robust and totally put-together outfit with little to no effort. Even better: the style can also be incredibly comfortable — assuming you have the right one on-hand in your closet, of course.
With all of the changes we've seen in fashion over the last few years — many, brought forth by the pandemic — it feels as if new life has been breathed into the casual style category. Suddenly all of our favorite clothing pieces like jeans, tees, and yes, even dresses, have been updated with a more relaxed and lounge-worthy touch. But hey, we're not complaining! In fact, we're even more excited to tap into the casual fashion trend this fall with a few, new comfortable midi dresses of our own.
If you (like us) are also hoping to jump on the comfort bandwagon, you've come to right place — as we created your ultimate guide to the comfiest midi dresses for the season. We searched through every corner of the internet to bring you the very best options that are both cute and casual. Whether you're lounging on your sofa or going for a long walk, there is definitely something for everyone.
Take a look at our must haves, and treat yourself to something new. These pieces are great for customers who are all about smartly designed pieces you want to wear over and over again. Pretty releases like these won't stick around for long, so it's time to get your shop on.
— Additional reporting by Macy Williams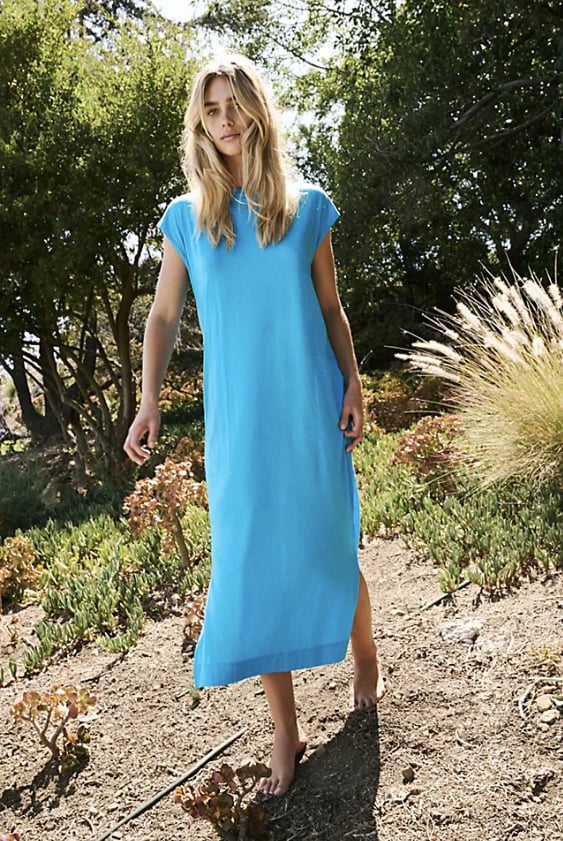 A T-Shirt Dress: All Day Long Midi T-Shirt Dress
This All Day Long Midi T-Shirt Dress ($50) is one of our faves. And evidently, it's also one of Free People's best-selling dress styles, so it seems to be a lot of other people's faves, too. The dress is super minimalistic, meaning that you can easily dress it up or down to however you see (or feel) fit. I'd personally throw on my white tennis to create a sporty, afternoon ensemble.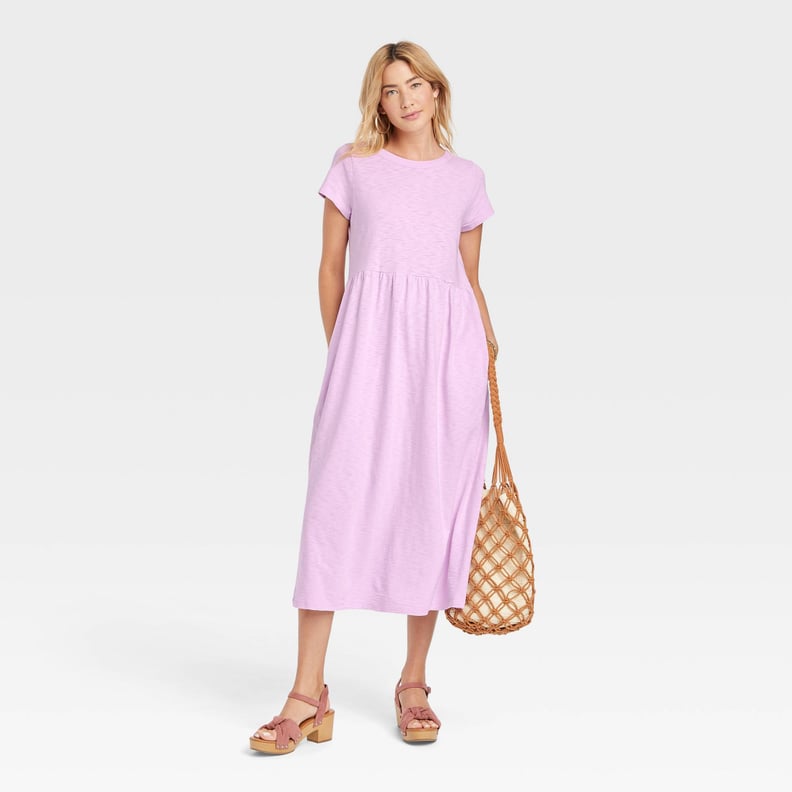 A Babydoll Dress: Universal Thread Short Sleeve Babydoll T-Shirt Dress
It looks as if the Barbiecore trend has now seeped its way into Target's dress section. We're definitely not complaining — especially if it means we'll get more darling styles like this Universal Thread Short Sleeve Babydoll T-Shirt Dress ($25) to shop from. Whether you're heading out for a long flight or are gearing up for an early morning brunch with the girlfriends, this dress will be your go-to all fall.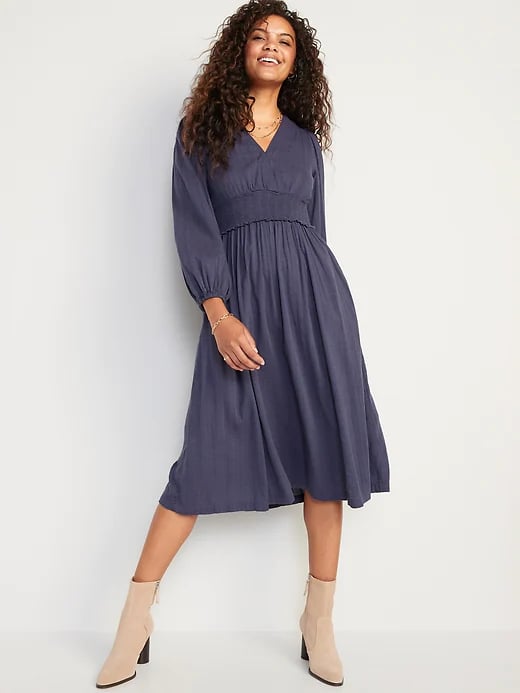 A Sleeved Dress: Old Navy Puff-Sleeve Smocked Midi Dress
The only thing that could possibly make this Old Navy Puff-Sleeve Smocked Midi Dress ($50) better, is a statement pair of brown or taupe-colored boots to go with it. Wear it with your favorite denim jacket layered on top for a fresh ensemble that will keep you feeling fresh through fall and long into the winter, too!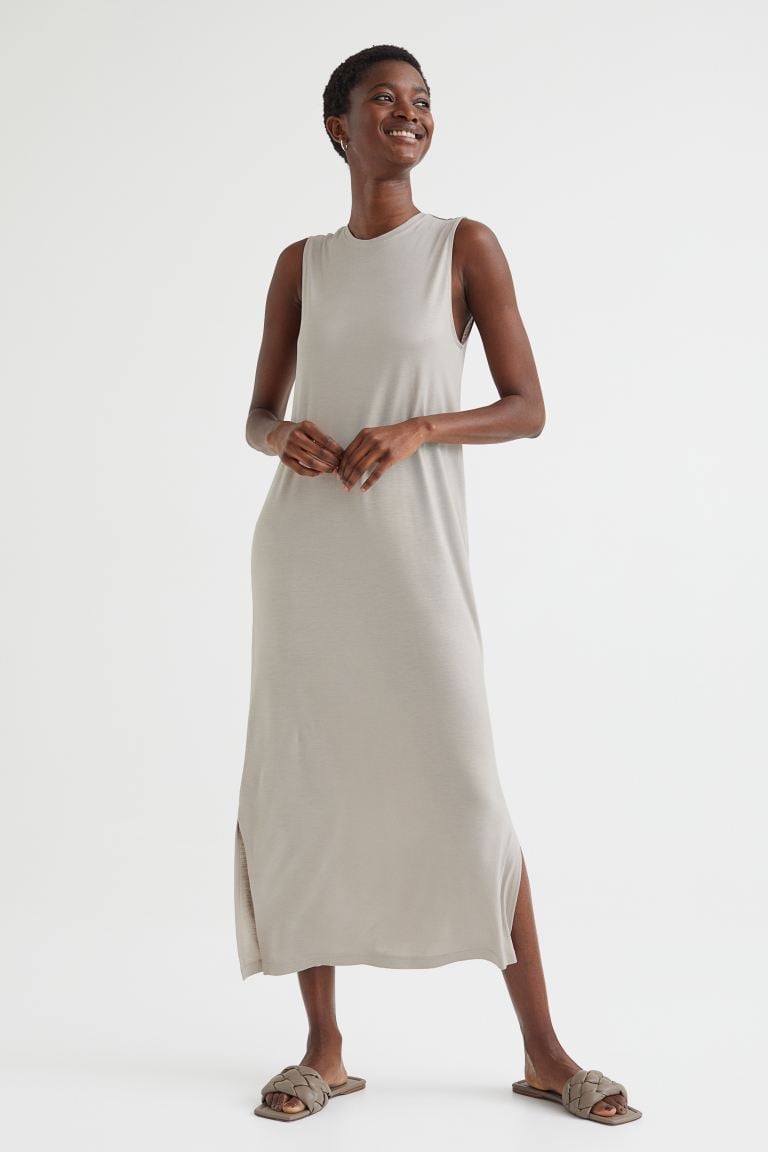 A Breezy Dress: H&M Sleeveless Jersey Dress
Summer never has to end with this H&M Sleeveless Jersey Dress ($18). The breezy style is such a versatile staple to have in your closet year-round, and (bonus!) it's also available in a number of colors, too. From your couch to the club and beyond, we're convinced you can wear this dress absolutely anywhere — and feel totally comfortable in it!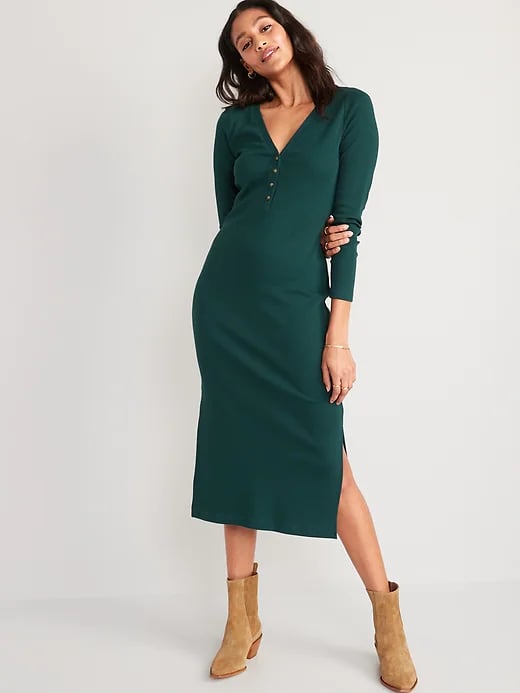 A Knit Dress: Old Navy Rib-Knit Henley Midi Dress
If I'm being honest, this Old Navy Rib-Knit Henley Midi Dress ($45) is already in my digital shopping cart as we speak. And can you blame a girl? From the deep, forest green-hued coloring to the dainty button design and flattering ribbed silhouette, there's so much to love about this knit midi.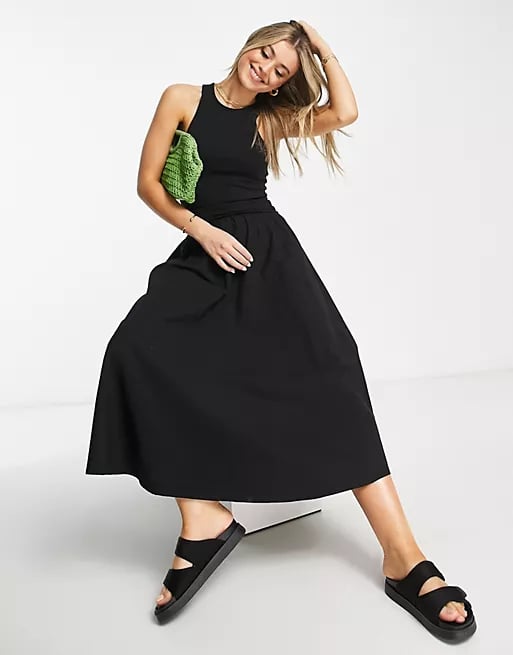 A Sleeveless Dress: ASOS Design Poplin Midi Dress
Your favorite chunky sandals are begging for you to buy this ASOS Design Poplin Midi Dress ($49). The cinched-in waistline cultivates a fit-and-flair silhouette on the dress that makes it universally flattering for just about every person and body type. Plus, with the sleeveless design, this style can easily be layered with a distressed denim jacket or even a statement blazer.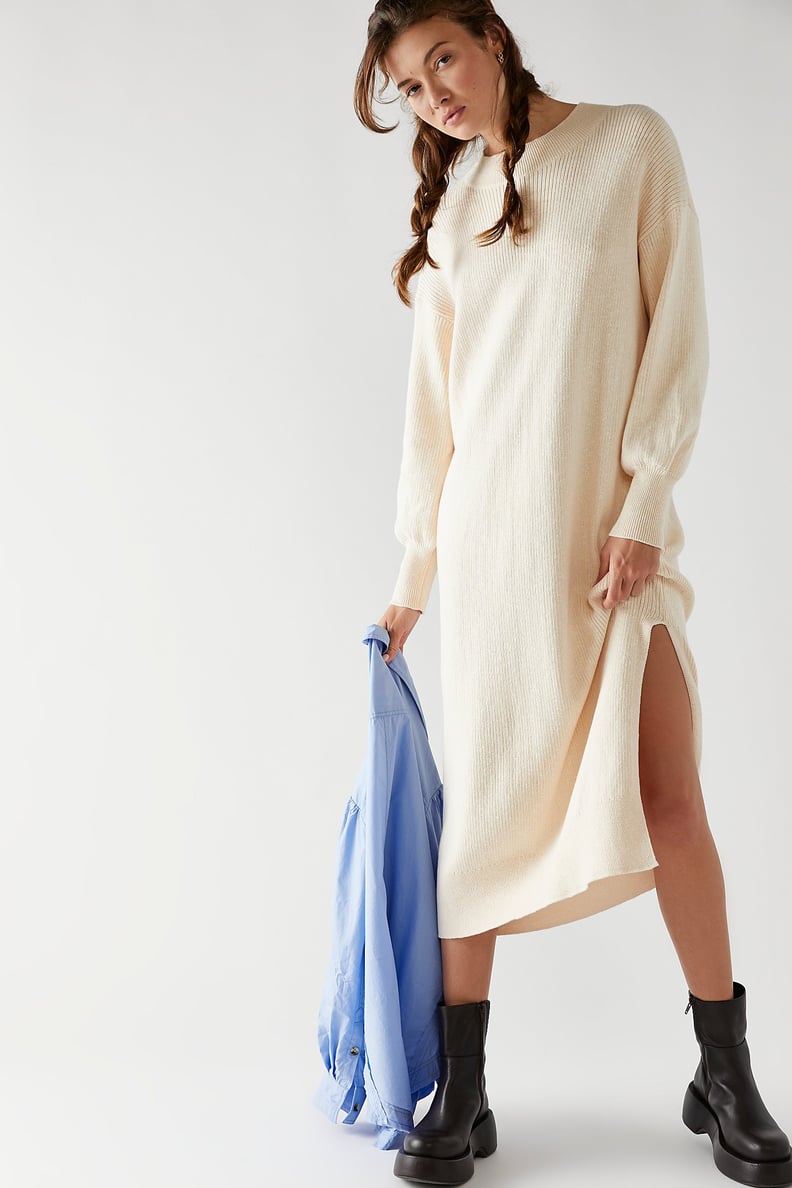 A Cozy Dress: FP Beach Hatteras Sweater Midi
If you've yet to splurge on a staple knit sweater for the upcoming season, let this FP Beach Hatteras Sweater Midi ($98) dress be your inspiration to finally make the investment. The frock is wrapped in a draped, knit fabrication that's equal parts chic and cozy. And the side leg slit provides some extra breathability to an otherwise warm style.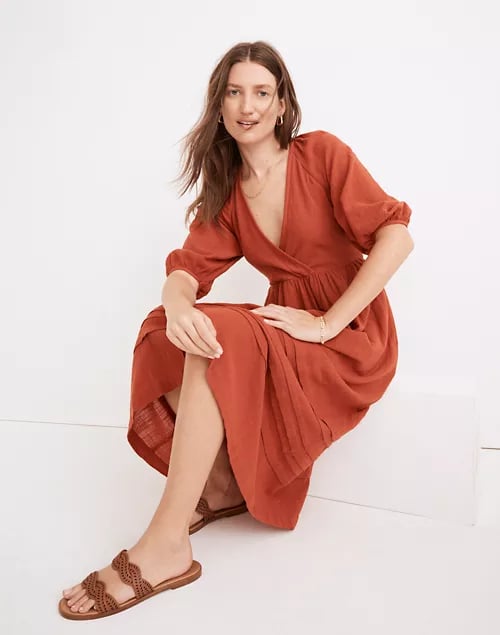 A Colorful Dress: Madewell Marianna Puff-Sleeve Midi Dress
Rev up your autumnal wardrobe with the help of this Madewell Marianna Puff-Sleeve Midi Dress ($90, originally $128). We're completely obsessed with the burnt orange coloring on this number, which feels fresh and fun for literally any season — through fall and beyond! Pair the style puffed dress with a statement pair of sandals or even chunky boots for a more completed look!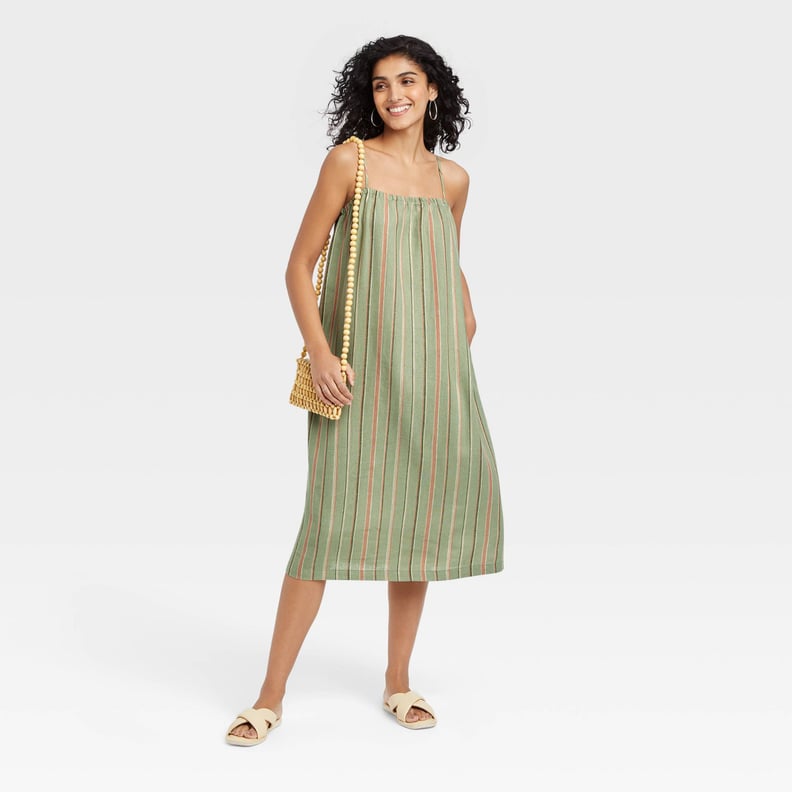 A Patterned Dress: A New Day Easy Linen Tank Dress
All eyes will be on you in this darling A New Day Easy Linen Tank Dress ($20). The striped style boasts such an airy silhouette — perfect for wearing to the beach, on a date, or even for a breezy, daytime errand. We also love that the frock's linen composition gives the style a super luxe feel, making you forget that it's only $20.