For the "Pachinko" Costume Designer, Every Garment Carries Significance
Since its much-anticipated debut in late March, "Pachinko," based on the New York Times bestselling novel of the same name, has captivated viewers with its gripping story of one Korean family through four generations. While "Pachinko" is a work of fiction, the Apple TV+ series — like the book — effortlessly weaves historical authenticity into the lives of its fictional characters. In fact, authenticity was the "bedrock" of the show, as Soo Hugh, the creator, showrunner, writer, and executive producer, has frequently spoken about maintaining the historical accuracy of Korea throughout the 1900s. Hugh captures the era through the characters, the beautiful sets, the vivid food, and of course, the clothing.
In only five months, costume designer Kyunghwa Chae procured all of the period garments of "Pachinko," about 80 percent of which were custom-made. Others were discovered from vintage shops in Japan and France. While Chae has been a regular on Korean film sets for the past two decades, "Pachinko" was her first US-based project, a feat she didn't take lightly. "Since I was the only Korean amongst a primarily foreign staff team, I felt a great sense of responsibility to play my part in the authenticity [of the show]," Chae tells POPSUGAR.
The costumer "completely fell in love" with the original novel, and after a single meeting with Hugh, she wanted in on the project. As historical truth was key for Hugh, Chae and her team consulted historians and professors, and pored over books, photographs, and photo albums that belonged to people who had lived during the early 20th century.
Ahead, Chae walks POPSUGAR through what came of the tireless research, the evolution of the hanbok, navigating various time periods in three different countries, and more.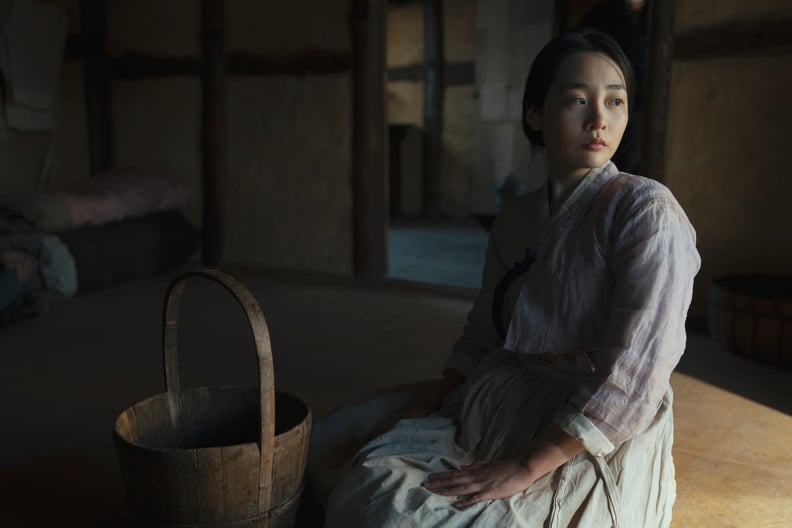 The Making of the Hanboks
While hanboks are known to most as colorful, traditional Korean dress often worn for special occasions, the mostly custom hanboks we see in "Pachinko" are relaxed, worn-in, and of soft, light hues.
"This traditional garment really captures the story and the identity of the Korean people," Chae says. "The hanbok may seem similar across different time periods, but actually, there is quite a subtle difference in the jeogori (the hanbok top), blouse, skirt, and goreum (the ribbon used to tie the blouse). In these small details, we wanted to make sure everything was accurate, so we received very thorough advice from our historians and our advisors."
She adds: "During the Japanese colonial rule, we were known to wear and love the color white; Koreans are known as 'the people of white clothes.' The basic concept inspiration for the wardrobe started from white, which also symbolizes the people of Yeongdo's resistance to the Japanese. I wanted to make sure the clothing fabric was of soft color tones, like a watercolor kind of vibe. The color of Sunja's purple jeogori is similar to shade of the mugunghwa, Korea's national flower. This is significantly different from those flashy, shiny clothes and hanboks that you would see in other previous period dramas that feature the royal family."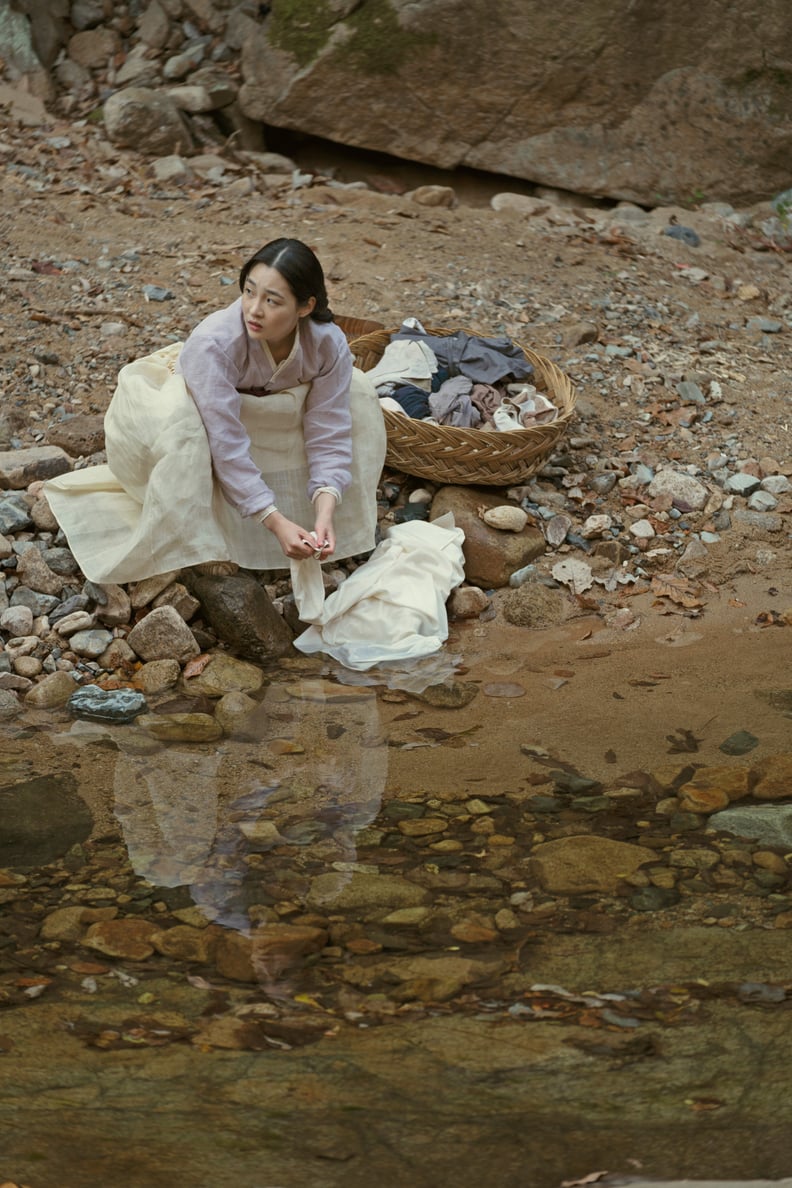 The Importance of Fabrics
"Washing our clothes is a very important part of [Korean] culture," Chae says. "As you can see in 'Pachinko,' many characters wash their clothes at the streams. I wanted to make sure the fabric looked to be washed many times and worn out, so it would look as if it had been worn by these people for a long time."
She continues: "Even if the characters were living in the same time period, let's say the '30s, I wanted to show how some people were really fashion leaders trying to catch up with the trendiest fashion, whereas other people would wear clothes that were really worn out from the '20s. Yangjin, Sunja's mother, wouldn't have been able to afford those trendy clothes. She would wear costumes of the past."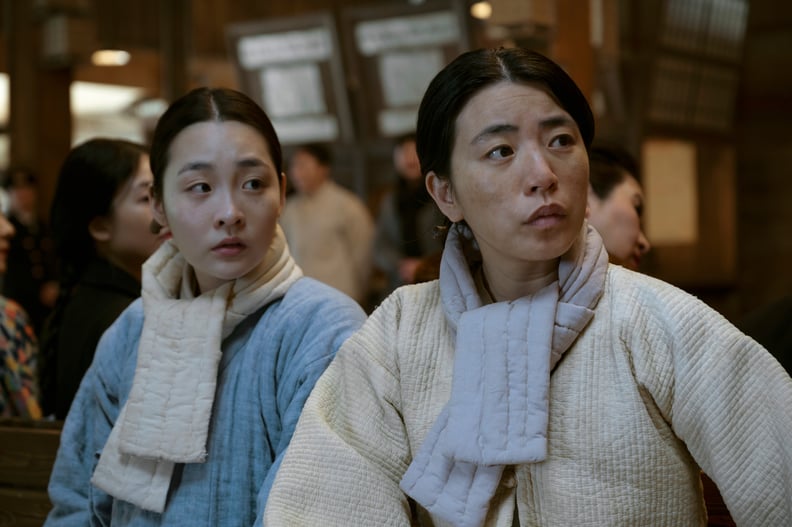 Sunja's Journey to Japan Through Clothing
In episodes four and five, Sunja travels from her small village in Korea to Osaka, Japan, and her journey is also told through her clothing. "When she boards the boat to Osaka, she wears the durumagi (a hanbok overcoat), and then when she arrives, there's that great shift to a Western-style wardrobe," Chae says.
The blue durumagi also happens to be Chae's favorite garment. "I remember when we first made it and Sunja (Minha Kim) tried it on, everybody was really blown away. I adore the scene where Yangjin gifts that durumagi to her daughter. It means more than simply a costume — it symbolizes a mother's love. As we were working on these clothes, of course, making them historically authentic was important, but I tried harder to make sure the wardrobe would embody something more than that, like a mother's love or the solidarity of a family and so forth. Just like Yangjin's serving of white rice to her daughter and her newlywed husband symbolizes her love, the blue durumagi also carried a lot of significance."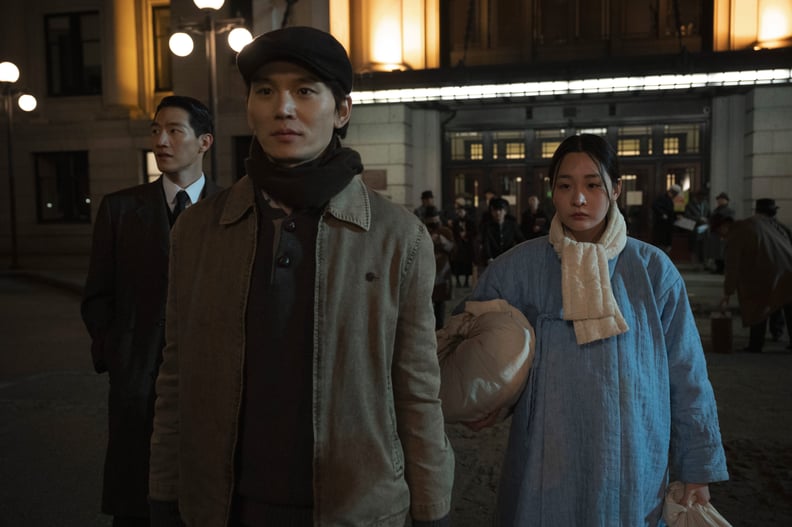 "When Sunja was young, living in Korea, she had very loving parents and a happy life, although they weren't well off," Chae says. "In that regard, I wanted to use very warm color tones like peach and pink colors as the main inspiration for her clothes. But after she moved to Japan, I shifted to cold colors like blue shades since she had departed from those times of love and had begun to face a harsh reality."
She adds: "We were also aware that in this time, there were certain Korean people who were wearing Western clothes, but average Korean people would've worn hanbok. So we started off primarily with hanbok, and after Sunja moved to Japan, we wanted to show her wardrobe change gradually as she got used to life in Japan more and more. Her fashion items would change item by item. We thought about where would she have gotten these clothes, and we concluded that those cardigans and the Western items would've come from Kyunghee's wardrobe."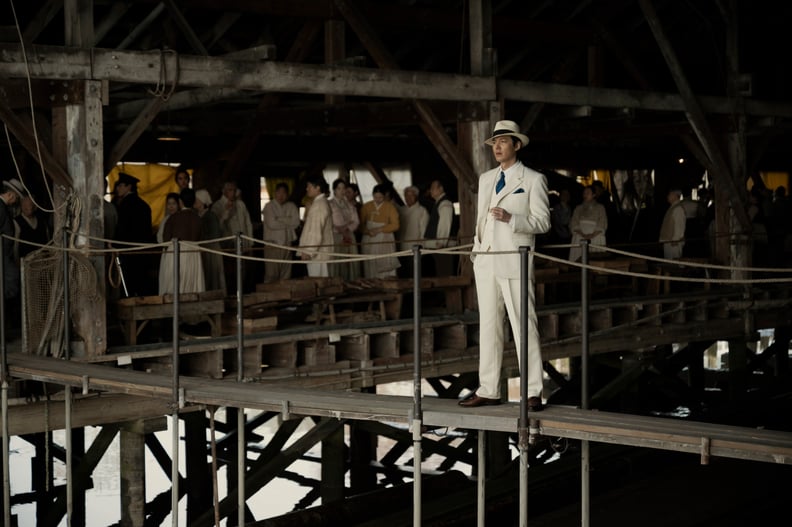 The Difference Between Hansu's and Isak's Suits
"For hanbok, we had to triple-check to make sure everything was correct by referencing YouTube clips, books, and more. However, for men's suits, there were more pictures and references to go off of. I wanted to make Hansu feel like plastic, kind of artificial, amongst that natural landscape of Yeongdo."
On the other hand, she continues: "If you look at Isak's clothes, his shirt's collar is more of a round shape, which was popular and in fashion in the 1920s. His clothes are a little bit more outdated, and there was no shine at all. Whereas for Hansu's clothes, we would use a lot of silk and make sure they were very shiny. Hansu was emanating more of a rigid, artificial vibe, and Isak gave off a soft, organic, natural vibe that would blend in more naturally with the hanbok that the people of Yeongdo were wearing."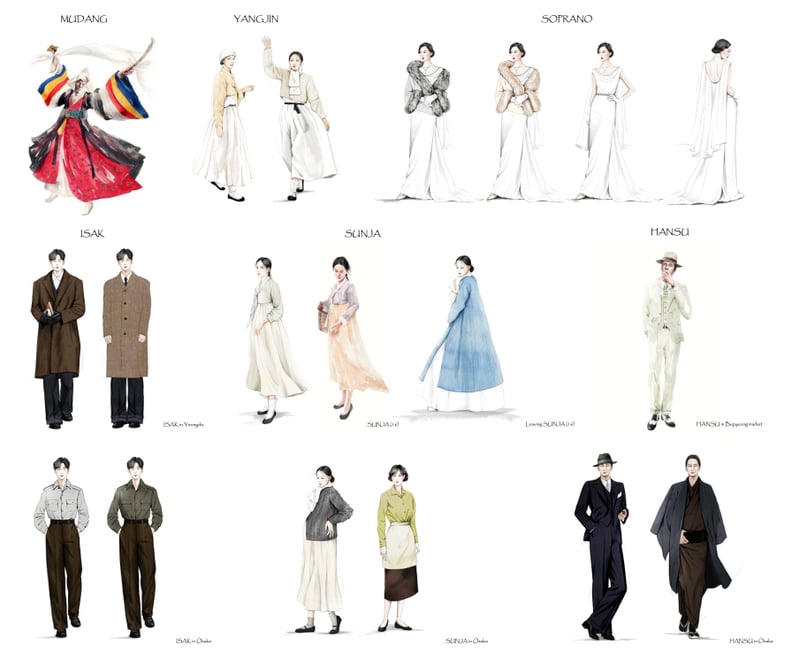 The Biggest Challenge
"Rather than wrestling over a specific piece of clothing, I think the fact that we were short on time was the challenging part," Chae says. "We had to make a lot of costumes within a short span of time, so everything was very difficult as I tried hard to choose the right color and fabric that I had in my mind."