Pretty Clare V. Linen Face Mask Review
I Finally Found a Breathable Face Mask That Makes Me Feel Stylish
As POPSUGAR editors, we independently select and write about stuff we love and think you'll like too. If you buy a product we have recommended, we may receive affiliate commission, which in turn supports our work.
As states begin to roll out phases of their reopening process, the CDC highly recommends wearing a face mask while out in public, especially when in groups or gatherings. While I've been wearing a standard blue non-medical face mask, I've still appreciated the iterations fashion brands are rolling out, many of which offer a 1:1 donation initiative. In other words, for every face mask purchased, one is donated to those on the frontlines fighting COVID-19. As a fashion editor, this notion alone gives me reason to support the brands giving back, but at first, I hesitated to choose a favorite.
"It's not exactly easy to feel excited to wear something enforced due to risk of infection, and it took me awhile to think of my mask as part of my outfit."
The importance of wearing a face mask should not get lost on any of us; the purpose is to do our part to stop the spread of the virus. But the idea that these cloth coverings are becoming the norm means that designers will employ all their creative ideas to make these items accessories — mixed prints, romantic florals, deadstock fabric from past season collections, you name it! "In the beginning, we were only making white masks, but then I was like, 'We need to have color,'" Christian Siriano said of his couture team's transition to making vibrant masks to brighten the mood in his makeshift New York City "factory."
But here's the thing: it's not exactly exciting to wear a mask, and it took me awhile to think of it as part of my outfit. But once Clare V.'s linen Bowie mask arrived, which I selected for a few reasons (all of which we'll get to in a moment), I came around to the idea that I have a choice about which mask I wear. I can choose one that speaks to my personality, and in fact, that's going to be the trend going forward.
I love the feel and vibe of this mask, but before I count the reasons I enjoy wearing it, here's the number one reason I find it so compelling: right now, Clare V. is encouraging customers to donate to Color of Change with the purchase of the mask, starting the minimum spend at $1. The organization campaigns to end racial and social injustice, and, with every purchase, Clare V. acknowledges the fact that our country is facing two pandemics — the coronavirus and intolerable systemic racism — not just one. If that's not reason enough to consider this face mask, I do have some thoughts about its comfort and versatility that might just convince you:
The look is Parisian-chic, with Clare V.'s signature red lips stitched onto the corner and effortless linen ties.
You can tie the bows around your ponytail or bun, just to make your look a bit more playful and have some fun with it.
The price point ($19) is friendly enough so that you may feel comfortable adding a donation.
The ties actually stay on and don't clip or bother your ears, like some of the ones with elastic straps I've tried.
They are made locally in Los Angeles, where Clare V.'s team continues to donate non-medical masks to essential workers.
While the masks do sell out, the company is constantly making more and you can sign up to be notified when they're restocked.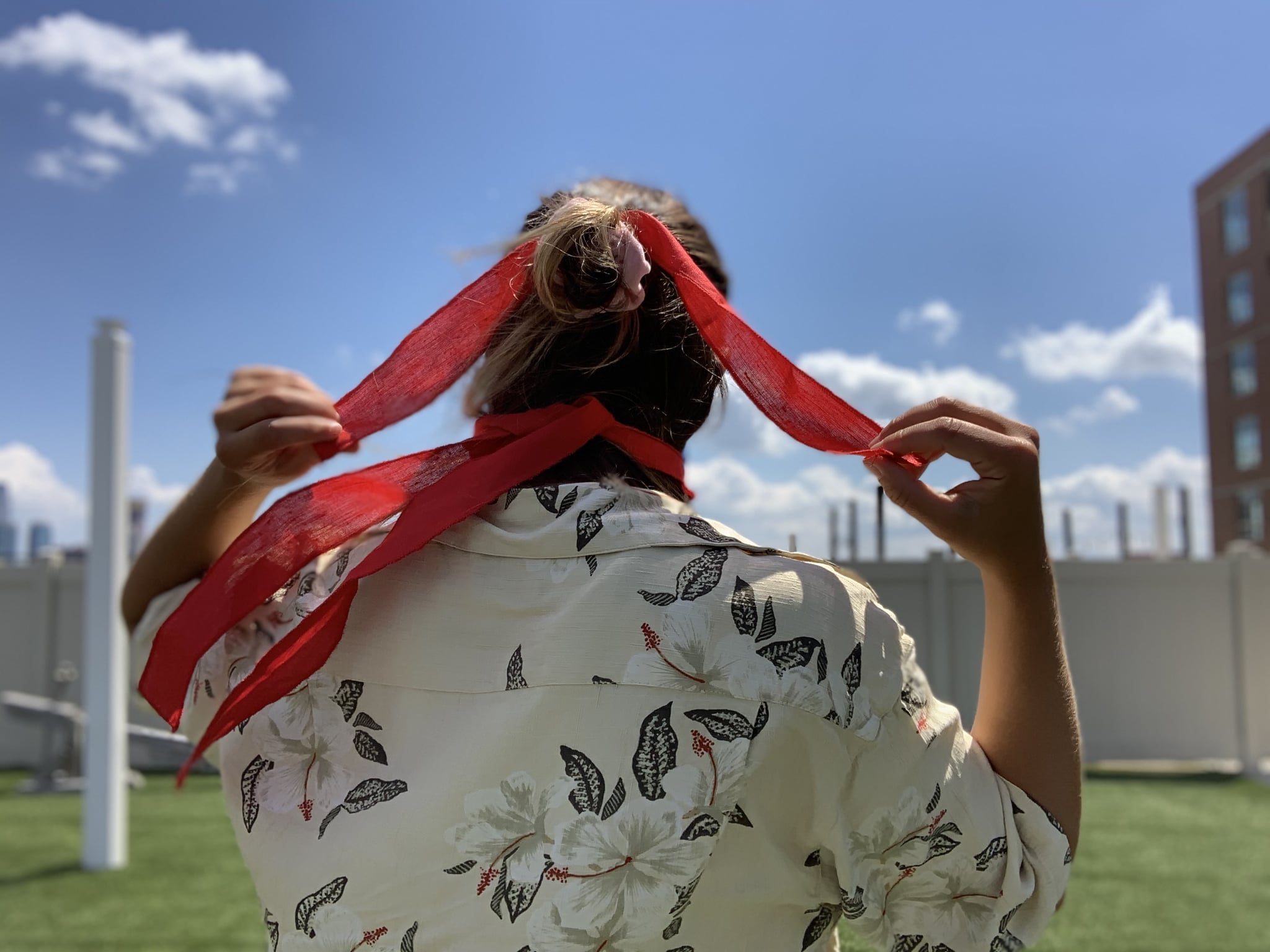 Shop all the prints and colorways ahead.