Nicole Richie and More of Revolve's Designers on How Their WFH Style Became a Form of Self-Care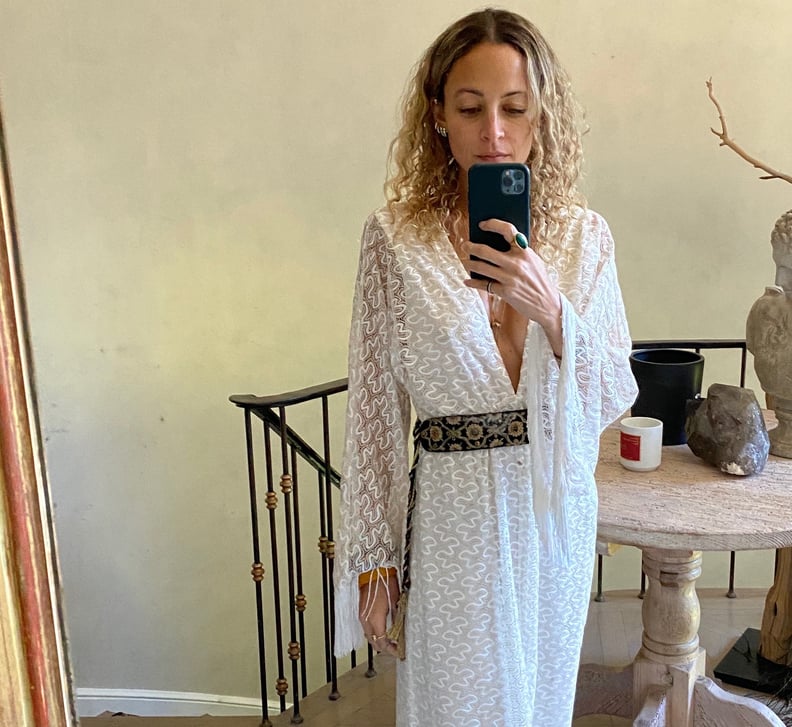 Courtesy of Revolve
As a brand, Revolve has launched the Around Our Heroes initiative to help in a big way with the mask shortage our country is facing during the coronavirus pandemic. This isn't just a corporate endeavor, it's also a way for Revolve to partner with its biggest in-house fashion designers, like Nicole Richie of House of Harlow 1960, Camila Coelho, and Pia Baroncini of LPA, to help support the cause. Revolve has a goal of procuring one million masks for those on the front lines in hospitals and healthcare facilities, this coming after Christian Siriano, Ralph Lauren, and Brandon Maxwell announced their own tremendous contributions and pledges to donate to coronavirus relief funds.
Revolve's brand partners, like House of Harlow, Camila Coelho Collection, and LPA, will be responsible for donating an additional 50,000 masks collectively, and they spoke to POPSUGAR about how they're promoting good vibes within their own homes and keeping morale high for their teams as they all work from home and adjust to this new way of life. Clearly, fashion inspiration is important to all of them — Nicole, Camila, and Pia all continue to dress up for themselves as a powerful way to start the day and set the tone for success. Scroll for our conversation, as we touch on their personal routines and their outlook on the fashion industry as a whole.
Camila Coelho, Camila Coelho Collection
POPSUGAR: What's your work-from-home routine like?
Camila Coelho: The first days of quarantine, I had no routine at all and worked from my sofa — but that didn't give me any motivation. I get ready as if I'm leaving the house every day, and I work from my office table. I'm wearing a lot of my comfortable Camila Coelho Collection pieces right now, especially the silk pajama set and then the silk slip dress for when I want to feel a bit more dressed up but still comfortable. That motivates me. I write down my to-do list, what I want to accomplish each day. Then after work, I practice self-care. I still might not get it all done in one day, but as long as you are staying in a routine and being productive, then you will continue to think positively.
PS: How are you staying inspired to design right now?
CC: While I'm finalizing fall 2020 design plans now (via Zoom), I am definitely inspired by chic loungewear, and you will be seeing that reflected in my upcoming collections. I've been not only been watching [how] my fellow designers, like Prabal Gurung and Christian Siriano, use this time for creativity and philanthropy, but I'm also telling them how much I love what they're doing and how it inspires me every day.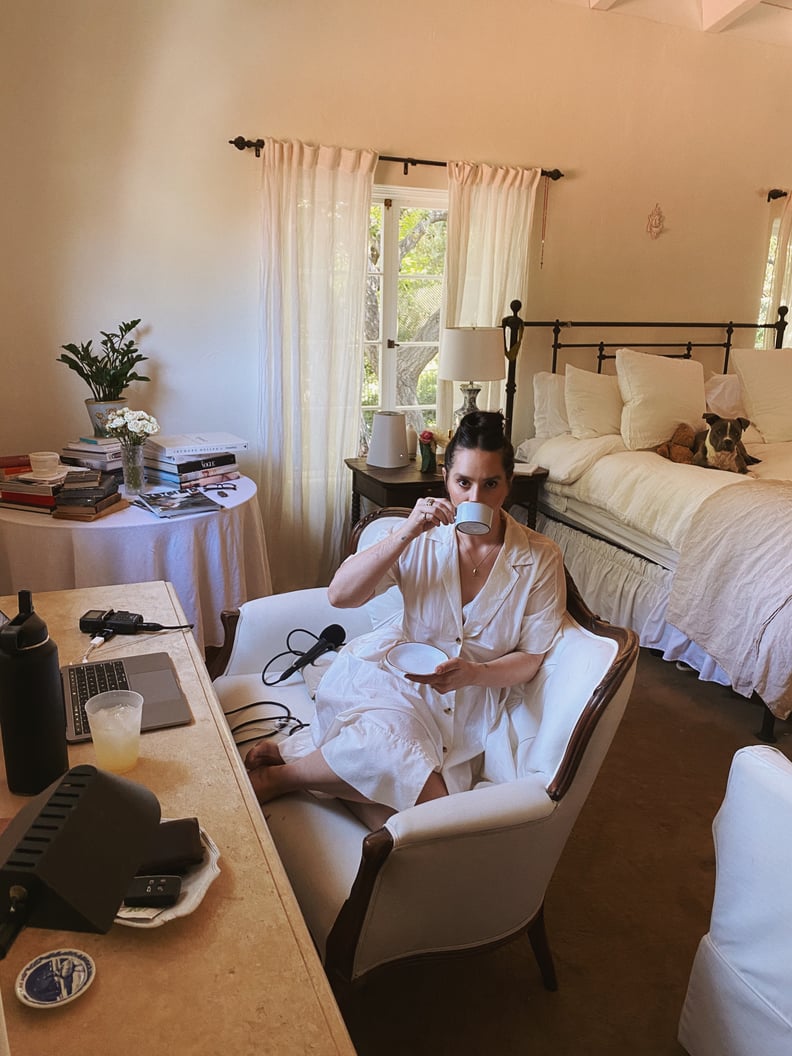 Pia Baroncini, LPA
POPSUGAR: What's your work-from-home routine like?
Pia Baroncini: My day starts at 9 a.m., as per usual. I cook, walk, read, and write every day — when I wake up and when I go to sleep. I use our LPA coloring sheets, I paint, and I'm building my website and podcasting! Getting up and getting dressed is a simple, healthy way to remain calm and feel dignified. But listen, if you don't want to, that is OK too!
PS: How are you staying connected to the design community and shifting your tactic?
PB: We are shifting to create cozy, easy, yummy things that you can wear inside to make you feel comfortable yet dignified. We design and dream and think about how to share that with our community every second. There is a lot of room to get creative right now, and we are taking advantage of that to the best of our abilities. We watch movies, look at books, sketch, and dream.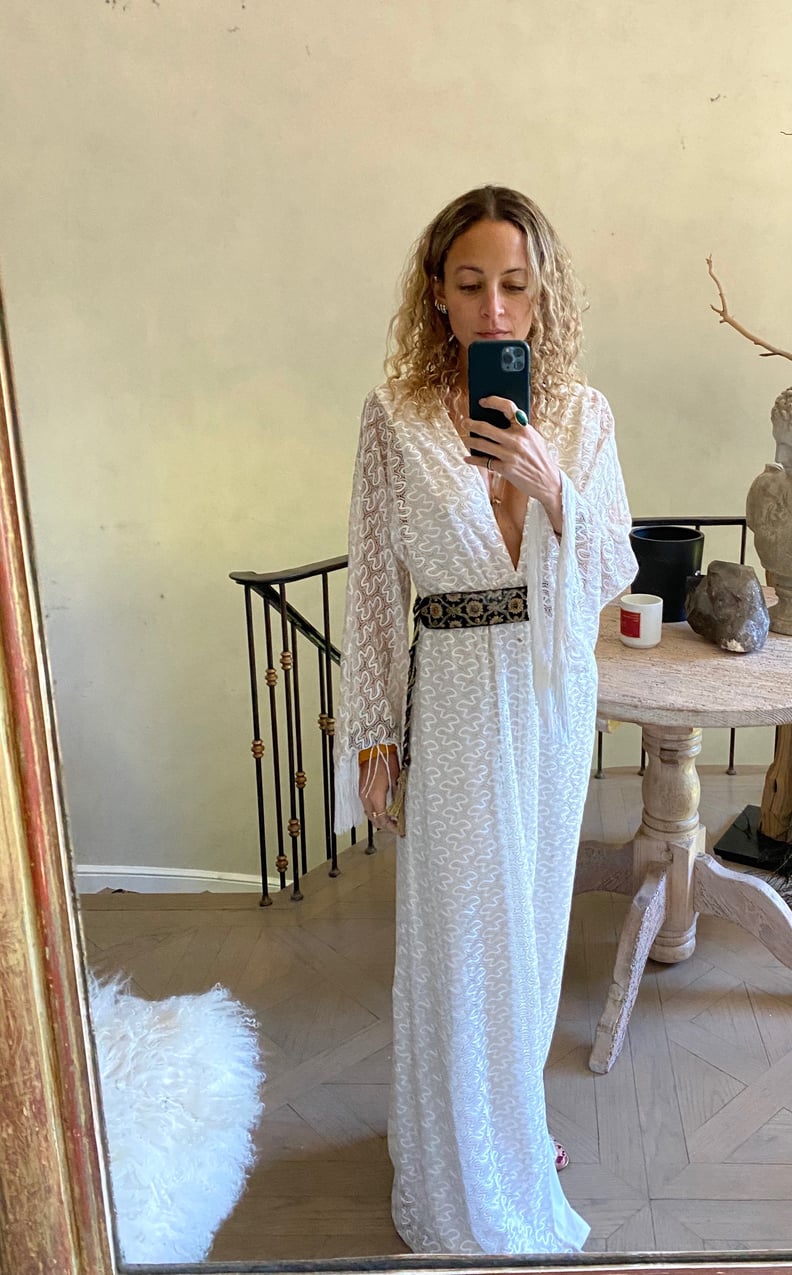 Nicole Richie, House of Harlow 1960
POPSUGAR: What important role does fashion play in your life right now?
Nicole Richie: Fashion is a form of self-expression, and it has the ability to transform and uplift. Throwing on a long printed caftan or even a piece of jewelry can change my mood completely. I always turn to music, watching old films, and browsing through coffee-table books to get inspired. House of Harlow has been a go-to for women looking for something with movement or a print that she can wear with ease. It feels natural for the brand to continue to focus on this feeling of a woman right now as we all work from home.
PS: Do you feel the industry is shifting in the right way? What can we be doing more of?
NR: The industry is very flexible, and times like these shine a light on how everyone can come together as a community. I am very impressed with so many businesses using their resources to play a role in helping to heal the world. Inspiration is the most powerful tool of design. While the pace of life has slowed down, it's good for us to take these moments and stay creative.