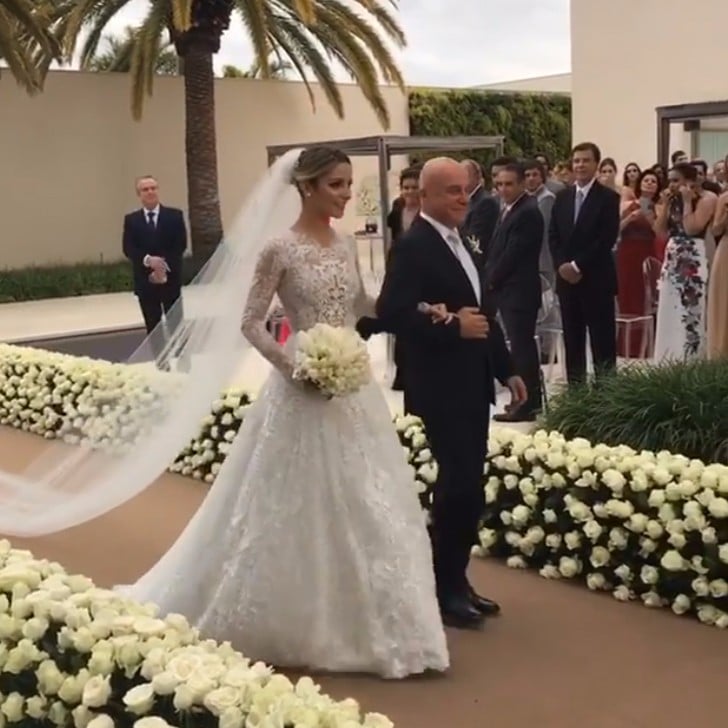 Brazilian heiress Sarah Mattar got married the same weekend as Pippa Middleton and her wedding was equally as over the top. Sarah said "I do" to Tiago Diniz in a lavish ceremony while wearing a long-sleeve lace gown and cathedral veil. The modest style was similar to both Pippa and Kate's wedding looks, except for one small piece. Sarah's dress came with a detachable train and with a quick unfastening of buttons at the waist, it turned into her reception dress.
She wore it to dinner and was surrounded by 800 guests, many of whom dressed like Vogue cover stars. Their looks ranged from ruffled maxis to designer numbers from the likes of Dolce & Gabbana and Valentino, all of which almost upstaged Sarah's own bridal gown. Nonetheless, Sarah did manage to hold her own in that magical lace dress. Scroll on to see more snaps from the wedding that rivaled Pippa's.
The Bride Wore a Beautiful Wedding Gown
We're getting Kate and Pippa Middleton Vibes
Sarah's Dress, However, Was Twice as Magical
The train unfastened into her reception dress!
The Reception Space Was Filled With Floral Arrangements
Over 800 Guests Attended Sarah's Wedding
Everyone Dressed Like They Were on the Cover of Vogue
This Blogger Wore a Dolce & Gabbana Gown
We Spied Some Luxe Furry Stoles
This Guest Wore a Red Carpet Worthy Dress
Who's Best Dressed? We Can't Tell
Guests Posed For Photos Everywhere
The Bride Was Surrounded by Stylish Women All Around