It would be hard to steal a scene from legends like Steve Martin and Martin Short, unless, of course, you're Selena Gomez's perfectly fuzzy coat in Hulu's "Only Murders in the Building." The show is back with season two plus a bundle of increasingly significant outerwear — and costumes in general — curated by Dana Covarrubias.
"This is no longer a show about murders in a building . . . this is a show about COATS!"
The series introduces new characters who step onto the scene and end up influencing Mabel's (Gomez) wardrobe. Alice (played by Cara Delevingne), for one, opens Mabel's eyes to the art world and encourages her to tap into her creative side in bold, splashy patterns. When they meet, Mabel is wearing a tangerine Nanushka dress, a sheer watercolor-print trench by Dries Van Noten, and knee-high boots from By Far that, according to an email exchange with Covarrubias, were put together to make her look like a painting. Covarrubias said that Gomez loved wearing the '70s-vintage, silver-sequined "disco ball dress," which was a new silhouette for Mabel, and, as expected, her lineup of vibrant, textured coats.
"In season two, we had an inside joke amongst the costume department crew that this is no longer a show about murders in a building . . . this is a show about COATS!" Covarrubias said. "The coat is an essential element to any detective's look. Each of our main characters has an iconic coat and a special relationship to their coat." Mabel, whose coat is her armor and a way to protect herself from the outside world, wears jackets sourced from The RealReal, The Outnet, Farfetch, local NYC thrift shops like Beacon's Closet, Bloomingdale's, and Saks Fifth Avenue.
Ahead, you can uncover even more secrets about the careful intention behind Mabel's outfits, color palette, and jewelry — and learn where you can shop her signature gold hoops and layered necklaces that have made their way from season one to season two.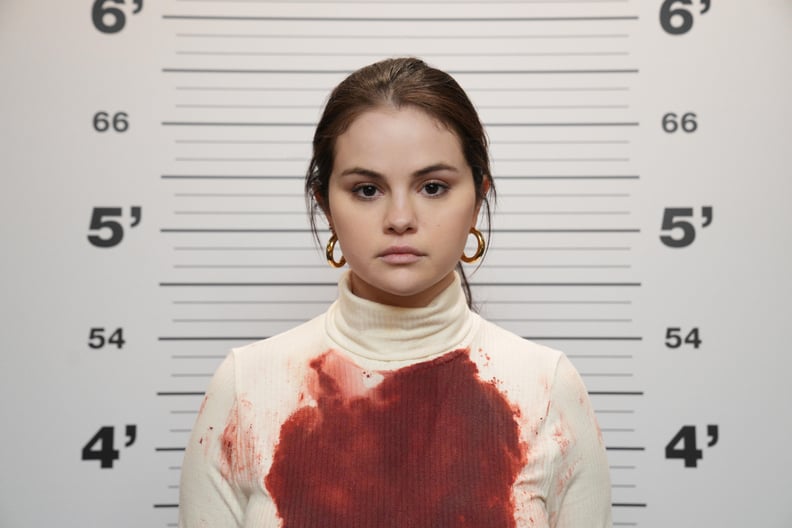 Mabel's Hoop Earrings
Mabel's hoops have become synonymous with her character's wardrobe. She wears the Jennifer Fisher Samira hoops, which retail for $295 and come in either 10k-yellow-gold-plated brass, silver-rhodium-plated brass, or 14k-rose-gold-plated brass. Here, they're styled with a cream-color ribbed turtleneck from Urban Outfitters.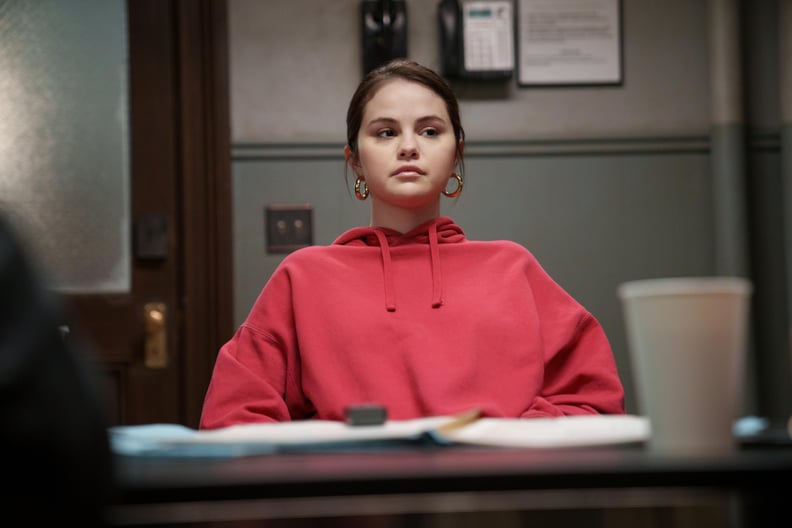 Mabel's Police Station Look
When Mabel is pictured in questioning during episode one of season two, she wears an oversize red hoodie with the same black leggings she was pictured in at the end of season one, along with classic Dr. Martens 1460 boots and her Jennifer Fisher hoops.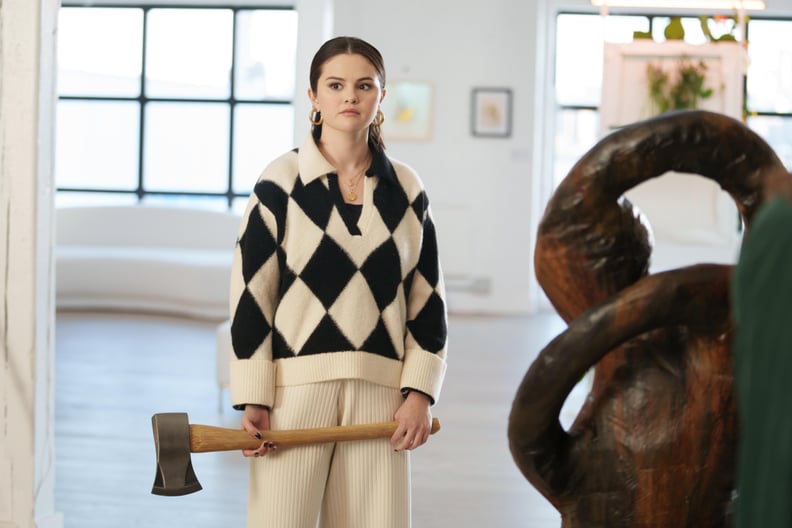 Mabel's Artistic Side
In season two, Mabel meets Alice (played by Cara Delevingne), the first character who does not live at the Arconia and is dressed to represent a different side of New York, which is more Lower East Side or Brooklyn. She represents a world that Mabel may want to become a part of someday, and this is acknowledged through her wardrobe when she hangs out at the gallery in this black-and-white Harlequin & Other Stories jacquard knit sweater, for example, which she styles with knit wide-leg pants from Vince and Steve Madden oxblood patent-leather boots.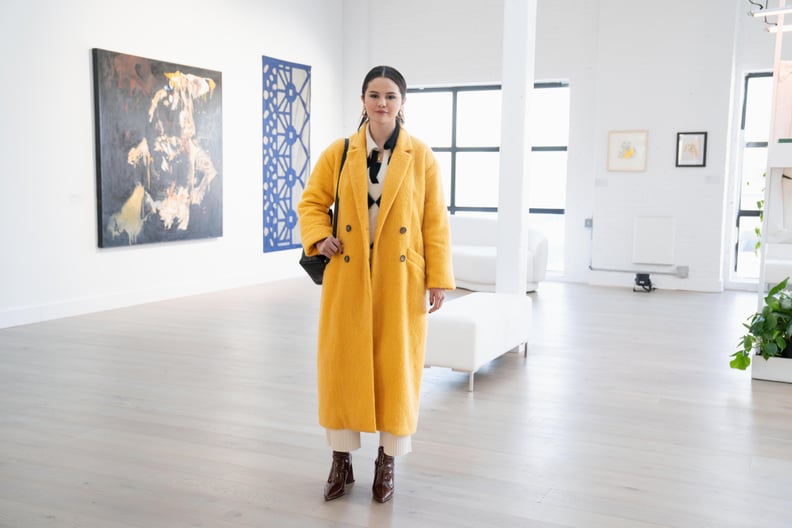 The Significance of Mabel Wearing the Color Marigold
"The marigold color that we use throughout the show represents Mabel's Mexican-American heritage — it's a symbol of grief and resurrection, as well as passion and creativity, all of which fit Mabel perfectly," Covarrubias explained, referencing the yellow Cinq à Sept double-breasted coat seen in season two, episode two.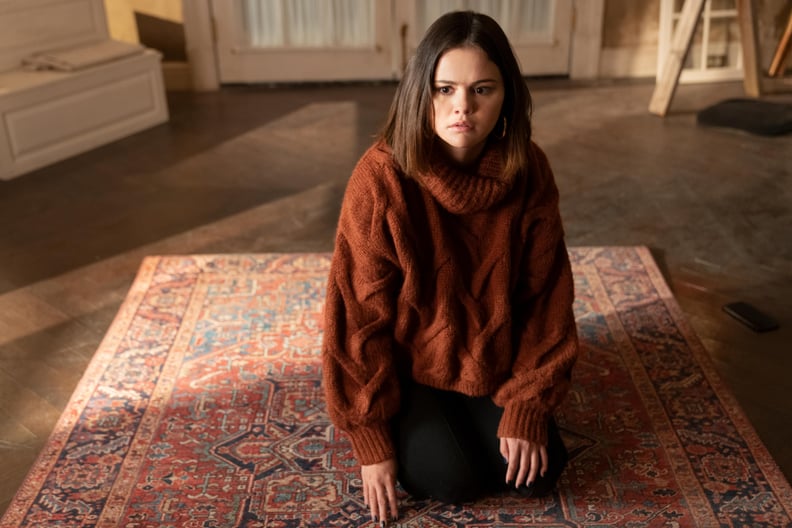 Mabel's Madewell Sweater
This look, which comes in season two, episode one, speaks to Mabel's inclination to add bolder colors to her wardrobe to reflect her artistic side. Her Madewell Somervell cable turtleneck sweater will become a quick hit with fans of the show.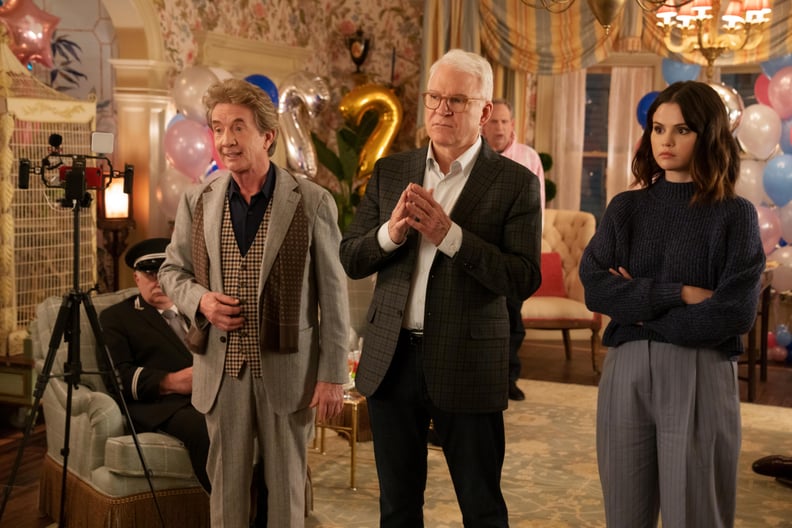 Mabel Wearing Blue
"This season, we also played with the concept that, as our trio becomes more and more cohesive as a group, they start to wear each other's signature colors," Covarrubias said. "So, you'll see Mabel in Charles's blues, Oliver in Mabel's marigolds, and Charles in Oliver's purples." Mabel also wears a bright, cobalt-blue & Other Stories jumper this season to speak to the sentiment.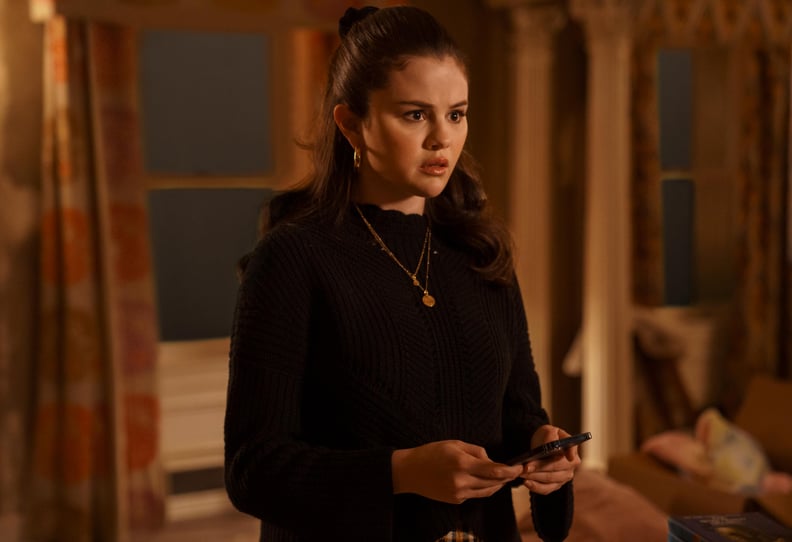 Mabel's Gold Necklaces
The Rellery Marigold October flower necklace we see Mabel sport throughout the show is an homage to her Mexican heritage, signifying the strength, power, and light that lives inside of her, but also the fragility of life. Here, we see them styled with a black sweater and yellow plaid skirt by McQ Alexander McQueen.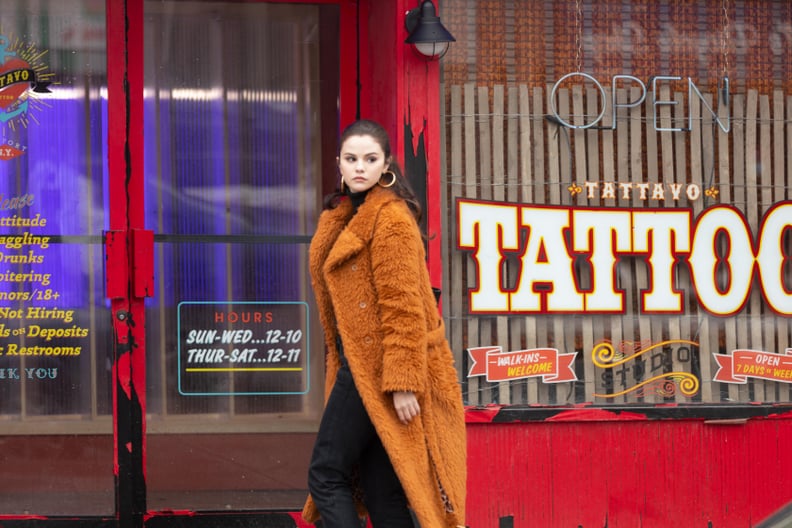 Mabel's Brown Fuzzy Coat
This iconic orange-brown fuzzy coat by Sies Marjan from season one is worn over a black Forever 21 ribbed turtleneck and black denim and accessorized with white Dr. Martens Sinclair boots and Jennifer Fisher hoops.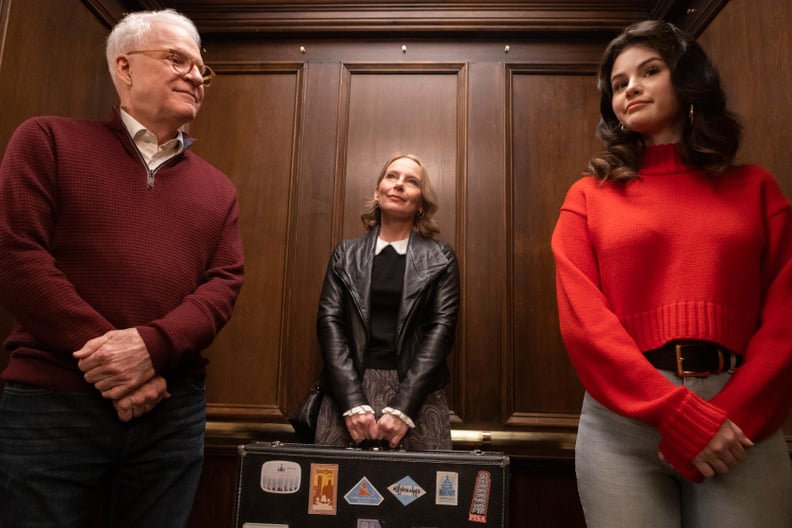 Mabel's Red Cropped Sweater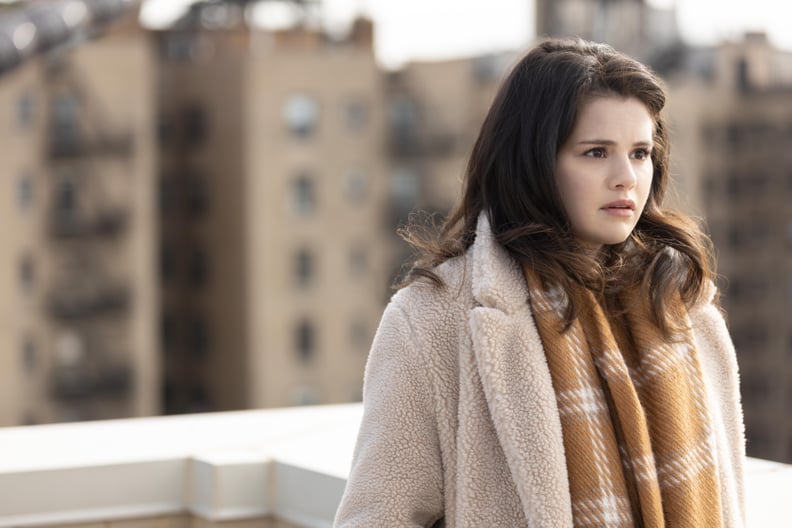 Mabel's Shearling Coat
Mabel's Zadig & Voltaire teddy-bear coat from season one, episode one, is some of her most memorable outerwear, styled over her red utility jumpsuit and Stella McCartney Chelsea ankle boots.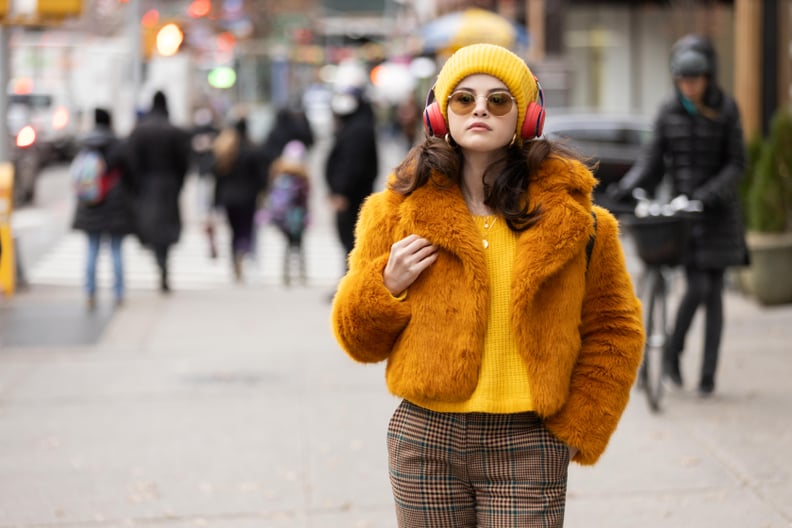 Mabel's Orange Fur Coat
This Michael Kors cropped fur jacket was the jumping-off point for many a Mabel Halloween costume after season one, layered atop a marigold waffle-knit sweater and styled with Veronica Beard plaid pants, Dr. Martens boots, Jennifer Fisher Samira hoops, a Free People beanie, and classic red Beats studio headphones.