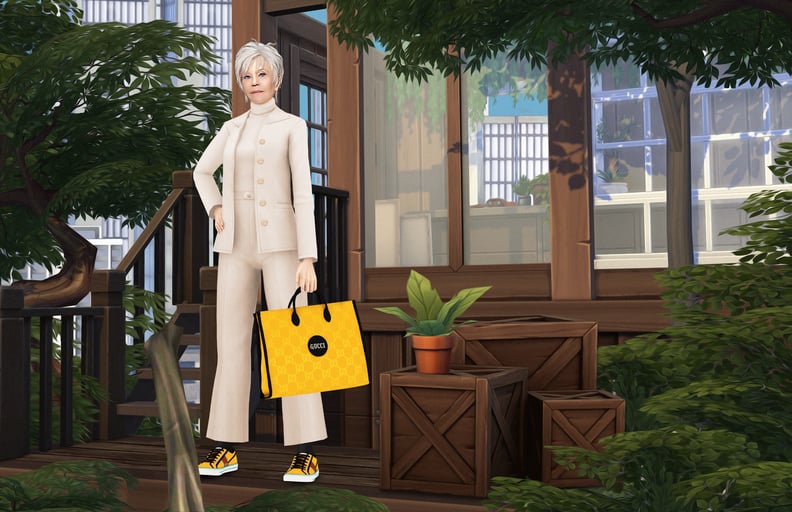 Courtesy of Gucci
We are still sitting here clapping since the announcement of Gucci's first fully sustainable collection since the creation of Equilibrium, a strategy for reducing the brand's environmental impact. The Off the Grid line was made from recycled and organic materials, and came accompanied by a campaign that starred Lil Nas X and Jane Fonda in a treehouse, as you may recall. Now, Gucci has partnered with content creators for The Sims, Grimcookies and Harrie, to bring Gucci's sustainability efforts to the virtual world. Yep, seriously. Sims 4 now includes pieces from Gucci's collection, which can be downloaded by players in the game. Well, what the heck — sign me back up!
Harrie even worked to re-create the very treehouse that Gucci's campaign stars modeled in, incorporating sustainable elements like upcycled wood, wind turbines, green roofing, and recycled furniture into the design, all to reinforce the message that we should be thinking of how our daily activities affect the environment absolutely all of the time.
As a perk for allowing some Gucci into your game (who could say no!?), Sims players are able to try on the gender-neutral hats, shoes, and luggage, and their moods will boost as soon as they do. But that's not only because they're wearing some of Alessandro Michele's creations — it's because wearing these accessories will boost player's "green eco-footprint" in the game. Oh man, Sims has come such a long way since my House Party days.
Keep reading to see stills from the virtual world of Gucci x Sims, and watch the videos to see the sustainable clothes in action.
Gucci Off the Grid x The Sims
Gucci Off the Grid x The Sims