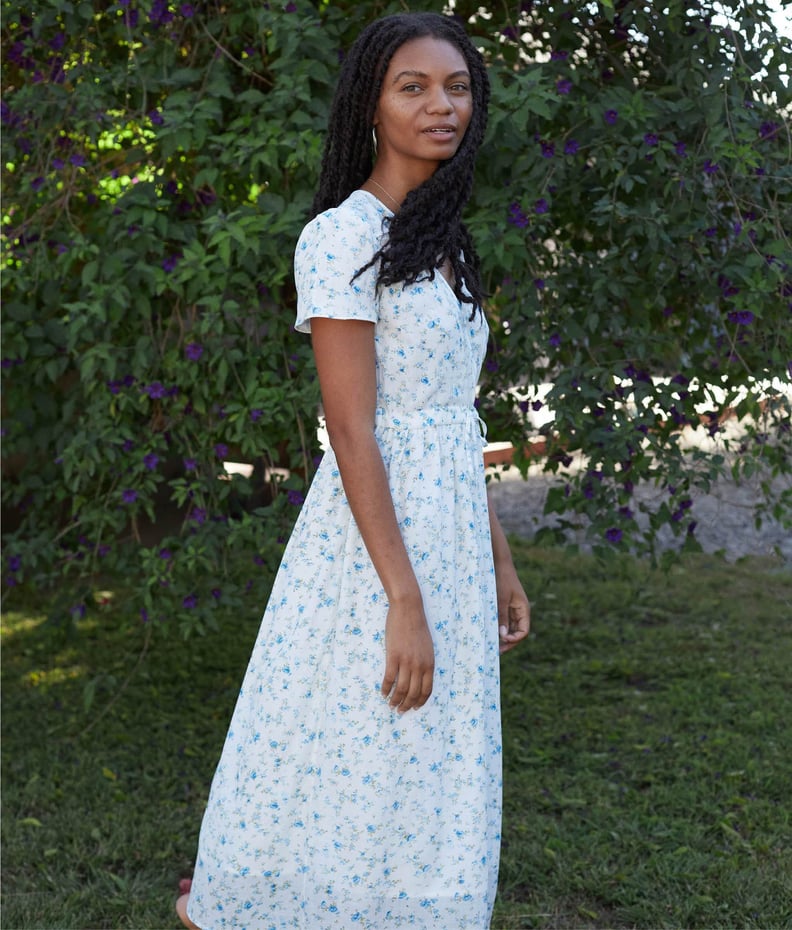 Courtesy of Leah Thomas
Courtesy of Leah Thomas
As POPSUGAR editors, we independently select and write about stuff we love and think you'll like too. If you buy a product we have recommended, we may receive affiliate commission, which in turn supports our work.
While I should have already been more conscious of shopping small and Black-owned businesses before, the wealth of information circulating right now has given me a chance to change the habits I had fallen into. It began with small businesses during the novel coronavirus (COVID-19) pandemic, knowing that my purchase could directly help out a struggling business owner. It then evolved during the recent Black Lives Matter movement to supporting Black-owned businesses, and in turn, helping to uplift Black communities. It's trained me to have an emotional response to my spending and actively consider the people on the receiving end.
Before this pandemic, I had been vaguely conscious of this notion of "voting with your dollar" and how micro spending can have a macro impact socially. I made certain purchases based on the values of the company, focusing mostly on sustainability, but many of my purchases still felt impulsive. They were a small reaction to a trend, social post, or even flash sale, when they should have been intentional and I should have been doing my own research. Now, I know the act of conscious consumption carries more weight, and choosing a socially mindful brand has more meaning than ever because the stakes are so high. Basically, it's too important not to. Here are some of my favorite items to shop now from brands making a difference.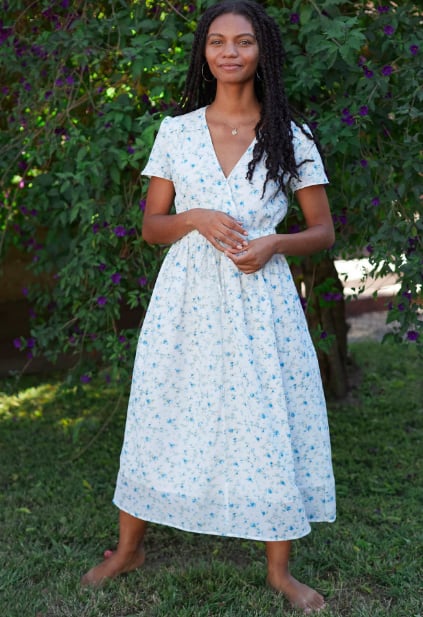 Christy Dawn The Dawn Dress
Why we love this brand: Christy Dawn is made using deadstock fabric (the leftover materials from larger fashion houses), helping to keep unnecessary waste out of our landfills. They are also working with farmers in India on a regeneratively-grown cotton initiative which focuses on conserving and rehabilitating soil.
Shop:The Dawn Dress Petites in n White and Blue Floral ($218)
This lightweight dress is the perfect wear-with-anything dress.
Brother Vellies Tyla Sandal​
Why we love this brand: Brother Vellies uses traditional African design practices and techniques while creating and sustaining artisanal jobs.
Shop: Brother Vellies Tyla Sandal ($385)
Good things come to those who wait. These beauties are made to order and will ship within four to six weeks.
St. Roche Chanterelle Dress
Why we love this brand: St. Roche focuses on using compostable, natural materials, which are biodegradable whenever possible. This dress is made from 100-percent GOTS certified organically grown cotton voile.
Shop: Chanterelle Dress — Jaipur Pink ($265)
Nothing says summer quite like the perfect cotton dress.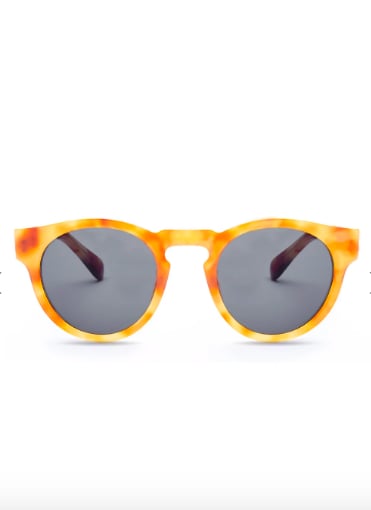 Westward Leaning Voyager 29 Polished Blonde Tortoise
Why we love this brand: Ten percent of net proceeds from this pair of sunglasses will be donated to WildAid, a nonprofit dedicated to wildlife conservation.

Shop: Westward Leaning Voyager 29 Polished Blonde Tortoise ($185)
This round frame will add texture and style to the simplest summer look.
Ansea Reversible High Waist Bikini​
Why We Love This Brand: This women-led sustainable surf collection uses a plant-based rubber for all wetsuits and Econyl, a regenerated nylon for all swimwear which helps to protect harmful waste from getting into our oceans.
Shop: The Reversible High Waist Bikini ($125 for the top, $145 for the bottom)
This swimsuit is reversible so you can mix and match for four different combos.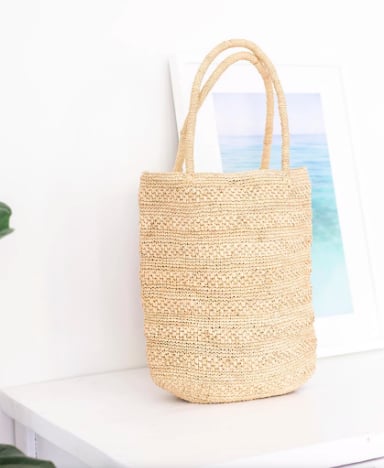 The Little Market Beach Tote
Why We Love This Brand: The Little Market is a nonprofit organization dedicated to the economic self-sufficiency of women worldwide. Each piece is made following fair-trade principles, providing sustainable income to artisans in underserved communities.

Shop: The Little Market Beach Tote ($128)
Handwoven with raffia, this carryall tote is perfect for the beach or the market.
Thea Valentina Top
Why We Love This Brand: Each embellishment is handmade in Morocco by a collective of female artisans, and then constructed in New York in small batches. Ten percent of all proceeds are donated to Women1One which helps fund education for girls globally.
Thea Valentina Norah Top in Floral ($275)
This beautiful top can we worn with a matching skirt or with your favorite high-waisted trouser.
Shekudo Tinubu 3-Tie Slipper
Why We Love This Brand: Handmade by a small group artisans in Lagos, Nigeria, they use all locally sourced materials, as well as recycled insoles. The company focuses on social responsibility and supporting local craftsmanship.
Shop: Shekudo Tinubu 3-Tie Slipper ($186)
This eye-catching handmade shoe brand is filled with colorful combos that make it hard to pick just one.
Girlfriend Lemon Compressive High-Rise Legging and Ivory Topanga Bra​​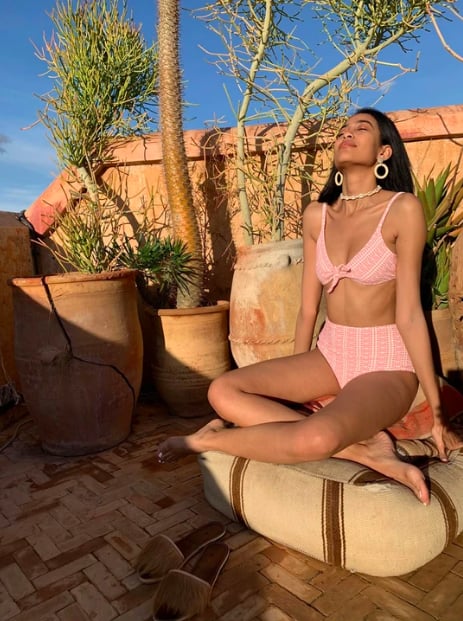 Lemlem Lola High-Waist Bikini​
Why We Love This Brand: .Each Lemlem piece begins in the hands of their amazing African artisans. This brand helps to create and secure jobs for women across Africa.
Shop: Lola High-Waist Bikini ($125 for the top, $125 for the bottom)
This ultraflattering cut looks great with a natural accessories like raffia sandals and a shell anklet.
Etica Devon Crop
Why We Love This Brand: In addition to being an ethically produced brand. They also participate in One Tree Planted, and plant one tree for every pair of denim sold.
Shop: Devon Crop ($155)
Look no further for the perfect weekend denim.
Sequence Collection Te Amo bracelet​
Why We Love this Brand: Handcrafted in El Salvador, these bracelets help to create more opportunities for employment, training programs, and social impact in at risk communities.
Shop: Sequence Collection Te Amo bracelet ($28)
Add one of these beautiful handwoven bracelets to your summer wrist assortment.