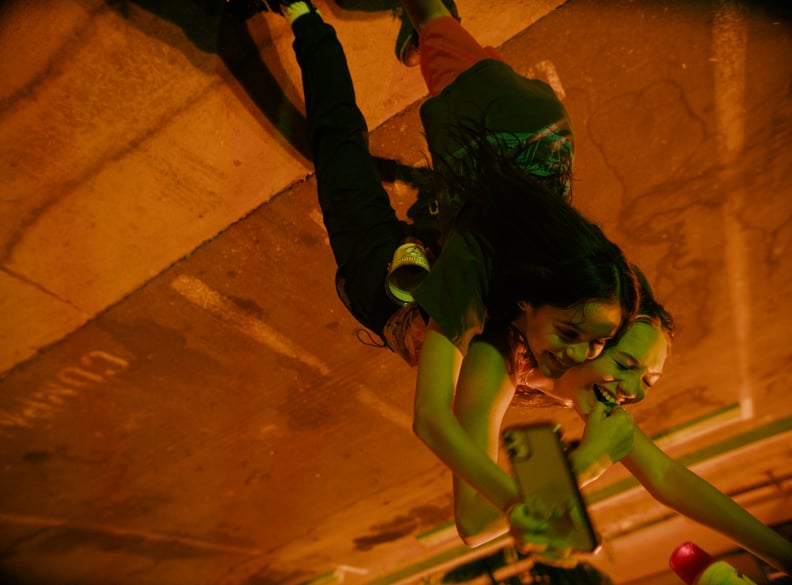 Clear Horizon | SSS Entertainment
Clear Horizon | SSS Entertainment
Costume designer Tasha Goldthwait helped bring The Fallout to life with her incredible wardrobe craft. The Megan Park-directed movie, which premiered at SXSW on Wednesday, March 17, won the grand jury prize for best film, and Park received the Brightcove Illumination Award for excellence in directing. If that doesn't already capture your attention, the storyline and actors involved will.
"It's interesting — in all my fitting photos, the talent is wearing KN95 masks and I would wear the same, plus a shield."
The film follows the aftermath of a high-school shooting from Vada's (Jenna Ortega) perspective, and we see how her relationships play out with her best friend Nick (Will Ropp), new friends Mia (Maddie Ziegler) and Quinton (Niles Fitch), and family members, which include her younger sister, Amelia (Lumi Pollack), and mom (Julie Bowen of Modern Family). "Megan was the perfect writer and director to bring this unique perspective forward. I was excited for the trust she gave me in order to explore character and story through wardrobe choice. These characters are honest, and their vulnerabilities are relatable and very real. I wanted to echo the same timbre and content through my work," Tasha told me.
The cast were troopers throughout production, which started in March 2020 and went up and down due to COVID-19. Tasha confirmed it was one of the first films made and completed during that time. "It's interesting — in all my fitting photos, the talent is wearing KN95 masks and I would wear the same, plus a shield . . . Jenna was my first fitting back into the world, and she made it so easy. We both communicated about the character in the same way," she said, later revealing that Jenna ended up keeping the sweatshirt she wears in the first scene of the film. While the story arc is dark, it is important, and through my interview with Tasha, we explored how the clothes truly complete the narrative in this very real world of teenage angst. Read on to explore more, get the rundown of each character's style, and see some behind-the-scenes images captured by Jenna on set.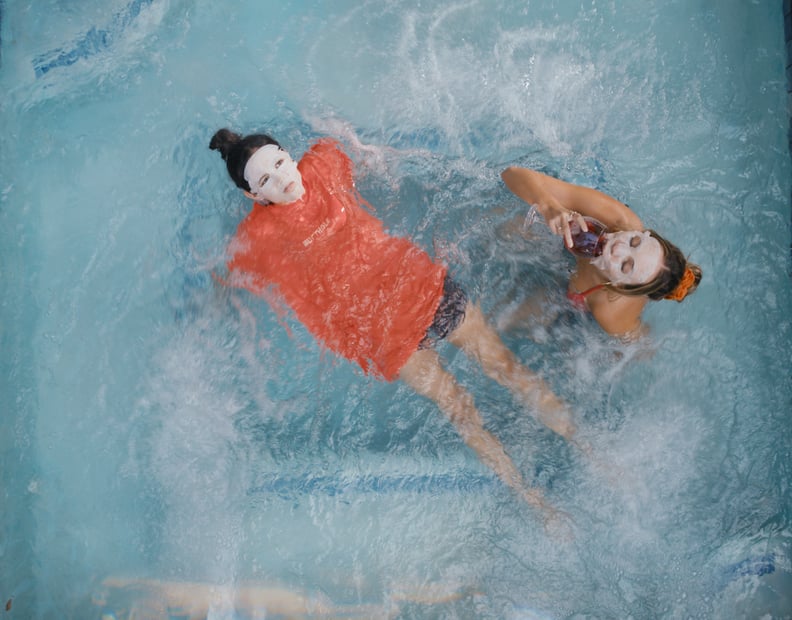 Above: Jenna Ortega as Vada and Maddie Ziegler as Mia
POPSUGAR: What was on your mood board for the characters in this film?
Tasha Goldthwait: [Director Megan Park] wrote a genuine, vulnerable representation of teenagers, which was accentuated and individualized by Jenna [Ortega]'s talented performance. I wanted to both represent accurately and give outlets for the performance and story. The film represents a generation's style inspired by culture, accessible by social media, and attainable with online shopping and thrifting. I was influenced to create custom clothing or pull together a combination of pieces for outfits that reflected each individual's unique style and character.
"The film represents a generation's style inspired by culture, accessible by social media, and attainable with online shopping and thrifting."
PS: Did you look to any iconic high-school images or study high schoolers now to shape the wardrobe?
TG: I always like to use real style to portray my characters honestly. I sourced a lot of inspiration from a variety of visuals to be genuine to the subject matter. Specifically, high-school teenagers (like my cousins of a similar age), various photos of young London street style, and Instagram, but I also scouted locations and neighborhoods that this script was based on for reference and thrifted these areas as well. I also used personal experiences with my best friends and pulled from our childhood and teenage angst.
PS: Did you collaborate with Jenna Ortega and Maddie Ziegler at all, since they are both lovers of fashion?
TG: They were so enthusiastic about the clothes; it was really fun to adventure with them into developing their characters and their tastes through mutual trust. I am a firm believer you should never force someone into something. They need to feel connected and comfortable. This story was very heavy internally, and the clothes here wound up being many things. We explored how sometimes, a look was armor and a barrier or protection from being weak or uncertain, while other times, it was a mask or a front for uncertainty. Other times, it was a conduit and a catharsis to speak what they were feeling inside. Megan gave such internal struggle and interweaving arcs to [Jenna and Maddie's characters] in particular that it was fun to develop our trust in one another to land at my final creative choices. I could not have asked for more professional, patient, and talented collaborators in Jenna and Maddie.
Above: Jenna Ortega as Vada and Will Ropp as Nick
PS: Which designers were you excited to tap for the project?
TG: I try to celebrate unique independent designers. With this past year being so hard, that was especially important to me — to use my own form of expression to showcase the work of others. Many of the specialty pieces are made locally and by independent female designers.
PS: How much did thrifting play a part in the curation of the wardrobe?
TG: It's a mix. I grew up thrifting, so there's some from my own collection, along with Universal costume house, Goodwills or similar stores around LA, Curatorial Department, and if I wanted something specific (maybe for the color or shape), I would go to Depop, Etsy, or eBay. A few items came from my best friend, singer Loren Kramar. He has impeccable taste, and we love discussing the story of an outfit.
PS: What was your personal favorite moment or look to style?
TG: Nick's ode to The Rock! Part of Nick (Will Ropp)'s uniform is wearing a turtleneck with a silver ball chain over it, tucked into pants or shorts. He also has a suede fanny pack he wears over his shoulder. There's a hysterical photo of The Rock from years ago in faded jeans, a turtleneck, necklace, and fanny pack, where I guess this idea started. During the scene where he finds Vada by the stairs at school, I remember being on set, and when the look was questioned, Megan's response was, "It's iconic."
Vada
"I wanted to reflect the journey that Vada was going through in the story in both visual and emotional outlets with clothing she felt comfortable in or safe in. Vada's outfits always draped on her, and the costumes spoke to the role — like an oversize sleeve she'd grip to hide her insecurity in or fidget with during moments of uncertainty or confusion. The draped fit also alluded to a portrayal of confidence and casualness, whether genuine at times or just the armor she was putting up while she was going through her emotions internally. The color yellow, which she wears often, also speaks to her uncertainty.
"When I first met Jenna [Ortega] at our fitting, she was excited to come in and see clothes that wouldn't just make her 'hot.'"
Women are beautiful and will look feminine even in baggy clothing — it's how someone carries themselves in what they wear that creates identity. Vada is a character who is not constrained by gender norms. When I first met Jenna at our fitting, she was excited to come in and see clothes that wouldn't just make her 'hot.'"
Some designers Vada wears: By the pool, Vada wears a Meals Clothing hat. Vada's rings are by LA designer Mondo Mondo. For her funeral look, she wears a vintage dress over old Levi's and chunky boots from Goodwill.
Mia
"For Mia, it was important I looked into the dance world. Mia would always wear clothing she could move in. She wears leotards with shorts or baggy track pants. Mia's go-to 'uniform' of bike shorts and an oversize shirt or sweatshirt is derived from Princess Diana's style. She was also influenced by style I saw in Mexico City — her palette was neons/bright colors or iridescent teamed with animal print and black and white."
Some designers Mia wears: In the sauna scene, Mia wears an Annabell P Lee short-sleeved hand-dyed leotard. When we first meet Mia, she is in a plaid velvet sports bra from Fashion Brand Company. Mia's necklaces are by New York designer Bittersweets NY, her bag in the bathroom scene is Susan Alexandra, and her zebra one-piece swimsuit is from H&M.
Quinton
"Quinton's style is classic and pure, and this contrasts when we first meet him covered in blood. He usually wears a light, clean palette, which worked as a canvas that was disrupted for the dramatic scene. Quinton's jacket that he wears is by talented designer Pentimento."
Amelia
"Amelia, Vada's younger sister (played by Lumi Pollack), has a style that evolved subtly to reflect her older sister's style. As Vada becomes more introverted and distant, Amelia goes through this transition as a subtle cry for attention in her own way. As a desperate way to reconnect, she then starts to dress similarly to Mia, as she feels like she is losing her sister to this new, mysterious friend."
Some designers Amelia wears: Amelia's bucket hat is by artist Lorien Stern and her cats sweatshirt is by Dave's Club House.
See Some of Jenna Ortega's Behind-the-Scenes Images From Set
"One of my favorite pieces that Megan Park and I laughed about was the perfectly unique baggy shirt by artist Porous Walker that says 'butthole' in glow-in-the-dark letters. It worked for the playfulness of the scene, immersing Vada into Mia's palette and comfort in the hot-tub scene. Megan was in agreement that we did not want to sexualize Mia and Vada, but rather represent in actuality what best friends would wear together — a fun, baggy sleep shirt and briefs."