"The Handmaid's Tale" is back for season five with an evolving plot line that coincides with a fresh approach to costume design. Since its 2017 debut, the Hulu drama series has enlisted three different lead costume designers: Ane Crabtree, who created the original Gilead look with its red caped dresses and white bonnet hats; Natalie Bronfman, who took the reins starting with season three; and, most recently, Leslie Kavanagh, who joined in season five.
"I made a conscious decision that June would never willingly wear red again — a design choice that was embraced by Elisabeth Moss."
Though Kavanagh has never worked with Crabtree, she tells POPSUGAR she'll still draw inspiration from her predecessor's vision and build on it as each season progresses. One way she is adding to Crabtree's sartorial legacy is by expanding the range of textures, patterns, and colors to coincide with June (played by Elisabeth Moss) embracing "freedom" in Canada. "In season five, I continued to expand on the Gilead aesthetic while also developing a clear visual contrast for the cast and characters in Toronto," Kavanagh explains to POPSUGAR.
One standout moment is the funeral scene carried out in episode two, for which there were over 500 background actors to dress. Kavanagh was tasked with dreaming up a look for Serena that both highlighted her pregnancy and spoke to her character transition, and her team created a custom wardrobe that delivered.
Ahead, both Bronfman and Kavanagh break down the most memorable costume adaptations through season five.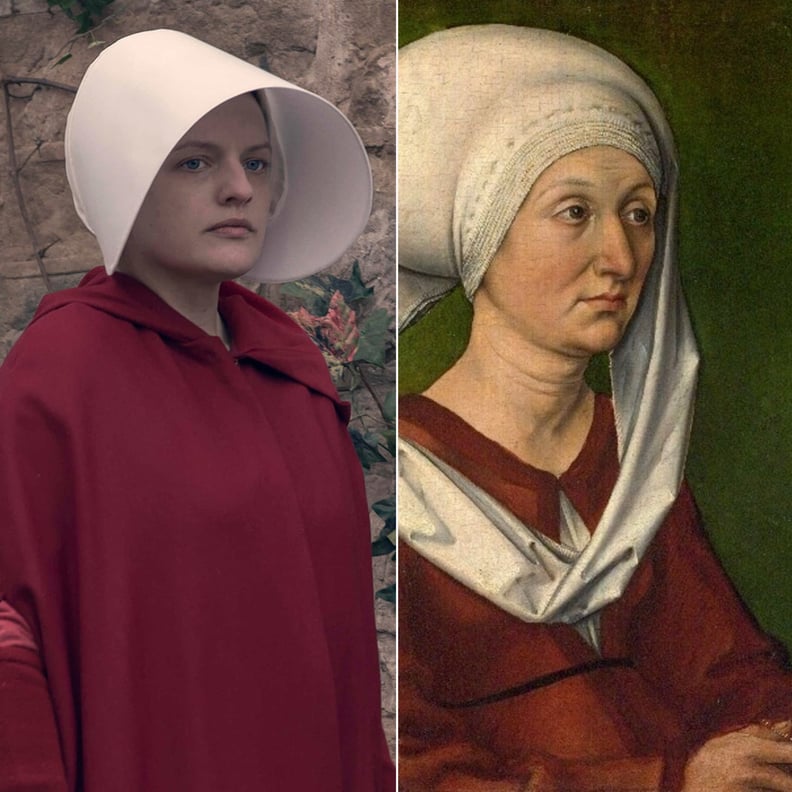 Bronfman's historical approach to costuming in the beginning episodes is seen heavily in the prim-and-proper postwar silhouettes of "The Handmaid's Tale."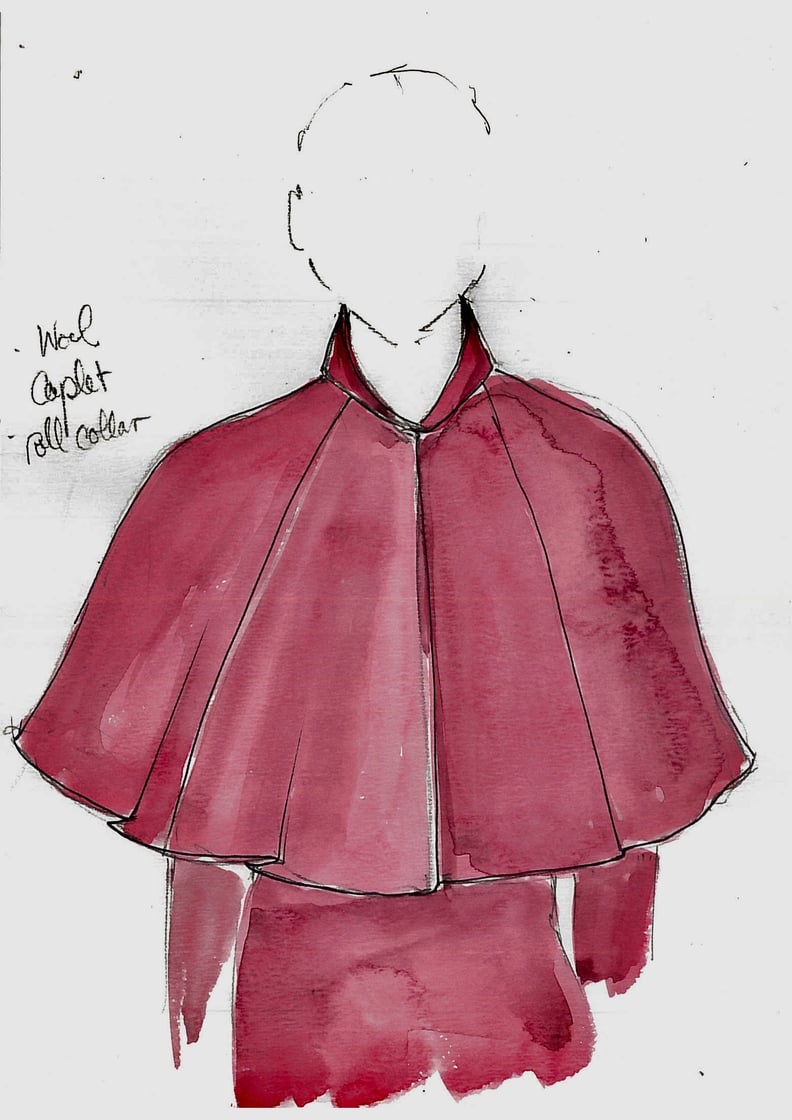 The Handmaids' Capelets
"With June, when the government was doing the propaganda, the handmaids wore little capelets that covered up the neckline, so that became a new costume piece," Bronfman tells POPSUGAR.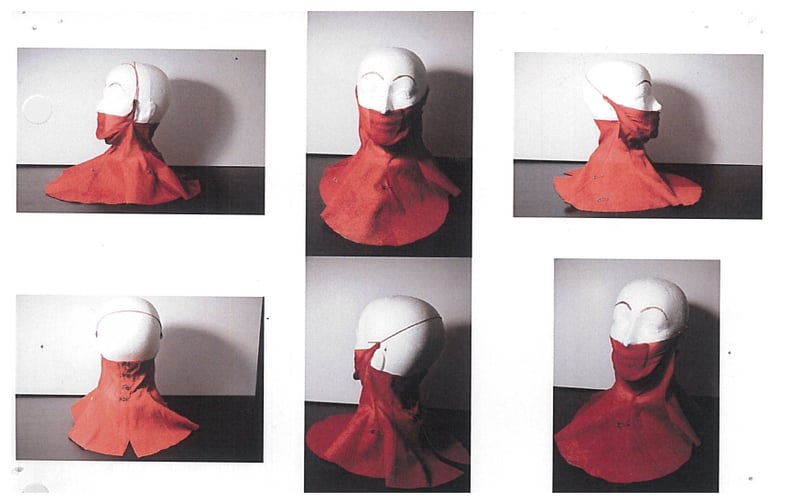 The Gilead Veils
The most striking expression of Washington's austerity is seen in the veils, introduced in season three of the show. Worn by the women of Gilead, these are inspired by an archetype from each of the four major religions. The veils worn by the handmaids and aunts are an underdressing of a wimple, which is a cloth headdress still worn by some nuns that covers the head, neck, and sides of the face. "I took those from paintings," Bronfman explains. "One was an Albrecht Dürer painting of his wife, and she's got the wimple on, which covers her chin and her forehead. I played with that and made it cover up the mouth, which takes away the last thing that the handmaids had: their voice. There's no more whispering between them going on, and you can't instigate anything anymore. So it's complete docility."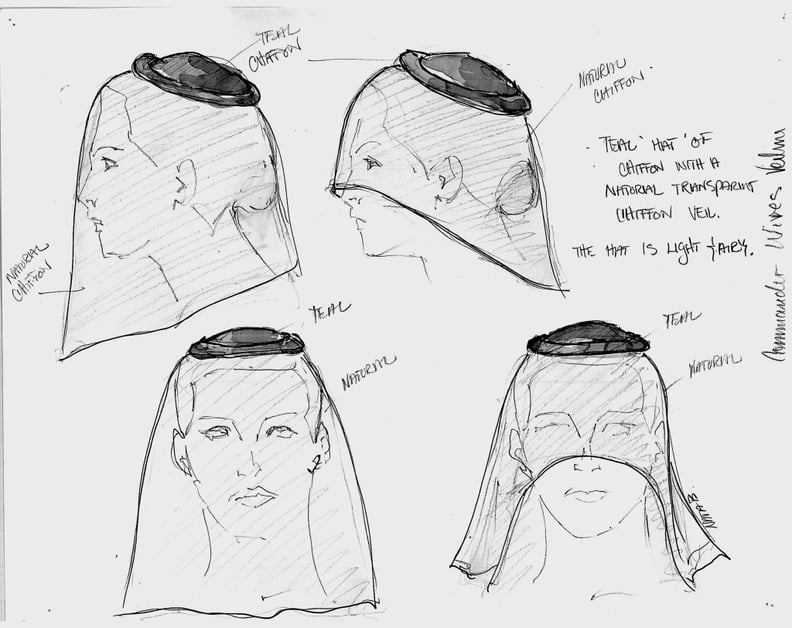 The Commanders' Wives' Hats
The commanders' wives wore a version of the Jewish kippah hat with an attached veil. "This was a nod to being pious, because they were the jewels of the empire, so they didn't really feel they had to participate," Bronfman says.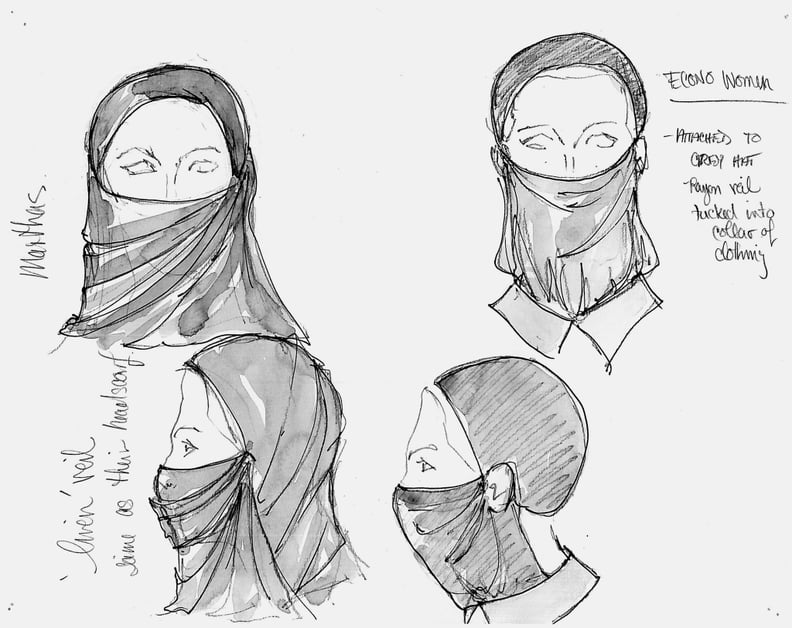 The Marthas' Veils
"The Marthas' veils were sort of the Middle Eastern head wrap that when they went out, they could just drape it. And the econopeople wore essentially just tubes, utilitarian, that doubled up as collars because they were the worker bees of the empire," Bronfman explains.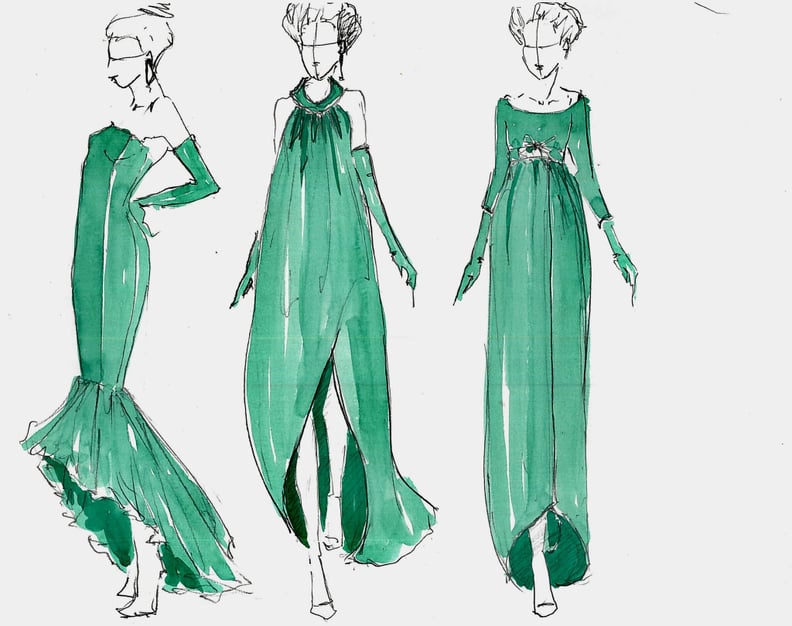 The Commanders' Wives' Gala Looks
"I put the wives into a 1950s shape, because it's sort of that archetype — he walks through the door, she hands him a martini, and 'don't talk to me about my day,'" Bronfman explains of the formal outfits we see in Washington DC during season three of the show.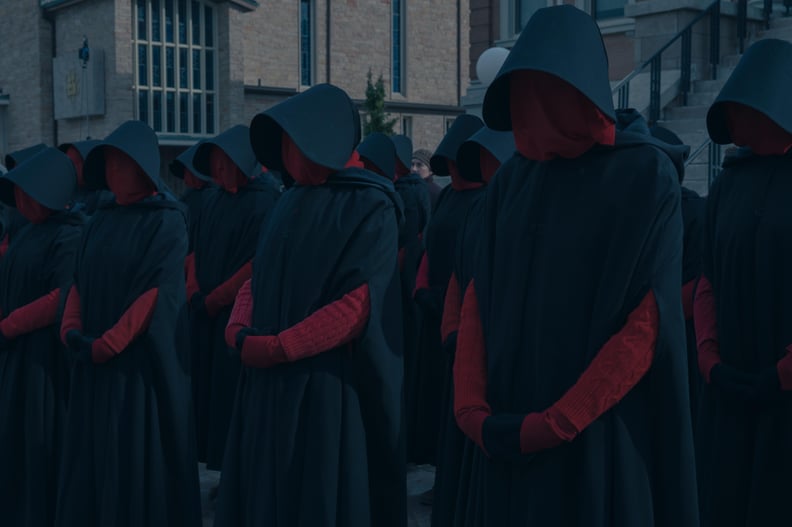 The Gilead Funeral Looks
The funeral of Commander Fred Waterford after his death at the end of season four is a state funeral and considered more formal than those we've seen in episodes past. Kavanagh reveals that there were over 500 background performers dressed head to toe in all various Gilead classifications, including commanders, wives, econopeople, Marthas, aunts, guardians, soldiers, and handmaids, and every detail was custom-made. "It took over 30 costumers on the shooting days to get everyone dressed to go to set and an additional team at the end of the day to retrieve all the costumes, do the laundry, and then prepare the costumes for the next day," she says.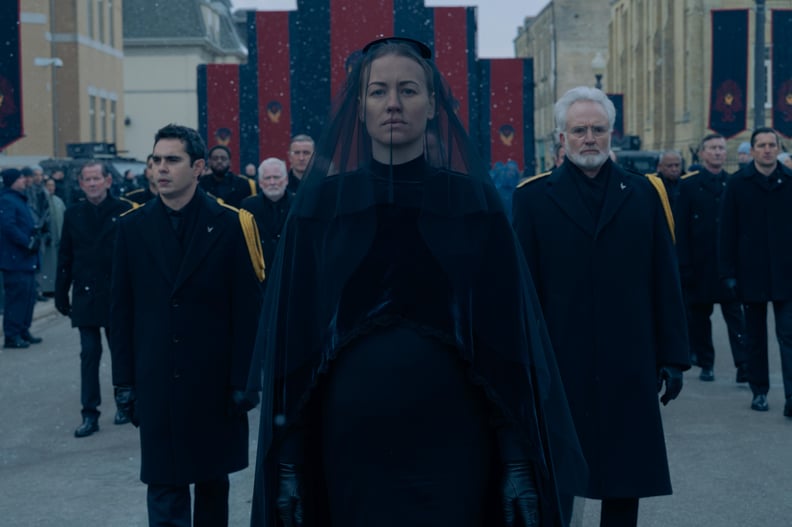 Serena's Look at Fred's Funeral
"For Fred's funeral, I knew Serena had to be a show-stopper," Kavanagh says, explaining that while the script called for her to be in all black, she envisioned a silk velvet cloak. "I fell in love with a deep midnight teal that I knew I had to have," she explains.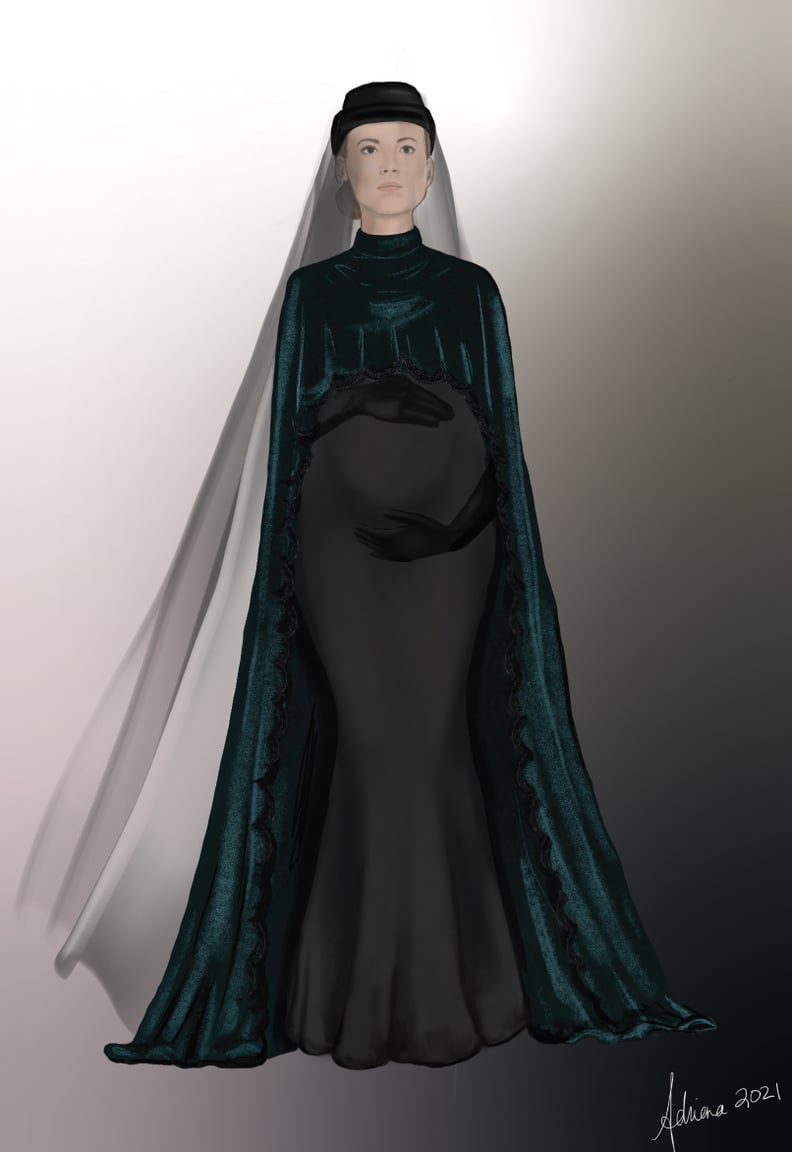 Kavanagh sketched her ideal Serena look in order to convince the rest of the team of her vision. While the rest of the wives are in teal cloaks behind her with accompanying silk chiffon veils, Serena's look was made to intentionally highlight her burgeoning belly. "Having Serena in the black wool cashmere dress and black cathedral-length veil, then adding the velvet teal cloak, was the perfect melding of wife and widow," she says.

The Plums
The Plums, introduced in season five, are the daughters of high-level commanders and their wives. Kavanagh's sketch shows how she incorporated different hues from the purple family into their looks, which are first introduced at Commander Waterford's funeral. In this moment, their outfits help to immediately convey their important status without giving anything else away. "The design of the look was to show they are not handmaids or wives but clearly fit into the conformity of Gilead. I specifically used a 1950s undertone to match much of the wives' silhouettes while still making them practical," she says.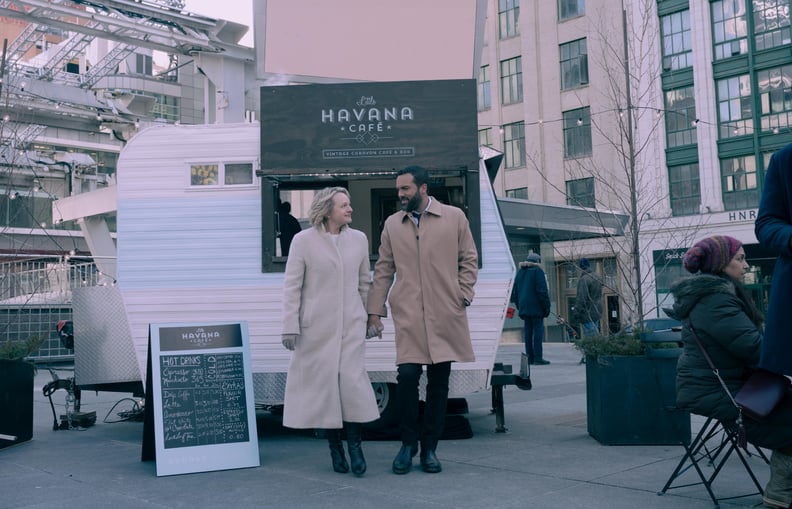 June's "Free" Wardrobe
"I updated June's whole closet using color, texture, and pattern to express the change in journey where she's no longer forced into the uniformity of Gilead," Kavanagh explains of June's transition period. "I made a conscious decision that June would never willingly wear red again — a design choice that was embraced by Elisabeth Moss. Often in cinema, we equate red with passion, sexiness, and drama. However, in 'The Handmaid's Tale,' red symbolizes subjugation, trauma, and violation."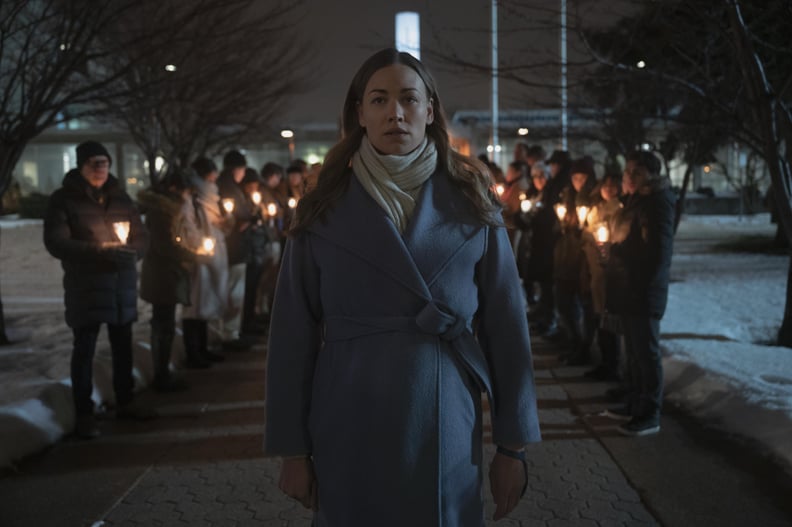 Serena's Pregnancy Style
While many of the looks we see Serena in are still reflective of the original Gilead palette, Kavanagh is slowly pushing the boundaries to express her uncertain status in both Canada and Gilead. She counts switching up necklines and sleeve lengths, using new colors and patterns, and layering as key methods of accomplishing this through Serena's wardrobe.