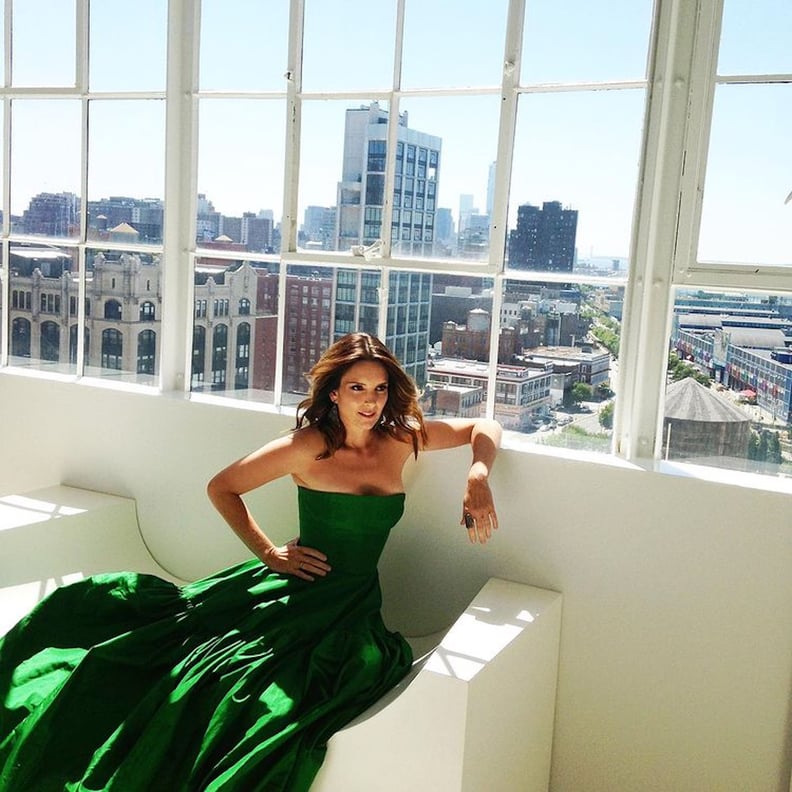 The 2021 Golden Globes mark the fourth time Tina Fey and Amy Poehler will come together for their award-season hosting gig. (The actors and comedians also shared the stage in 2013, 2014, and 2015.) On Sunday, Amy will be on the West Coast, while Tina will be on the East Coast, but no matter how many states separate these two, they're always a hoot.
We talked to Tina's longtime stylist Cristina Ehrlich about how she's creating virtual looks for the event and what it's been like to carve out wardrobes for her clients in general since the start of the pandemic. "Everything all comes together at the last minute! I've been doing this for years, but each styling project I work on is completely different depending on the event and the client's personal style. This year, I'm hosting fittings and curating looks from NYC, though normally there would be a lot more back and forth between clients and studios to finalize looks," Cristina told POPSUGAR.
Of course, it's hard for Cristina to choose a favorite Tina fashion moment in red carpet history — "[she] looks amazing any moment she's stepping onto a red carpet," she said — but this year's ceremony won't be about a carpet, anyway. Instead of focusing on the big picture, Cristina knows that accessories are key, along with any details from the waist up, since that's what the viewer will mostly be seeing. Find out exactly what that means for Tina's evening of outfit changes, ahead, and how coordination with Amy's team is key.
POPSUGAR: How have you been styling Tina virtually during the pandemic?
Cristina Ehrlich: Virtual fittings have become the new normal during the pandemic, and it has allowed more flexibility to arrange a time to jump on Zoom or FaceTime, rather than fitting in-person in-studio.
"This year, for [Tina's] look, we're favoring accessories that offer glam plus comfort, a reflection of our life-from-home fashion outlook."
PS: What style does Tina tend to feel most comfortable in for hosting?
CE: Tina has a style that blends quirky and cool. We dress her in a lot of smart neutrals and glamorous jewel tones. This year, for her look, we're favoring accessories that offer glam plus comfort, a reflection of our life-from-home fashion outlook.
PS: How does your approach shift when styling for a virtual event, as opposed to a red carpet?
CE: This year's award season brings about a whole new set of constraints to think about. We're now accustomed to working in this virtual world through where we've learned to really lean into what's going to be shown to the viewer, which is the waist up. That's where accessories come in, since that's what the viewer's eye will be drawn to. This season, I'm favoring accessories that offer glam and comfort. I love the eyewear from Silhouette's Blend Collection because the frames are so lightweight and easy to wear with any makeup look or accessory.
PS: Can you tell us how many outfit changes we can expect to see Tina go through during the evening?
CE: There will most likely be a few outfit changes — something more than two.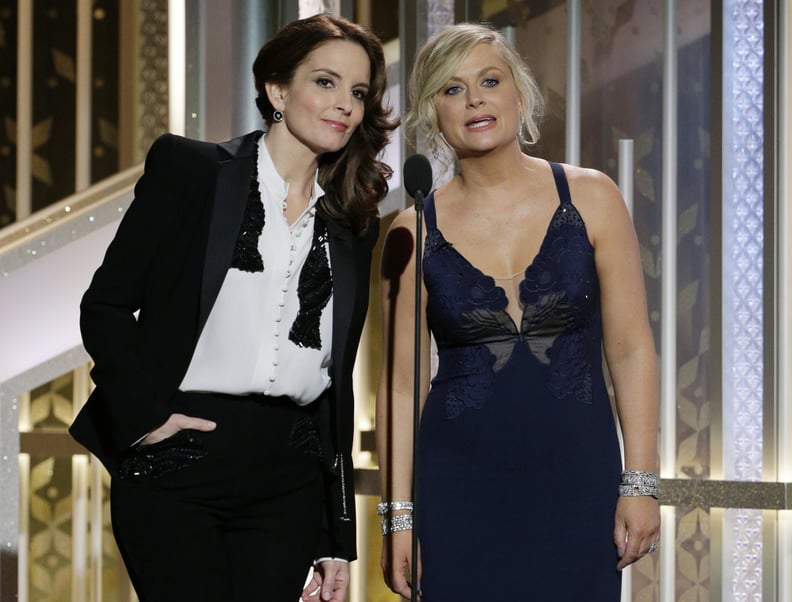 PS: Do you coordinate looks with Amy's stylist?
CE: Coordinating with Amy's stylist is often helpful so that the chosen looks complement one another while also showcasing individual style. For the Golden Globes, we have to look at each person's outfit from a totally new point of view, which is especially interesting when you're dressing a host, since you are approaching styling from a performing standpoint. You have to consider how many looks will be needed, what the cohost will be wearing, the venue's backdrop, the color scheme of the ceremony, etc. There are a ton of factors to consider.
PS: What are some brands you and Tina generally look to for events?
CE: Some brands we've worked with in the past include Stuart Weitzman, Michael Kors, Galvan, Jimmy Choo, and Cartier.
PS: Is it important for you to incorporate designers that are ethically and socially responsible?
CE: We love to support brands that are both ethically and socially responsible and in tune to the climate of the world around us. It's important for us to consider these things when seeking designers or brands to work with.
PS: Heels for virtual events — yay or nay?
CE: It may not necessarily be a heel, but every look needs a great, thoughtful shoe to complete it. Being that red carpets look different these days, I think we will see a lot of personal style and individuality. People can express themselves exactly how they want to. We will see stilettos, combat boots, gowns, pajama sets, kilts — anything is possible!