Wolven Swimwear Review 2022
Wolven's Reversible Swimwear Is All I'm Wearing This Summer
As POPSUGAR editors, we independently select and write about stuff we love and think you'll like too. If you buy a product we have recommended, we may receive affiliate commission, which in turn supports our work.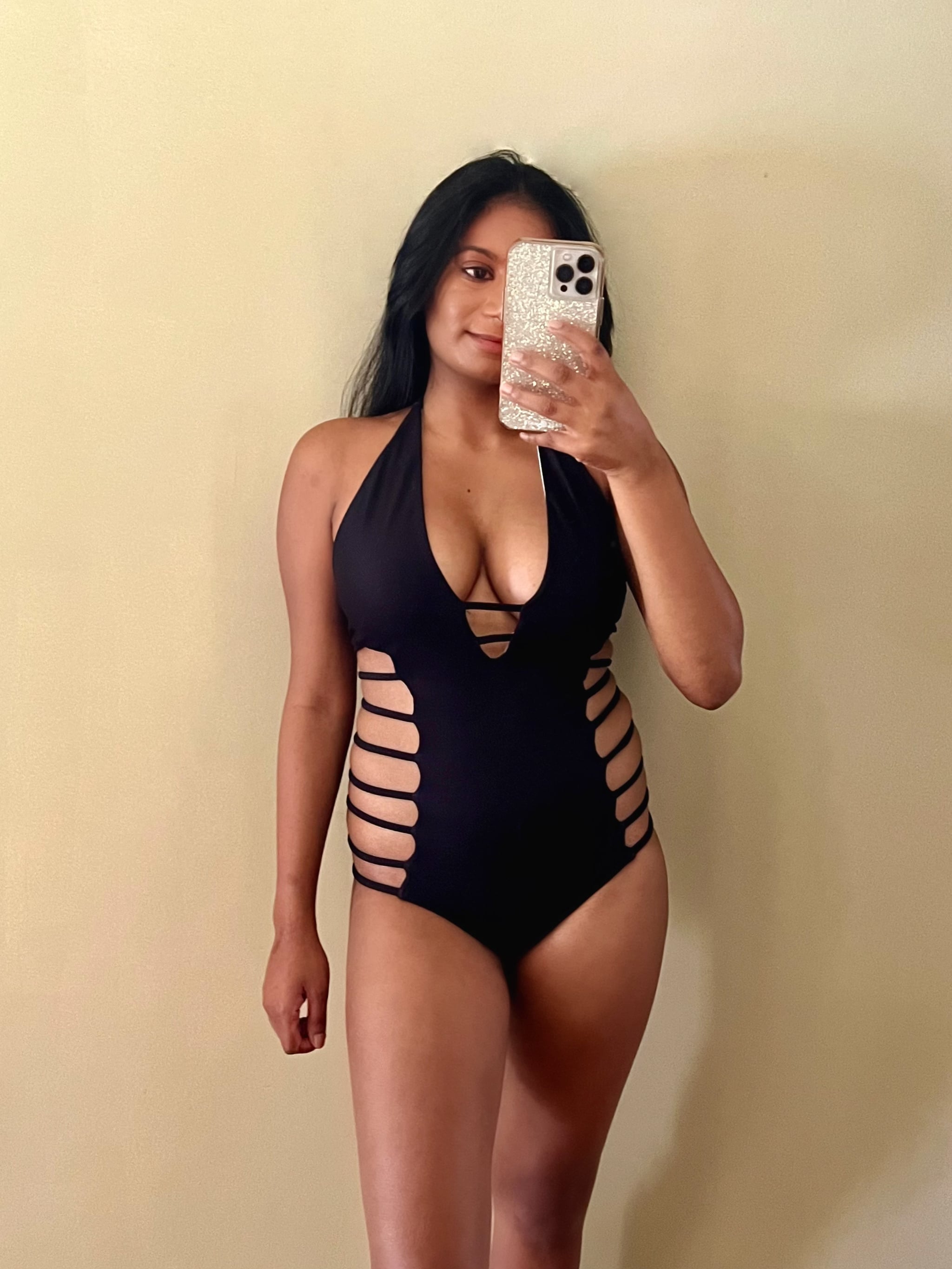 Wolven's swimwear line has truly made a splash with its unique prints, stunning colorways, and cool silhouettes. The line features sexy cutouts and trendy designs, yet it maintains that elevated and timeless look. In fact, the brand prides itself on putting comfort first with soft, flexible fabrics and flattering swimwear styles for all.
The brand is also carbon neutral and keeps sustainability at the forefront of its mission. The ever-evolving brand uses recycled bottles to make its flexible and comfortable pieces. Plus, the pieces are versatile, too, as most of them can be worn in multiple ways. Yes, that means they are reversible and reveal a whole new swimsuit — all you have to do is flip them inside out and turn them around. With one quick transformation, you can showcase different cutouts, necklines, colors, and patterns, making it feel like you're getting your money's worth.
I tried a one-piece and a bikini top and bottom from the line to test out the quality of the wear and versatility of the reversible swimwear.
Wolven Onyx Cage One-Piece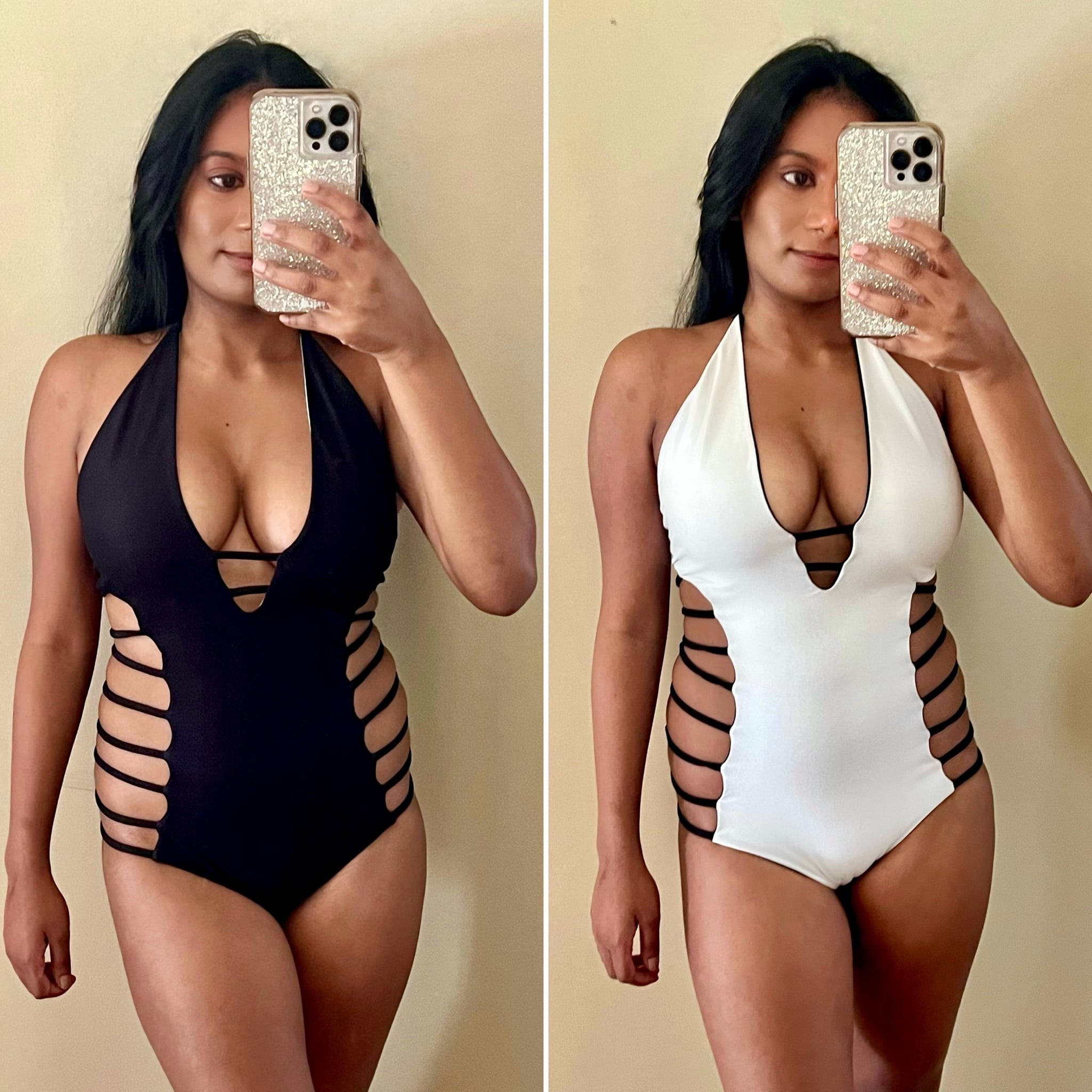 The Wolven Onyx Cage One-Piece ($148) is on the sexier side with a deep V-neckline and strappy detailing on the sides. I got a size medium. It can go from an all-black suit to a reversed white suit with black straps. It has halter-tie straps at the back of the neck for an adjustable fit. When I saw myself wearing this stunning one-piece, my jaw dropped; it's so flattering. I've never felt more confident and sexy in a one-piece.
The fabric feels ultrasoft on my skin and has a velvety texture. It's stretchy and flexible, yet it has a slight compression feel that cinches at the right areas. As someone with bigger breasts, 32DD, this one-piece isn't the most supportive; it doesn't have built-in padding. However, that compression helps lift the area slightly and make it look perky and flattering. It's like wearing an unlined sports bra. I was skeptical about how the white side would fare in water, and to my surprise, it's not transparent, which was a plus. There is a slight tone difference when the swimsuit is wet, but it doesn't reveal the black shade at all or feel see-through.
Wolven Harmony Bikini Set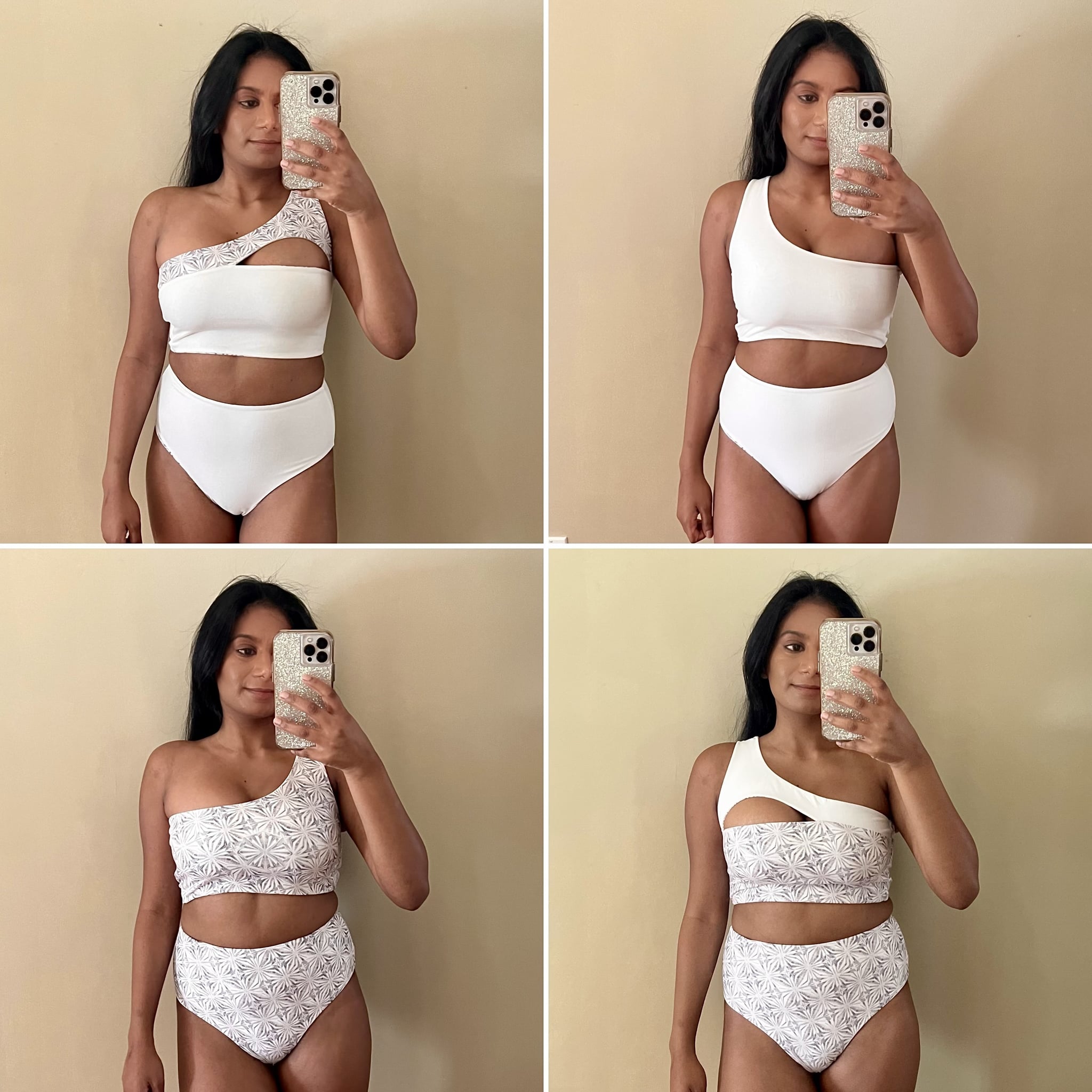 I also got the Wolven Harmony One Shoulder Top ($62) in a size medium and the Wolven Harmony Reversible High-Waisted Bikini Bottom ($72) in a size small. Both pieces have a stunning white-and-gray snowflake-like print on one side and a solid white shade on the other side. The one-shoulder top also has a keyhole cutout that you can wear in the front or back. The bikini bottoms are high-waisted with midcoverage and a flattering high-cut leg.
The fit felt and looked flattering for both pieces. The fabric was also super soft and flexible with my body. However, the game changer for me was how secure and flattering the fit of the one-shoulder top was on my bust. It actually conformed to the shape of my breasts and even rested properly on my bust and below-bust area. Because of my breast size, I often have to deal with tops that stick out and show underboob or give the appearance of the dreaded uni-boob. This top, though, was more supportive and felt like wearing an unlined sports bra.
In the picture, I showed the four ways you can wear the one-shoulder top and the two ways you can wear the high-waisted bikini bottom. However, you can style this in eight different ways. You can wear a printed bottom with a solid white top or the printed top with a solid white bottom. You can also style the keyhole side of the top with the printed detailing with the printed bottom or the keyhole side of the top with the solid white detailing with the solid white bottom. It's such a versatile and stylish bikini set.
The brand truly lives by its identity of "make sustainability sexy." The Onyx Cage One-Piece is definitely my favorite. I gravitate toward it almost every time I need to pack for a vacation. The Harmony Bikini Set is so versatile and flattering. With just two pieces, you can create eight different looks. The keyhole cutout gives it a sexy touch, and the one-shoulder is such a vibe. If you're looking to invest in high-quality swimwear that's elevated and trendy without compromising on fit and functionality, Wolven might be your new go-to.
Image Source: POPSUGAR Photography / Anvita Reddy