If you're starting to think about your fall wardrobe, there is one piece of advice that will serve you well: think pink. Fashion house Valentino put striking fuchsia on everyone's radar when it took the single colorway to the runway for the fall/winter '22 show at Paris Fashion Week in March, and the brand has tapped actor Zendaya and Formula One champion Lewis Hamilton to front the latest Pink PP campaign.
Creative Director Pierpaolo Piccioli radically stripped back the Valentino aesthetic to a single hue in a bid to make the color an identity in itself. "You cannot own a color, but you can own a feeling," states the brand's press release. And Zendaya, who has been working with Maison Valentino since 2020, has the attitude to match. Shot by Michael Bailey-Gates, the "Euphoria" actor is in top-to-toe pink. In one image, she wears a structured pink minidress teamed with pink tights and platform boots. With no inch of skin showing beneath her neck, her arms and hands are covered with long opera gloves as she carries a box bag.
A second campaign image of Zendaya is full of movement. Dressed in a pink suit with wide-leg trousers teamed with a sheer vest top, her curls are blowing away from her face as she dances. With those signature gloves, a studded pink bag, and long pink earrings, her bold look is one we anticipate will make its way to the high street this fall.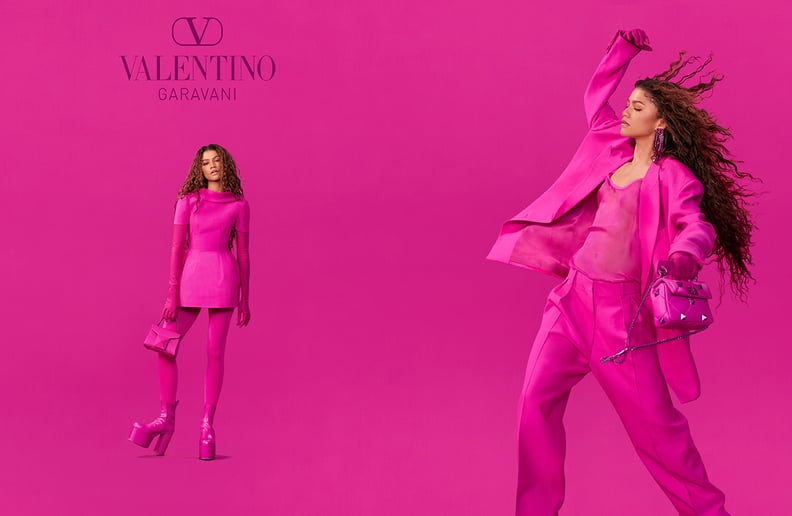 The fashion house continued its pink phase at the couture show, where the likes of Anne Hathaway and Florence Pugh were dressed in the signature colorway as they watched the event. Pink really is having a moment as Greta Gerwig's hotly anticipated "Barbie" film has paved the way for the Barbiecore trend to take hold.
Let us be clear: this is a trend for everyone. For the men's campaign, Hamilton is the chosen one. As well as a seven-time Formula One world champion, he is the first of the Valentino menswear DI.VAs. This initiative — which stands for DI.fferent VA.lues — aims to unite diverse figures from the worlds of cinema, music, literature, and sports to form a real cultural connection. Starting with Hamilton, Piccioli chose the fashion-forward sports star, not only for his style, but for his influence beyond the race track. For example, his charitable foundation Mission 44, which was set up in 2021, aims to empower underrepresented young people through grants and collaborations.
Shot by Nicolas Kern, Hamilton wears a caped jacket, T-shirt, wide-leg relaxed trousers, and studded trainers, all in pink. He's holding pink paint, with a manifesto painted on the wall behind him reading, "Still I Rise," we assume.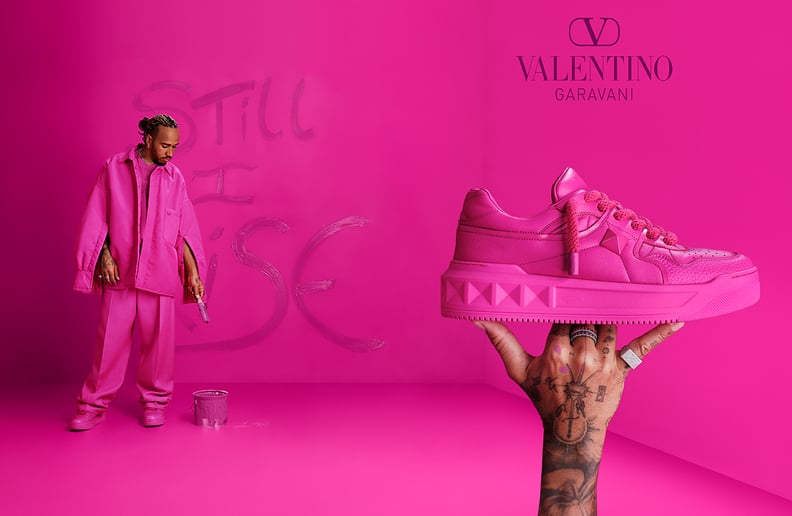 Hamilton and Zendaya sat next to each other at the iconic March fashion show on the front row, so it's not a huge surprise they have both been tapped to front this latest campaign. One thing's for sure: the fuchsia sure is bright for our fall dress code.