Butternut Squash, Kale, and Cranberry Pizza Recipe
This Butternut Squash, Kale, and Cranberry Pizza Mixes Clean Eating With Junk Food
If you're craving pizza but looking for a more creative, healthier option, this butternut squash, kale, and cranberry pizza from our friends at Sprouted Routes was made for you.
I am such a sucker for creative pizza toppings. To me, pizza is nothing but a vehicle for an abundance of fresh, seasonal flavors. I love brussels sprouts on pizza; a drizzle of spicy honey atop fresh mozzarella makes me literally squeal; pesto pizza is drool inducing.
This pizza is all about embracing Winter, with a rich caramelized onion and butternut squash sauce layered with crispy, salty kale, a drizzle of sweet cranberry orange sauce. A sprinkling of slivered almonds adds the fatty depth and smooth texture of cheese, although a bit of parmesan would also be great on top of this if you're not vegan (fun fact: I don't tolerate dairy super well, but parmesan and other hard cheeses contain little to no lactose, the protein that's irritating to most dairy avoiders).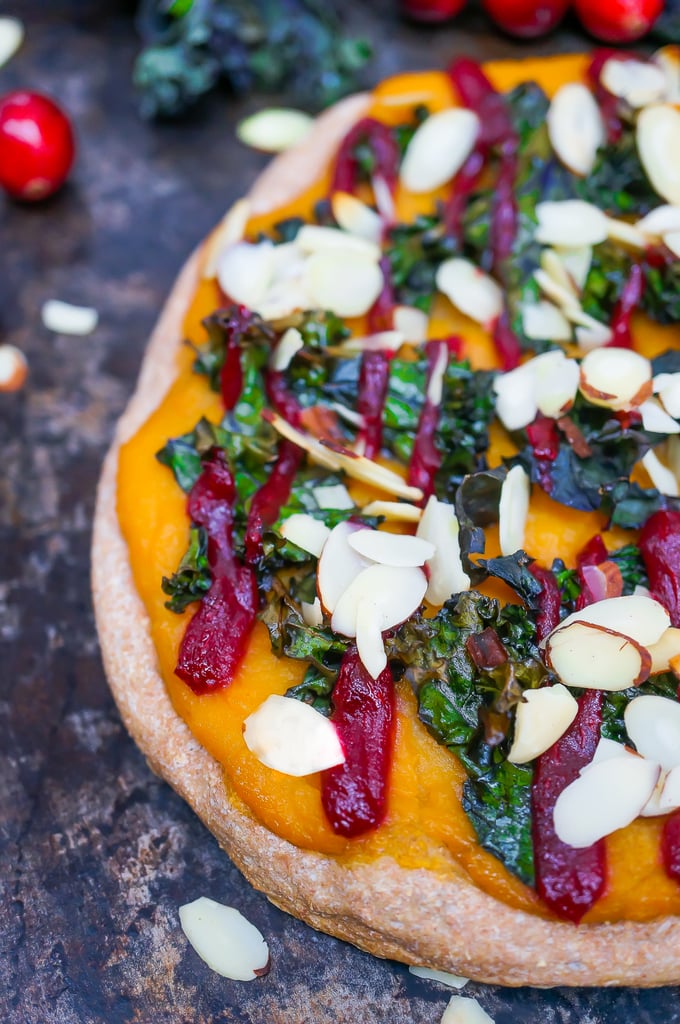 This pizza splits the difference beautifully. It has shades of junk food — it is pizza, after all — but everything it contains is nourishing. Butternut squash is packed with vitamin A, which becomes more bioavailable through cooking, and kale, even though its reign as king superfood might be coming to an end, is still a nutrient superstar, with detoxifying chlorophyll and a megadose of vitamin K. It's also a cruciferous vegetable, in the same family as broccoli and cauliflower, which means it packs a potent punch of antioxidants and disease-fighting phytochemicals. The cranberry sauce, with a kick of orange zest, is filled with vitamin C — so good for fighting off the colds and flus that run rampant this time of year — while the almonds add healthy fats and skin-enriching vitamin E.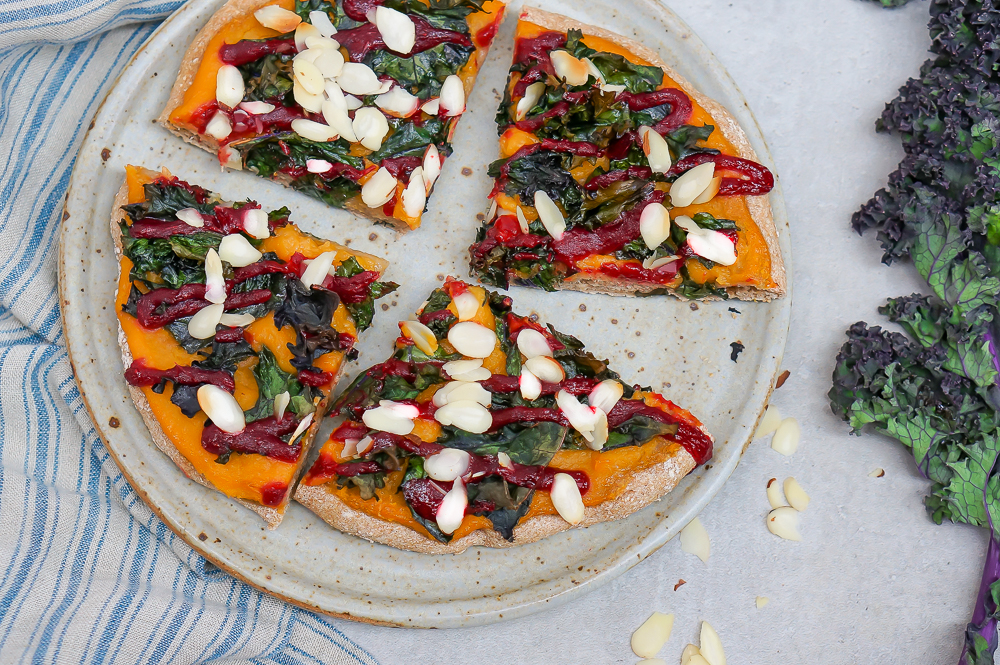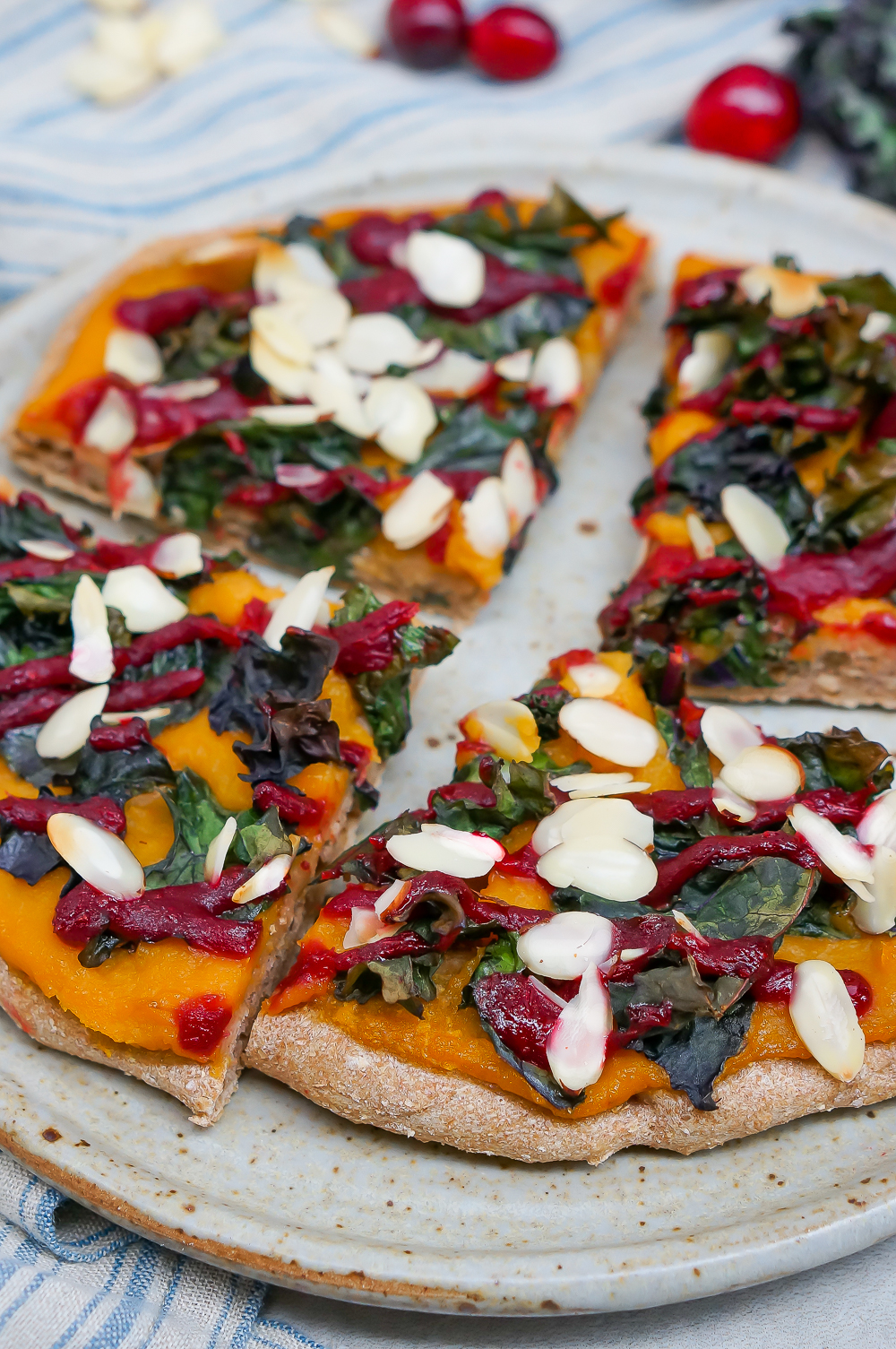 I'm all about toppings, and this pizza works wonderfully regardless of what base you decide to use. I personally used a spelt flour version of Jim Lahey's signature fermented pizza crust (which is super easy — you just mix everything together and let it sit overnight), and it worked beautifully, but I've also made this pizza with this almond flour crust and had wonderful results./
Because someone will inevitably ask, my thoughts on cauliflower pizza crust are this: while I'm all about a healthy life, I'm also about a good one, and quite frankly, I'm too much of a foodie for cauliflower pizza crust. While I adore cauliflower and bringing out its wonderfully sweet, yielding characteristics in a recipe, as a pizza crust, I find it soggy, lacking in depth of flavor, and bland (even when I add as many spices as I can). That said, if you love it, go for it! It's your palate, your plate, your pizza!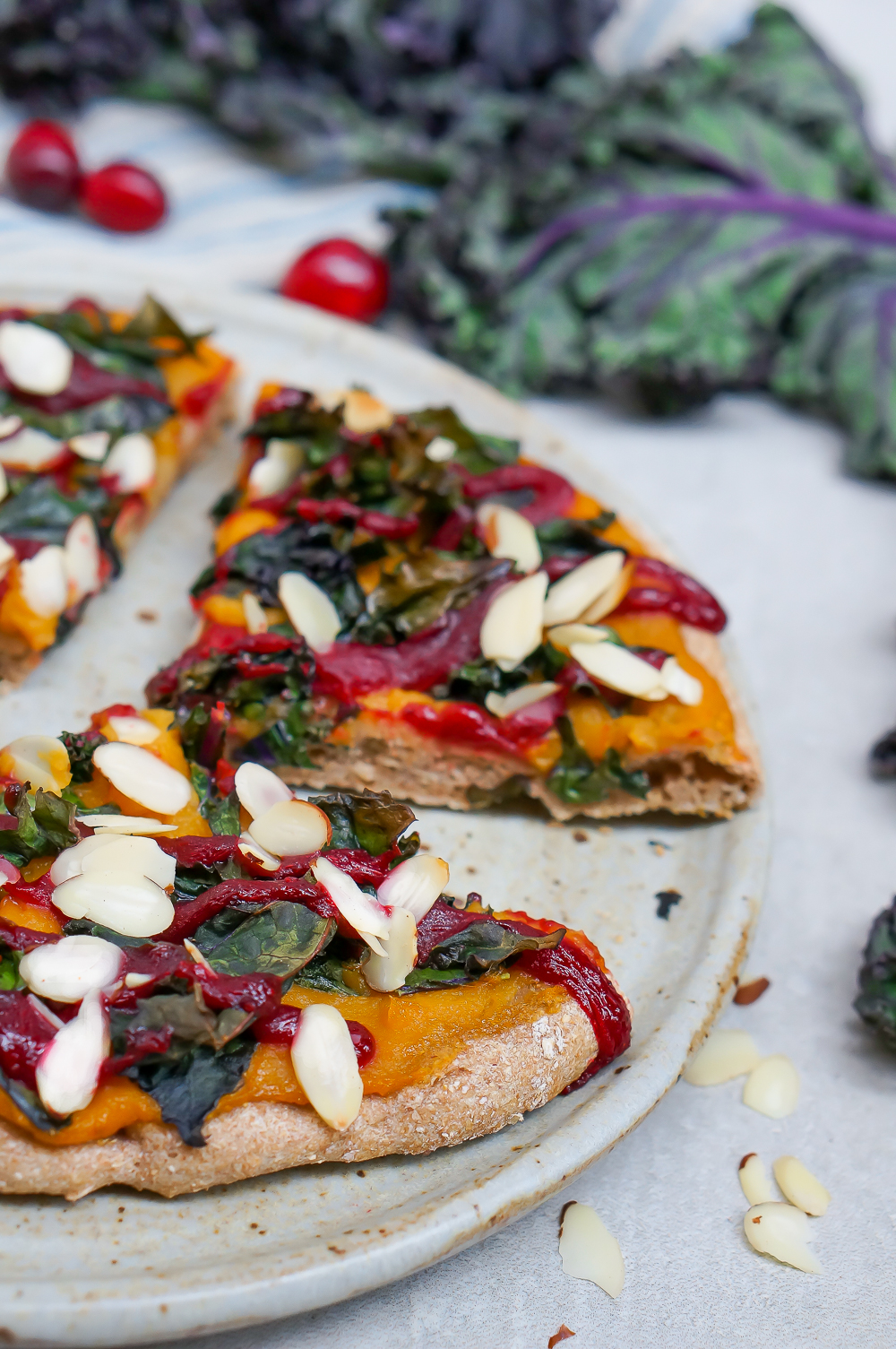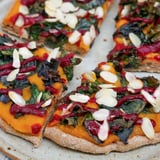 Ingredients
Butternut Squash Sauce:
2 cups butternut squash cut into 1" cubes
1 onion, rough chopped
2 tablespoons high heat oil
1/4 teaspoon fine grain sea salt
Cranberry Orange Drizzle:
1 12 oounce bag cranberries
Zest + juice of 1 orange (about 1 teaspoon and 1/2 cup)
1/8 teaspoon salt
1/2 cup coconut sugar
1/2 cup filtered water
Other Ingredients:
1 bunch kale, woody inner stem removed and leaves torn into 1-to-2-inch pieces
1 teaspoon high-heat oil of choice (I like avocado)
1/2 cup slivered or sliced almonds
Pinch of fine-grain sea salt
Directions
For the Butternut Squash Sauce:
Heat the oil in a medium pan with a lid over medium-high. Add the butternut squash and onions, and sauté until just beginning to brown, about 10 minutes, stirring occasionally. Reduce the heat to low and cover; cook until the butternut squash can be easily pierced with a fork, about 20 minutes.
Transfer the ingredients to a food processor, and process for 1-2 minutes or until smooth.

For the Cranberry Orange Drizzle:

In a medium saucepan, bring the cranberries, orange zest and juice, salt, and coconut sugar to boil over medium heat. Add the filtered water, and boil for 10 minutes or until all cranberries have popped, then remove from heat, and let cool before blending well.

Other Ingredients:

Toss the kale with the oil and salt until well-coated.

For Assembly:

To assemble pizza, prebake whatever pizza dough recipe you're using for 5 minutes, then remove from oven. Top with a thin layer of butternut squash sauce, then top with the kale, a drizzle of cranberry sauce, and a generous sprinkle of almonds.
Return to the oven for 5 more minutes, or until the kale is crispy at the edges and the almonds are just beginning to turn golden brown. Makes enough toppings for 4 personal-sized pizzas.
Information
Category

Main Dishes, Pizza

Cuisine

North American

Yield

4 personal-sized pizzas
Image Source: Sprouted Routes