CBD Cookie Bars Recipe
OMG, These CBD Canna-Cookie Bars Are Out-of-This-World Scrumptious
What comes to your mind when thinking about dessert? Most likely you'll imagine chocolate, caramel, and perhaps creamy ice cream, but what about cannabis?
Cannabis is a food-friendly herb that can be added to many different recipes, including a wide range of sweets and desserts. If you don't want a head change, using cannabidiol (CBD) oil in your cooking is an easy way to quickly infuse cookies, cakes, and pies in the comfort of your kitchen. Unlike THC, the principal psychoactive component that gets you "high," CBD isn't psychoactive and contains a wide range of health benefits that can help with anxiety, depression, inflammation, and much more. Keep in mind that CBD oil is produced from both cannabis and hemp. It is also an excellent nutritional source, so we love incorporating CBD into our cooking.
One of our favorite CBD dessert recipes is canna-cookie bars. Combining the mouthwatering flavors of sweet chocolate, salty walnuts, caramel chips, and coconut flakes, this easy-to-make dessert will impress your palate and your friends. With only eight simple steps, give this recipe a try the next time you are craving some dessert, and be prepared to have more than just one piece! For the best results, be sure to use a CBD that's infused with organic olive oil. We used Green Gorilla Pure CBD and Olive Oil, 150mg ($26), which can be purchased online or at your local health food store. This recipe can also be modified to include cannabis butter if you wish to have a more elevated experience.
For even more cooking tips, check out this guide to cooking with cannabis.
CBD Canna-Cookie Bars
Original Recipe
Notes
This recipe contains nonpsychoactive cannabidiol (CBD) oil. If you have access to CannaButter infused with THC and wish to have a more elevated experience, skip the CBD oil. Instead, combine 3 tablespoons of CannaButter with 5 tablespoons of regular salted butter in step two, and then follow the directions as noted. Be aware that a specific cannabis variety's THC and CBD levels can vary, so be sure to know your product well before using and be mindful of your metabolism.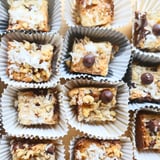 Ingredients
1/4 cup butter
2 tablespoons cannabidiol (CBD) oil
1 cup graham cracker crumbs
1 cup graham cracker chunks
1 cup dark chocolate chips (save 1/8 cup to sprinkle on top at the end)
1 cup chopped walnuts
1 cup flaked coconut (save 1/4 cup to sprinkle on top at the end)
1/2 cup caramel chips
14 ounces sweetened condensed milk (1 can)
Nonstick cooking spray
Directions
Preheat oven to 325ºF. Using nonstick cooking spray, coat an 11x7-inch baking pan. Make sure to use a thin coat and spread evenly. If you use too much, the bars may turn out oily.
Melt butter over low heat. Once melted, combine the butter and CBD oil with a whisk in a small mixing bowl. Add graham cracker crumbs and continue to stir.
Transfer the cookie mixture to the bottom of the nonstick baking pan. Add larger graham cracker chunks on top and press down firmly with a fork. The graham cracker chunks will ensure a soft, chewy cookie bar, so be sure not to skip this step.
Pour sweetened condensed milk over the graham crackers and crumb mixture. Use a spoon to coat the entire pan evenly and to reach all crevices.

Add an even layer of chocolate chips. Save about 1/8 of a cup to layer on top at the end.
Continue to add even layers of chopped walnuts and caramel chips. Next, add coconut flakes. Save about 1/4 of cup to layer on top at the end.

Once all layers have been added, use your fork to lightly press down all of the ingredients. Place the pan into the oven and bake for 25 minutes.
Remove the pan from the oven. Be aware that some of the condensed milk may rise up around the edges because of the heat, so use your leftover chocolate chips and coconut flakes to cover any open areas. Bake for another 5 minutes.
Remove from heat and let cool. Cut into into bite-size bars and serve in individual baking cups. Be sure to store at room temperature to best preserve them. Enjoy!
Information
Category

Desserts, Cookies

Cuisine

North American

Yield

15-20 servings

Total Time

39 minutes, 59 seconds
Image Source: POPSUGAR Photography / The Herb Somm