Golden Milk Turmeric Smoothie Recipe
This Golden Milk Protein Shake Will Be Your Debloating Post-Workout Staple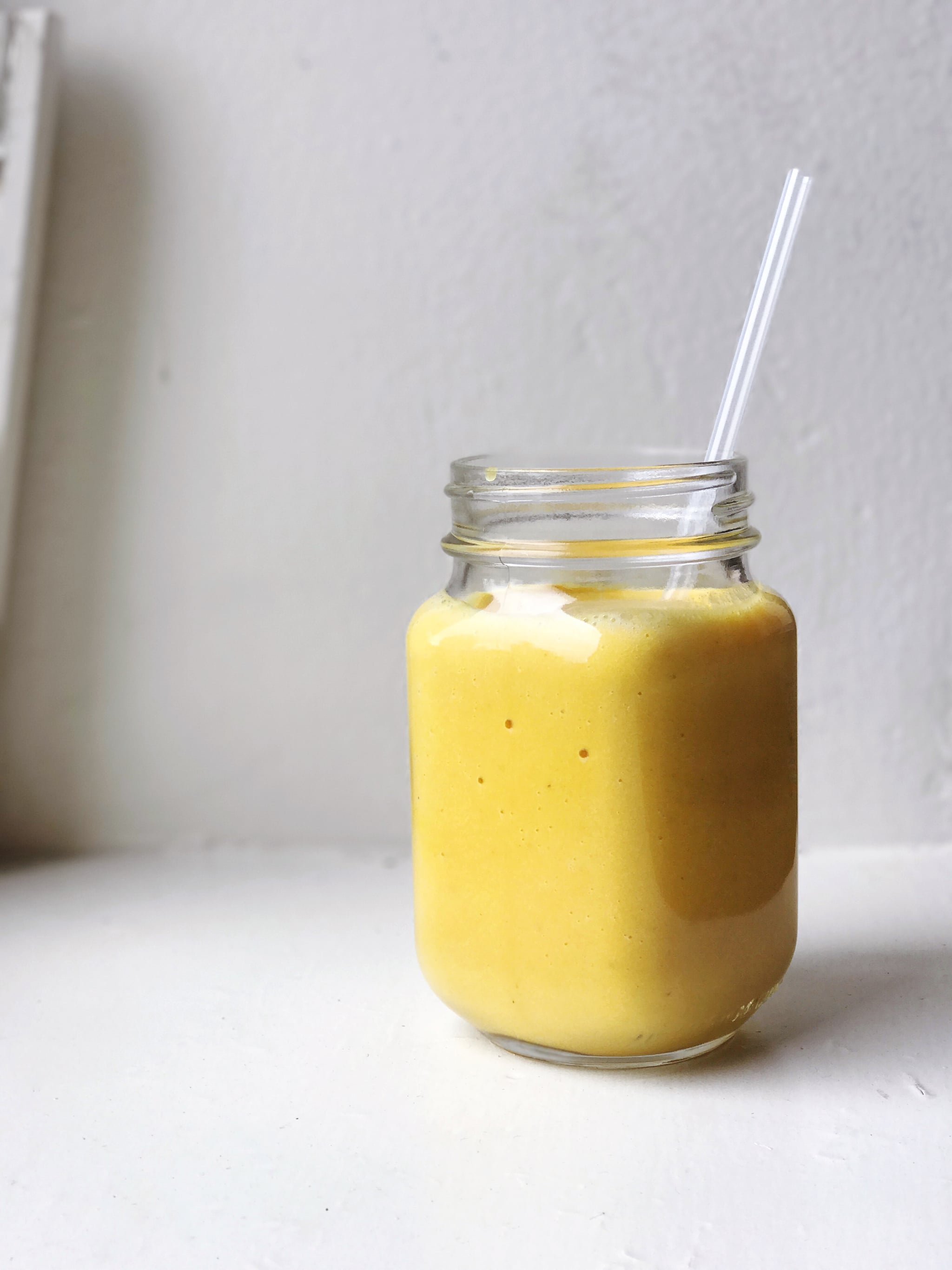 Are you as obsessed with golden milk as we are? Turmeric is having a major moment, and for good reason. This Ayurvedic spice is anti-inflammatory, debloating, gut healing, weight-loss aiding, and mood boosting, and might even help with depression recovery. It's truly a miracle spice.
I was making my collagen golden milk latte the other morning when some creativity dawned on me — I should totally make this into a protein shake for breakfast! As mentioned, turmeric fights inflammation, so it's amazing for muscular recovery. Pair it with protein, and you've got yourself a powerhouse post-workout shake. The next morning, I took to the blender and whipped up this potent potion for my muscles and mood.
Though I have plain turmeric and black pepper on hand, I've been using a premixed golden milk powder from Gaia Herbs, which saves me the extra steps of measuring out other spices (including the black pepper, which is essential for making sure your body absorbs all of turmeric's goodness!). If you don't have this powder, you can just use a couple teaspoons of turmeric, some black pepper, and any spices you like (I'd suggest cardamom and cinnamon — so yummy, and with great health benefits!).
Keep in mind that turmeric is also fat-soluble, which is why I used light coconut milk as opposed to almond milk — it also gives this shake a lush creaminess that is so decadent and tends to cut the "bite" of the very potent turmeric. You can use any protein powder you like, though I chose an unsweeteened vanilla variety, which blends really nicely into the other flavors.
Golden Milk Protein Shake
From Dominique Astorino, POPSUGAR Fitness
Notes
This recipe uses a golden milk powder — a blend of turmeric, cardamom, black pepper, dates, and ashwagandha. You can substitute your own combination of turmeric, black pepper, and the spices of your choosing.
Ingredients
1/2 frozen banana
8 ounces light coconut milk
1 scoop vanilla protein powder
2 teaspoons of golden milk powder, or 2 teaspoons of turmeric with a dash of black pepper
Optional: honey or organic all-natural maple syrup, as needed for sweetness
Directions
Blend all ingredients and enjoy immediately.
Information
Category

Drinks, Smoothies

Cuisine

North American

Yield

1

Total Time

4 minutes, 59 seconds
Nutrition
Calories per serving

218