Grain-Free Chocolate Samoa Cupcake
Grain-Free Chocolate Samoa Cupcakes For Your Girl Scout Cookie Fix
The following post was originally featured on Purely Twins, which is part of POPSUGAR's influencer network.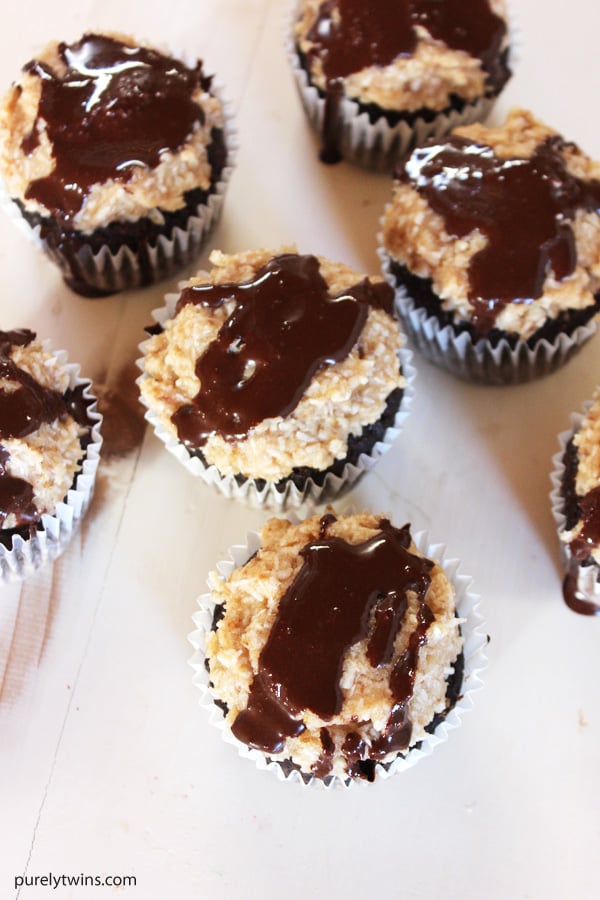 Samoa Chocolate Caramel Coconut Cupcakes — like a Girl Scout Cookie in cupcake form! Wow! That name is a mouthful, but it fits. These cupcakes are a mouthful. A mouthful of yum! The best gluten-free, grain-free chocolate cupcake.
It has been way too long since we've shared a cupcake recipe. And what better way to share a new recipe with you than with a delicious Samoa-inspired cupcake. We have lots to celebrate, one thing being that Lori and her family are moving into a new house this week, and cupcakes seemed perfect to enjoy.
This recipe is so INCREDIBLY good!! These Samoa-cookie-inspired cupcakes are chocolate cupcakes topped with an easy homemade caramel sauce and creamy coconut! Oh my!
We hope you enjoyed the video.
Make sure to share this healthy grain-free Samoa cupcake recipe with your friends to enjoy together.
Growing up, we loved a Girl Scout Thin Mint cookie. We never actually tried a Samoa cookie when we were younger, as we disliked anything coconut.
Funny how things change, as we love and adore all things coconut now.
Add in some chocolate . . . even better!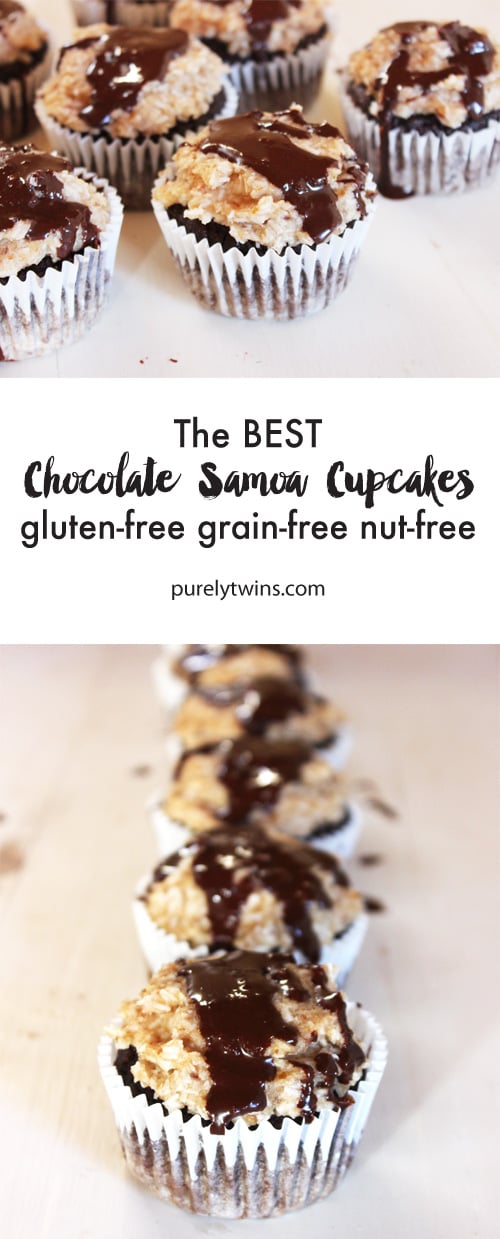 These gluten-free and grain-free Samoa cupcakes feature a tigernut-flour-based cupcake and homemade coconut caramel topping! You don't have to use tigernut flour, but we love it and our tummies do too.
Click here to get yourself tigernut flour.
Tigernuts are a great grain-free option and it's nut-free. It's a nutrient-dense root vegetable that we personally like having in our diet. It's also high in iron, potassium, and prebiotic fiber to improve your digestive health. And you know, we are all about going poo over here, so we like that!
Click here to make your own coconut butter superquick.
Go here to save some money on your baking ingredients for your cocoa, chia seeds, and coconut sugar.
Chocolate Samoa Cupcake
Purely Twins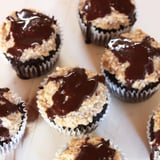 Ingredients
Cupcakes:
6 tablespoons cocoa (1 1/2 oz.)
1/4 cup chia seed flour (1 oz.)
1/2 cup tigernut flour (1 1/2 oz. or 40 g)
1 teaspoon baking powder
1/4 teaspoon baking soda
2 eggs
1 teaspoon vanilla extract
1/2 cup coconut milk, full fat (4 oz.)
1/2 cup coconut sugar or sugar of choice (2 1/2 oz.)
Samoa topping:
3 large Medjool dates, pitted and soaked
2 tablespoons water
1/2 teaspoon vanilla extract
2 tablespoons coconut butter
1/2 cup coconut flakes
Chocolate sauce:
4 tablespoons raw cacao powder
4 tablespoons coconut oil, semisolid
Few drops of liquid stevia
Directions
Make cupcakes first.
Preheat oven to 350ºF.
Combine the dry ingredients in a bowl.
Stir in wet ingredients until batter is smooth.
Scoop cupcakes into cupcake liners.
Bake for about 15 to 16 minutes, or until toothpick inserted in center comes out clean.
Remove cupcakes carefully from pan to let cool on wire rack.
As cupcakes cool, make Samoa coconut topping.
Place dates, water, vanilla, and coconut butter into food processor.
Pulse until it starts to form a smooth texture.
Into a large bowl, scoop the coconut flakes and top with creamy date paste.
Stir until well-blended.
Next, place coconut layer on top of chocolate cupcakes.
Spread evenly.
Then, in a small bowl, make chocolate sauce by adding the cacao powder, coconut oil, and stevia.
Combine until mixture is smooth, and add in as much sweetness as desired.
Spoon chocolate sauce into piping bag and drizzle over coconut layer.
Information
Category

Desserts, Cupcakes

Cuisine

North American

Yield

8 cupcakes

Total Time

19 minutes, 59 seconds