How to Use and Dispose of EpiPens
5 Things: EpiPens
I have a friend who is allergic to peanuts, so she carries an EpiPen wherever she goes. When people catch a glimpse of the injection, it prompts inevitable Pulp Fiction jokes, but there's nothing fun about having to use an EpiPen.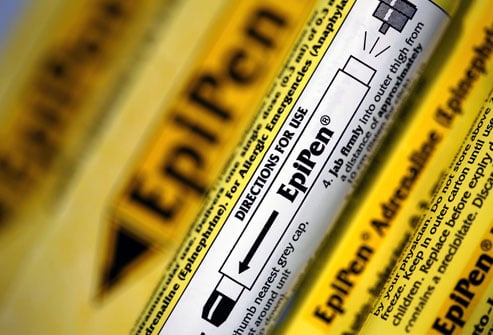 Commonly known by its brand name, this epinephrine autoinjection is used to treat anaphylaxis, a sudden and severe allergic reaction that can be life-threatening. Certain foods, such as eggs and peanuts, can cause an anaphylactic reaction, as can bee stings and certain medications, particularly penicillin. Symptoms of anaphylaxis include hives, swelling, and itching that gives way to shortness of breath, chest tightness, and increased or irregular heartbeat.
For five essential facts about this allergy-kit essential, read more.
Each injection comes with easy-to-follow instructions, which the allergy sufferer should familiarize herself with. Here's a helpful video if you ever have to use one.
Most injections have a safety cap on the opposite end of the needle end. Once the cap is removed, the injection should be pressed needle-end first into the outside of the patient's thigh. The needle will eject when pressed into the skin.
Each injection contains one premeasured dose of epinephrine; some liquid will remain after it's injected, but you should dispose of it after one use.
Users should make sure their injections are not past their expiration date and that the liquid has not changed color. EpiPens are not effective after the expiration date and should be replaced.
Take all used or expired autoinjectors to a hospital or pharmacy for proper disposal.
Have you ever used an EpiPen? Have tips? Share them below.