Kerry Washington Self Cover September 2015
The Workout That Whipped Kerry Washington Back Into Shape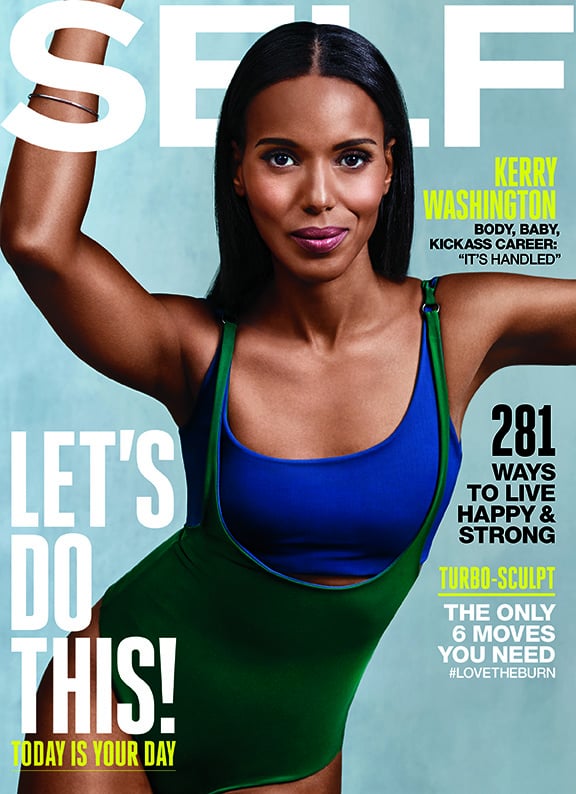 Kerry Washington seriously stuns on the September cover of Self, and while there's no denying the fact that Kerry is naturally blessed with beautiful bone structure and a petite frame, she's no slouch when it comes to a strong and consistent workout routine. This new mama works out six days a week with her trainer Julie Turner — Kerry has even had a small gym space built at the Scandal studio, so she and Julie can squeeze in a workout before shooting! A longtime Pilates devotee, Kerry has stayed committed to this effective workout because of the introspection it brings to her exercise routine:
"There are a lot of forms of exercise where you have to leave yourself out of the room while you force yourself to do this thing . . . With Pilates, I get to bring my true self. I cry, I laugh. I get to go: Where is my body today? What do I need today? How can I take care of myself and push myself past my comfort zone? How can I be both loving and challenging?"
Kerry regularly works out around 6:30 a.m. so she can get back home to new daughter Isabelle on the early side, but it's clear that she maintains this intense workout schedule in order to support her needs: "I have to take care of myself in order to live life the way I want to . . . It's important to have rest days. But in the long run, if I don't work out for, like, three days, I feel worse, not better," she explains.
Read the full interview in the September 2015 issue of Self magazine, available on newsstands Aug. 25.
Image Source: Bjarne Jonasson