Is It OK to Take Allergy and Cold Medicine Together?
It's Easier Than You Think to Take Too Much Allergy and Cold Medicine — Here's Why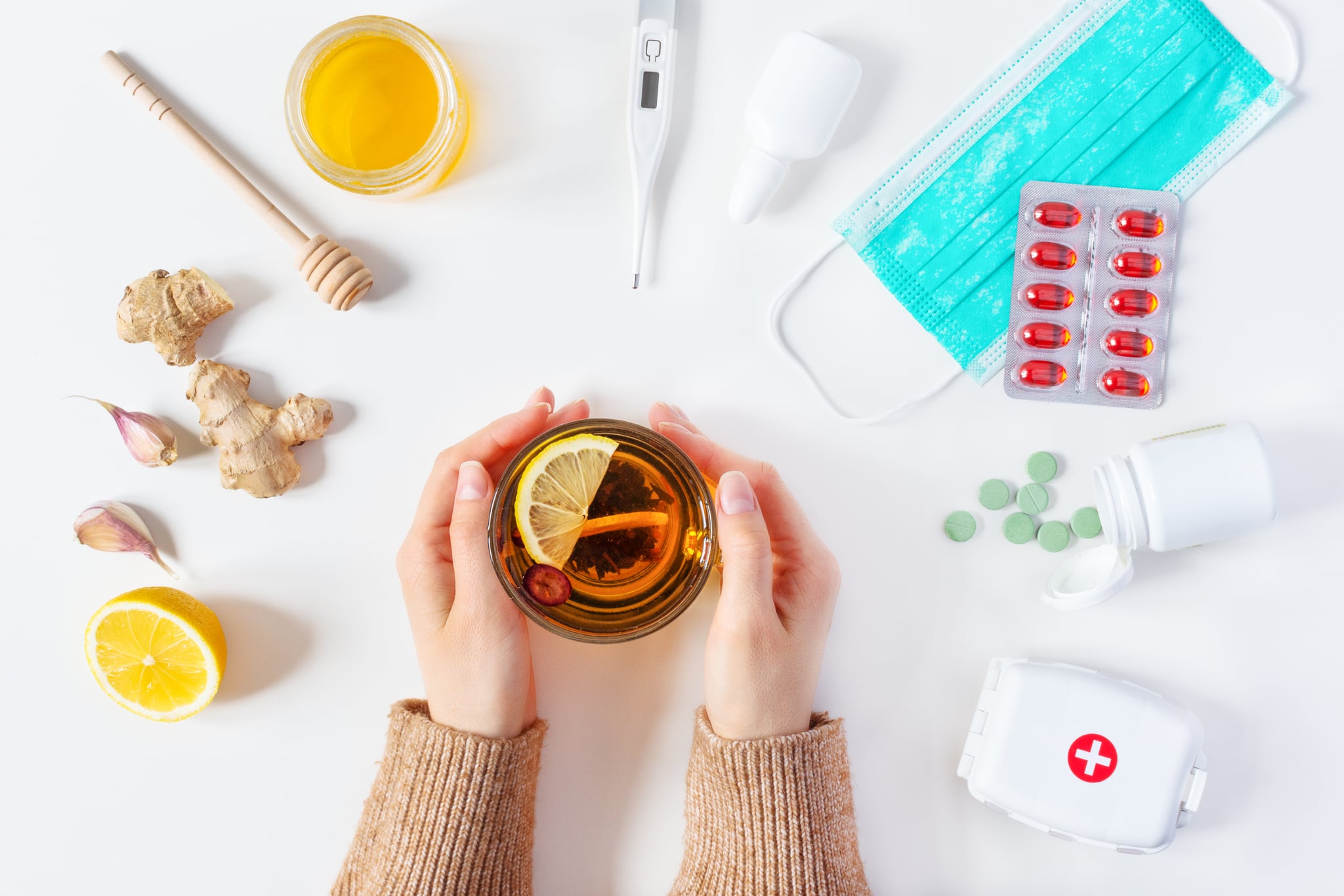 It's a heck of a time when cold season overlap. If you happen to be one of the unfortunate souls in this sniffly Venn diagram from hell, you'd likely do anything to find relief. Fortunately, you won't have to go much further than your medicine cabinet, but before you do, be sure to read this advice from Erica Patel, MD, of the University of Southern California, about whether it's safe to take allergy meds and cold meds simultaneously.
Because symptoms are similar for colds and allergies, you don't necessarily have to double down. "Many over-the-counter (OTC) cough and cold medicines and allergy medicines may have similar ingredients," Dr. Patel noted, including a pain and fever reducer, a decongestant (for stuffiness), an antihistamine (for sneezing), and a cough reliever. But that means it's also easy to overdo it.
"A good way to avoid overdosing on ingredients is to compare labels," she told POPSUGAR. "For example, if one medication has acetaminophen as an ingredient, then avoid taking other medications with acetaminophen in them." Common cold and allergy medication ingredients include:
Pain relievers: acetaminophen or ibuprofen
Decongestants: phenylephrine, pseudoephedrine, oxymetazoline
Cough Suppressants: dextromethorphan, guaifenesin
Antihistamines: diphenhydramine (Benadryl), loratadine (Claritin), cetirizine (Zyrtec), fexofenadine (Allegra)
Think carefully about what you actually need. "Only take medication that directly treats the symptoms you are having," Dr. Patel said. "If you have a cough, for example, then just take a cough suppressant. Don't choose a combination medication that also has a decongestant and a pain reliever if you don't also have those symptoms." That's especially true if you're already taking something that helps keep those symptoms at bay, like an allergy pill.
That said, you can safely take cold and allergy medications simultaneously if you ensure there's no overlap and check the labels for any contraindications. (That's when the package says, "Don't take this if you're also taking ___.") If neither is the case, "it should be relatively safe to take cold and allergy medication together as long as you're following the dosing instructions on the package," said Dr. Patel. *breathes sigh of relief*