Pumpkin Spice Trail Mix From Eating Bird Food
Pumpkin Spice Trail Mix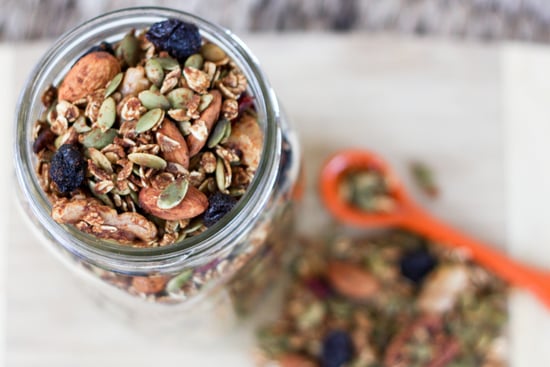 Pumpkin Spice Trail Mix
This recipe was originally posted on my healthy living blog: Eating Bird Food.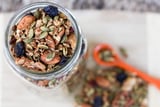 Ingredients
1/4 cup sucanat or whole cane sugar
2 teaspoons ground cinnamon
2 teaspoons paprika
1 teaspoon pumpkin pie spice
1 cup unsalted whole almonds
1 cup rolled oats
1 cup unsalted pecan halves
1 cup roasted salted pepitas (shelled pumpkin seeds)
1 cup walnut halves
1/4 cup pumpkin purée
2 tablespoons all-natural apple juice
2/3 cup dried cranberries
2/3 cup raisins
Directions
Preheat oven to 250°F. Mix sucanat, cinnamon, paprika, and pumpkin pie spice in a small bowl. Set aside.
Place almonds, oats, pecans, pepitas, and walnuts in a large bowl. Mix together pumpkin purée and apple juice; pour over nut mixture and toss until nuts are evenly coated. Sprinkle with spice mixture, tossing to coat well. Spread evenly on two baking pans.
Bake 30-35 minutes, stirring halfway through cook time. Cool completely. Stir in cranberries and raisins. Store in airtight container.
Information
Category

Snacks

Cuisine

African