Quinoa Chickpea Salad Recipe
This Easy Quinoa Chickpea Salad Is Your New Make-Ahead Lunch
The following post was originally featured on Eating Bird Food and was written by Brittany Mullins, who is part of POPSUGAR Select Fitness.
I had all intentions of posting a dessert recipe today, but then I realized I've already posted two snack recipes (here and here) and not one salad. Oops! A quick change of plans occurred, and now you have this bowl of deliciousness to stare at. You can thank me later — after you try the recipe.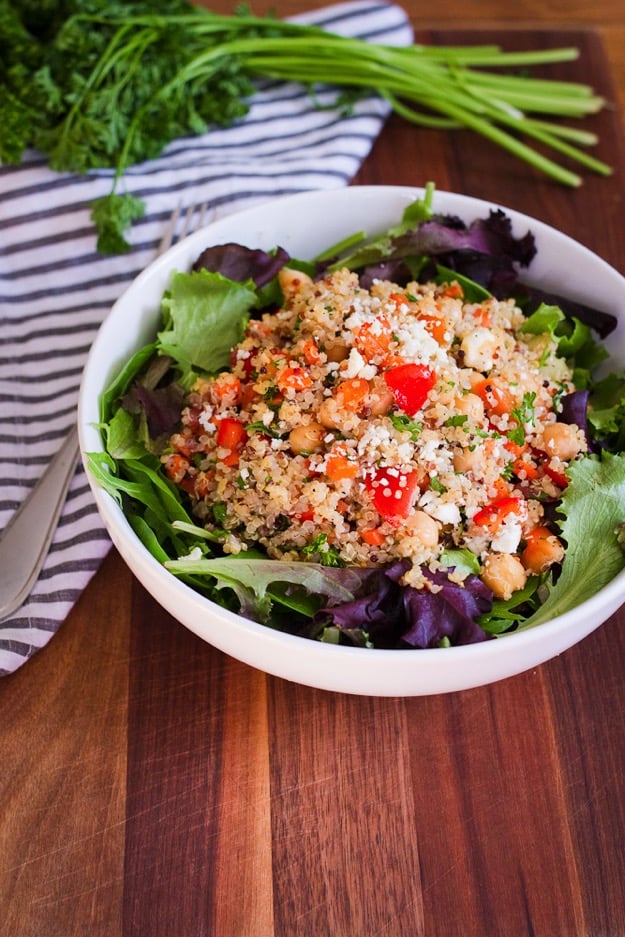 The idea for this little gem actually came from one of my local health coaching clients. She and I were chatting about how much we love The Daily Kitchen and Bar, a Richmond, VA, restaurant known for its cool vibe and healthy menu options. I like every dish that I've tried there, but what I really love is their massive salads (oh, and the sweet potato fries!!). Unlike some restaurants that give you a bowl of limp greens, a mushy tomato, and a few shredded carrots on a plate, The Daily gives you a massive bowl of greens that's loaded with tasty toppings. It's the type of place where you can order a salad for your meal and feel completely full and satisfied.
My client mentioned that the quinoa salad was her favorite dish, and I proceeded to rave about the salmon salad, which is my go-to. After that convo I decided to create a quinoa salad similar to the one served at The Daily, so that my client would be able to make it at home whenever she wanted.
The result is this salad — a surprisingly simple, yet flavorful combo. With a base of chickpeas, quinoa, and bright veggies, this salad is loaded with nutrients and very filling.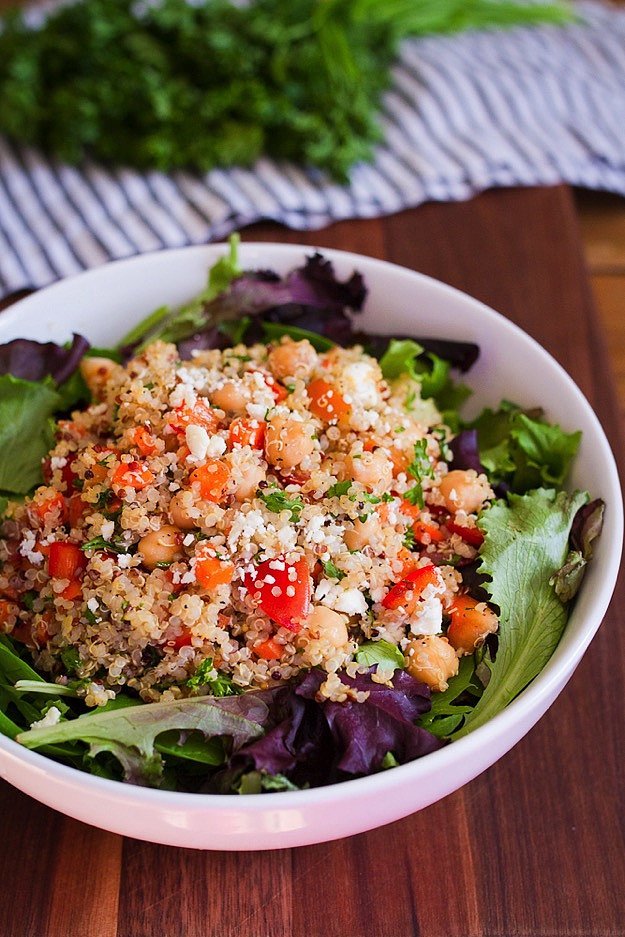 I'm not 100 percent sure what sort of dressing The Daily uses, but I kept it simple with a little olive oil, red wine vinegar, sea salt, and fresh ground pepper. The feta and fresh parsley add quite a bit of flavor, so the light dressing is really all you need.
I had it for lunch several times last week served over a big bowl of spring mix for some extra volume. Perfection!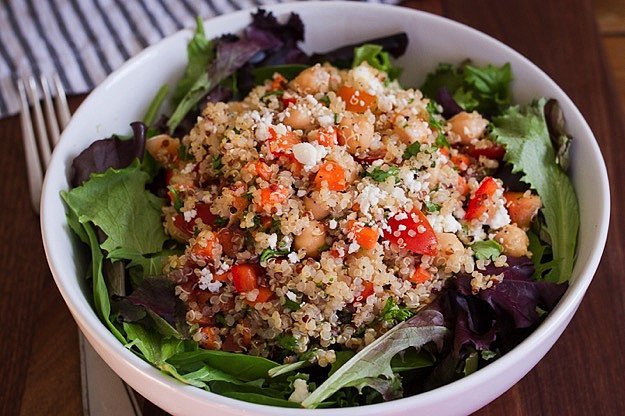 Like most quinoa salads, this is a great make-ahead option that you can prep on Sunday for lunches throughout the week. If you pack it for lunch, I'd probably just bring along extra oil and vinegar in case the quinoa soaks up all the dressing and you want to add a splash right before digging in.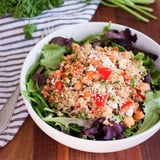 Ingredients
3 cups cooked quinoa
1 15-ounce can chickpeas, drained and rinsed
1 cup cucumbers, chopped
1 cup cherry tomatoes, chopped
1/2 cup red bell pepper, chopped
1/2 cup carrots, chopped
1/4 cup chopped red onion
1/4 cup chopped parsley
2 tablespoons olive oil
1 tablespoon red wine vinegar
2 to 3 tablespoons feta cheese
1/2 teaspoon fresh ground pepper
1/4 teaspoon sea salt
Directions
Combine all ingredients in a big bowl. Taste and add more salt and pepper if needed. Serve over your favorite leafy greens and top with an extra sprinkle of feta cheese.
Information
Category

Salads, Main Dishes

Cuisine

North American

Yield

Makes five servings

Total Time

19 minutes, 59 seconds
Nutrition
Calories per serving

215