Sweet Potato Cinnamon Rolls Recipe
You Won't Regret Trying This Healthy Twist on Cinnamon Rolls
Wake up to gooey sweet potato cinnamon rolls made with dark chocolate chips and coconut-maple frosting, via PaleoHacks!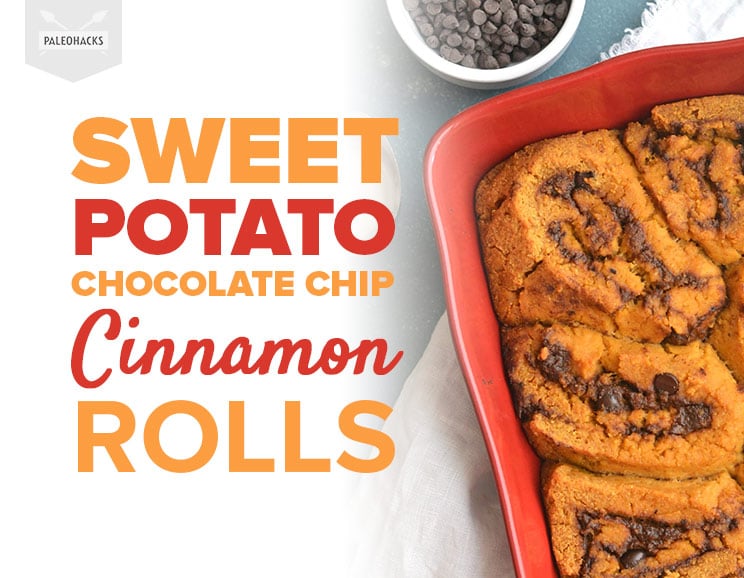 There's nothing better than the smell of sweet cinnamon rolls baking in the morning. Unlike traditional cinnamon rolls, this version replaces refined sugars and processed carbohydrates with all-natural wholesome ingredients you can feel good about.
Gluten-free flours, flax meal, and puréed sweet potatoes are key ingredients for the golden crisp crust. They include loads of healthy fats, protein, fiber, and essential vitamins to help keep you feeling fit and satisfied.
The filling is made with cinnamon and a touch of coconut sugar for natural sweetness, while dairy-free dark chocolate chips are tossed in for a pleasant surprise. Drizzle everything with an icing made from coconut cream and maple syrup for a decadent layer of oozy goodness!
To start, stir the coconut flour with a fork to fluff. Then, carefully scoop out the correct amount using a measuring cup and scrape off the top with a knife. Note: Do not pack the contents into the measuring cup, as this will alter the final result. Combine all flours into a mixing bowl, sift them together, and set aside.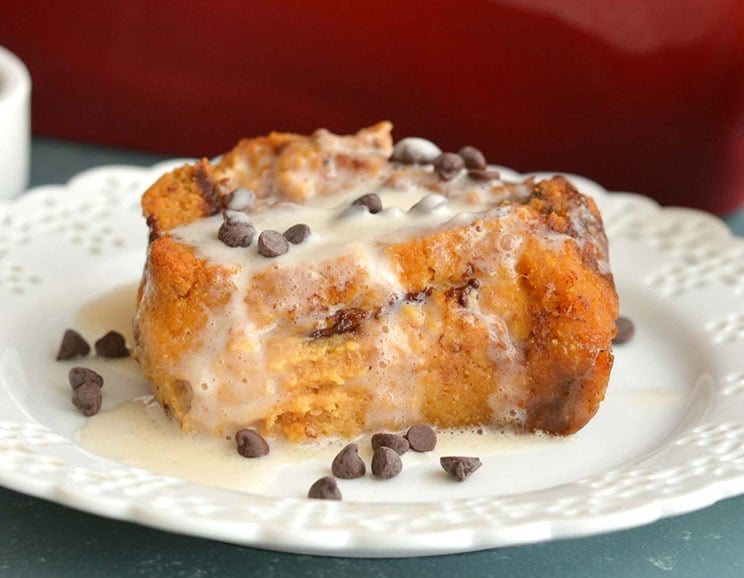 Next, blend the wet ingredients together with an electric mixer. When complete, fold the dry ingredients into the wet to form a spongy dough. Place the dough onto a large piece of parchment paper, dusted liberally with arrowroot flour — this will help prevent the dough from sticking.
Shape the dough into a large square (about 1/2-inch thick) and spread the filling over the top. Carefully roll the dough lengthwise into a log and slice it into six large pieces. Place the rolls onto a greased baking pan and bake for 30 minutes.
In the meantime, stir the icing ingredients together and set aside until rolls are done. After rolls are complete, remove them from the oven and let them sit in the pan for 10 minutes. When ready, drizzle them with icing and sprinkle a few more chocolate chips on top. Serve warm with your favorite coffee and enjoy!
Sweet Potato Chocolate Chip Cinnamon Rolls
PaleoHacks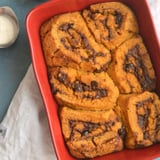 Ingredients
For the Dough:
1 cup coconut flour
1 cup arrowroot flour + more for dusting
1/4 cup psyllium husks
2 teaspoons baking soda
3/4 cup water
3/4 cup sweet potato puree
2 tablespoons apple cider vinegar
1/2 cup coconut oil, melted
For the Filling:
1/2 cup sweet potato purée
1/4 cup coconut sugar
1/4 cup mini dark chocolate chips + more for topping
2 teaspoons cinnamon
For the Icing:
2/3 cup coconut cream
2 tablespoons maple syrup
Directions
Preheat oven to 350°F and prepare a baking pan by greasing it with grass-fed butter.
To Make the Dough: Place the dry ingredients in a medium mixing bowl and sift together.
In another bowl, blend the wet ingredients with an electric mixer until smooth. Add the dry ingredients into the wet ingredients until well incorporated. Do not over-blend.
Place the dough onto a large piece of parchment paper with a generous amount of arrowroot powder sprinkled on top. Use your hands to flatten the dough into a large square that measures 1/2-inch in thickness.
To Make the Filling: In a separate bowl, stir together the ingredients for the filling. Spoon the mixture over the dough and spread into an even layer, covering it fully.
Carefully roll the dough lengthwise into a large log. Slice the log into six pieces and place them onto a baking pan, equally spaced apart.
Bake for 30 minutes and then remove from the oven. Let them cool for 10 minutes inside the pan.
To Make the Icing: Blend the coconut cream and maple syrup together. Then, drizzle it on top of the cinnamon rolls and sprinkle additional chocolate chips.
Serve warm and enjoy!
Information
Category

Desserts

Cuisine

North American

Yield

6 rolls

Total Time

49 minutes, 59 seconds