Vivobarefoot Water Shoes Made From Algae
The Latest in Eco-Friendly Footwear? Water Shoes Made Out of Algae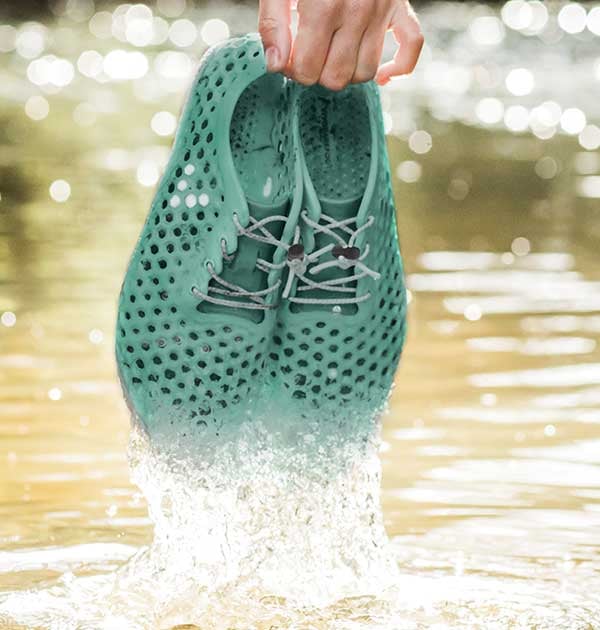 We've seen Adidas sneakers made from ocean waste, but for the next big thing in eco-friendly footwear, look no further than algae. This July, the shoe innovators at Vivobarefoot will release an amphibious shoe called the Ultra III x Bloom, made out of algae sourced from waterways around the world.
Why algae? Turns out, when chemical waste (particularly the toxins found in fertilizers) seeps into waterways, it can cause an uncontrollable growth of algae, also known as algal blooms. An overabundance of algae is harmful for aquatic life, as it releases toxins, blocks sunlight, and depletes oxygen in the water — all of which deteriorates the ecosystem, kills off wildlife, and pollutes our drinking water.
Bloom Foam, a company that produces "the world's first plant-based, performance-driven foam formulated with algae biomass," is teaming up with Vivobarefoot to create the sustainable footwear, which is lightweight, flexible, and wearable both on land and in water. Best of all, the environment benefits from this type of shoe production, because using algae as material reduces our dependence on petroleum. According to Vivobarefoot, "Every pair will help recirculate 57 gallons of filtered water back into natural habitats and prevent the equivalent of 40 balloons full of CO2 being released into the Earth's atmosphere."
So if you're looking for the most ecologically responsible way to round out your Summer adventurewear collection, just wait until July to grab a pair of Ultra IIIs and help the planet's aquatic life breathe a little easier.