Wellness Tips From Model Sigrun Eva Jonsdottir
How This Model Brings a Little Bit of Her Native Iceland to Her NYC Home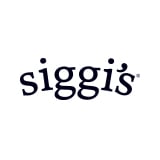 Forget the French girl: we're fans of the healthy, balanced way Icelandic women live their lives. To introduce you to this Nordic nation's culture, we've partnered with
siggi's
to highlight a few fascinating Icelandic women.
Though she now lives and works in New York City, some of Sigrun Eva Jonsdottir's fondest memories date back to her childhood in Iceland. "I spent so much time in nature running wild with my cousins, getting in all kinds of trouble. My father ran a small tourist company, too, so we were up on the glaciers a lot. It made me really humbled toward the forces of nature," Sigrun says.
After a long day outside, Sigrun's family would often head to the local hot springs or public swimming pool for a soak. Those aren't just lovely memories, though — to this day, Sigrun says her Icelandic heritage shapes both her daily routine and relationship to health and wellness. Ahead, Sigrun shares what a day in her life is really like, from her constantly changing work schedule to pick-up soccer games in Brooklyn Bridge Park to at-home self-care rituals.
What Sigrun internalized most about growing up in Iceland was a connection to the land. "I think Icelanders are pretty blessed with a starting point of an amazing, unpolluted environment and clean water," she says. The bright white glaciers and unspoiled fields became her playmates and friends — as did the huldufólk, the elves that many Icelanders believe live in nature.
It also instilled an unshakeable need to take care of the environment, Sigrun says. "Seeing firsthand how climate change has affected us, the glaciers receding at unbelievable speed for example, has made me sensitive to environmental issues," she explains. "I always have that in mind in any choices I make throughout my day."
"I feel like when I'm away too long, a life force within me starts dwindling, and I need to go back and lay in some moss and talk to my huldufólk."
She also fondly remembers all the traditional foods from her childhood. There were pönnukökur, thin, rolled pancakes spread with jam and whipped cream; warm, comforting lamb stews packed with local herbs and root vegetables; and skyr, the thick, Icelandic yogurt she would eat topped with fresh berries.
Feeding Your Body and Mind
Of course, now that she's so busy with her modeling career, Sigrun isn't regularly cooking elaborate Icelandic meals for herself. These days, she keeps it simple — with the same traditional philosophies in mind.
"I've always been a pretty healthy eater and drawn to things that are healing and make me feel good," she explains. First thing in the morning, she'll do something light for breakfast: usually matcha, then perhaps a small snack, like siggi's Icelandic skyr or fresh fruit.
"Food as medicine is definitely something I live by," Sigrun says. "I hate taking any kind of quick-fix medicine and always prefer the natural route." She doesn't follow any rigid diet or eating plan but favors simple, wholesome options over processed, overly complicated meals. Sigrun also regularly practices yoga to work on her flexibility, stretch out her muscles, and relax her mind.
Sigrun's relaxed approach to eating also comes from her Icelandic upbringing. "I think we're just overall pretty laid-back people. We have a saying that goes 'þetta reddast,' which basically means, 'we'll figure it out,'" she explains. "It's one of my favorite sayings because I can be a pretty bad planner and pretty much do everything on the fly sometimes."
Sigrun has to be fairly relaxed when it comes to her schedule and doesn't have much of a standard routine, since her modeling career can mean she's jetting off to an international photo shoot one day and running around NYC to appointments the next.
When she does have some time at home, Sigrun likes to keep her days mellow. On a day off, she might start her day by turning on a podcast or playing music while she waters all of her plant babies.
The other constant in her life is staying active. Sigrun is an avid footballer — she's been playing soccer ever since childhood and still makes time for regular games at Brooklyn Bridge Park or Pier 40. "I think football is almost the only thing that's a given — I do it at the same time, on the same day, every week," she says.
It's not just a physical workout, either. Sigrun's love for the game also keeps her entertained and energized. Soccer also serves as a great reminder to take care of her body, she says. "If anything, I feel like football has lately made me more conscious of recovery, being more proactive in letting my body heal and recover," Sigrun explains.
After a long day, she loves lighting some incense and slipping into the tub for a nice hot soak. "I exercise almost daily but make sure I have some days to unwind mentally and physically," Sigrun says. It's not the Icelandic hot springs of her childhood, but it's about as close as she's going to get in NYC.
Photography: Tawni Bannister; Art Direction: Colleen Lennon; Prop Styling: Katja Greef; Hair and Makeup: Ashley Schultz; Wardrobe Styling: Katie Graner; Production: Cassie Doyle