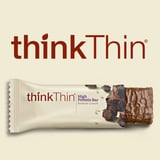 Protein bars are easy to grab and go, but have you actually looked at the nutrition label on the back? We've partnered with thinkThin® to show you what makes a protein bar that's as nutritious as it is delicious.
Oh protein bars, the unsung heroes of the snack world. They curb our hangry attitudes, match our hectic schedules, and save our stomachs from embarrassing growls in silent rooms everywhere. You may keep a stash of these babies on you at all times, but have you ever wondered if your go-to bar is actually the best choice for your snacking needs? Since hunger can come in all shapes and sizes, here are tips to hone in on the right snack when you're craving a quick bite or a little more fuel to keep you satisfied until your next meal.
Balance your love-hate relationship with sugar
With an ingredient like sugar, it's all about finding a solid middle ground. According to the American Heart Association, women should aim for no more than 24 grams of added sugar per day, and 36 grams for men. If your current favorite bar has earned its spot due to an indulgent taste, be sure to check the nutrition label next time you're about to tear it open. You may be consuming more than half your day's worth of sugar in minutes without knowing it. Our suggestion? Keep it to five grams or less for a small snack or 10 grams or less for a more substantial one. If you find the right bar, even the most rich of flavors — from creamy peanut butter to chocolate fudge — can fit the sugar bill.
Keep calories in check
Obsessing over calories can lead to some unhealthy habits, but that doesn't mean you should overlook them. If a lighter option will satisfy you at snack time, look for a bar with 150 calories or less. But, if you need something more substantial, the sweet spot is under 300 calories. To feel like you're truly satisfied, you can even try pairing a 150 calorie bar with an on-the-go-friendly piece of fresh fruit, like an apple or banana.

Image Source: thinkThin
Say yes to protein
Satiety is the state of feeling full, and that's exactly what a good bar should help you achieve. One of the most important players in making this happen is protein. We recommend consuming at least five grams of protein in a smaller snack, or packing 10 or more grams into a larger one. And if you want the best of both worlds, we're loving thinkThin® High Protein bars that help keep you fuller for longer with a whopping 20 grams of protein in a single serving. Yes, you read that right!
Don't forget about sodium and fiber
When it comes to snack-ready protein bars, we think keeping sugar, calorie count, and protein in check are key. But things like sodium and fiber count are important to your diet, too. As outlined in the Dietary Guidelines for Americans, healthy adults should consume under 2,300 mg of sodium per day. If you know it's important to keep your sodium intake limited, 200 to 300 mg should be the maximum amount in your bar. And don't forget about dietary fiber! It's a star player in maintaining a balanced diet and supports good digestion. We suggest aiming for a minimum of 3 grams of fiber in your protein bar.


More From thinkThin®
Meet Grace & Mia—best friends who have each other's backs and appreciate the finer things in life, like welltimed sarcasm and well-planned snacks. Learn more at thinkproducts.com.