How Adriana Lima Has Been Working Out While Pregnant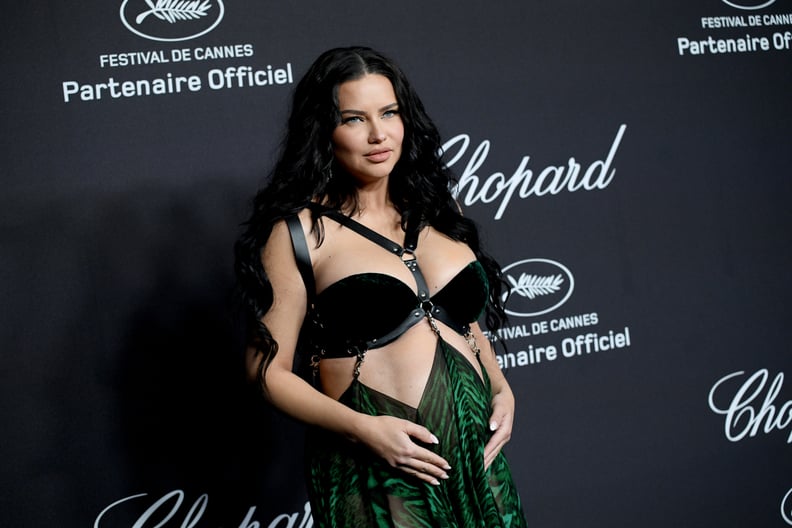 Pascal Le Segretain | Getty
Pascal Le Segretain | Getty
Supermodel and long-time gym aficionado Adriana Lima is doubling down on her commitment to fitness — and she's not letting the fact that she's pregnant with her third child slow her down. Lima was just named investor and global brand partner of luxury personal training gym Dogpound, where she's been training with owner and founder Kirk Myers for years. Now, she'll be working with him on expanding and marketing the gym in addition to staying healthy and active through her pregnancy.
While she's expecting, the 41-year-old shared with People that her workout routine has been adjusted to "something lighter" and "less intense" than her typical training (which has historically included things like boxing, jumping rope, heavy lifting, and slamming battle ropes). Lima says she's doing "very light" lifting with her upper body "just to keep moving." She also finds time to meditate, take lots of walks ("not every day, maybe two to three times a week," she says), and stretch. The last of which Lima says is one of the "keys" to her routine, along with physical therapy. "You have to stretch your muscles to prevent injuries," she told People. "And that's something I wasn't paying attention to much when I was younger."
While her pregnancies with her first two daughters (Valentina and Sienna, ages 12 and 9, respectively) gave her intense symptoms of nausea, cravings, and smell sensitivities, Lima is happy to report that this pregnancy has been "wonderful."

That said, she's already looking forward to working hard in the gym again after giving birth. "I find this part of my life super important, which is why I've been exercising for so many years," Lima told People. "I've tried every exercise that you can imagine. Now I just can't wait to be fully back."
She's ready for it, too, with a post-baby nutrition and workout plan — cooked up by her and Meyers — that's already in place. "Usually I start working out six weeks after I give birth, and we have a whole plan already,'' Lima said.
Myers has played a huge part in Lima's fitness journey and "was incredible at designing on-the-spot workouts that he felt could comfortably challenge me and my body," she said. She's been working with Dogpound since it opened in New York City in 2015. Lima had the chance to meet Myers during an athleisure photoshoot at the gym, and "right away you see how inspirational he is," she said," and the love he has for helping people achieve their goals."